Aurora Cannabis has been increasingly active in private markets, making acquisitions, investments, and partnerships across the cannabis supply chain, from seed to sale.
Aurora Cannabis is gearing up for the day when weed is as common as maple syrup.
In fact, Aurora has made 11 cannabis acquisitions since 2016. Notably, the Canadian medical marijuana company recently closed one of the largest legal cannabis deals ever, acquiring another medical cannabis company, MedReleaf, for $2.5B.
The jump in activity reflects the growing opportunity to cash in on legal cannabis, especially as Canada seeks to legalize recreational drug use later this year.
Using CB Insights data, we mapped Aurora's recent deals across the cannabis supply chain to analyze how this marijuana company is gearing up for the gold rush.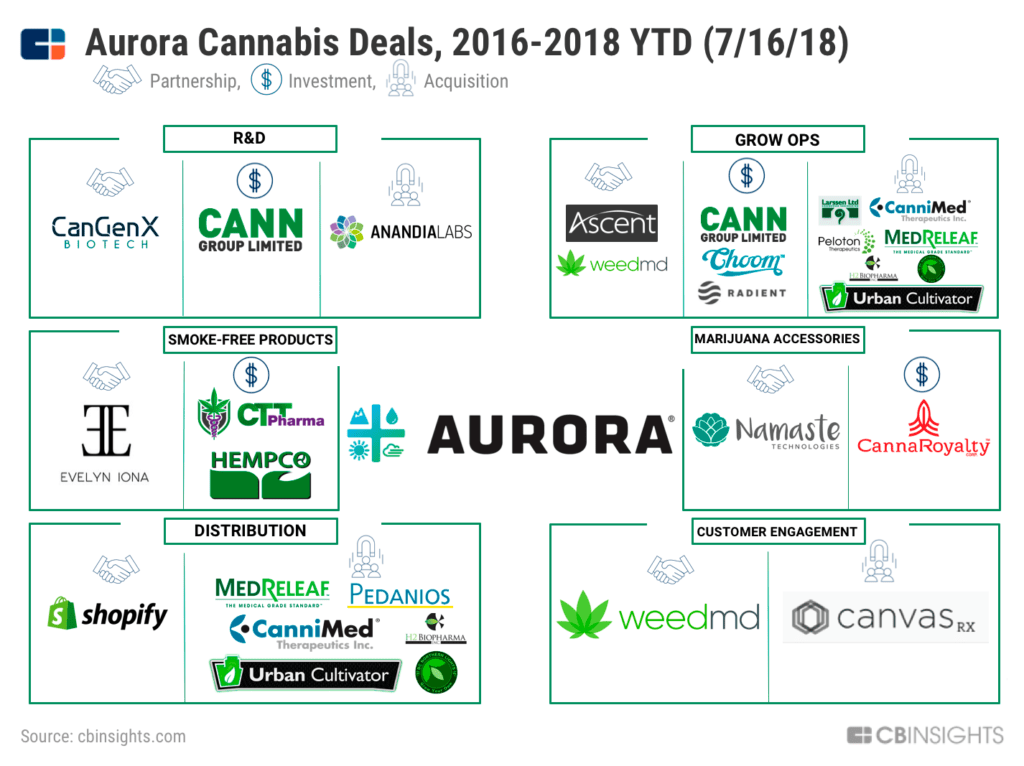 Aurora is expanding across the cannabis supply chain in anticipation of more widespread marijuana use. It has a stake in every step of the marijuana supply chain.
Aurora has traditionally focused on medical marijuana products, but the legalization of cannabis for recreational use in Canada is pushing the company to diversify its holdings.
We take a look at the company's three most recent deals to understand how the company is strategizing for future growth.
Recreational marijuana products:
In July 2018, Aurora purchased the license to distribute CannaRoyalty's pre-roll technology (or ready-to-use joints) in preparation for legalized recreational marijuana. The company expects that some of its consumers will want the same convenience as cigarettes. 
The technology, according to Aurora, has "substantial advantages over peers in terms of throughput, quality, and diversity," as many other pre-rolled joints have variations in quality that make it difficult to sell and guarantee each product. 
Alternative cannabis products:
Aurora announced a partnership this month with Evio Beauty Group to create beauty products infused with hemp oil and Cannabidiol (CBD).
CBD can help to alleviate pain, reduce anxiety, and manage seizure risks. Unlike THC, CBD will not give users the high associated with marijuana intake. CBD-infused beauty products claim to reduce inflammation and offer pain relief. The partnership highlights how Aurora plans to capitalize on various consumer groups, from recreational users to medical users.
Scaling product distribution:
On July 16th, Aurora Cannabis partnered with Shopify, a leading e-commerce company, to sell recreational and medical marijuana globally.
Aurora will leverage Shopify's platform to grow demand for its products, improve customer experience, and scale operations in domestic and international markets. 
What's next?
Four notable cannabis products on the rise include cannabis oil, CBD-infused beauty products, cannabis beverages, and edibles.
Aurora has already established a presence in cannabis oil and CBD makeup production — in the future, we expect to see more activity with companies that provide other smoke-free cannabis options.
Notably, Aurora does not have a presence in the marijuana accessories department. With the rising popularity of e-cigs like JUUL, we could see Aurora working to create marijuana cartridges compatible with these devices to expand its user base.
If Aurora's strategy proves effective, other companies may follow suit with more vertically integrated offerings, creating some market consolidation. Smaller companies could also merge to bolster their ability to compete with a company like Aurora Cannabis.
If you aren't already a client, sign up for a free trial to learn more about our platform.