The funding will help Atheneum expand geographically and support product development. Here are the top-line bullets you need to know.
Atheneum, a research-as-a-service provider, has raised $151M in growth equity funding. The round drew participation from Guidepost Growth Equity, Vogel Communication Group, and Crosslantic Capital, among others.
HOW'S THE COMPANY PERFORMING?
Berlin-based Atheneum is a B2B research services company that provides expert industry insights to investment funds, consulting firms, and corporations. It does this by virtually connecting those organizations with industry experts across the globe.
The company reported a revenue of $50M in FY'21 and has already turned profitable.
Atheneum grew nearly 50% in 2020 — and growth jumped to 80% this year.
The company's clients include about 500 major players across verticals like life sciences, management consulting, tech, and investment services.
Atheneum, which comprises a network of 680,000 experts, currently has 11 offices across the globe — in locations such as Berlin, London, and New York — and is supported by a team of over 400 employees.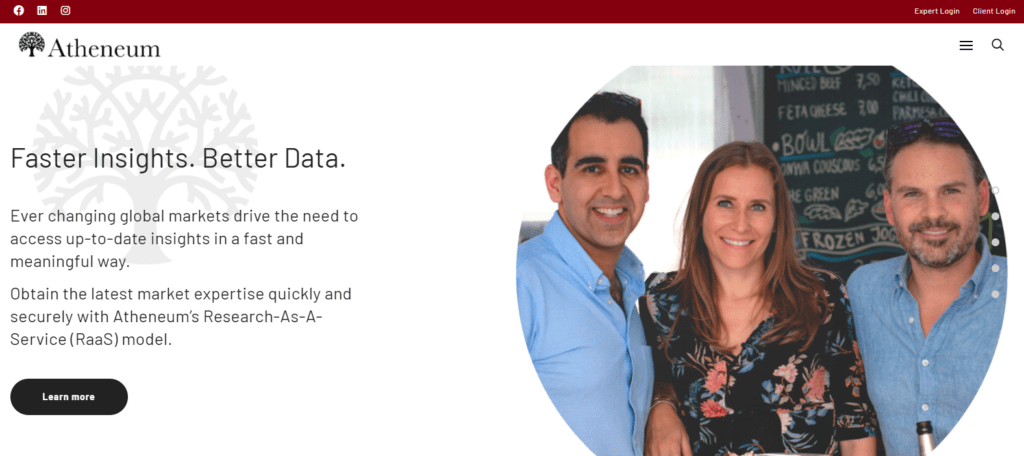 Source: Antheneum
WHY DOES THE MARKET MATTER?
The global insights-as-a-service market is projected to grow at a CAGR of 22.08% to reach a value of $7.61B by 2026, according to Verified Market Research.
The market is expected to benefit from the Covid-driven rise of remote work and virtual interview processes.