6 of the 19 companies featured in our map are unicorns valued at $1B or more.
Last year, investors poured more than $110B into nearly 8,500 deals to tech startups based in Asia and the Pacific region, which stretches from China to New Zealand.
This included investments in leading tech companies such as payments giant Ant Financial Services Group in China (the most well-funded company in the region), on-demand logistics unicorn Gojek in Indonesia, and fintech unicorn Airwallex in Australia.
Using CB Insights data, we identified the most well-funded VC-backed tech startups in the Asia Pacific region, based on disclosed equity funding. Collectively, the startups on our map have raised over $43B in disclosed equity funding.
See the full infographic below, and the complete list of startups at the end of this post.
Our analysis ranks companies based on total disclosed equity funding and only considers private tech companies that have raised at least $1M of equity funding. Companies included have all raised equity funding since 2015. To give a robust picture of the top tech startups in the region, we include Hong Kong and Taiwan separately from China.
Please click to enlarge.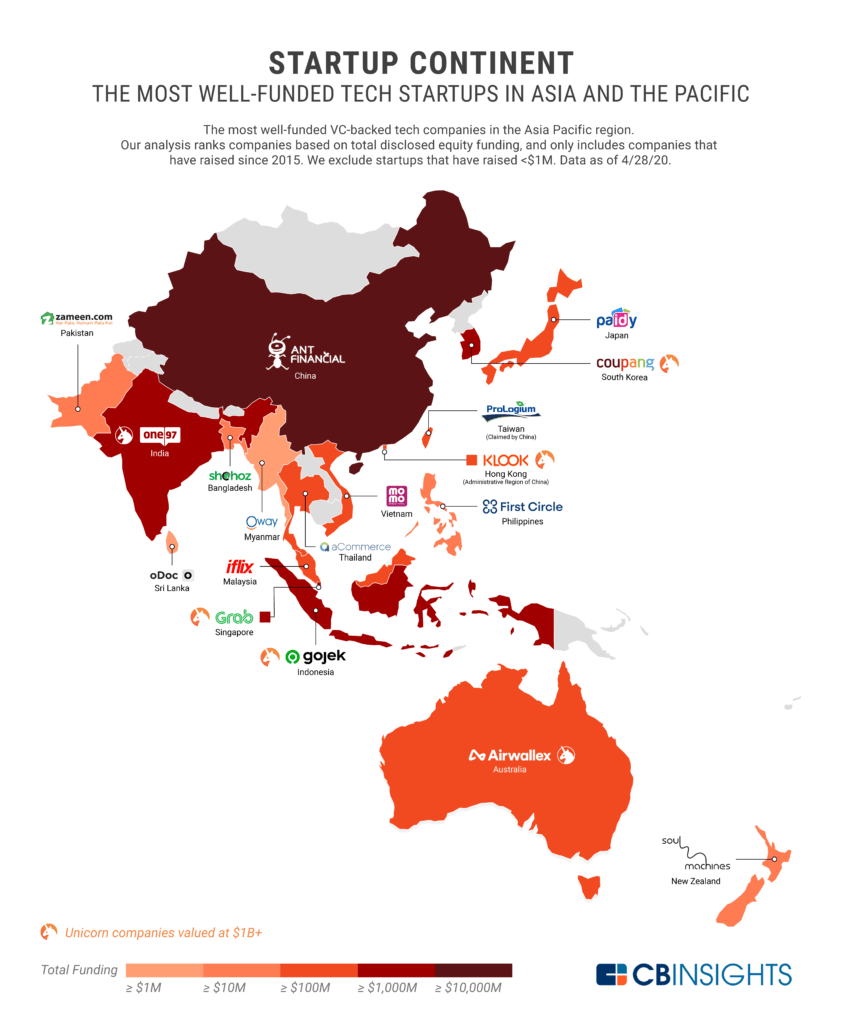 KEY TAKEAWAYS
The most well-funded startup across Asia and the Pacific is China-based Ant Financial Services Group, with over $19B in total disclosed equity funding. Ant far outpaces the rest of the region, with more than double the funding of the next runner-up.
In second place is on-demand ride-hailing company Grab in Singapore ($9B in total disclosed equity funding), followed by mobile internet company One97 Communications, which operates commerce platform Paytm, in India ($4.7B).
Rounding out the top 5 most well-funded startups in the region are Gojek ($4.6B, Indonesia) and e-commerce platform Coupang ($3.8B, South Korea).
6 of the 19 companies featured in our map are unicorns valued at $1B+: One97 Communications ($16B valuation, India), Grab ($14.3B, Singapore), Gojek ($10B, Indonesia), Coupang ($9B, South Korea), Airwallex ($1.8B, Australia) and Klook ($1B, Hong Kong). (Ant Financial is valued at $150B, but as an affiliate of Chinese tech giant Alibaba, it does not meet our "unicorn" definition.) The 6 unicorns can be tracked in real time on the CB Insights global unicorn club tracker.
The Asia Pacific region is home to 18 countries or regions in which the most well-funded tech startup has raised at least $1M in funding. 5 companies have raised more than $1B, and only Ant Financial has raised more than $10B in total equity funding.
The least well-funded startup on the map is Sri Lanka-based telemedicine startup oDoc, which has raised $1.1M in seed funding.
---
This report was created with data from CB Insights' emerging technology insights platform, which offers clarity into emerging tech and new business strategies through tools like:
If you aren't already a client, sign up for a free trial to learn more about our platform.