The proliferation of mobile, a burgeoning middle class, and pro-fitness government policies are enabling the rise of fitness tech in China and India.
The fitness economy is growing globally, as investors capitalize on opportunities to invest not just in fitness services but also in associated products and services, like apparel and nutrition.
International (non-US) disclosed equity deals to fitness tech startups accounted for approximately one-third of global fitness tech deal share from 2013 to 2017 YTD (10/9/2017). Together, India, Canada, the UK, and China account for one-fifth of international deals.
Asia in particular has seen an emergence of fitness tech startups. The below map shows some of the world's most well-funded international fitness tech startups, with a noticeable concentration of fitness tech companies in India and China.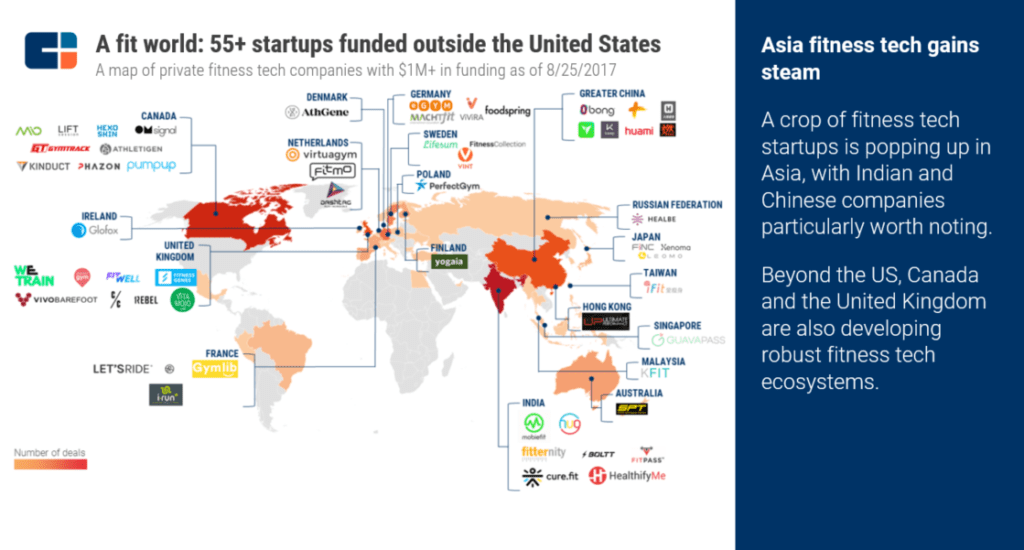 What is enabling the rise of India and China's fitness ecosystems?
The proliferation of mobile technologies across the developing world is democratizing fitness for new populations.
Additionally, Indian and Chinese governments are promoting physical health and fitness-focused careers within their respective national policies. For example, in June 2016, the Chinese State Council issued a plan to implement a national fitness strategy to improve the physical fitness and health levels of the entire country by 2020.
In India, the government's National Skill Development Corporation (NSDC) is funding a K11 Academy of Fitness Sciences in North India. In response to India's growing fitness industry, the academy will provide training for youth looking to become personal trainers.
These factors, combined with a burgeoning middle class who can afford new fitness services, are creating a region ripe for tech-enabled fitness.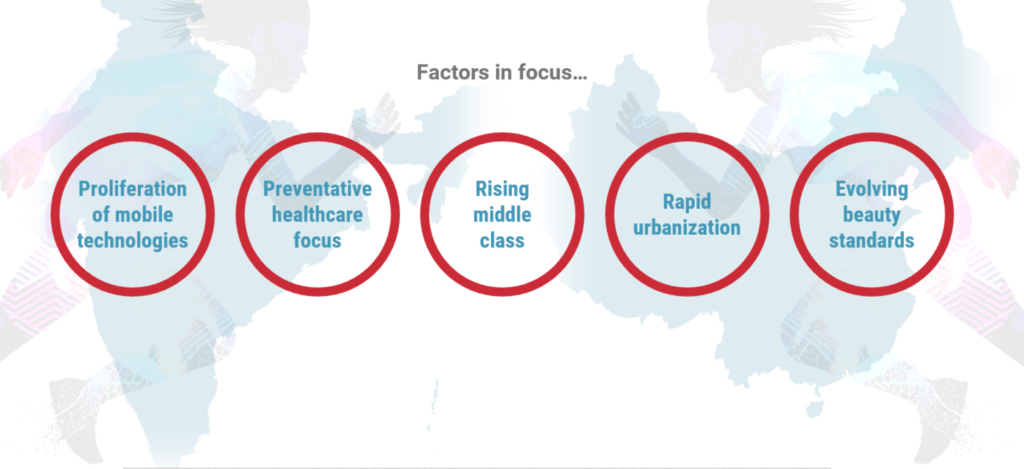 Track all the fitness startups in this brief and many more on our platform
Fitness tech companies are using technology to augment approaches to developing or maintaining physical fitness. Look for Fitness Tech in the Collections tab.
Track fitness tech startups
India's CureFit emphasizes holistic wellness
India's most well-funded fitness tech company is Bengaluru-based CureFit, which provides an integrated health and wellness platform. The startup has raised $46M in total disclosed funding.
CureFit offers a three-pronged platform, including eat.fit (nutrition services), cult.fit (no-machine workout classes), and most recently a mental health platform dubbed mind.fit.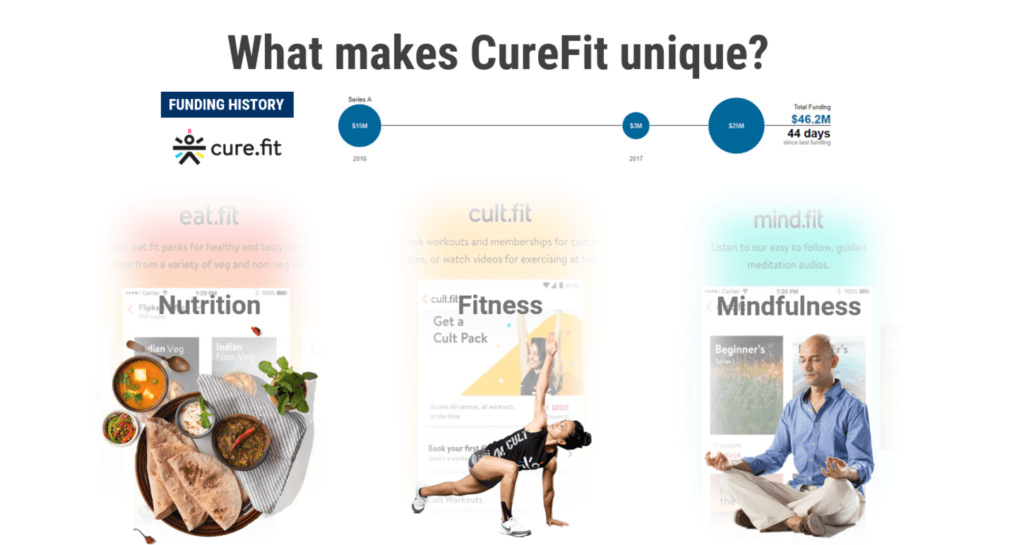 The startup employs a mobile-first approach, with a mobile app that tracks users' health data and rewards them for healthy behaviors. A trainer engagement app coaches trainers at Cult fit centers to help them improve personal training services.
Notably, an aggressive acquisition strategy has helped CureFit scale very quickly.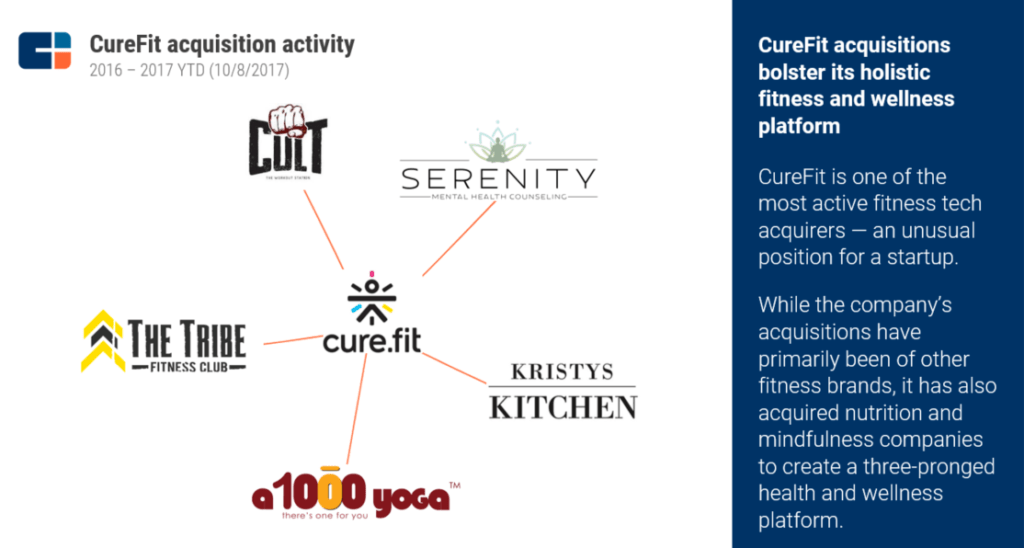 Chinese fitness app Keep reaches 100 million users
Though still in the early stages, China's fitness market is rapidly expanding, with Keep, China's top fitness app, announcing 100 million users in August 2017. Keep offers a workout app for users to access free workout videos and track their workouts.
Many fitness mobile apps offer convenience, but Keep has differentiated itself by integrating social media and e-commerce within its app. The app's social media component not only allows fitness enthusiasts to post their own content, but also allows fitness brands to create in-app social campaigns and promotions for fitness classes and other services.
On the e-commerce side, Keep offers an online shop for purchasing fitness gear (using mobile payment methods WeChat Pay or Alipay). The company has also noted collaboration with sportswear brands for sales promotions of fitness apparel and products.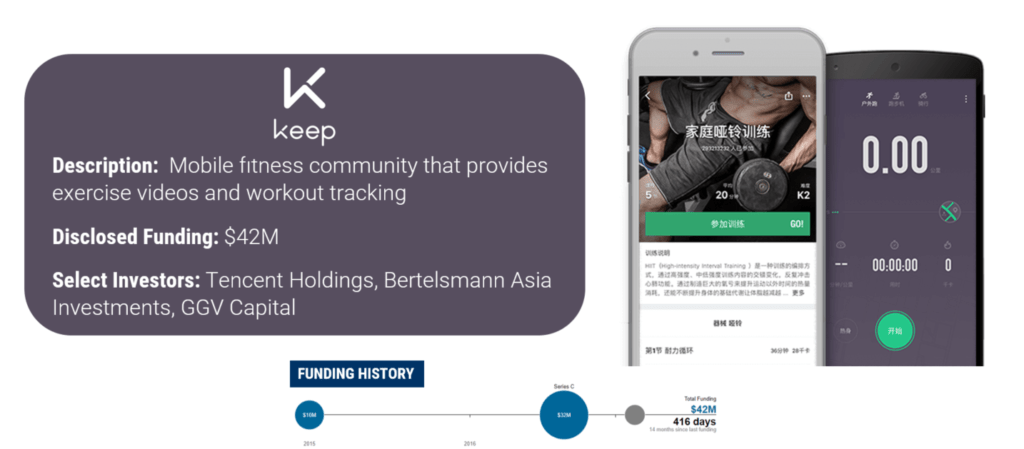 If you aren't already a client, sign up for a free trial to learn more about our platform.