The AI 100 is CB Insights' annual list of the 100 most promising private AI companies in the world. This year's winners are working on generative AI infrastructure, emotion analytics, general-purpose humanoids, and more.
CB Insights has unveiled the winners of the seventh annual AI 100 — a list of the 100 most promising private AI companies across the globe.
Around one-third of this year's winners are focused on AI applications across specific industries — such as visual dubbing for the media & entertainment sector or textile recycling for fashion & retail. A total of 40 vendors are focused on cross-industry solutions, like AI assistants & human-machine interfaces (HMIs), digital twins, climate tech, and smell tech.
Additionally, 27 companies in this cohort are developing tools like vector database tech and synthetic datasets to support AI development.
Using the CB Insights platform, our research team picked these 100 private market vendors from a pool of nearly 9K companies, including applicants and nominees. They were chosen based on CB Insights datasets — including R&D activity, proprietary Mosaic scores, business relationships, Yardstiq transcripts, investor profiles, news sentiment analysis, competitive landscape, and team strength — and criteria such as tech novelty and market potential. The research team also reviewed thousands of Analyst Briefings submitted by applicants.
CB Insights clients can access the entire AI 100 list and interactive Expert Collection here. 
If you are not already a CB Insights client, sign up for a free trial to analyze each winner's funding and valuation history, headcount growth, key competitors, and more.
Want to be considered for future rankings? Fill out this initial application form (it'll take no more than a few minutes). If selected, you'll be asked to complete our Analyst Briefing Survey so that our analysts can better understand your products, customers, and market traction.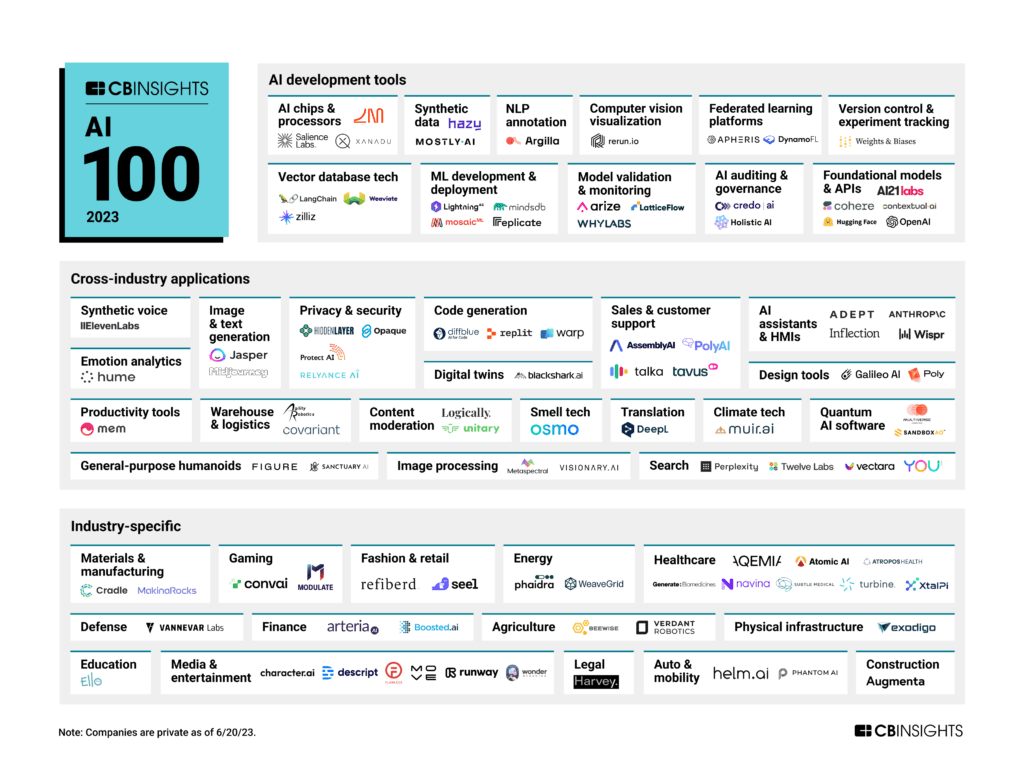 Companies are categorized by their primary focus area and client base. Categories in the market map are not mutually exclusive.
Please click to enlarge.
TOP AI COMPANIES 2023: AI 100 COHORT HIGHLIGHTS
Overall funding and valuation trends: The AI 100 includes a mix of companies at different stages of maturity, product development, and funding. The cohort has raised nearly $22B — driven by OpenAI's $13B worth of investments from Microsoft — across 223 deals since 2019 (as of 6/14/23). This year's list includes 15 unicorns with a $1B+ valuation.