Learn how these top startups are applying AI in healthcare to discover new drugs, remotely monitor patients, securely transfer patient data, and provide value-based care.
Healthcare has become a crucial area for artificial intelligence research and applications.
Startups in the space are leveraging AI technology to help individual consumers, clinicians, and hospital systems improve everything from fitness to clinical trials to diagnostics.
For example, consumers are adopting virtual assistants to inquire about symptoms and using applications to track fitness metrics.
Meanwhile, radiologists are using computer vision to discern between malignant and benign cells, while hospital systems are deploying AI-driven software to analyze the financial risk of individual patients on behalf of insurers.
In the map below, we identify the 90+ most well-funded healthcare AI startups across 12 categories representing a variety of industry applications where the tech is gaining traction.
Key takeaways
IMAGING & DIAGNOSTICS startups received the most INVESTOR ATTENTION
Startups developing AI-driven imaging & diagnostic solutions are the most-represented in our map, accounting for 29% of the startups. They have raised a combined $1.5B in financing, which equates to 22% of disclosed equity funding for the featured startups.
Drug discovery is another popular sector, accounting for 23% of the companies featured on the map and 23% of total disclosed funding.
CHina and the UK emerge as popular hubs for healthcare ai
While 60% of the companies in our map are based in the United States, China and the United Kingdom have also emerged as hubs for healthcare innovation.
China-based healthcare AI startups have benefited from the government's AI-focused development strategy, stimulating investment and private-public partnerships.
Additionally, the British government has announced a National Artificial Intelligence Lab that will collaborate with Britain's universities and technology companies to research cancer, dementia, and heart disease. UK-based startups have benefited from the government's robust library of patient data, as British citizens share their anonymized healthcare data with the British National Health Service.
---
CB Insights' Collections
The market map in this post was created using CB Insights' collaborative work management solution Collections and Market Map tools. CB Insights clients can use existing Expert Collections or build their own unique collections to collect, sort and map companies based on funding, industry, and a host of other criteria.
If you're a client, click here to access our AI in Healthcare Expert Collection. If you're not a client and want to learn more about Collections, click here.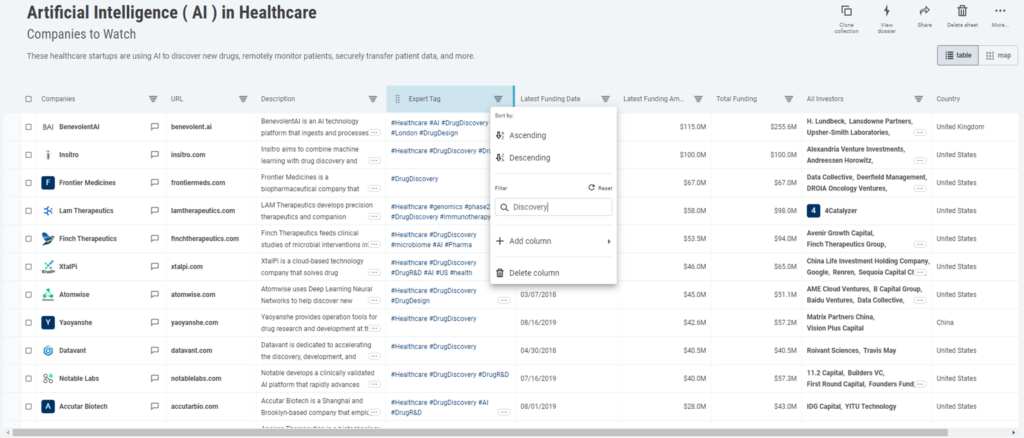 ---
Market map
Each company in the map has raised at least one $10M+ funding round since 2018. Categories are not mutually exclusive and companies are sorted by primary use case. Please click to enlarge.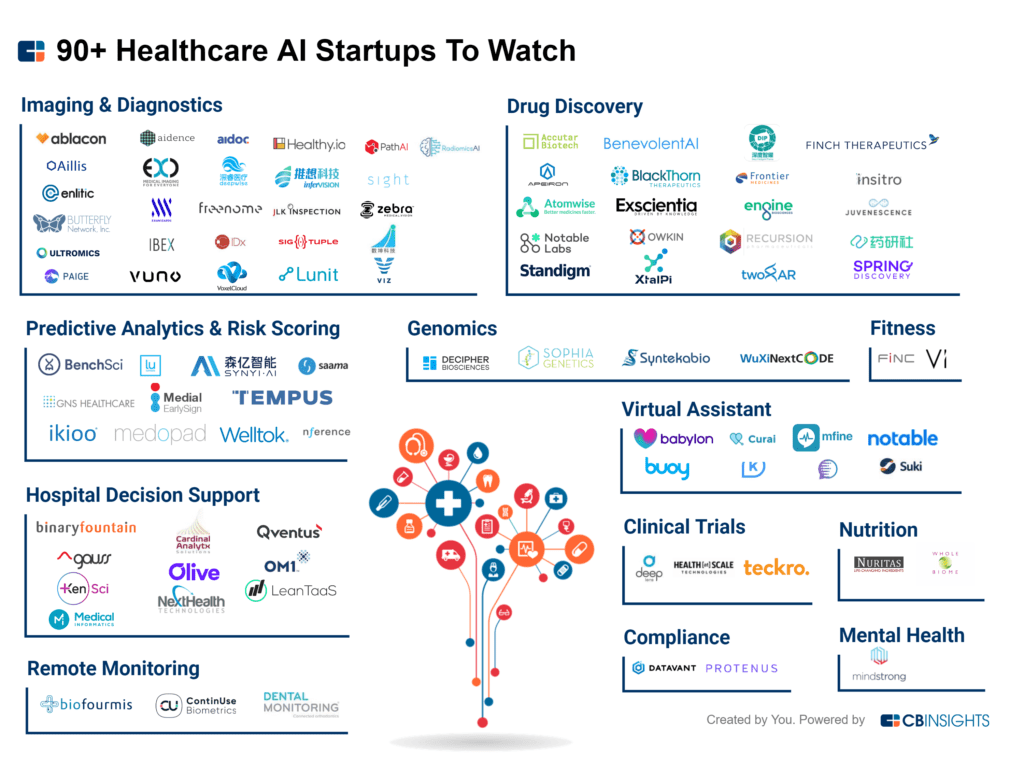 Category breakdown
Clinical Trials
This category includes companies focused on clinical trial management. Building upon more robust datasets, startups in this category help researchers recruit and retain patients, as well as design and manage their studies. 
One startup applying AI to the clinical trial process is Teckro, an Ireland-based company that provides researchers with a machine learning-driven platform for monitoring trial progress across geographically dispersed teams. The company has raised $41M in disclosed equity funding, with participating investors including Founders Fund and Sands Capital, among others.
Deep Lens, another startup in this category, uses an AI-based pathology platform called VIPER to identify eligible trial candidates at the point of their diagnosis. The company has attracted $17.2M in disclosed equity funding, with notable investors including Rev1 Ventures, Sierra Ventures, and Ohio TechAngels.
Compliance
Startups in this category are developing AI-driven privacy solutions for healthcare administrators, such as the secure transfer of patient data.
For example, Baltimore-based Protenus provides healthcare systems with AI-powered auditing, compliance analytics, and security software for patient and clinical trials data. It has raised $36.15M in disclosed equity funding. 
Similarly, Datavant is a San Francisco-based startup that "deidentifies" patient data so that it can be safely packaged and exchanged with healthcare partners. Datavant has raised $40.5M in disclosed equity funding from Roivant Sciences and CEO Travis May. 
Drug Discovery
These companies leverage AI to find the most effective combinations of drug compounds, reducing the time and capital required in drug discovery.
Two different business models have emerged in this segment: biotechnology startups that are conducting internal R&D to discover new drugs, and pureplay SaaS startups that sell analytics software to pharmaceutical companies.
Among the most well-funded startups in this category are Recursion Pharmaceuticals and Blackthorn Therapeutics, AI biotech companies with drug development pipelines. 
Recursion Pharmaceuticals, a Salt Lake City-based company backed by CRV and Lux Capital, manages a pipeline of drugs for cardiology, neurology, dermatology, hematology, immunology, ophthalmology, and other focus areas. The company has raised $235.77M in disclosed equity funding.
San Francisco-based Blackthorn Therapeutics is backed by Google Ventures and Polaris Partners. It has developed a pipeline of neurobehavioral therapeutics to treat mood and anxiety disorders, autism, and other neurological disorders. The company has raised $130M in disclosed equity funding.
Fitness
Startups in this category include AI-driven wellness applications that let consumers track their health and fitness metrics. 
Tokyo-based FiNC, for example, uses an AI-driven chatbot to provide personalized recommendations to help users achieve their exercise, sleep, and nutrition goals. The startup has secured $66.28M in disclosed equity funding.
Genomics
Startups in this category are using AI for personalized healthcare, genome sequencing, and CRISPR research. 
One startup working in the space is WuXi NextCODE, a Massachusetts-based startup that applies AI and deep learning to genomic analysis. This research is used to improve patient sampling for drug discovery and accelerate cancer research. The company has raised $455M in disclosed equity funding, including a $200M Series C led by Ireland Strategic Investment Fund in November 2018.
Another startup developing AI-driven genomic solutions is South Korea-based Syntekabio, which analyzes an individual's unique genetic map to provide personalized medical treatments. The company has attracted $33.2M in disclosed equity investment. 
Hospital Decision Support
Startups in this category leverage AI to improve decision making for hospitals by assessing healthcare quality with quantifiable, data-driven metrics. This category also includes companies using robotic process automation to streamline hospital operations.
Gauss Surgical, for example, is a Menlo Park-based startup that provides computer vision systems to monitor blood loss in operating and labor rooms to detect potential hemorrhages. The company is backed by Polaris Partners, among others, and has attracted $44.8M in disclosed equity funding.
Ohio-based startup Olive uses robotic process automation, computer vision, and machine learning to automate healthcare administrative workflows like checking claim statuses and managing accounts receivable. The company has raised $67.8M in disclosed equity funding, with notable investors including Khosla Ventures and Drive Capital.
Imaging & Diagnostics
This category includes startups using AI software to detect and diagnose diseases at an early stage.
One startup to watch in this space is Freenome, a San Francisco-based startup that uses AI to find patterns in cell-free biomarkers circulating in the blood that could be associated with cancer. Freenome has raised $238.35M in disclosed equity funding. Notable investors include Andreessen Horowitz, Google Ventures, CRV, Data Collective, and Founders Fund, among others. The company most recently raised a $160M Series B round led by RA Capital Management and Polaris Partners.
Additionally, PathAI, a Boston-based startup that develops AI-driven diagnostic tools to assist pathologists in clinical decision-making and drug discovery, has raised $74.94M in disclosed equity funding. The company received a corporate minority investment from LabCorp, a provider of medical laboratory tests, in July 2019.
Mental Health
Healthcare AI startups are also developing algorithms to track and diagnose mental health challenges.
Palo Alto-based Mindstrong Health leverages AI to diagnose and treat neuropsychiatric disorders. The company's patient-facing app provides healthcare providers with real-time tracking of cognition and mood. Mindstrong Health has secured $60M in disclosed equity funding, with participation from Optum Ventures, Bezos Expeditions, and General Catalyst, among others. 
Nutrition
Startups in this category are using artificial intelligence to develop nutritional foods and supplements, and to deliver personalized vitamins and health plans to consumers.
One company to watch here is Whole Biome, which is developing medical food containing gut-assisting microbes in the treatment of diabetes. In May 2019, Whole Biome raised a $35M Series B led by Sequoia Capital, with participation from Mayo Clinic, Khosla Ventures, True Ventures, and AME Cloud Ventures. The company has raised $45.5M in total disclosed equity funding. 
Predictive Analytics & Risk Scoring
These startups are using machine learning and natural language processing to analyze and consolidate health data from disparate sources — such as health records, medical images, and genomics data — to identify at-risk patients. This provides clinicians with better data with which to make diagnoses and provides insurers with a clearer picture of potential medical costs.
Tempus is a Chicago-based data technology company that uses AI to analyze clinical and molecular data to create personalized cancer treatment plans for patients. Tempus has attracted $520M in disclosed equity funding and is valued at $3.1B. Notable investors include NEA and Steve Case's Revolution. 
Welltok is a Denver-based consumer health SaaS platform that uses AI to connect healthcare providers, employers, pharmacies, and PBMs to consumers with personalized health plans, based on a patient's medical history. The company has raised $326.14M in disclosed equity funding from investors including NEA, InterWest Partners, Bessemer Venture Partners, Canaan Partners, and Emergence Capital Partners.
Remote Monitoring
Companies in this category use AI-driven software to collect and analyze data from wearables, sensors or FDA-approved home devices. While some startups are only providing the software analytics layer, others are developing their own sensors as well. 
Biofourmis, for example, is developing an AI analytics engine that pulls data from FDA-approved home monitoring devices and predicts health outcomes for patients. The company has raised $41.6M in disclosed equity funding, with notable investors including Aviva Ventures, OpenSpace Ventures, SGInnovate, and Mayo Clinic Ventures. 
Another startup operating in this category is ContinUse Biometrics, a Tel Aviv-based company developing non-invasive sensor platform for tracking biological vitals, particularly for patients with diabetes and cardiovascular disease. The company has attracted $28M in disclosed equity funding. 
Virtual Assistant
Startups in this category are building voice and text-based AI assistants that interact with patients and analyze their responses.
Babylon Health, the most well-funded healthcare AI startup, enables users to talk to a doctor within minutes and get medical advice via video consultations, phone calls, or text messages. The company's chatbot uses natural language processing to interpret symptoms and combines this information with data in the patient's medical history. The London-based company has raised $635M in disclosed equity funding and is valued at $2B.
New York-based K Health uses AI to navigate a large dataset of medical conditions and respond to patient inquiries about their medical conditions. The startup has raised $56M in disclosed equity funding, including a corporate minority investment from health benefits provider Anthem.
If you aren't already a client, sign up for a free trial to learn more about our platform.