Startups in 46 US states plus DC are applying artificial intelligence tech across industries like marketing, healthcare, retail, and more.
Despite sustained global uncertainty caused by the Covid-19 pandemic, the artificial intelligence sector is shattering funding records this year, garnering $38B in H1'21 — already surpassing the $36B raised in 2020.
The industry is maturing at a blistering pace. A number of new records were achieved in Q2'21, including 50 mega-rounds, 24 new AI unicorns, and 119 exits. Notable events include Waymo's $2.5B funding round, UiPath's $29B IPO, and Microsoft's $19.7B acquisition of Nuance.
Investors are betting on AI tech across the country. Using CB Insights data, we mapped out the top-funded AI startup in every US state.
Collectively, these startups have raised more than $10.3B in disclosed equity funding, with leading companies including Databricks ($1.9B in disclosed equity funding), Tanium ($1.17B), and Indigo Ag ($1.15B).
See the full map below.
Our analysis ranks companies based on total disclosed equity funding and only considers AI companies that have raised an equity round since 2016. 
Please click to enlarge.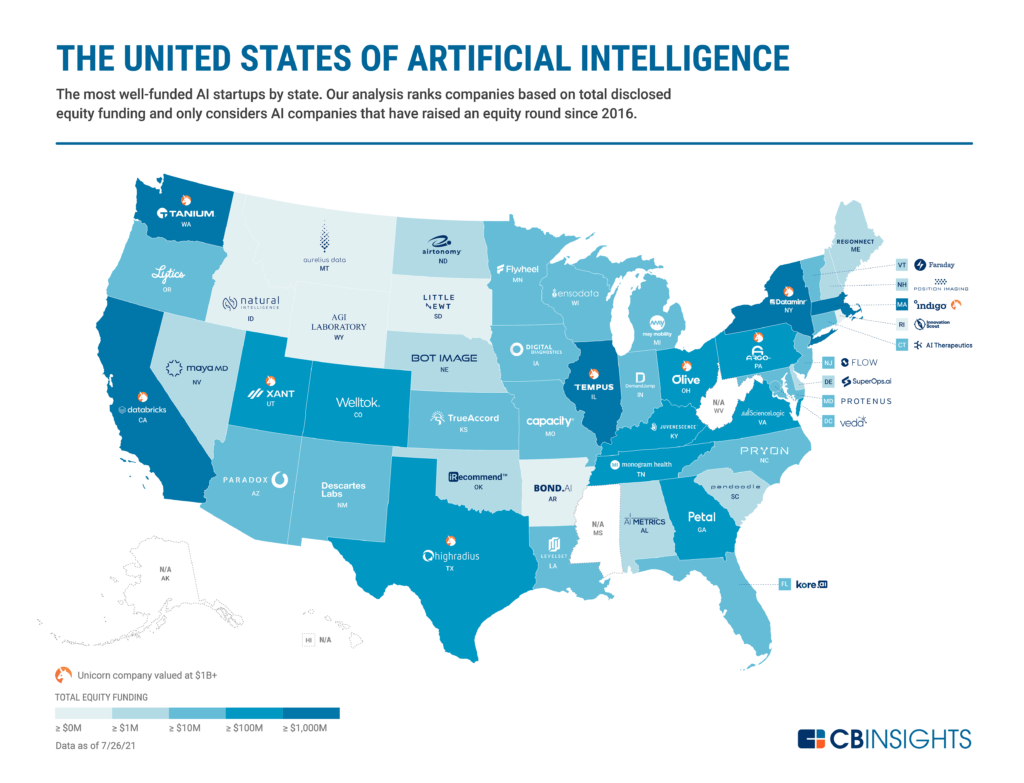 KEY TAKEAWAYS
The most well-funded AI startup on our map is California's Databricks, with almost $1.9B in total disclosed equity funding. It supplanted driverless delivery company Nuro. Following its $1B Series G in February, the data analytics company reached a $28B valuation.
Rounding out the top 3 highest-funded startups on our map are Washington-based Tanium ($1.17B) and Massachusetts-based Indigo Ag ($1.15B).
There are 9 unicorns on our map: Databricks ($28B valuation), Tanium ($9B), Indigo Ag ($3.5B), Tempus ($8.1B), Dataminr ($4.1B), Olive ($4B), Argo AI ($7.3B), HighRadius ($3.1B), and XANT ($1.7B).
14 startups on the map have raised over $100M in disclosed equity funding, including self-driving tech developer HighRadius ($475M) and IT operations platform ScienceLogic ($189M).
31 startups on this list have raised at least $10M in equity funding. The startup with the least funding on the list is Rhode Island's startup discovery platform The Innovation Scout, which has raised $50K to date.
17 of these companies have already raised new funding in 2021, while 15 last raised funds in 2020.
Since our last update in March, 4 companies have exited: New York's UiPath, Utah's Recursion Pharmaceuticals, Maryland's Xometry, and Missouri's Benson Hill (which went public via a SPAC).
If you aren't already a client, sign up for a free trial to learn more about our platform.