AI, computational linguistics, computational vision, machine learning, and natural language processing skills receive some of the most eye-popping equity premiums.
The following is a guest post by Kyle Holm (Partner, Pre-IPO Compensation Practice Leader at Radford) and Kelsey Owen (Director, Pre-IPO Compensation Practice at Radford).
The race to build computers that act, see, speak, and think like humans is as competitive as ever.
GET the enterprise AI TRENDS report
Download the free report to learn about the biggest emerging trends in AI and strategies to watch for 2021.
While some worry that artificial intelligence (AI) will someday lead to robots rampaging their way to world domination, AI-related startups have not stopped attracting intense interest from talent and capital.
Just weeks ago, China-based AI startup SenseTime Group received one of the largest venture capital investment in the AI space — a $600M Series C investment led by Alibaba.
Before this, according to data from CB Insights, AI startups secured 1,349 separate equity financings in 2017 totaling a whopping $15.2B in investment.
With all of this investment activity taking place, valuations for AI startups aren't the only things on the rise.
The people and engineers behind these technologies are also increasingly in demand, creating a brand new, rapidly evolving front in the war for talent as companies and investors look to enter the AI arena.
As a result, companies of every size and stage of development need to reassess how they attract and retain the people who make AI-enabled technologies a reality.
Against this backdrop, our firm initiated the 2017 Radford US Hot Skills and Competency Survey to learn more about the hot skills that companies believe are critical to their success today, and what compensation premiums — if any — they currently pay for those skills. The finished survey includes contributions from 184 private and public tech firms.
Among all technology sector respondents, 41% currently consider AI experience a medium or highly critical skill in today's market.
Additionally, 47% of companies consider machine learning a medium or highly critical skill.
In other words, nearly half of all survey participants believe these skills are important to their company's near-term success and are actively recruiting for candidates with these skills. However, the competition for talent in these areas isn't limited solely to companies placing a special emphasis on these two skills.
AI has potential applications in all industries — from connected devices to auto tech to healthcare, and everything in between.
Companies appear ready to pay top dollar, especially via larger-than-normal equity awards, for candidates with critical skills related to AI.
In Figure 1 below, we outline the top 10 equity compensation premiums for key skills at all technology companies, plus a special breakout of software firms. In both cases, AI, computational linguistics, computational vision, machine learning, and natural language processing rank near the top, and some of the equity award premiums are nothing less than eye-popping.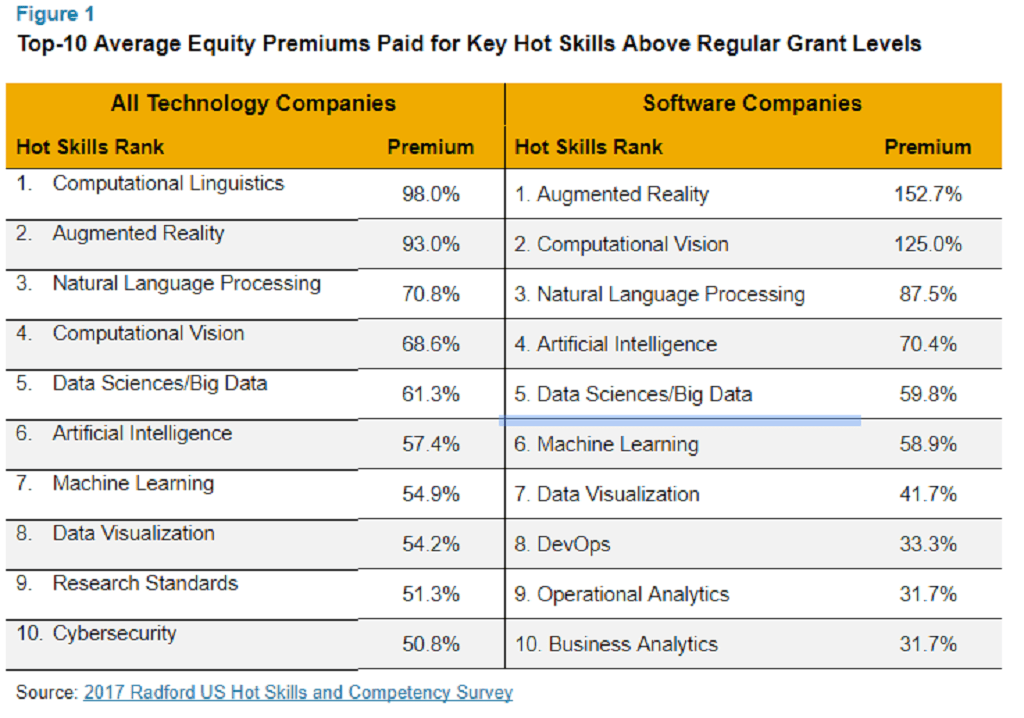 Clearly, technology companies — especially software firms — are willing to go above and beyond to secure critical talent in areas related to AI. (Although not the focus of this particular article, the same is also true for augmented reality and data science skills, which can be very closely connected to some AI projects.)
This is not the first time we've encountered a hot skill, and it won't be the last.
As advisors to our clients, we challenge business leaders, compensation professionals, and investors to ask themselves: Are these pay premiums sustainable in the long-run, especially if the core of your business is built around AI-related skills?
Before paying skill-based premiums, ask these questions
While a good number of technology companies provide base salary, bonus, and/or equity premiums for key skills from time to time, they should always be careful when paying extra to employees based solely on their knowledge in one particular area.
What happens if your business requirements change?
What happens when a particular skills shortage ends?
And what happens if your expensive expert in one area can't translate their knowledge to other challenges?
In every case, you run the risk of paying someone top dollar for a skillset that will inevitably get cheaper over time, and may no longer be as critical to your business. This could lead to serious internal pay equity problems as well as allocating resources to a small group of employees who aren't actually going to make a lasting impact on your business.
With this in mind, we counsel companies to think beyond short-term talent acquisition when considering hot skills premiums.
Consider the following strategic questions before handing out oversized pay packages:
Where do we have skill gaps in our organization? Are these acute technical issues related to a specific project, or a broader, long-term organizational need?
Do we have the resources to catalog the specific skills employees possess? Would we find this information valuable, and could we integrate it into our compensation and talent programs?
Do we already pay employees with key hot skills more than their internal and/or external peers? Are they paid at these levels because of the specific skills they possess, or are they simply performing better than others?
Are we losing employees at our company with key hot skills to the competition at a higher rate than normal employee turnover across the rest of the organization? If so, is compensation the problem or is it something else, like team culture or product vision?
What mechanisms are in place to educate HR, compensation, and recruiting professionals to ensure their understanding of key hot skills is strong enough that they can make informed decisions about how far to go with pay premiums?
If we decide to pay employees extra for their skills, what are the consequences when those skills become more commonplace? Do we have a long-term strategy to migrate our hot skills premiums into the broader company strategy?
Companies of all sizes and stages of development should ask these questions to ensure their talent acquisition, compensation, and business strategies align before awarding special pay premiums. Ultimately, every company will need to make its own decision around how best to reward and hire for critical skills.
---
Disclaimer
This report provides general information for reference purposes only. Readers should not use this article as a replacement for legal, tax, accounting, or consulting advice that is specific to the facts and circumstances of their business. We encourage readers to consult with appropriate advisors before acting on any of the information contained in this article. The contents of this report may not be reused, reprinted, or redistributed without the expressed written consent of Aon plc.
About Radford
Radford partners with technology and life sciences companies to reimagine their approach to rewards, empowering them to achieve superior levels of people and business performance. Radford is part of Aon plc (NYSE: AON). For more information, please visit radford.aon.com.
About Aon
Aon plc (NYSE:AON) is a leading global professional services firm providing a broad range of risk, retirement and health solutions. Our 50,000 colleagues in 120 countries empower results for clients by using proprietary data and analytics to deliver insights that reduce volatility and improve performance. For further information, please visit aon.com.
If you aren't already a client, sign up for a free trial to learn more about our platform.