Covid-19 has accelerated the adoption of AI in production. From robotic arms that make face masks to remote quality inspections, we examine how new AI use cases are coming to the assembly line.
Manufacturing is at a crossroads.
The Covid-19 pandemic has added economic uncertainty and labor constraints to already struggling manufacturers.
Now, as manufacturers are forced to rethink operations like product production and assembly, it may catalyze further adoption of automation trends that were gaining traction before the crisis.
GET the enterprise AI TRENDS report
Download the free report to learn about the biggest emerging trends in AI and strategies to watch for 2021.
For example, Whirlpool CEO Marc Bitzer said of the company's manufacturing struggles that "even if you run the factory, you can't run it at 100% capacity. That's the simple reality of Covid." Similarly, Samsung SDI Co reported a drop in battery revenue as "clients stopped operating production lines due to the Covid-19 pandemic." 
However, promising advances in computer vision technology and solutions across the warehouse & logistics sector are now making their way to the assembly line.

In part 3 of our series on AI in manufacturing, we look at AI use cases in assembly lines and production, including:
AI-powered robotic arms

Self-driving robots for material handling

Real-time production monitoring and quality inspection
The next generation of collaborative robotic arms
The industrial robotics systems market is expected to be worth $138B by 2026. A subset of that, collaborative robots, or cobots, will be a $12B market by 2030.
Cobots are designed to work safely alongside humans in close proximity, in contrast to the bulkier robots typically deployed at manufacturing plants. The most popular type of collaborative robots are robotic arms that can pick up, place, or sort through objects, although cobots can also be used for other manufacturing assembly and inspection tasks. 
With AI, cobots are getting better at perceiving the orientation of different objects, precision welding, pick-and-place, and other assembly line tasks.
How manufacturers are using COBOTS
AI systems by definition continuously learn and improve with each new task. But by connecting several "AI brains" to a central cloud, each robot continuously learns not only from its own environment, but from an entire network of industrial robots deployed globally.
This is the idea behind logistics AI developer Covariant's "universal brain" for industrial robots.
Covariant uses different approaches to train robots, including reinforcement learning — an approach popular in gaming and robotics, where AI learns through a "reward-punishment" system — and imitation learning, which involves learning by observing human demonstrations.
While e-commerce and warehouse logistics is a hotbed for testing AI-enabled robots like robotic pick-and-place and sorting systems, companies are eyeing an expansion of their products into the manufacturing sector.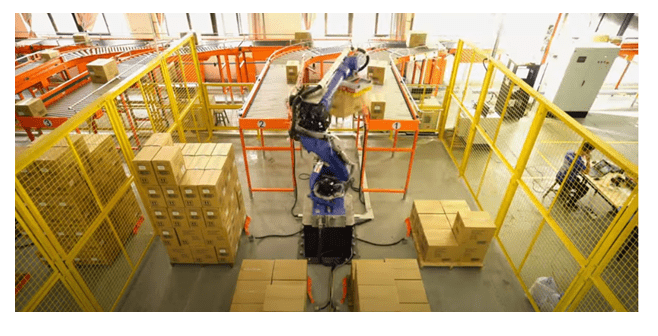 Source: Dorabot