VC firm General Catalyst, along with its student investing arm Rough Draft Ventures, backed 3 healthcare AI startups last quarter.
Healthcare has consistently been the top industry for AI deals. Interest in the potential of artificial intelligence — for applications like imaging and diagnostics, virtual assistants, remote monitoring, and in-hospital care — has continued to grow, as evidenced by the record rate of new companies entering the space every quarter.
Last quarter saw particular interest in the sector, hitting a record number of 29 deals to startups in the healthcare AI space (3 deals more than the previous record).
Using CB Insights data, we dug into financing and investor trends in the healthcare AI sector. We define the AI in healthcare space as startups leveraging machine learning algorithms to reduce drug discovery times, provide virtual assistance to patients, or improve the accuracy of medical imaging and diagnostic procedures, among other applications. This excludes hardware-focused robotics startups and health-focused AR/VR companies.
Annual Trends
Deals to AI in healthcare startups increased 29% year-over-year to hit 88 deals in 2016, and are already on track to reach a 6-year-high in 2017. The top round so far this year has been a $65M Series A round raised by AI-based diagnostics startup Freenome in Q1'17, backed by smart money VCs like Data Collective, CRV, and Andreessen Horowitz, as well as corporate investors like GV. Freenome raised a $7M follow-on round in Q3'17 from Andreessen Horowitz.
Last year saw two $100M+ mega-deals, both to healthcare AI unicorns: Shenzhen-based iCarbonX raised a $154M Series A from Tencent Holdings and Vcanbio, while New York-based Flatiron raised a $175M Series C from Casdin Capital and Baillie Gifford, among others. Together these deals accounted for 41% of the total funding in 2016.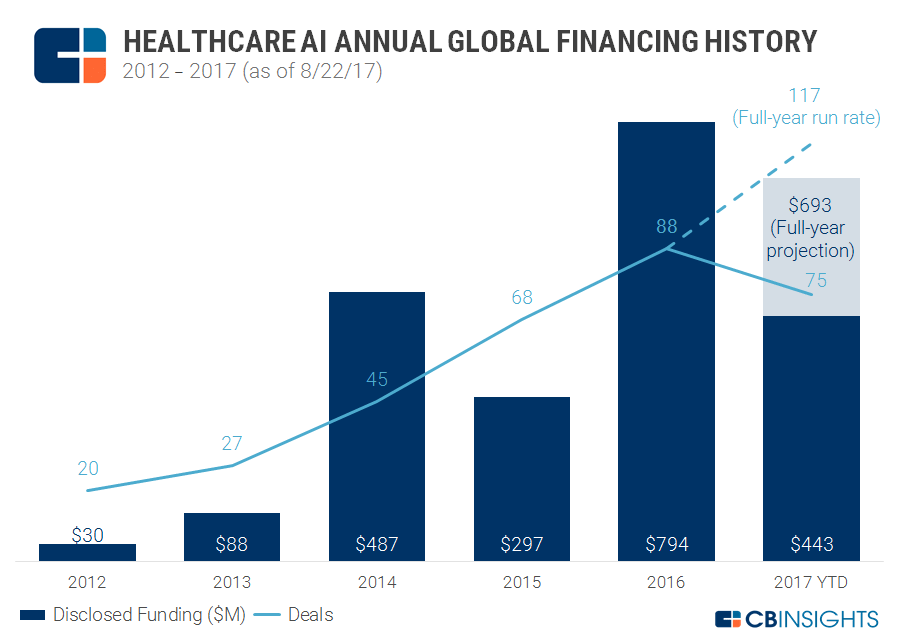 quarterly trends
Healthcare AI startups saw record number of deals last quarter, with 29 startups raising equity deals in Q2'17 — a 12% uptick from the previous quarter, and a 38% increase year-over-year.
The largest round went to UK-based startup Babylon Health, which raised a $60M Series B from investors including Kinnevik, NNS Holding, and Vostok New Ventures. The company was previously backed by Alphabet's DeepMind Technologies (among others) in its first disclosed equity round, a $25M Series A in Q1'16.
Despite hitting a new high in terms of deals, Q2'17 saw a slump in funding, which fell to $151M, down 24% from the previous quarter. This makes Q2'17 the sixth-place quarter in terms of funding, clocking in at less than half of the quarterly funding high of $342M in Q1'16
While the majority of deals went to startups in the United States, 4 companies in India and 3 companies in China also held funding rounds in Q2'17, receiving backing from investors including Sequoia Capital China (Infervision), Norwest Venture Partners (Multiplier Solutions), and 500 Startups (Niramai Health Analytix).
This quarter has already seen 20 deals (as of 8/22/17), and at the current run rate, is on track to beat last quarter's record.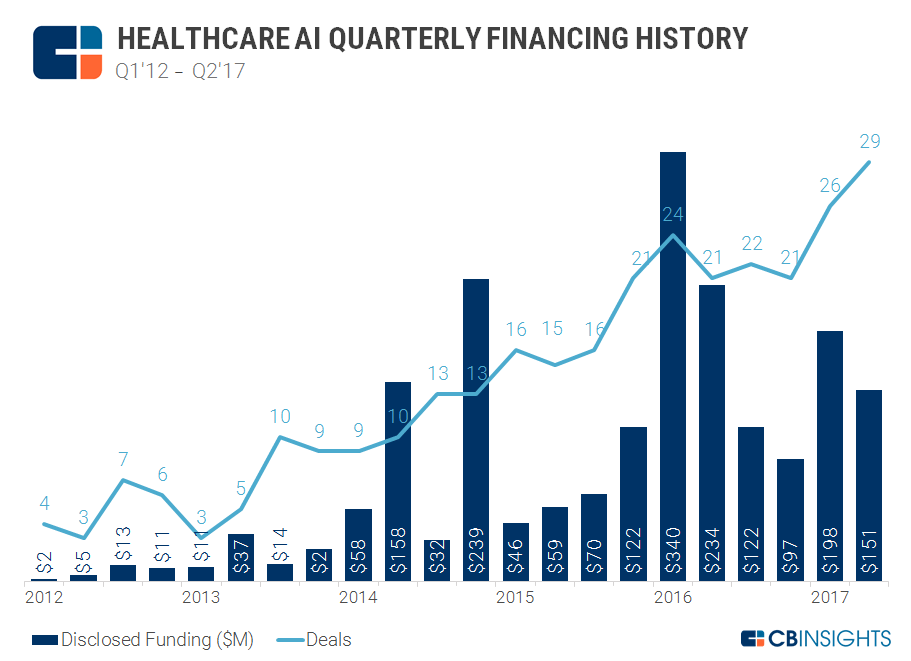 Track all the AI startups in this brief and many more on our platform
From auto tech to healthcare, startups are transforming industries with artificial intelligence. Look for Artificial Intelligence in the Collections tab.
Track AI Startups
Top Investors
In terms of unique companies invested in since 2012, Palo Alto-based Data Collective and AME Cloud Ventures are the most active investor in healthcare AI startups. Data Collective has backed companies including diagnostic startup Enlitic, drug discovery company Atomwise, disease-screening startup Freenome, and heart disease and ultrasound-focused startup Bay Labs.
Khosla Ventures takes second place on the most active investors list, although the VC has not made an investment in the space since Q2'16.
In Q2'17, Rough Draft Ventures, a student fund formed by General Catalyst, backed AI in mental health startup Spring Health and drug design platform developer Reverie Labs. In addition to this, General Catalyst also backed insights and risk analytics company OM1 in a $15M Series A round.
Google Ventures, which has previous backed companies like predictive analytics startup Predilytics (since acquired by WellTok) and healthcare unicorn Flatiron Health, participated in a $65M Sereies A to the aforementioned Freenome in Q1'17. GE Ventures is another corporate that has been active in healthcare AI investments since 2016, backing companies including Arterys, MedAware, and HealthReveal.
If you aren't already a client, sign up for a free trial to learn more about our platform.