After four straight years of growth, venture funding for artificial intelligence rose sharply in 2018 to hit $9.3B.
While the total number of VC-backed AI deals in the US fell in 2018 — down 13% from the year before — funding in the space nearly doubled over the same period.

VC funding into US artificial intelligence startups grew 72% year-over-year, hitting over $9.3B.
One potential driver behind this jump is a significant increase in expansion-stage deals. From Q1'18 to Q4'18, expansion-stage activity increased as a percentage of all AI fundraising from 19% to 32%.
At the same time, seed-stage activity dipped, falling from an 8-quarter high of 44% in Q3'17 to just 28% in Q4'18.

This shift could be an early indication that funding in the AI space is transitioning from more exploratory seed-stage rounds to larger, more growth-oriented rounds for mature companies.
The vast majority of AI deal activity took place in California, which saw 53 deals totaling $1.9B.
In second place was Massachusetts, with 13 deals worth $247M — including Boston-based DataRobot's $100M late-stage mega-round, which was backed by DFJ Growth Fund, Intel Capital, and New Enterprise Associates.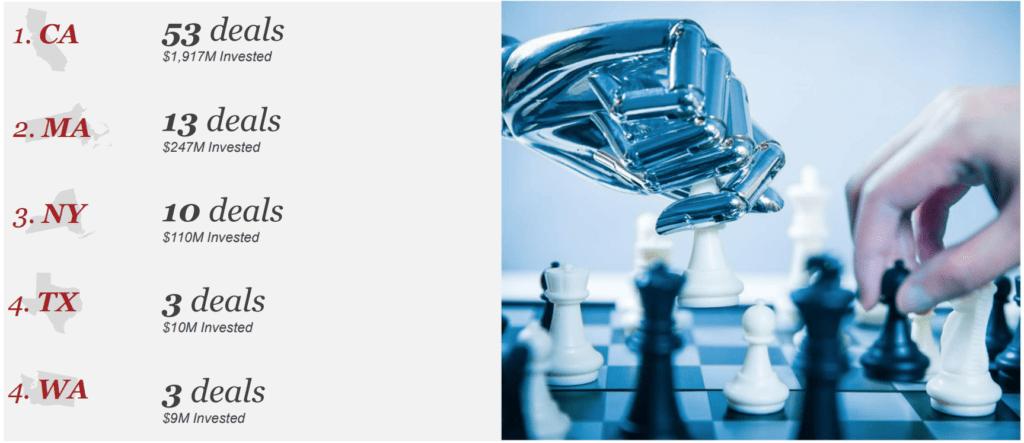 If the AI seedlings that investors planted between 2013 and 2017 continue to mature — and to demand increasingly large amounts of capital — it's likely that this increased level of late-stage AI funding will also continue, if not increase.
If you aren't already a client, sign up for a free trial to learn more about our platform.