Judging by our analysis of earnings call transcripts, there's only one hyped mega-trend out there that corporate execs are worried about and that's AI. Big data's time in the corporate consciousness is ending.
---
Learn more about CB Insights' Earnings Transcripts Search Engine and Analytics. Sign up here.
---
If you weren't already sure, we've now moved past peak big data. After hitting a high in 2015, the mentions by public company executives of the term "big data" on earnings calls has begun to decline.
But nature abhors a vacuum so as one tech buzzword declines, another takes its place.
Today, the heir apparent to big data is "artificial intelligence."  In fact, the zeitgeist around AI dwarfs what we saw with big data.
We mined nearly 10 years of earnings call transcripts to see just how much public company executives have AI on the brain.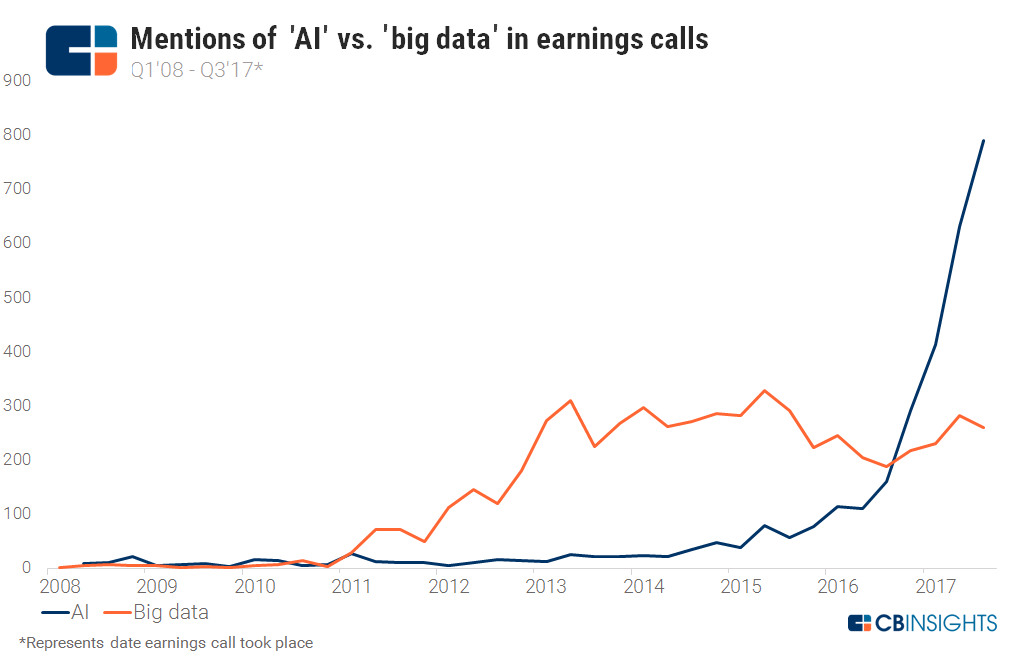 "AI" and "artificial intelligence" were mentioned 791 times in just Q3'17. This was a 25% increase from 632 AI terms the previous quarter.
While AI as a term is picking up, we're also starting to see more mentions of specific AI applications and techniques. We looked at some of the more popular terms associated with AI. "Machine learning" in particular has taken off in recent years as well as "deep learning." Some of the other AI applications are slow but starting to take off as well.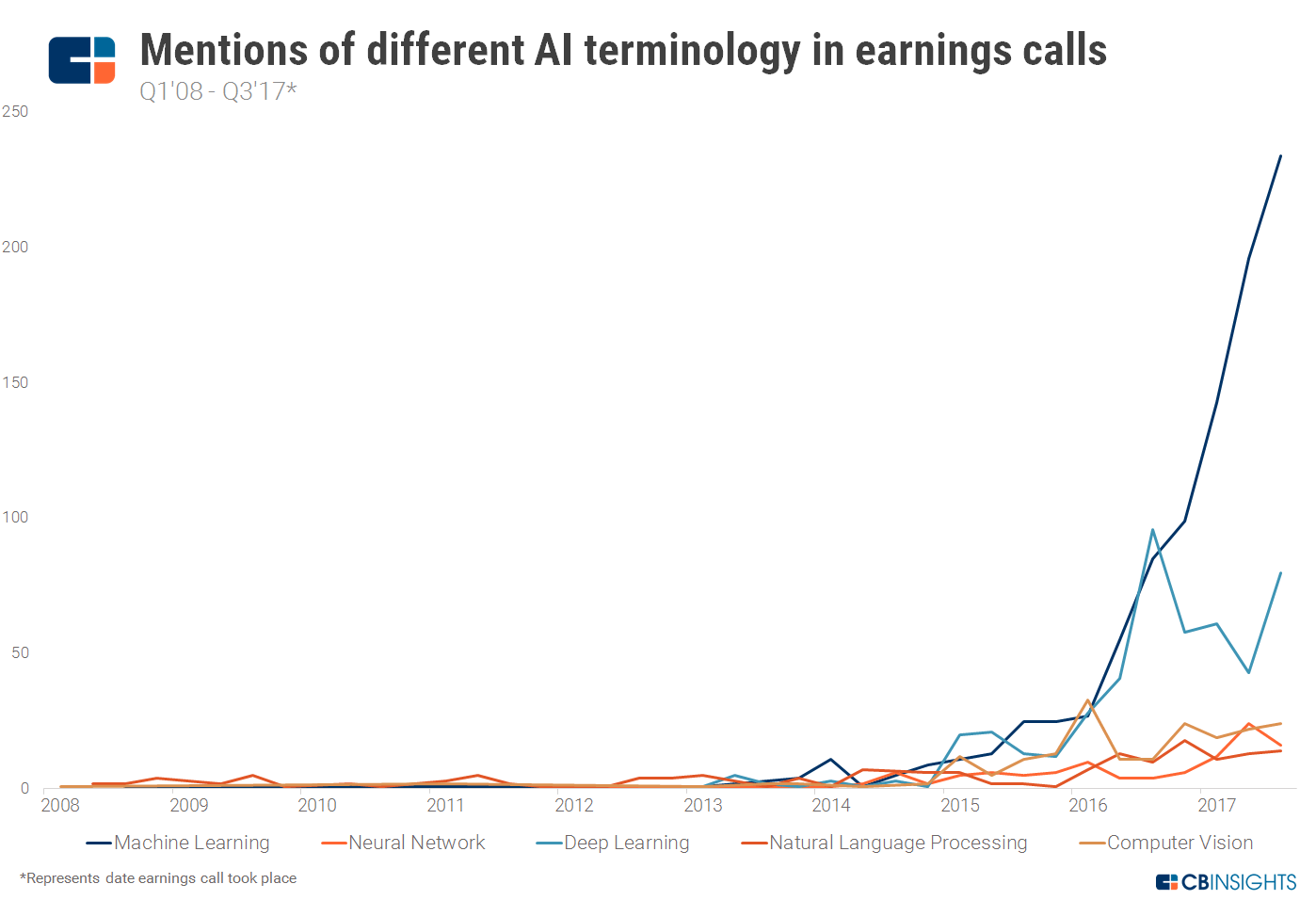 The reach of AI is being felt across industries. Companies that you might not expect, including Procter & Gamble and Bed Bath & Beyond and even media companies like Tronc, are talking about AI.
Procter & Gamble has talked about new initiatives like "Olay Skin Advisor, a new web-based skin analytics platform utilizing a suite of artificial intelligence technologies."
Retailer Bed Bath & Beyond says it's relying on machine learning to get a 360-degree view of customers and target them.
Tronc has talked about its use of AI solutions to increase its advertising efficiency.
AI startups continue to enter these new industries as we've highlighted in our Artificial Intelligence deals tracker. Big Data saw a consistent level of 200+ mentions on earnings calls over nearly 5 years. Expect Artificial Intelligence to be talked about for several years to come. Based on actual investments, acquisitions, and partnerships in AI, CB Insights will let you know who is walking the talk vs. just talking.
Note: To analyze this data, we mined earnings transcripts for 6000+ public companies across the last 10 years. Sign up to get access to our earnings transcript search engine & analytics.
If you aren't already a client, sign up for a free trial to learn more about our platform.