AI companies are seeing deals and dollars across nearly every major industry. We track where AI is heating up, from health to finance to entertainment.
Since 2015, more than 5.7K AI companies have raised equity funding globally.
A large number of these companies — like unicorns Bytedance, Automation Anywhere, and Face++ — sell AI software-as-a-service or run AI-powered platforms. Others use AI to develop their core products, such as Indigo Ag, which leverages machine learning to develop microbial seed treatments. Some — such as Graphcore, Cambricon, and Cerebras — focus on hardware to support AI workloads.
In our heatmap below, we look at deals to AI companies categorized by one of 19 core industries they operate in (from healthcare to finance), or by one of 13 cross-industry applications that they focus on (from sales to cybersecurity).
FREE DOWNLOAD: THE COMPLETE AI 100 LIST
Get an excel file with the entire AI 100 list including each company's total funding, focus area, and more.
This heatmap was created using our interactive Artificial Intelligence Expert Collection. Clients can explore all of the underlying data here.
Our analysis includes autonomous car, truck, and tractor developers, but excludes purely hardware-focused robotics companies, as well as those operating solely in the AR/VR space.
DISTRIBUTION OF 11.9K+ EQUITY deals TO AI COMPANIES (Q1'15 — Q1'21)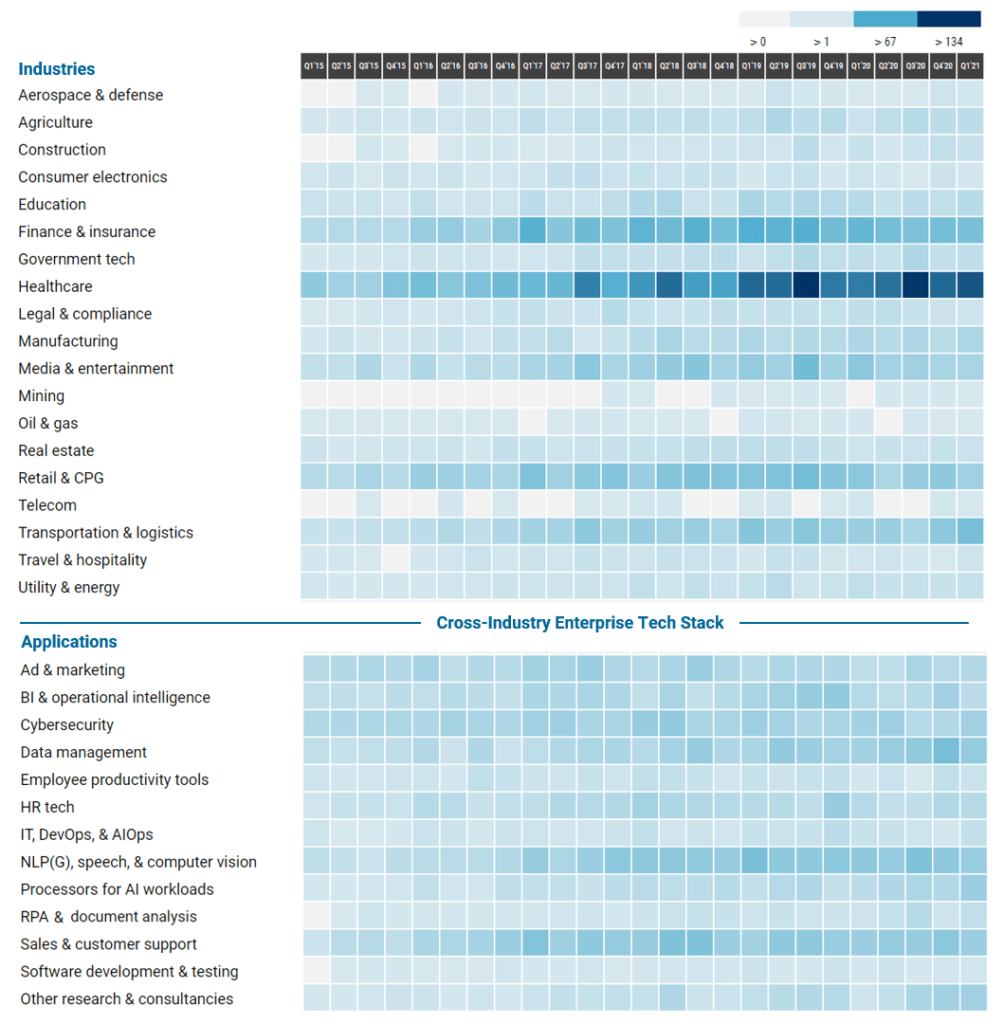 Key Takeaways
Healthcare AI has attracted the most investments across all AI sectors in recent years. In Q1'21 alone, the sector drew 115 equity deals and record-high funding of over $2.5B.
Healthcare AI is seeing strong growth as AI developers train algorithms using the vast amount of data generated by day-to-day tasks in healthcare — from patients' claims status to biometric information captured by smartphones. This wealth of data lends itself well to the healthcare industry's constant need for higher-quality care and improved efficiency.
Deal volume to cross-industry AI is growing faster than industry-specific AI. In Q1'21, deals to industry-specific AI applications grew about 12% from the previous quarter, while cross-industry AI applications saw 25% more equity rounds during the same period.
As more enterprises move operations online — a trend accelerated by Covid-19 — it is driving adoption of AI solutions in cybersecurity, workflow management, sales and customer support, and more. 
Mega-rounds are boosting funding to AI in transportation and logistics. In Q1'21, the sector drew 46 equity rounds and nearly $3.7B in equity funding — up 28% and 67%, respectively, from Q4'20. Funding to the sector in Q1'21 was driven by 7 mega-rounds (deals worth $100M+), including Cruise Automation's $2B corporate minority round and Momenta's $500M Series D.
AI in transportation and logistics is heating up as autonomous vehicle technology, such as lidar and computer vision, matures. VCs and CVCs alike are ensuring they don't miss out on the opportunity.
Category descriptions
Core Industries
Aerospace & defense: These companies are using AI and computer vision for threat detection systems, security screening, aircraft design, and drone navigation.
Agriculture: Companies in this group leverage AI for scouting, phenotyping, plant biotech, yield forecasting, and disease identification. This category also includes AI applications in aquaculture.
Construction: Applications here include heavy industrial asset monitoring (specifically focused on the construction sector), aerial data analytics, and project management tools.
Consumer electronics: Companies in this group are working on AI-enabled smart home devices (including facial recognition for smart home security cameras), smart glasses & wearables for assisted living, and consumer-focused AI apps for smartphones.
Education: This category includes companies working on speech analysis and NLP for language coaching, summarizing research material, automatic paper grading & writing feedback, and generating personalized learning content, among other applications.
Finance & insurance: Companies here work on applications including compliance, fraud detection, back office automation, personalized finance management, underwriting, and chatbots specific to the finance and insurance industries.
Government tech: This category includes companies working on smart city planning, surveillance, urban space design, disaster management & recovery, predicting policy outcomes, water utility management, and more.
Healthcare: Companies in this category are developing AI solutions such as computer vision diagnostics, AI-powered drug R&D, provider workflow automation tools, machine learning platforms for genomics, and more.
Legal & compliance: These companies sell AI software-as-a-service to corporate legal teams and law firms for e-discovery, contract drafting, document review, and compliance monitoring.
Manufacturing: Companies here leverage AI for asset tracking, quality inspection, operational efficiency, new material discovery, and outcome predictions for changes in product design, among other smart manufacturing solutions.
Media & entertainment: Companies in this group use AI for gaming applications, video & audio curation and indexing, personalized news content generation, consumer-focused entertainment apps, and photo editing & enhancement, among others.
Mining: Applications here include AI to improve search & exploration for natural resources and business intelligence tools specific to mining.
Oil & gas: Applications here include AI to improve drilling efficiency, pipeline asset management, well optimization, and operation intelligence for shale.
Real estate: Companies here use AI for property valuation, commercial building operations optimization, virtual assistants for home searches, computer vision & 3D modeling for interior design, and AI-based investment management for commercial real estate.
Retail & CPG: Companies here harness AI for merchandising, inventory management, checkout-free store tech, point-of-sale shrinkage monitoring, omnichannel marketing (specific to retail clients), retail supply chain optimization, and e-commerce search, among other applications.
Telecom: Companies in this group work on applications including deep learning for signal processing, anomaly detection, spectrum monitoring, and AI-enabled WLAN assistance.
Transportation & logistics: Companies in this category build autonomous vehicles, perception software, fleet management solutions, deep learning for HD map generation, predictive vehicle maintenance, driver monitoring systems, and AV simulation software, among other applications.
Travel & hospitality: Companies here develop AI tools for dynamic pricing, travel search, travel photo curation, virtual travel assistants, automatic expense reporting tools for corporate travel, among other applications.
Utility & energy: Applications here include predictive maintenance for power plants, energy supply & demand prediction, power optimization, battery optimization (utility-scale), and energy management for micro-grids & buildings.
Track all the AI startups in this brief and many more on our platform
From auto tech to healthcare, startups are transforming industries with artificial intelligence. Look for Artificial Intelligence in the Collections tab.
Track AI Startups
Cross-Industry Enterprise Tech Stack
The following AI applications are industry-agnostic, with companies offering solutions relevant to multiple industries from the list above.
Ad & marketing: Companies here use AI for personalized marketing and targeted advertising.
BI & operational intelligence: The category includes companies providing location intelligence (including geospatial/satellite image analysis), competitive intelligence through social media monitoring, and predictive maintenance & physical asset management across a wide range of industries.
Cybersecurity: Companies here are using machine learning to monitor activity on systems & networks in real time, identify patterns & anomalies from internal and external data streams, speed up detection, free up resources, enable faster remediation, and generally help improve continuous cyber resilience.
Data management & analytics: Companies here are focused on applications including annotating training data, machine learning model deployment, plug-and-play analytics solutions for enterprises, AI training frameworks, DRAM management software, and database management tools.
Employee productivity tools: Companies in this category develop AI assistants for scheduling meetings, bots for teams, natural language processing for searching & retrieving information from multiple sources such as Gmail and Slack, and other employee support tools.
HR tech: Companies here use machine learning for resume parsing, talent recruitment, eliminating hiring bias, and physical ID verification for onboarding.
IT, DevOps, & AIOps: Companies in this group are focused on virtual server and hybrid cloud management solutions for machine learning, AI-enabled solutions for application deployment, reducing IT operations costs, log management, and continuous integration and continuous deployment (CI/CD) pipeline management.
NLP(G), speech, & computer vision: Companies here are developing industry-agnostic speech analysis, natural language processing (and generation), language translation, transcription services, facial recognition, object recognition, and conversational AI platforms.
Processors for AI workloads: Companies here develop edge and data-center chips for AI workloads, quantum computers deployed for AI computations, and AI-assisted design & manufacturing of semiconductor devices.
RPA & document analysis: This category includes robotic process automation (RPA) companies automating repetitive tasks and AI tools for analyzing, extracting information from, or automatically completing documents.
Sales & CRM: Companies here develop machine learning applications for sales pipeline management and customer service support.
Software development & testing: Companies in this category focus on automated code testing and debugging, AI-assisted web design, chatbot creation platforms, AI-assisted cross-platform app development, and other software development solutions.
Other research & consultancies: The category includes companies focused on advancing core AI research, building AI software for robotics applications, taking a consultancy approach when working with enterprises to build custom AI solutions, and other niche AI applications.
If you aren't already a client, sign up for a free trial to learn more about our platform.