NLP & computer vision, retail & CPG, and healthcare have seen the most AI acquisitions. Our heatmap visualizes every AI acquisition since 2010 across 30+ sectors.
Artificial intelligence has long been a major focus for tech leaders across industries. 
From healthcare to retail to agriculture, companies are trying to integrate machine learning (ML) — a subset of AI — into their products. At the same time, there is an acute shortage of AI talent. 
This combination is fueling a heated race to scoop up top AI startups. Below, we break down which sectors have drawn the most AI acquisitions since 2010.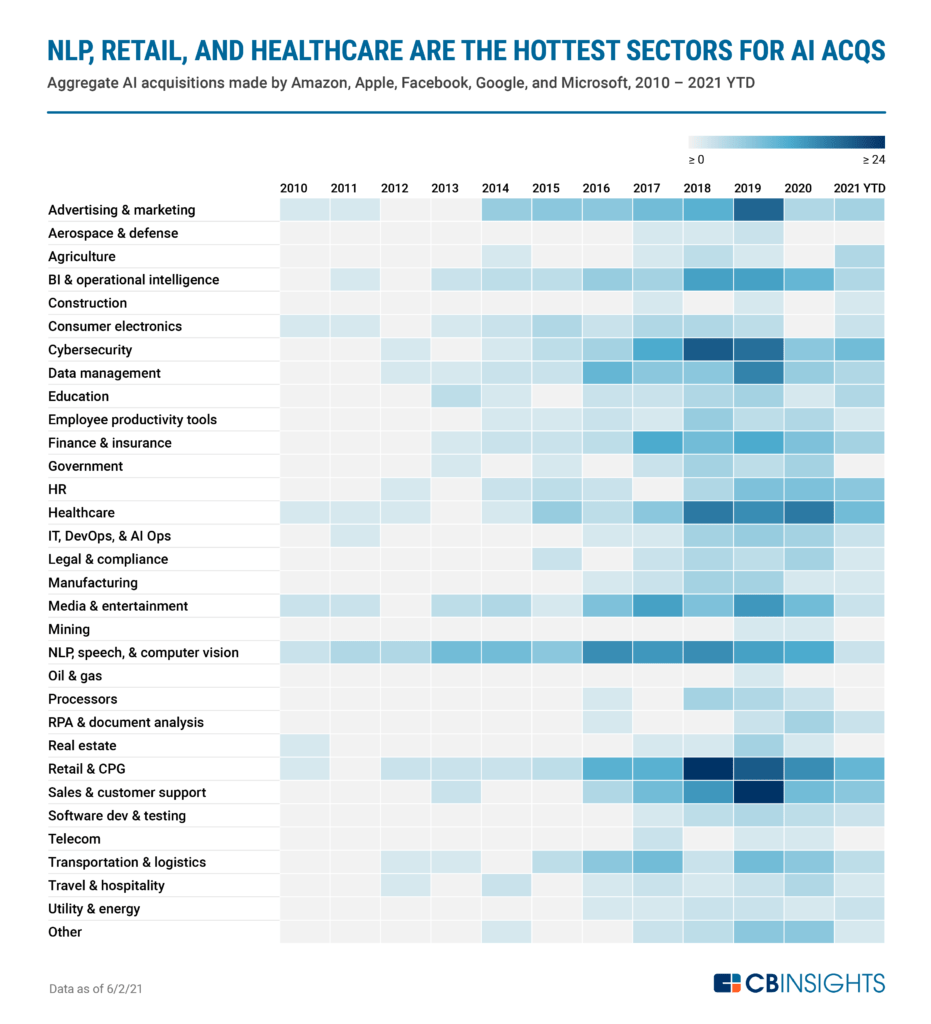 Looking at acquisitions by sector, startups focused on the cross-industry applications of natural language processing (NLP) and computer vision have seen the most traction, with 106 acquisitions in this space since 2010. Notable recent examples include Voysis, which Apple bought in April 2020 to help it improve Siri's natural language understanding in online shopping, and Scape Technologies, which Facebook snapped up in February 2020 to deepen its mapping capabilities.
Retail & CPG has been another popular space, with 101 acquisitions in the same time period. The sector peaked in 2018, when it saw 24 M&A deals, although it has since cooled off somewhat. A recent example of an acquisition in this area is Punchh, an AI-powered customer engagement platform for retailers, which was acquired by restaurant technology provider PAR for $500M in April 2021.
Healthcare takes the third spot, with 78 acquisitions in the space. It has seen a flurry of activity over the past 3 years and was the leading sector for AI acquisitions in 2020, amid the global Covid-19 pandemic. Since 2020, healthcare AI acquisitions have included:
For more on the trends shaping artificial intelligence M&A — including which tech giants have been the most acquisitive — dig into the full Race For AI report.
If you aren't already a client, sign up for a free trial to learn more about our platform.