After dipping in 2020, the pace of AI acquisitions is set to rebound this year. We look at which players are leading the race for AI.
From healthcare to retail to agriculture, corporate incumbents are scooping up AI startups left and right as they look to leverage AI tech without building it from scratch.
The usual suspects are leading the race for AI: tech giants like Facebook, Amazon, Microsoft, Google, and Apple (FAMGA) have all been aggressively acquiring AI startups for the last decade.
Other top acquirers include major tech players like Intel, Salesforce, Twitter, and IBM.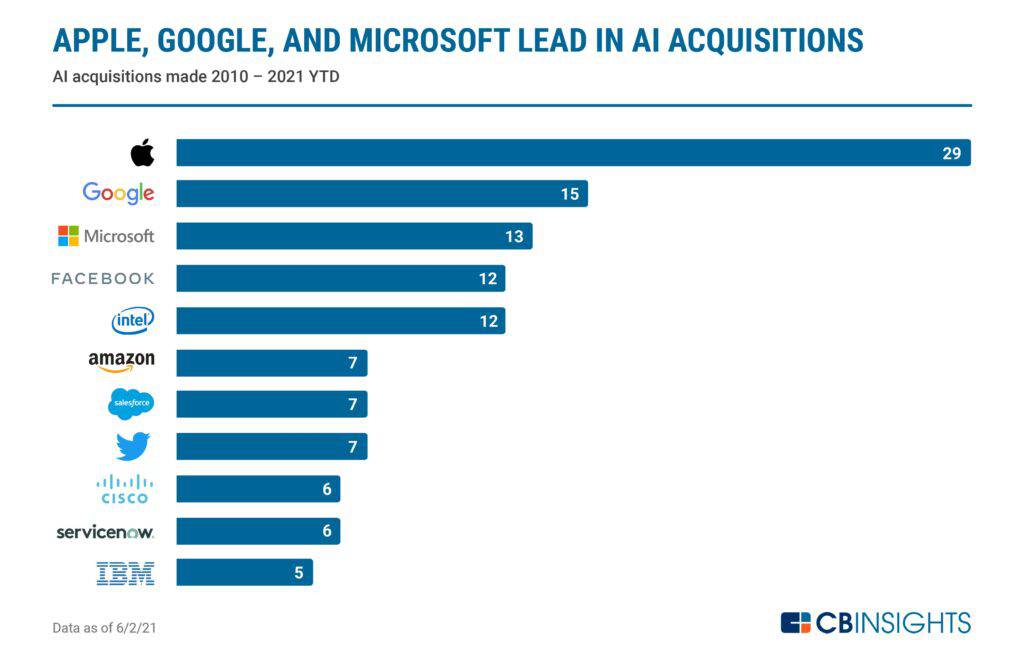 The pace of AI acquisitions steadily rose for a decade, only falling for the first time in 2020, when acquisitions dropped 34% year-over-year (YoY). The decline came amid the Covid-19 pandemic, which brought on economic uncertainty that led many companies to emphasize core operations over new acquisitions. 
Nevertheless, the space continues to attract acquirer attention, with 90+ acquisitions in 2021 YTD — suggesting a possible return to the sector's growth trajectory.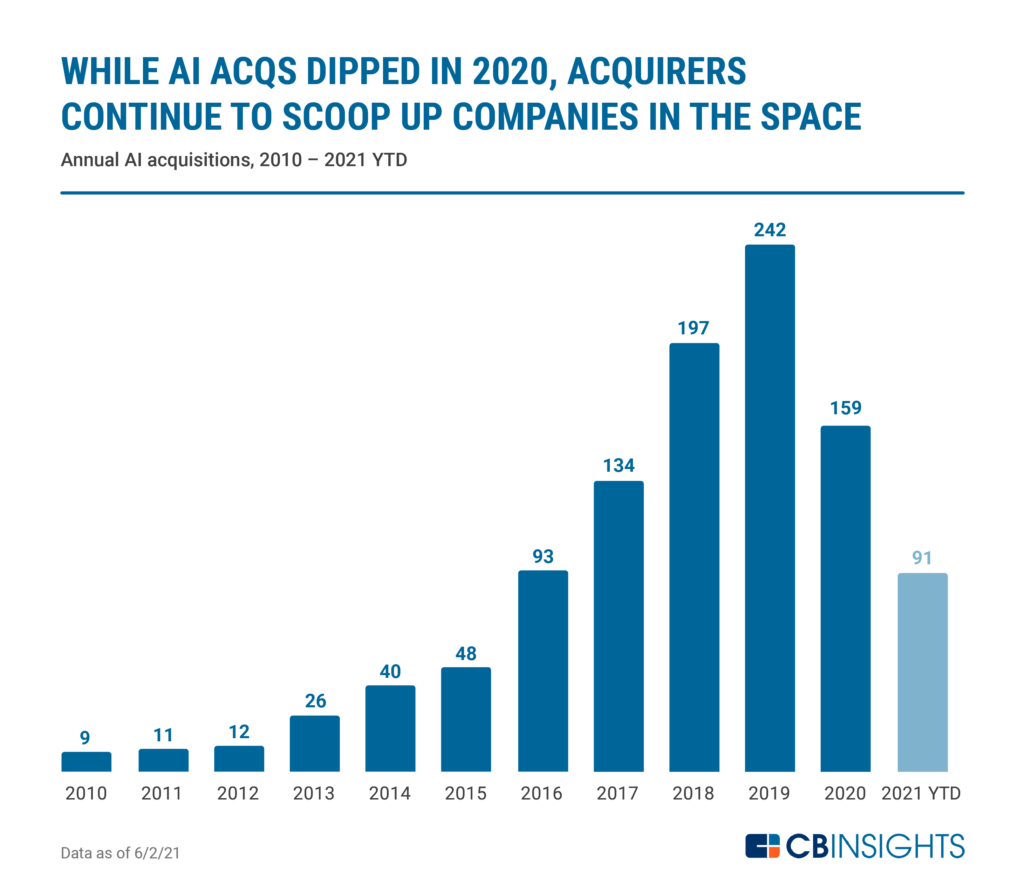 While tech giants lead in the space, you don't have to be a Fortune 500 company to make an AI acquisition. Since 2010, there have been over 1,000 AI acquisitions made by 800+ acquirers. Of those, nearly 90% of acquirers have only made one acquisition. 
This is partially due to the growing diversity of acquirers. Where once AI was the exclusive territory of major tech companies, today, smaller AI startups are becoming acquisition targets for companies across retail, healthcare, insurance, and more. 
For example, in May 2021 retail giant Walmart acquired virtual clothing try-on startup Zeekit, while MindMed's $32M acquisition of AI-powered clinical trials startup HealthMode marked one of several healthcare AI acquisitions in the past year. In the renewable energy space, SkySpecs acquired Vertikal AI in May 2021.
For more on the trends shaping artificial intelligence M&A — including which sectors have been the hottest for acquisition activity — dig into the full Race For AI report.
If you aren't already a client, sign up for a free trial to learn more about our platform.