As brick-and-mortar retail struggles, CPG brands increasingly seek to connect with millennials at work.
We all know that brick-and-mortar retail is struggling. And beyond moving online, brands are seeking new offline channels for getting products into shoppers' hands as conveniently as possible.
They're going to shoppers, rather than asking shoppers to go to them.
And where are millennial shoppers, with disposable income, on a daily basis?
They're at the office.
CPG brands need to be there too.
It's cliché by now to joke about the ping pong tables and nap pods filling Google's halls (not to mention Amazon's in-house dog park), but smaller offices are also increasingly stocking their fridges with healthy snacks, premium coffees, and other benefits.
These perks help employers attract workers. Seamless, for example, got its start by helping banks and law offices convince their analysts to work through dinner.
And now, real estate management companies, like WeWork, are using perks to attract employers themselves.
WeWork and other co-working spaces around the world have raised a whopping $7.8B since 2013, according to CB Insights data, and some portion of that VC money flows to Lola (for stocking bathrooms with tampons), La Croix (for thirsty millennials), and other brands.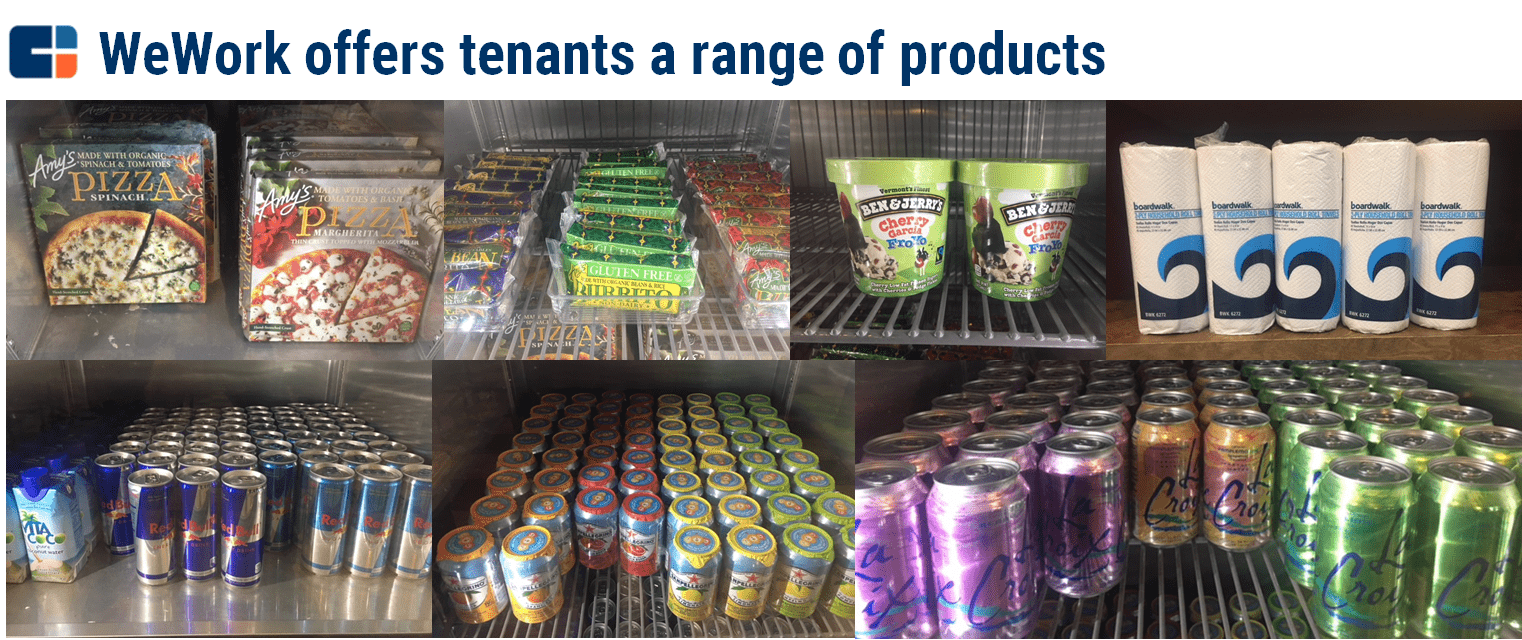 Meet the new distributors
Incumbent food providers, like Aramark, tend to work with major brands.
But now, we're seeing a new crop of startups delivering emerging CPG products to offices, helping these new brands a) get their foot in the door, and b) test out new products and flavors in a controlled environment.
Snacknation, for example, works with startup brands like Quinn Popcorn and Hail Merry to distribute their snacks while providing data on "strategic sampling amongst affluent millennial dense offices."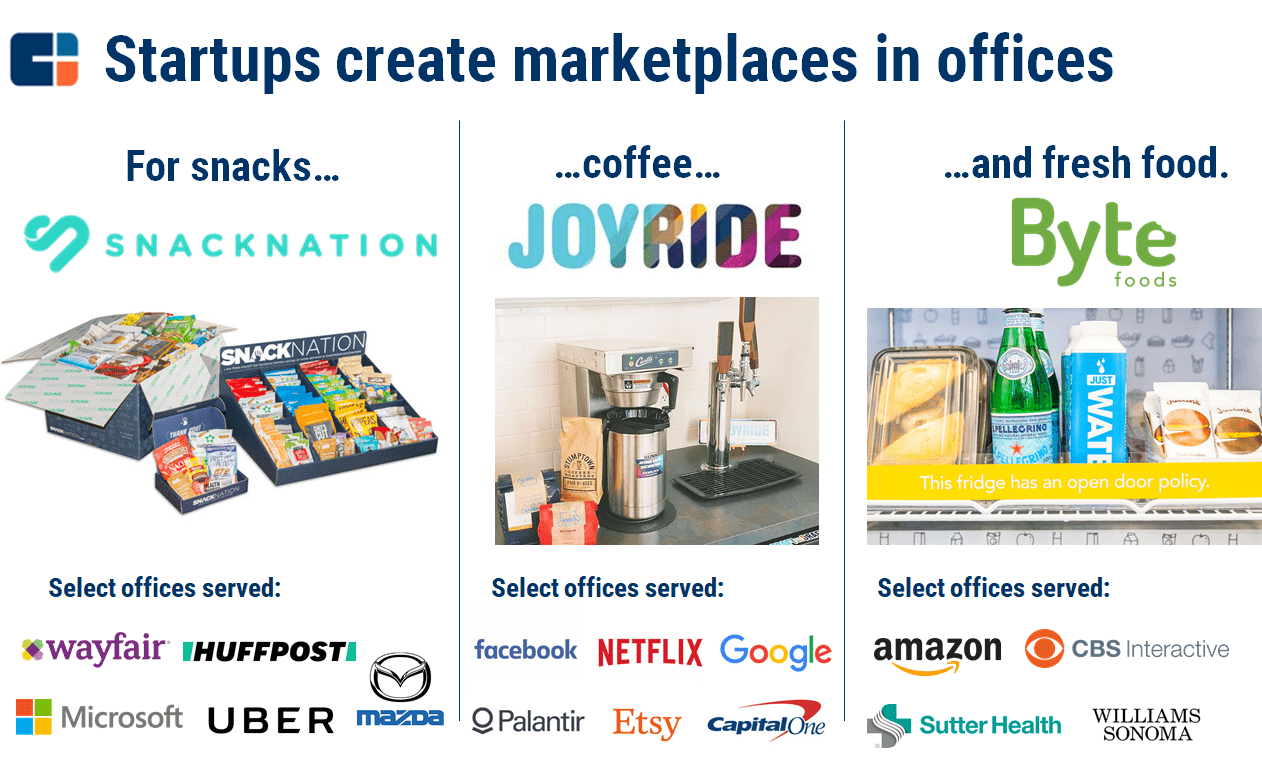 These new distributors might be acquisition targets for CPG leaders, who could access their network of offices as well as their stable of partnered brands.
No more free lunch? 
More offices are buying products to provide to their employees for free; but we're also seeing the rise of actual pop-up shops installed in large offices or the lobbies of major office complexes.
In some ways, CPG office sales are a win-win-win.
Employers want workers to stay in the office.
Brands want a bulk sale upfront (to the employer) and a captive audience (of employees), rather than waiting for shoppers to find them in stores.
Employees want convenient ways to shop (no more after-work Walmart runs!)
Of course there are risks. Some employers might view in-office sales as a distraction, and employees might resent the strategy if it feels promotional rather than convenient. And many offices aren't big enough to become worthwhile points of sale.
But looking forward, we could imagine the strategy working for makeup brands, apparel companies, and fitness and wellness products.
Companies could choose to host pop-ups that suit their workforce's needs. For example, WeWork previously partnered with J. Crew, while female-focused co-working space The Wing partnered with Chanel (below). The Wing is also currently hiring a VP of "high-revenue" brand partnerships, signaling plans to expand its shop-in-office program.

As competition between co-working startups increases, WeWork and others could also use retail partnerships to differentiate themselves.
This content first appeared in our CPG Insights newsletter. Sign up here to get a weekly rundown on the top news & perspectives in CPG.
If you aren't already a client, sign up for a free trial to learn more about our platform.