Facebook's historic acquisition of Oculus kickstarted AR/VR fever. Now most major tech companies, including Microsoft, Amazon, HTC, and Google and others, are developing virtual and augmented reality.
Corporates like Apple, Facebook, and Google continue to snap up private companies working in augmented and virtual reality (AR/VR) and build out internal R&D efforts, as they race to develop what could be the next major computing platform.
These large tech companies are betting on a variety of strategies for deploying VR and AR—some are focused solely on smartphones as the display, while others are developing hardware and software for high-performance headsets that require PCs and graphics cards to run.
Using CB Insights' investment, acquisition, and partnerships data, we identified 12 corporate groups involved in the development of virtual and augmented reality technologies.
We highlighted developments including:
Amazon's rumored smart glasses that are Alexa compatible
Apple's titanic bet on AR ubiquity, starting with ARKit and the iPhone
Google's rebuttal to Apple with ARCore on Android
Facebook's new AR ecosystem and new, low-price Oculus headset
The surprise hit of Sony's PlaystationVR
The list below is organized alphabetically.
---
AMAZON Working on voice-enabled Smart glasses

One of the last major tech companies to announce an AR/VR initiative, Amazon is joining the race and assembling a VR team for its Amazon Video division. Additionally, the company is said to be working on "smart glasses" that would interact with the Alexa environment. The details on the smart glasses are scant, but company has sought a patent for smart glasses.
Amazon has also released its video game engine called Lumberyard, which is computing infrastructure that supports VR applications in addition to major gaming platforms. Amazon also has deep roots in the gaming community with its acquisition of Twitch, a video platform for gamers, which it bought in 2014.
The company is rumored to be integrating more augmented reality tech into its brick-and-mortar effort so patrons could picture how items would look in their homes. Like popular mobile apps from Ikea, the first major AR/VR efforts for Amazon are likely to enable more frictionless commerce.
Read More: Financial Times, Techcrunch, Fortune, Engadget
---
APPLE Ushers in mobile ar, COULD BE PROTOTYPING HEADSETS
Rumors suggest Apple has been investigating virtual and augmented reality applications for more than a decade. At WWDC in June 2017, Apple went public with its first major effort and unveiled ARKit tools for iOS developers, as well as opening up a machine learning library called CoreML.
In just a few short months, ARKit developers have released promising augmented reality apps that will reach any Apple customer with an iPhone 6S or above. Today, that figure amounts to 381M iPhones and devices, but ARKit's footprint is projected to boom up to 850M units by 2020.
Already, early AR apps have taken off: the smash hit AR mobile app Pokemon Go was reported to be the most downloaded app in the first week in App Store history. Apple is also said to have 1,000 engineers working on augmented reality in Israel.
Announced later in September 2017, the latest iPhone X comes with facial recognition security, using a "TrueDepth" front-facing infrared camera that's said to be derived from its PrimeSense acquisition. While it's primarily for mapping faces now, future TrueDepth cameras could 3D-map environments in front of users for more hi-fi augmented reality.
Baking AR into Apple's flagship product may seem a newfound frenzy in 2017, but the move comes as little surprise given Apple's M&A history and the tenor of its speech around AR. Since mid-2016, CEO Tim Cook has indicated that serious investment is being made behind the scenes, stating in an interview:
"AR can be really great. We have been and continue to invest a lot in this. We are high on AR for the long run. We think there's great things for customers and a great commercial opportunity. So we're investing."
Furthermore, Apple made a series of acquisitions beginning in 2014 that indicated a serious commitment to computer vision. AR acquisitions include the purchases of FlyBy Media and metaio, but the company also acquired Emotient, RealFace, and Faceshift for facial recognition and machine vision. By all metrics, the aquisitions prove AR/VR and computer vision are priorities, and it will be interesting to watch if the company expands into dedicated headsets.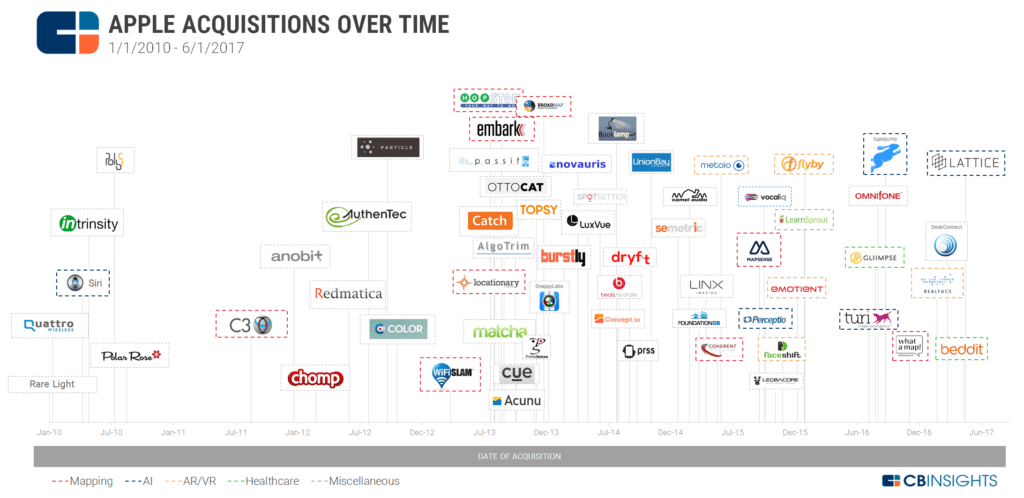 Read More: Business Insider, Wired, Apple Insider, UploadVR, Wall Street Journal, Financial Times
---
AUTODESK BANKING ON INDUSTRIAL VR/AR APPLICATIONS
The design and 3D-modeling software developer best known for AutoCAD has been no stranger to investing in cutting-edge technology such as 3D-printing. Autodesk's core business in 3D design engines makes it a sleeper pick for both VR and AR technologies.
Last fall, the company partnered with Microsoft to help improve the tech giant's AR headset Hololens for industrial and mechanical design of 3D objects. And more recently the company has added support for the HTC Vive and Oculus Rift headsets to its game engine Stingray. (The move was originally supposed to bring Autodesk's game engine a step closer to competing with Epic's Unreal engine or Unity, both of which are making big strides into VR and are available on the Vive, Rift, and upcoming PlaystationVR.) Interestingly, Unity and Autodesk announced a recent partnership to increase interoperability.
Read More: VentureBeat, RoadToVR, BusinessWire
---
FACEBOOK Eyes VR headsets and Mobile AR
Facebook's bold acquisition of Oculus for $2B back in 2014 is looking ever more prescient. One of the few major headsets available in the consumer market (along with the HTC Vive), the Oculus Rift began shipping its consumer-level version in late March 2016.
Using the Rift requires a high-performance gaming PC, but Oculus also offers a cheaper option through a partnership with Samsung. Oculus offers a headset holder for the Gear VR headset, which is powered by Samsung Galaxy smartphones, and currently has the largest footprint of all VR headsets.
Some have speculated that the overall vision for Facebook and Oculus is to potentially create a metaverse (virtual world between billions of people that could replace everyday interaction), an idea in which Mark Zuckerberg is reportedly a firm believer. In addition to gaming and entertainment, this would fit in well with Facebook's mission to "make the world more open and connected."
Facebook's AR/VR vision became clearer at the recent Oculus Connect developer conference, when the company unveiled the Oculus Go, a standalone headset with a $199 price tag. Scheduled to release in 2018, the move is an aim to offer the high fidelity of the up-market Rift, except without requiring an expensive gaming PC. This should further expand Facebook's social VR footprint.
Facebook also released the Camera Effects Platform, an AR studio for developers to use with the Facebook app, in a manner similar to a Snapchat filter. But the company is also said to have more than 1000 employees, or 5% of its staff working on the Oculus and broader virtual reality effort. The company has also been aggressively pursuing intellectual property around facial and emotion recognition, as well as iterations on its headset designs.
Read More: WSJ, Upload, The Economist, Digital Trends, Vanity Fair, WSJ
---
GOOGLE LEADS MOBILE VR WITH CARDBOARD, MAY DEVELOP HEADSET

In the wake of the pioneering (but ultimately unloved) AR headset Google Glass, Google moved into the mobile space with its VR project Cardboard. By the numbers, Cardboard was an early success. Built atop Google's Android operating system, the Cardboard app has been downloaded more than 50 million times and Cardboard's partnership with the New York Times, in which it shipped low-tech Cardboard phone holders with the Sunday edition, put it in the hands of over a million readers.
2017 has been a year of platform expansion, which started with the release of Google's mobile VR content platform called Daydream, intended for use with the Pixel phone and fabric VR head mount. Additionally, the company opened an AR development platform called ARCore, which serve as the Android analog to Apple's ARKit.
In addition to its mobile VR initiative, Google is reportedly also working on a standalone headset that would not require a tether to a PC or game console. Google's venture arm is also a backer in the exceptionally well-funded stealth AR startup Magic Leap.
Read More: Wall Street Journal, TechCrunch, Fortune, Wall Street Journal
---
HTC'S VIVE ROLLS OUT WITH KEY PARTNERSHIP
Along with the Rift, the HTC Vive is among the top standalone headsets in today's consumer VR headset market.
Powered by a high-performance PC, the headset is targeted at gamers and employs laser sensors on the outside of the headset that enable users to traverse a 15′ x 15′ space (a much larger area than other VR systems), which allows users to engage in more room-scale sort gameplay, whereas other headsets require sitting or standing in one place. HTC, along with Oculus, recently brought down its headset list price to $599.
HTC recently sold its $1.1B smartphone business to Google, but curiously will retain the VR headset division, which some say indicates Google's willingness to develop its own hardware independently. HTC says its strategic partnership with Valve, the gaming house behind the Steam platform and Half-Life, gives it an edge in delivering content. A 2016 survey found that developers prefer working atop its Vive platform over Oculus.
Additionally, HTC is an active investor in the AR/VR space. Its ViveX venture accelerator is tied for 2nd as the most active investor in AR/VR.
Read More: Wall Street Journal, ExtremeTech, TechRadar, Wall Street Journal
---
INTEL changes directions, shutters recon and alloy

After a string of cancellations and false starts, Intel's AR/VR strategy is left largely a question mark. At its 2016 developer forum, Intel unveiled ambitious plans for Project Alloy, an untethered VR headset that can track hand gestures without any external hardware. Ultimately, the plan proved too ambitious.
In recent months, Intel cancelled the entire Project Alloy, closing the unit completely. Further, the company also shuttered its Recon augmented reality brand, which makes a Google Glass-like attachment for sports and safety goggles. (Intel acquired Recon Instruments for $175M in Q2'15)
Originally, Intel and Windows had announced a partnership between the Windows Holographic operating system and the Project Alloy hardware. Oddly, the platform move might have been the project's undoing. UploadVR said "Intel seemed to be locked out of the market for VR headsets by Microsoft" and with AR, the plausible market may have been too small and nascent.
While Intel's efforts going forward may not be as first imagined, the company said in a statement that it will continue to build on its AR/VR assets:
"We will continue to invest in the development of technologies to power next-generation AR/VR experiences. This includes: Movidius for visual processing, Intel® RealSense™ depth sensing and six degrees of freedom (6DoF) solutions, and other enabling technologies including Intel® WiGig, Thunderbolt™, and Intel® Optane™"
Read More: Upload, Wall Street Journal, VentureBeat, TechCrunch
---
MICROSOFT'S HOLOLENS EYES ENTERPRISE USE CASES and platform status
The standalone AR headset Hololens runs Windows 10 and became available for developers for a hefty $3000 back in March 2016. However, the headset isn't commercially available and has primarily been used by experimental developers applying the technology to enterprise use cases (running the Windows Mixed Reality software).
Microsoft is making a large effort to become a software player in AR/VR. In October 2017, Microsoft made a key acquisiton of Altspace VR, a social VR platform that shut down due to financial troubles. The move is aimed at shoring up Microsoft's software offerings. The company also will open up Windows Mixed Reality fully later in October, and has a partnership with gaming platform Steam.
The company has also pursued a range of AR patents, such as a holographic keyboard and glasses that help tell you what to eat.
On the hardware front, Microsoft unveiled "mixed-reality headsets" (translated as VR headsets with gesture control) made in partnership with PC partners like Samsung, Dell, Acer, Lenovo, Asus, and HP. Most notably, Samsung announced a dedicated headset, called the HMD Odyssey, that will be available for $499 this fall running Windows software.
Microsoft's XBox console is already popular with gamers, and the company is trying to make its Windows AR/VR ecosystem central for hardware makers. So far, the high-profile partnerships make it clear Microsoft is planting a flag in AR/VR, as well as aiming for ubiquitity as a software player. While the reviews on its Hololens and partnership headsets are mixed, it also wouldn't be surprising if it released a PlaystationVR-like headset competitor built for XBox gaming.
Read More: Mashable, Wall Street Journal, MIT Technology Review, VentureBeat, Wall Street Journal
---
SAMSUNG DOMINATES MOBILE VR VIA GEAR VR

Samsung partnered with Oculus shortly after the Facebook acquisition in a deal that granted them early access to Oculus's software platform. With any Samsung Galaxy S7 able to power the GearVR headset (Samsung gave away the headset with Galaxy preorders), Samsung's GearVR has the largest footprint of any headset with over 5M units sold, and roughly 57% of the VR market share for 2017.
Now, Samsung is opening up its platform and partnerships. The company's latest announcement of a standalone headset, called the HMD Odyssey, will be available for $499 this fall. Curiously, the software will be running Windows Mixed Reality, the AR/VR tailored version of Windows 10. While the move might seem at odds with the longtime Oculus partnership, the company vows it's "committed to working across platforms."
Read More: Wall Street Journal, UploadVR, Wall Street Journal, IB Times
---

Snap eyes mobile AR and spectacles
Snap has indicated a deep desire to be more than a photo messaging app, and since IPO has been developing several AR initiatives. Originally, the company pioneered camera "lenses" that use computer vision to snap onto users' faces, a primitive sort of augmented reality.
Then, in late 2016, Snap released a hardware initiative called Spectacles, which are sunglasses with a dual camera attachment. While not entirely AR or VR, the move indicates a desire to weave perception hardware with its consumer platform. Snap has also patented aggressively in augmented reality, with patent drawings that could incorporate future version of Spectacles, which are currently in the works. Additionally, the mobile app now has "World Lens Filters," which are lenses that allow users to record video messages with augmented reality characters.
So far, these projects are experimental and the company faces intense competition from Facebook (and Instagram) in its mobile AR effort. But on analyst calls the company has been vocal the AR initiatives, and its patent portfolio suggests it's betting heavily on being a player here.
Read More: CB Insights, TechCrunch
---
SONY TO RELEASEs PLAYSTATIONVR to great fanfare
Sony's October 2016 release of the PlayStationVR, a high-end gaming VR headset that competes with the Vive and Rift, has been a surprise success, selling more than 1M units in less than a year. PlaystationVR is listed at a far lower price than its rivals ($399) and runs atop the relatively inexpensive $299 PS4 console, though it requires the purchase of additional cameras and controllers.
The PlayStation 4 already has a huge gaming footprint and is the best-selling of the major video game consoles. Some theorize that when the PSVR launched, it had a surprisingly robust lineup of VR experiences ready to go, giving it an advantage over other players.
In 2015, the company also released a Google Glass-like headset called SmartEyeglass, which was panned by several technology critics.
Read More: The Verge, Wall Street Journal, Engadget
---
XIAOMI claiming low-end and overseas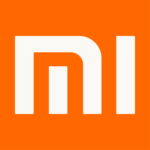 Though Xiaomi still hasn't announced a full VR rollout, the company has already made moves into the mobile VR space with its Mi VR Play, similar to Google's Cardboard. The low-end mobile headset clearly targets entry-level users who aren't willing to pay $1500+ for high-end gaming PCs.
More recently, the company has been rumored to be collaborating with Oculus on a $200 self-contained headset, with a special software version for the Chinese market.
With several VR-capable smartphones, along with former Xiaomi executive Hugo Barra now running Facebook's VR division, Xiaomi could become a serious player in the overseas VR market.
Read More: Bloomberg, The Verge, TechCrunch
If you aren't already a client, sign up for a free trial to learn more about our platform.