VR hit peak hype in 2016. Since then, AR has surpassed it in earnings call mentions.
Riding the hype of Facebook's historic acquisition of Oculus in 2014, the virtual reality (VR) space saw a major uptick in corporate interest. In the years following, earnings call mentions of VR swelled, hitting a peak in 2016 with 140 mentions.
Since then, however, VR hype has fallen. In 2018 so far, augmented and virtual reality have roughly equal mentions on earnings calls.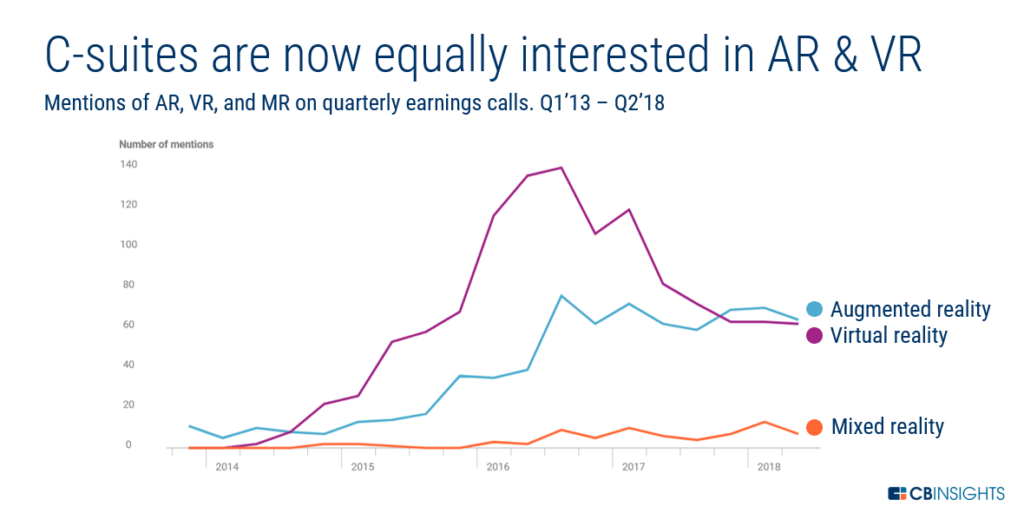 AR has been boosted by major events such as Magic Leap's major consumer headset release, as well as Apple focusing squarely on AR with its mobile environment ARKit. CEO Tim Cook has gone as far as to say that "AR is going to change everything."
Where VR saw a major rise and fall, AR has been steadily growing in mentions. Meanwhile, mixed reality (the chosen term for Microsoft's initiative) remains far lower.
CB Insights subscribers can run the same search here.
If you aren't already a client, sign up for a free trial to learn more about our platform.