The iPhone maker envisions a connected home that can tell when you're asleep.
In its latest healthcare move, Apple recently patented a method to more accurately determine when someone is asleep, using multiple devices as sources of data. 
Apple has long been pushing into healthcare and wellness, with a core focus on building a personal health record — including sleep data. 
The earliest hint of the tech giant's sleep tracking strategy was its 2017 acquisition of sleep device startup Beddit. In early October, Apple also leaked a Sleep app for its Apple Watch, signaling its continued interest in health monitoring. This comes amid the wellness trend, as a growing cohort of consumers strive to achieve health- and wellness-oriented lifestyles, whether that be in improved diet, fitness, or sleep. 
Apple isn't alone in its push into healthcare. The recently approved patent (originally filed in 2015), titled "Confirming sleep based on secondary indicia of user activity," comes among tech giants' rapid expansion into the healthcare space, which we covered in our interactive post. 
Below, we dive into how Apple's latest patent works and what it could mean for the company's dive into health monitoring.
HOW THE PATENT WORKS
Currently, most sleep trackers assume that a user is sleeping based on one source of data, such as a smartphone. But trackers are less accurate when they solely rely on data from one device instead of several. 
Smart homes have an abundance of secondary sources: smart scales, refrigerators, or even toothbrushes can all be connected to the same network as a primary device. When in use, these devices can communicate with the primary device, signaling when a user is awake. The figure below illustrates potential secondary sources.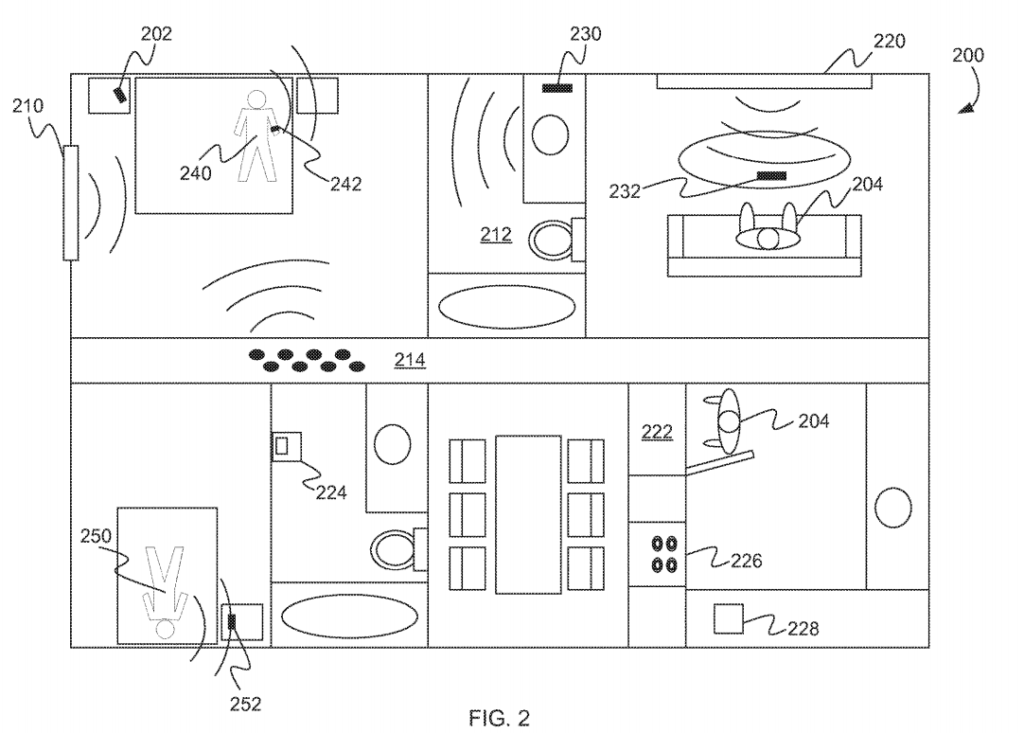 Smart wearables could also transmit user data to smart devices to identify users, even if they don't "use" the smart device.
For example, if a user wears a smart watch and walks into the kitchen, the watch could send identification information to the smart refrigerator, which would then report to a primary device that the user is in the kitchen. Even though the user doesn't actually use the smart refrigerator, her proximity to it would still indicate that she is awake, as users are "not likely to be sleeping in the kitchen near [the] smart refrigerator," the patent says.
The patent also describes using sensors on primary devices to collect users' unique sound data, such as walking, breathing, talking, or snoring, to recognize who is performing a certain activity.
More broadly, it also discusses distinguishing conscious human sounds from other noises, such as "when a human brushes her teeth, turns on a water faucet, takes a shower, or flushes the toilet," explaining, "these activities create distinctive noises that are attributable to a human (e.g., while a dog can be trained to flush a toilet, this is an unusual activity for a dog).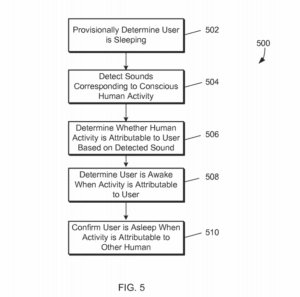 WHY IT MATTERS
As an increasing number of consumers become more mindful of their health and sleep habits, more startups are clamoring for a slice of the sleep tech market. 
Apple's patent not only shows its ambition in furthering its sleep tracking abilities, but displays a grander vision of the smart, connected home that "knows" what a user is doing (Apple has even explored whether AirPods could be used to gather biometric data). That vision is backed by Apple's growing profits: its $24B wearables and accessories division now accounts for almost as much revenue as its Mac business. 
Competitors are also taking note, with Google recently acquiring FitBit for $2.1B.
But as an increasing number of consumers adopt smart gadgets into their homes to monitor their health and wellness, one major concern is privacy.
The patented tech would collect massive amounts of personally identifiable information, ranging from demographics to health and fitness data. The Apple patent proposes data de-identification, but privacy will remain a key concern for companies looking to connect devices to gather greater amounts of more nuanced user data. 
Ultimately, the patent further suggests that Apple is working to develop an integrated suite of products that will monitor individuals and provide health insights. (For more on Apple's push into healthcare, check out our report here.) 
If you aren't already a client, sign up for a free trial to learn more about our platform.