Patent for "radionavigation for swimmers" could signal that improved fitness-tech functionality is coming to the Apple Watch.
Since debuting the Apple Watch in 2014, Apple has aggressively marketed the product as a fitness-focused device.
Feature enhancements have made the Apple Watch more useful for on-the-go athletes ever since. The Apple Watch Nike+, for example, includes cellular reception, GPS, and altitude measuring – enabling runners to make calls and stay connected without an iPhone nearby.
Now, swimmers may see new benefits from the Apple Watch, too: A new patent surfaced in the CB Insights database would enable long-distance swimmers to keep track of their location based on the "radio frequency signals communicated" by their wrist-worn device.
If put into development, the patented technology would help swimmers understand their course, distance, and speed as they move through open waters.
Tracking a swimmer's motion in the water involves a complicated set of metrics related to limb length, speed, acceleration, and "stroke rate," according to the patent.
Apple's system would use sensors (such as an "accelerometer, a gyroscope, a barometer, or a magnetometer") to capture and process these data points and through a "radio receiver embedded in a smartwatch or other wearable computer [that] is worn on a wrist of a swimmer."
The data signals would be captured into the receiver when the swimmer's device-clad wrist reached above water.
The receiver on the associated device would then communicate with a "global navigation satellite system" (rendered like a bowtie in the patent illustration illustration below).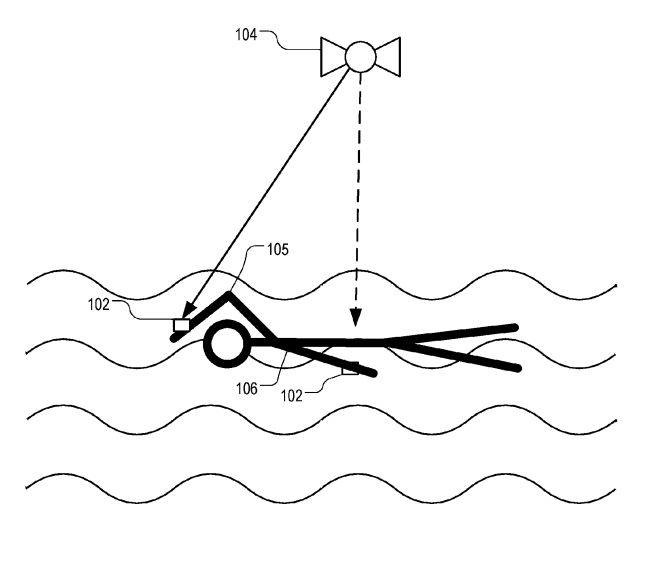 The navigation system that is fed data from the device would then communicate it to a "location subsystem." The system would compute and monitor the swimmer's location using information on position, velocity, and time (PVT).
But the patented technology has to do more than just collect and compute data. It also needs to correct its data, because the captured information on velocity will be unique to the speed of the swimmer's wrist at that exact moment in the swimmer's "stroke cycle."
And as the patent notes, the wrist moves at a faster velocity than the swimmer's torso when it's not submerged underwater. A "velocity correction" module would resolve the incorrect data.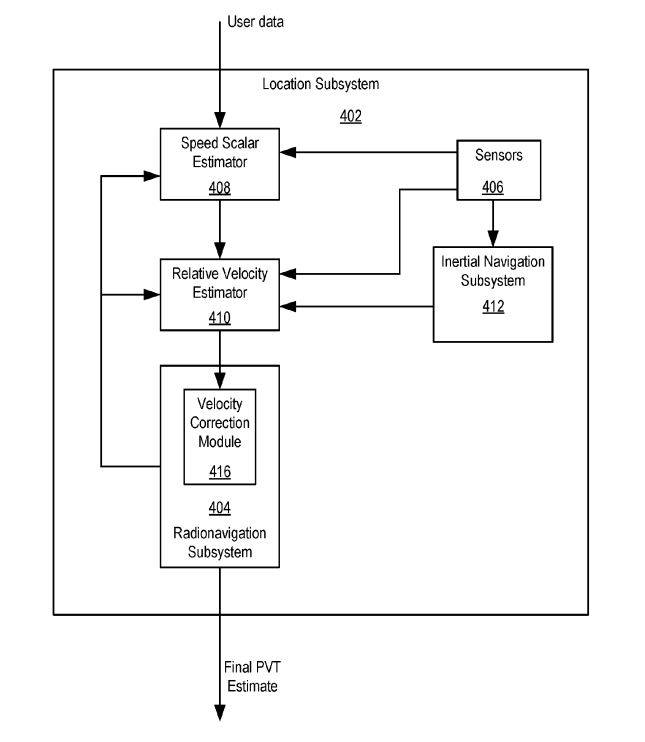 The system could even analyze the swimmer's movements in the water to determine whether a corresponding stroke is a "crawl stroke, sidestroke, backstroke, or butterfly stroke by comparing the recorded pattern with previously recorded training data."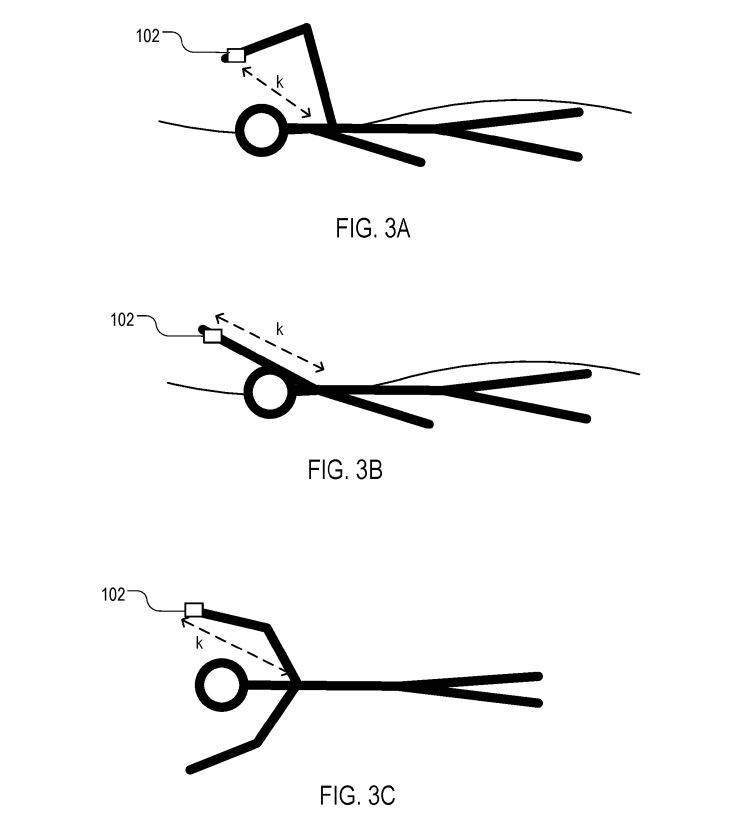 Taken all together, the system could provide swimmers with "estimates [of] distance traveled" and help them understand their routes in the water.
Like most patents, there are few specifics in the filing on how the "Radionavigation For Swimmers" functionality would be integrated into existing Apple Watch features or apps.
But considering that the Apple Watch already includes voice-enabled functions and cellular reception, the system could feasibly be used for:
tracking your swim distance, speed, and progress over time, through an app like Nike+;
asking your wrist for swimming directions if you don't know where you are;
auto-notifying your emergency contacts (or auto-calling 911) if you end up out of reach or swim into unsafe or rough waters.
And while the patent addresses a highly specific use case, the technology underlying it may be useful for understanding position-, velocity-, and time-related metrics in other contexts in which one's wrist moves faster than one's body (such as rowing through water, or punching a boxing opponent).
With efforts toward glucose monitoring and heart rate tracking also already in play for the Apple Watch, the patent is yet another signal of the device's future as an end-to-end wearable health and fitness device.
If you aren't already a client, sign up for a free trial to learn more about our platform.