We analyzed 10 years of earnings transcripts from Apple and found that the company mentions iPhone more than iPad, Mac, or any of the company's other products and services.
When Steve Jobs first unveiled the iPhone in 2007, he changed what people imagined a mobile phone could be. In the following decade, each iteration of the iPhone continued to push technological boundaries and remained core to the company's continued success.
Over 11 years later the iPhone remains the most important product to Apple in terms of revenue. In fact, iPhones earn over 7X more revenue than iPads, and nearly 5.5X more revenue than Macs, according to the company's most recent 10K. With the release of the iPhone X in the first quarter of fiscal year 2018 (October 2017 – December 2017), those ratios are dramatically higher in favor of the iPhone.
For these reasons, it's not surprising that the iPhone continues to be the main topic of conversation on Apple earnings calls.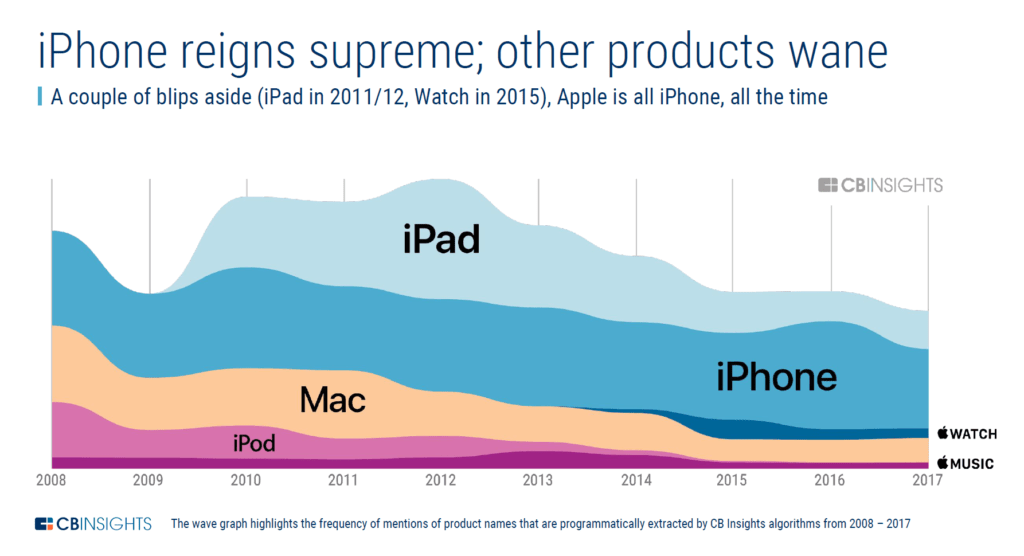 On a November 2017 earnings call, just a day before the release of the iPhone X, CEO Tim Cook discussed how this new iPhone would provide a glimpse into the company's future:
"iPhone X is packed with innovative new technologies that chart our path for the next decade, technologies like the TrueDepth camera system, Super Retina Display, and A11 Bionic chip with neural engine, which has been in development for years with a focus on deep machine learning. iPhone X enables totally new experiences like unlocking your iPhone with Face ID, taking photos with studio-quality lighting effects, or playing immersive augmented reality games. We can't wait for people to experience our vision of the future. Orders have already been very strong, and we're working to get iPhone X into customers' hands as quickly as possible."
But this "vision of the future" has brought more than new technologies and experiences.
In looking at past Q1 10Qs, the average selling price (ASP) for the iPhone ranged between $685 in FYQ1 2015 and $695 in FYQ1 2017. But in the most recent quarter, FYQ1 2018, the ASP increased to just over $795, or $100 more than in FYQ1 2017.
It has been widely noted that Apple has failed to meet pre-launch sales estimates and has sold nearly 1M fewer phones in FYQ1 2018 than it did in FYQ1 2017.
For these reasons, Apple has apparently slashed component orders for the technology required to build the phones and may stop selling the device altogether in the second half of the year.
With rumors of two new, "second-generation" iPhone X models coming this fall, the company is expected to rethink the $999 price tag that has pushed many to reevaluate their loyalty to Apple's "premium" products.
If you aren't already a client, sign up for a free trial to learn more about our platform.