The market opportunity in healthcare is huge, and Apple sees healthcare and wellness as a core part of its app, services, and wearables strategies. Now the company is aiming to become your personal health record, jumping into research, medical devices, and more.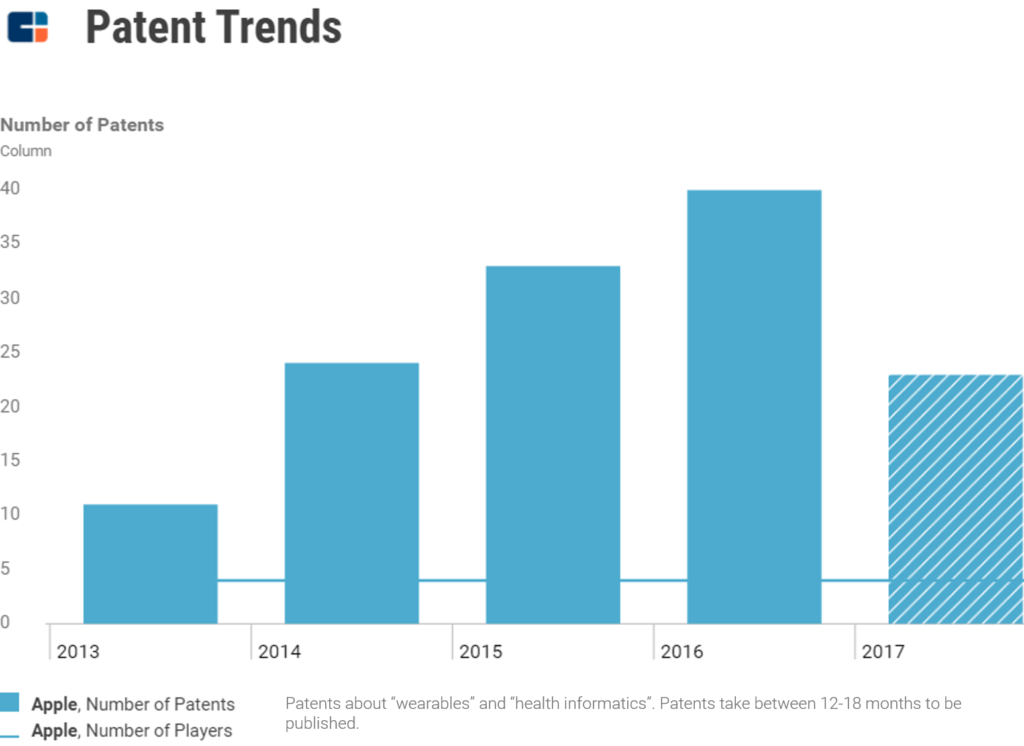 As Apple CEO Tim Cook has said, the healthcare market makes the smartphone market look small. In fact, with over $7 trillion in health spending per year, it's already almost 10% of global GDP.
With the release of the Apple Health Record and Apple Watch with a single-lead ECG, it's evident that Apple has officially entered the healthcare space.
The company hopes to build the first healthcare platform friendly to third parties, with the personal health record at the center.
In this report, we analyze Apple's ongoing impact on clinical research and studies, its strategy in building a personal health record, and where the company's going next in the healthcare industry.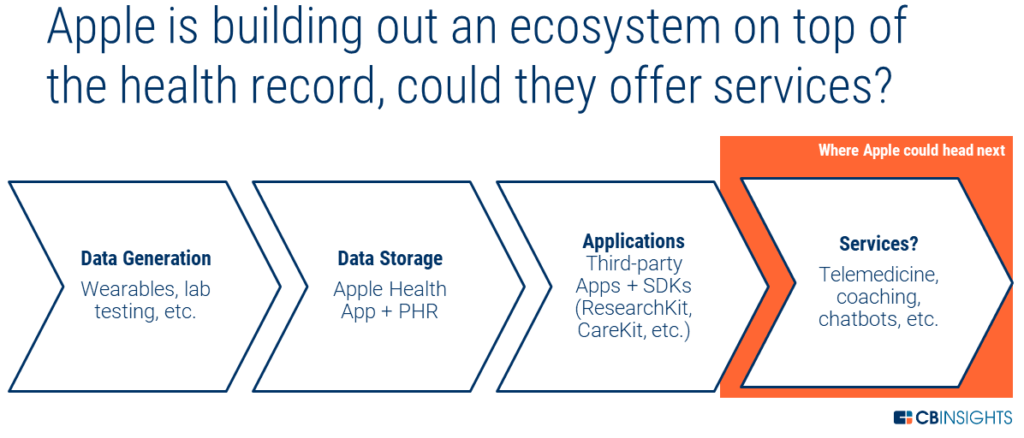 Table of Contents
Why Apple is moving into healthcare
There are a few major reasons for Apple's moves into the highly regulated world of healthcare.
Tech giants, for one, are becoming more competitive with one another, encroaching on territories Apple has historically dominated: Google is making phones, Amazon is focusing on home hardware, the wearables market is saturated, and so on.
As tech giants continue to move into Apple's territory, healthcare can help the company differentiate its products and further reach its core goals, which include:
Selling more high-margin hardware
Increasing switching costs from its ecosystem
Expanding its service offerings (Apple Cloud, App Store, etc.)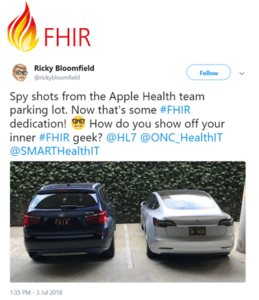 Keeping people in its ecosystem is also how Apple has managed to create an attractive third-party developer ecosystem in its app store. The lack of an existing third-party developer ecosystem for healthcare data is an open opportunity for Apple.
This is more conceivable thanks to the proliferation of FHIR (Fast Healthcare Interoperability Resources) technology, which looks to increase interoperability among hospitals, physicians, and other relevant parties.
FHIR creates standards for different data elements so that app developers can build application programming interfaces (APIs) that can be used to access datasets from different systems. Apple is part of the group pushing this standard forward.
Finally, Apple can use healthcare as a means to distribute its products into the hands of demographics that it has traditionally had a tough time penetrating: the low-income and elderly populations. Considering these groups are disproportionately more likely to be sick, Apple can position itself as a tool to improve outcomes and distribute via family members or insurance carriers (which we'll dive into later in this piece).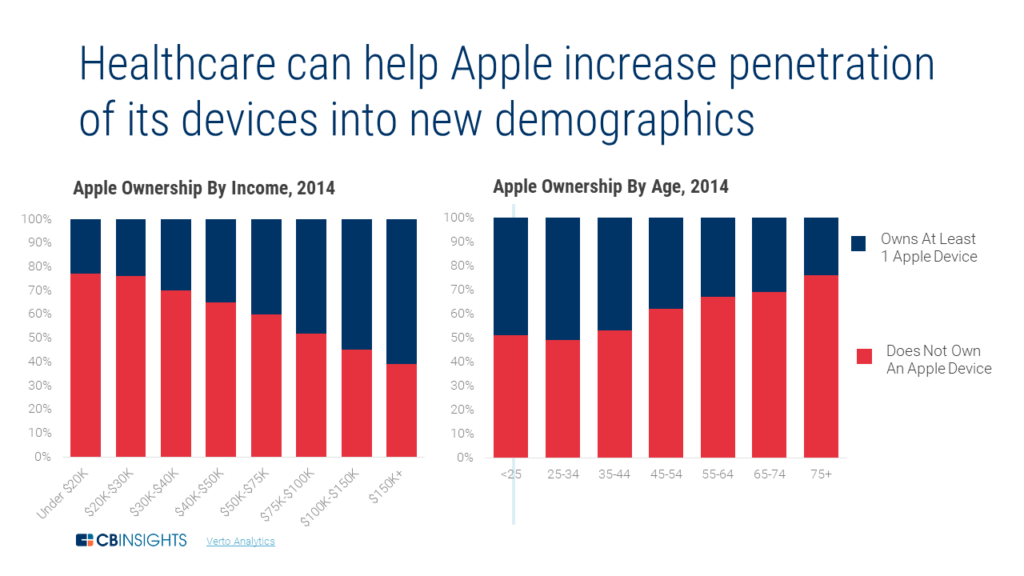 Apple's edge in health
While healthcare might seem like an area outside of Apple's expertise, it has many advantages relevant to the space, its brand being one of the biggest.
Various existing healthcare players have notoriously terrible brand and customer experience, which has been Apple's focus as a company.
As healthcare moves to a more proactive model, which requires reaching out to patients, having a strong brand is a major component. Apple's attention on user privacy is notable here, especially compared to other tech companies entering the healthcare industry.
Its strong brand has led to direct relationships with iPhone users, giving Apple a distribution and size advantage. When Apple released the Health app, it immediately got into the hands of its users. This also gives Apple leverage when negotiating or talking to existing players in the system, compared to a startup which doesn't have that same size.
Apple has the aggregate leverage of its entire user base to negotiate with — as of December 2016, there were 85.8M iPhone owners older than 13 in the US alone. (For comparison, UnitedHealthcare has ~50M medical enrollees.)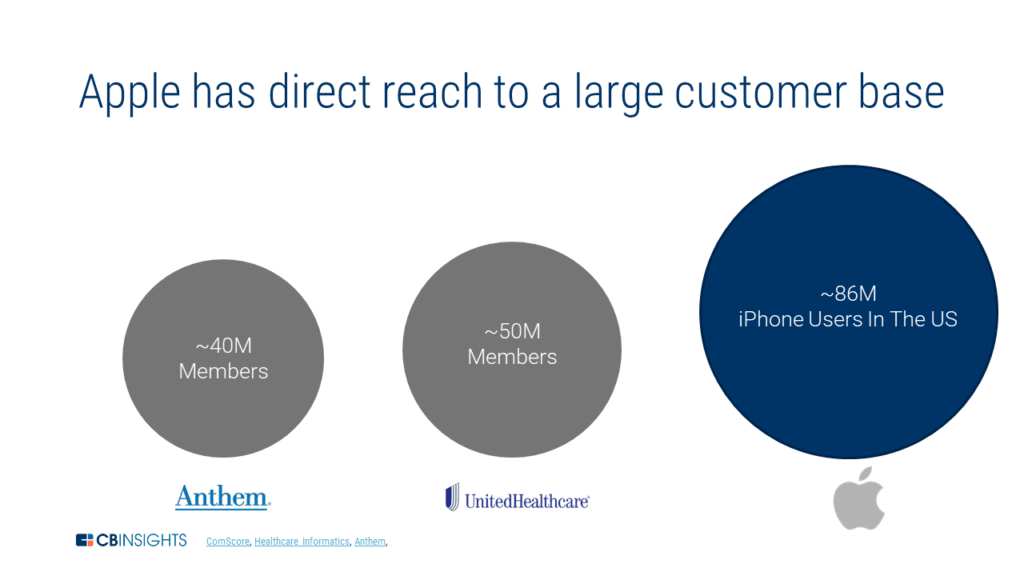 The Apple brand includes an ecosystem of products that work seamlessly with each other. This makes consumers invest more of their time, data, and preferences into Apple products — which makes them indispensable.
If buying an Apple product, for example, yields a smoother user journey and connects other existing data from a user's Apple account, then there's more of an incentive to buy Apple. Few healthcare incumbents can tap into similar ecosystems that involve the consolidation of digital health with everyday applications.
The company's control over both software and hardware is ultimately what gives Apple such a strong brand and consumer experience. Apple is bolstering its software offering as a whole through a number of recent acquisitions of artificial intelligence companies, including Silk Labs (CB Insights clients can see the full list of deals here).
With larger and more complex datasets entering the healthcare field, machine learning models and AI will become table stakes, and healthcare incumbents will have to find ways to use these algorithms as well.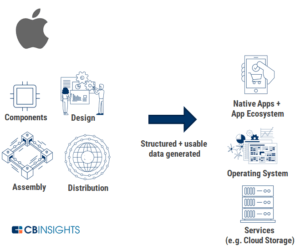 Though Apple may not have the same level of AI expertise as other tech giants, it knows how to bundle hardware and software together. Accessing structured data streams is difficult in healthcare, but Apple's expertise at packaging hardware and software means it can create, structure, and interpret the data itself.
Hardware components are also improving.
Apple moved chipmaking in-house and its new A12 chip is focused on running AI applications. The company is also looking to develop better healthcare-specific sensors, as indicated by certain job postings.
Additionally, the iPhone camera quality can identify more granular details and new types of lights (ambient light sensor, dot projector, etc.) are enabling new machine vision use cases.
And finally, Apple makes a lot of non-healthcare revenue, which means it doesn't need to worry about traditional reimbursement routes or make a hefty margin on its healthcare products. If the company wants to dive deeper into the healthcare space, it can afford to weather the regulatory uncertainty and long timelines associated with healthcare thanks to its large and diversified revenue streams.
"When you look at most of the solutions, whether it's devices, or things coming up out of Big Pharma, first and foremost, they are done to get the reimbursement [from an insurance provider]. Not thinking about what helps the patient. So if you don't care about reimbursement, which we have the privilege of doing, that may even make the smartphone market look small." – Tim Cook, Apple CEO
Apple Health and the Personal Health Record
The personal health record is the central pillar of Apple's healthcare strategy.
This was first hinted at in a 2013 patent for a wellness registry, but made more serious inroads with the acquisition of personal health record startup Gliimpse in 2016.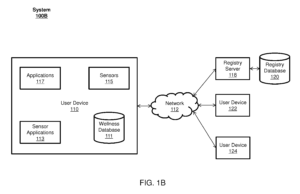 Apple is trying to fuse the world of wellness and healthcare together to create a product people engage with more regularly.
The first page in the health app is a step tracker and calendar, activities a person would check with some regularity. This creates a reason for people to engage with the app.
The second page for health data tracks and quantifies wellness metrics, including physical activity, mindfulness, nutrition, and sleep. In each of these areas, Apple suggests apps that it works with that can help monitor these activities (e.g. Headspace for mindfulness).
Within the vitals category, there are options to connect with other sensors and trackers to monitor specific biomarkers. These range from blood alcohol content to glucose levels to inhaler usage.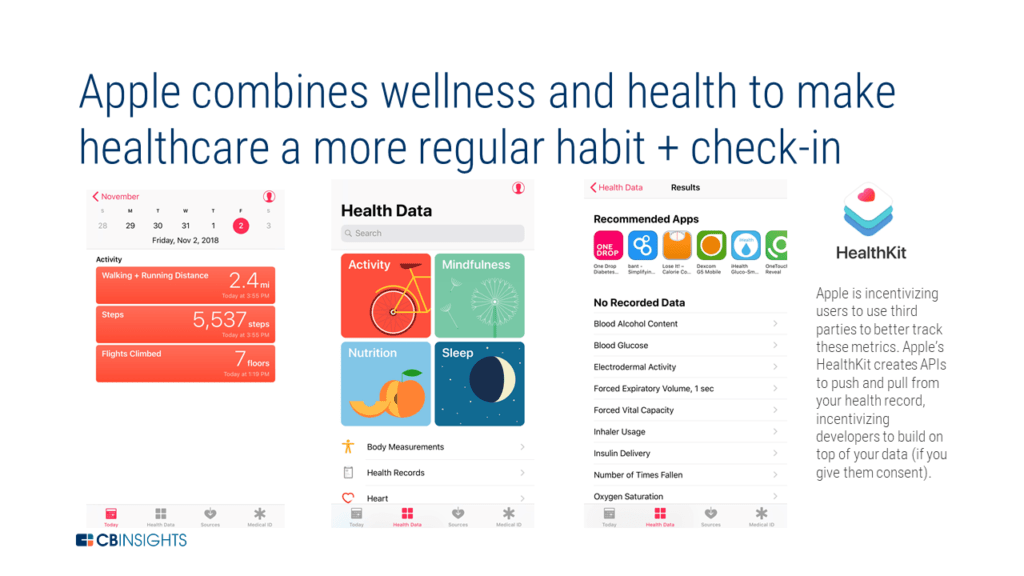 In 2018, Apple announced that it was bringing EMR data into the phone's health record. Later in the year, it also announced it would be opening its health record API to third parties through a software development kit called HealthKit. Enabled by FHIR, this allows patients to bring health record data onto their phone by logging into their patient portal, and then allows them to provision data access to apps of their choice. 

Certain apps are starting to include data from the health record. Pokemon Go and Oscar use the step tracker, and fast casual salad chain Sweetgreen integrates HealthKit to log meals ordered through the app into a patient's health record.
Over 120 healthcare institutions are a part of Apple's health record beta, including Adventist Health System, Mount Sinai, Cleveland Clinic, Intermountain Healthcare, LabCorp, and more. The company is also reportedly working with startup Health Gorilla, which helps doctors order and ingest lab test data.

Apple's ResearchKit and CareKit
Apple is making it easier for developers that want to use the iPhone and Apple ecosystem in their studies or patient care. The ResearchKit and CareKit software developer kits (SDKs) are providing templates to quickly spin up your own application, a key part of Apple moving in the direction of a healthcare platform.
ResearchKit
In 2015, Apple launched ResearchKit as a tool to let medical researchers conduct studies using the iPhone. The opportunity to use Apple's hardware + software in research is clear, and could:
Make recruiting for research easier
Make large scale studies more feasible
Simplify the process of joining a study
Enable remote monitoring and diagnostics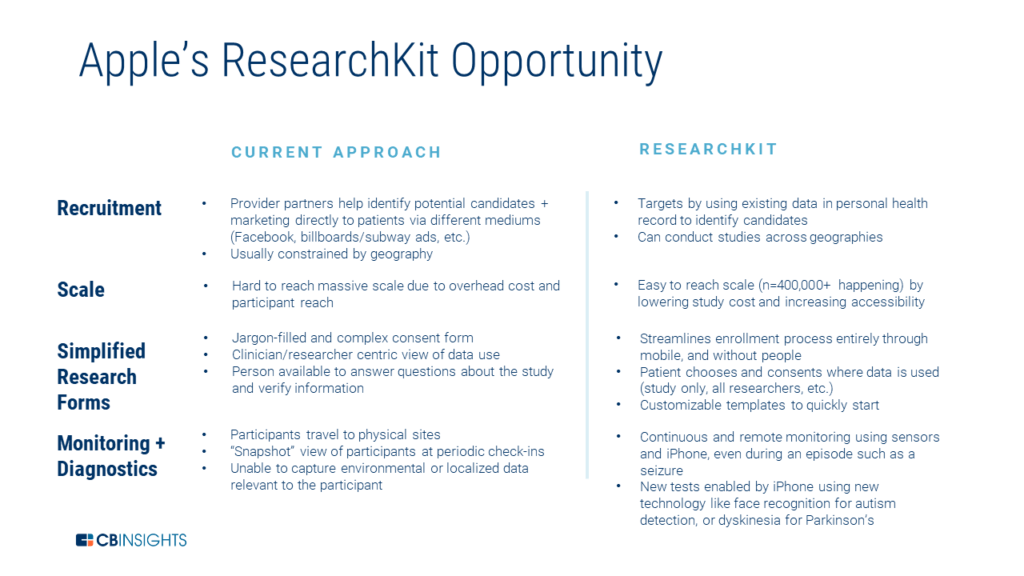 Recruitment: By having a relationship directly with consumers via the iPhone, Apple is able to reduce the friction of signing up for a study, as well as identify eligible candidates using their health record. Moreover, participants in ResearchKit studies are not geographically constrained and can come from around the world.
But while simplifying the sign-up process and increasing accessibility theoretically means a broader population demographic to take part in trials, it's still limited to the demographic of iPhone users, who tend to be more affluent.
Scale: By simplifying recruitment, the size of the studies on ResearchKit are much larger than traditional studies. The Apple Heart Study has recruited more than 400,000 people in a year. A mobile Parkinson's study known as mPower has more than 10,000 enrollees. For reference, The Michael J. Fox Foundation's Parkinson's Progression Markers Initiative (PPMI) study required ~$800 to recruit each participant to Parkinson's trials in 2010, and is tracking fewer than 1,000 people.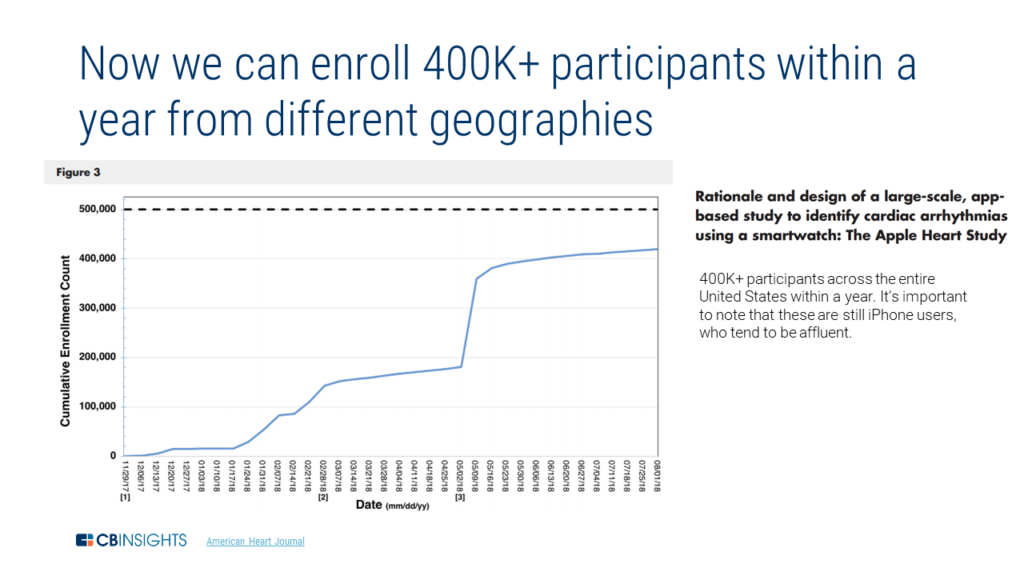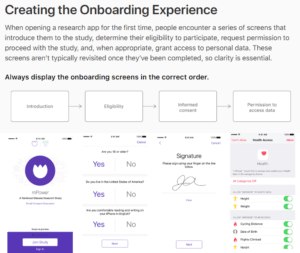 Simplified Research Forms: ResearchKit is streamlining the process of spinning up a study, with templates that are customizeable to introduce a study, understand eligibility criteria, get informed consent, and get data access permissions.
It's easier for patients to understand what they're signing up for through informed consent forms with yes/no questions, videos, and patient quizzes.
But while removing the clinician from this equation makes the process more efficient, it also raises questions about whether patient claims are authentic and whether a clinician should be available to answer questions.
In general, however, ResearchKit has given participants much more control over where they choose to give their data, including donating it for future research. For example, mPower saw more than 75% of people participating in the study choose to donate their data, which has allowed it to open-source the data.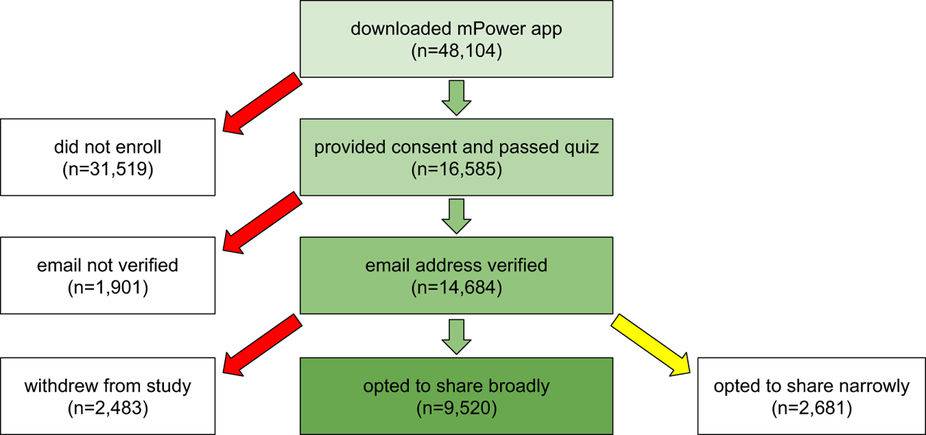 Monitoring & Diagnostics: Instead of traveling to a physical site, participants can utilize sensors in the iPhone or connect to the iPhone (e.g. Apple Watch, connected inhaler, etc.) to monitor themselves more continuously.
This can even happen during episodes of relevance, such as during an epileptic seizure or asthma attack. But data could also be captured to help predict a future episode (like heart rate, tremors, electrodermal activity, etc). Certain health triggers could be environmental in nature, and the phone can capture the relevant data in those situations (for example, location data when asthma attacks spike).
The phone is also using cutting edge technology such as AI and facial recognition (possibly from the Emotient acquisition) for new types of tests like early autism detection.
The ResearchKit 2.0 update released new tools heavily focused on audio tooling. This includes speech to text translation, decibel recording, speech health, and more. It also helps incorporate Airpods into studies (including sound calibration).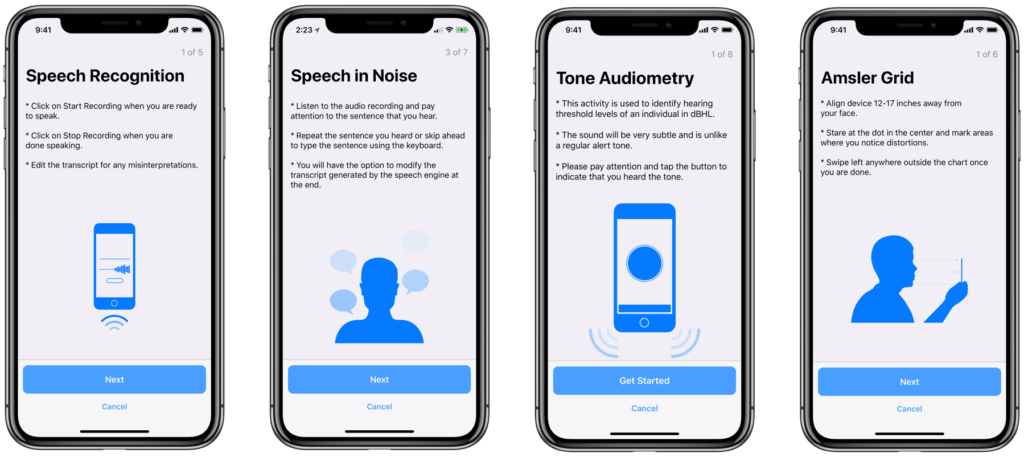 Pharma giants leverage ResearchKit for remote clinical trials
As ResearchKit grows in popularity and capability, more and more pharma giants are leveraging the technology to conduct studies. Pharma manufacturers want direct access to patients both to make it easier to recruit for clinical trials as well as to capture real-world data about the performance of their drugs, which is becoming a more integral part in expediting FDA approval.
ResearchKit can potentially help these companies have a closer relationship to their patients with different diseases. GlaxoSmithKline started a study for Rheumatoid Arthritis using ResearchKit in 2016, Novartis did the same for MS patients, and Pfizer explored a Lupus symptom tracker.
Novartis is taking this one step further with FocalView. The FocalView app is allowing researchers to monitor the progression of eye diseases in real-time via self-reporting and tools on the phone. The first step is to evaluate the app's ability to assess visual function (e.g. visual acuity and contrast sensitivity). The next step is validating the data capture remotely via ResearchKit to traditional testing in regular clinical settings.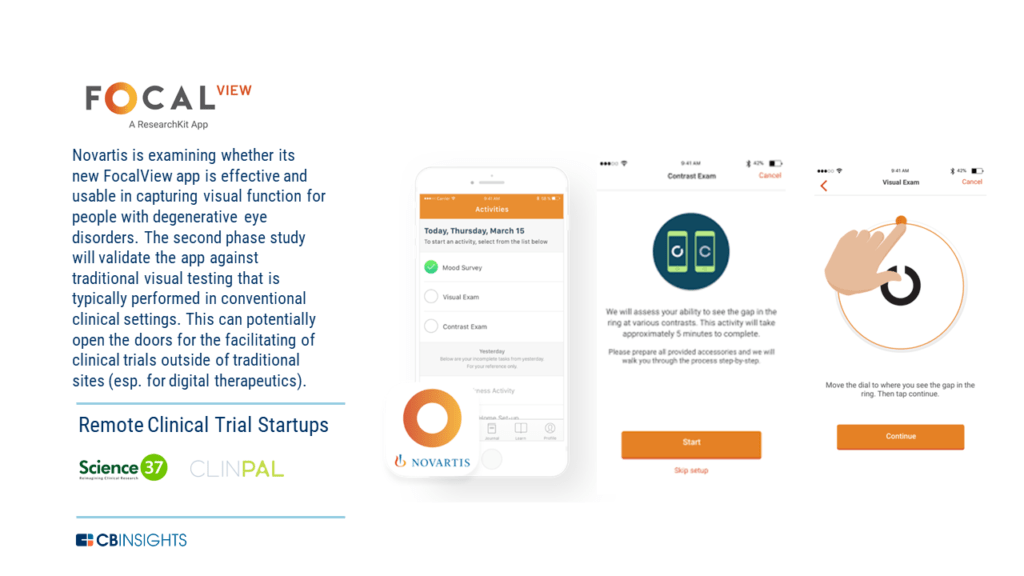 This is setting the stage to potentially use ResearchKit as a means of conducting remote clinical trials.
Considering how expensive it is to run and maintain sites, and just how restrictive this makes recruitment, ResearchKit could potentially play an important role for trials. This is especially true for things like digital therapeutics and diseases that cause impaired mobility.
Pharma manufacturers want direct access to patients both to make it easier to recruit for clinical trials and to capture real-world data about the performance of their drugs, which is becoming a more integral part in expediting FDA approval.
CareKit
CareKit was launched in 2016 after the success of ResearchKit, and allows people and institutions to develop apps to monitor patients in real-time using sensors and tools in the phone (similar to how researchers were using ResearchKit). The CareKit opportunity is:
Making it easier for hospitals to engage with patients before and after they leave the hospital
Creating a central platform for caregivers, physicians, patients, etc. to monitor a patient
Using that platform as a place other services can easily plug into (e.g. non-emergency medical transportation)
The CareKit website indicates a focus on chronic disease management and surgical episodes (pre- and post-operative). It's also open-source — several startups have built on top of the CareKit platform immediately after its release, including Glow, Iodine, and One Drop.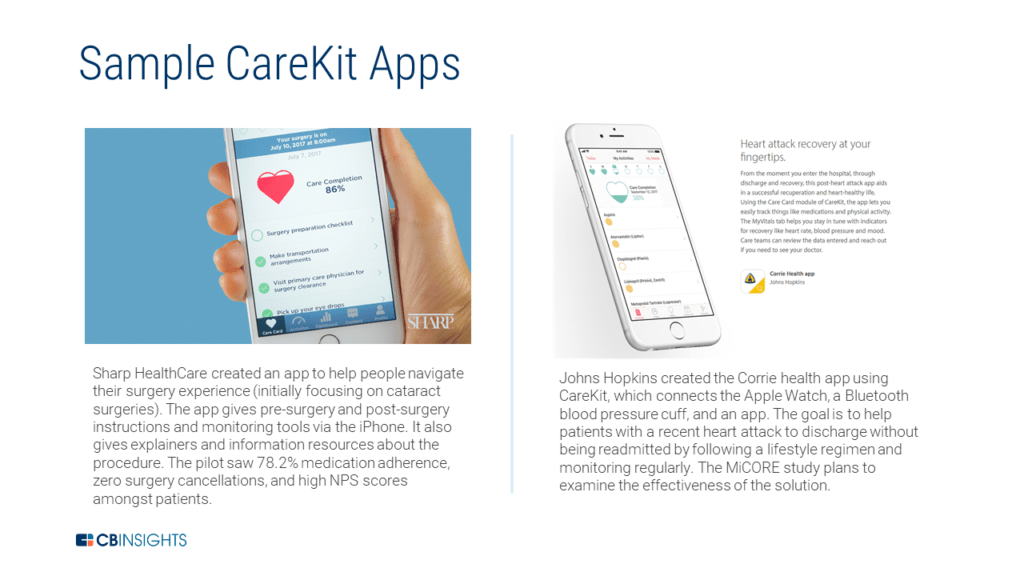 CareKit can become a platform third-party services can plug into. Companies in medical transport, adherence monitoring tools, delivery of health goods, digital therapeutics companies, etc. can potentially all plug into these CareKit apps for distribution.
This makes it easier for hospitals to outsource services to other companies and for those services to be wrapped into a bundle around a specific disease or event. Apple is slowly enabling an ecosystem of "services-as-APIs" (e.g. if you need medical transportation, Uber Health can offer that service for you to plug into your app).
The phone, watch, and medical device innovation
Medical devices will be able to populate the Apple Health record with data about a patient. The failure of previous attempts at a personal health record were partially due to the fact that they heavily relied on users inputting the data themselves. Medical devices can do this passively.
Apple's initial strategy seems to be focusing on hardware that doesn't start with healthcare functionality, but eventually finds medical use cases.
As the hardware, sensors, and computing power improve, we'll likely see Apple create more of its own devices as well as enable third-party device makers to build on top of it.
The Phone As A Medical Device
With every progressive release of the iPhone, we're seeing the introduction of new components that improve processing power, sensors, new types of lighting ability, and more.
Apple's new in-house A12 bionic chip is specifically designed to power artificial intelligence functions. The dot projector allows for granular facial recognition (useful in areas like autism detection, which we discussed earlier). Powerful cameras and machine vision could power new types of monitoring and diagnostics.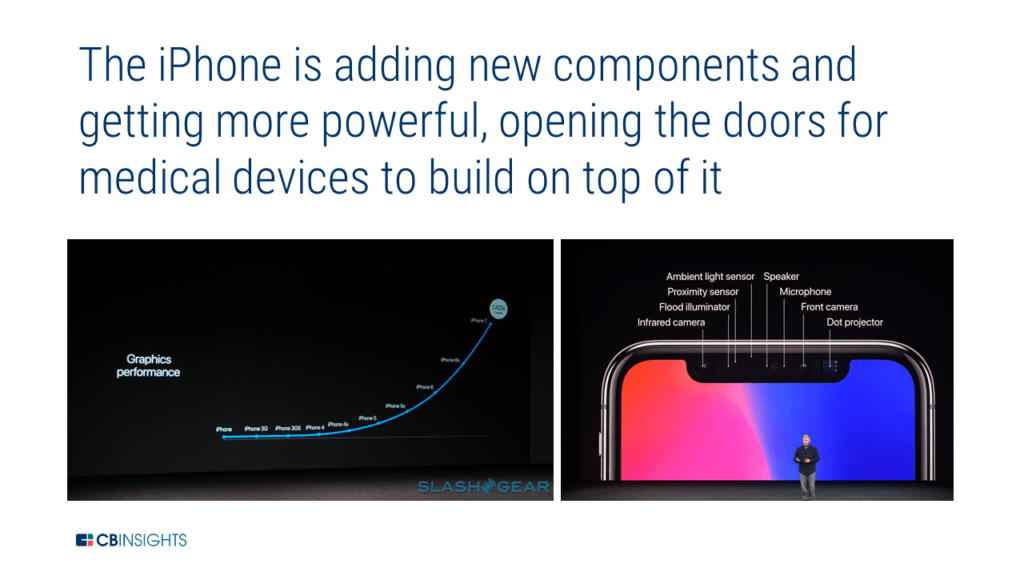 Apple itself has examined this, as noted by a recent patent filing. The filing combines the camera, an ambient light sensor, and a proximity sensor to detect changes in blood flow. A finger is illustrated throughout the renderings, but the filing notes that an ear, palm, or other body part could be used as well.
Blood volume can then be used to compute health data on the user's pulse rate, perfusion index, and more — enabling users to track information on areas such as heart function, body fat, and blood pressure.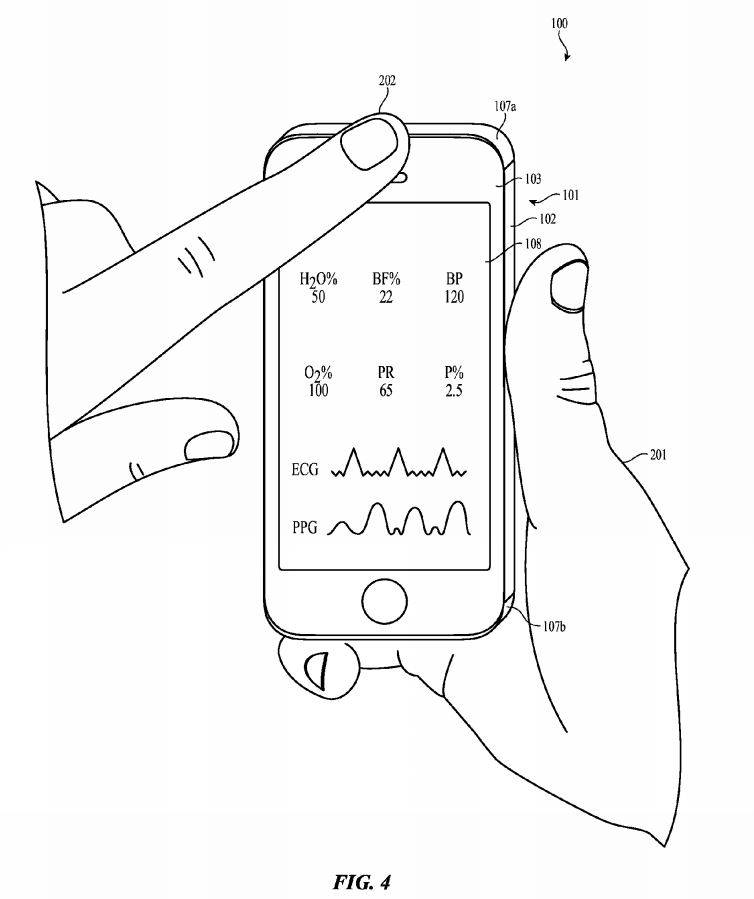 Third-Party Device Manufacturers
Several startups have also been leveraging the iPhone's capabilities to power diagnostic tools by clipping onto the phone, such as Butterfly Network (portable ultrasound), AliveCor (multiple lead ECG), and Cellscope (iPhone otoscope).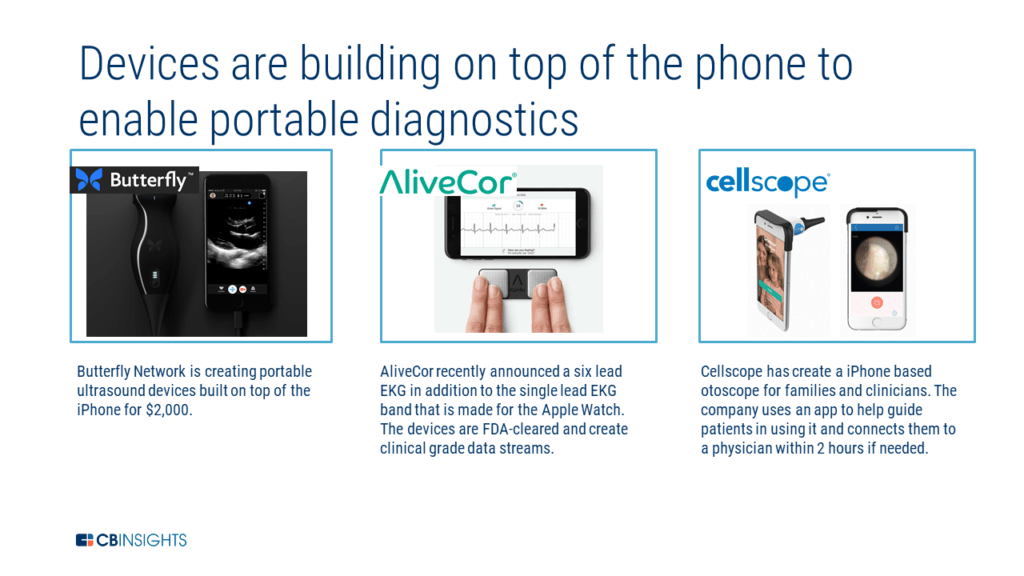 Existing medical device makers have started building devices that are designed specifically to work with Apple products. These companies are using Apple's brand, focus on user experience, and contextual data capture via the iPhone, Apple Watch, etc. to deliver better experiences.
Notably, one of the recent announcements was that Zimmer Biomet and Apple were collaborating on a study to understand what leads to better outcomes for knee and hip replacement patients.
For Zimmer Biomet, it makes the company better positioned in the hip and knee replacement market. The Centers for Medicare & Medicaid Services (CMS) rolled out a bundled payments program called Comprehensive Care for Joint Replacement Model in 2016 which gave providers a "target price" for hip or knee replacements. If the company managed to deliver care below that price, it would get a share of the savings.
This program and other outcomes-based programs require a level of patient participation and engagement to be successful. Through this partnership, Zimmer Biomet gets Apple's expertise in designing compelling consumer experiences, along with hardware and software to capture and analyze more relevant data.
As more medical device makers move towards these outcomes-based business models, being able to create compelling experiences for patients to get involved is going to be key. This study will be a great way for Apple to prove its value here.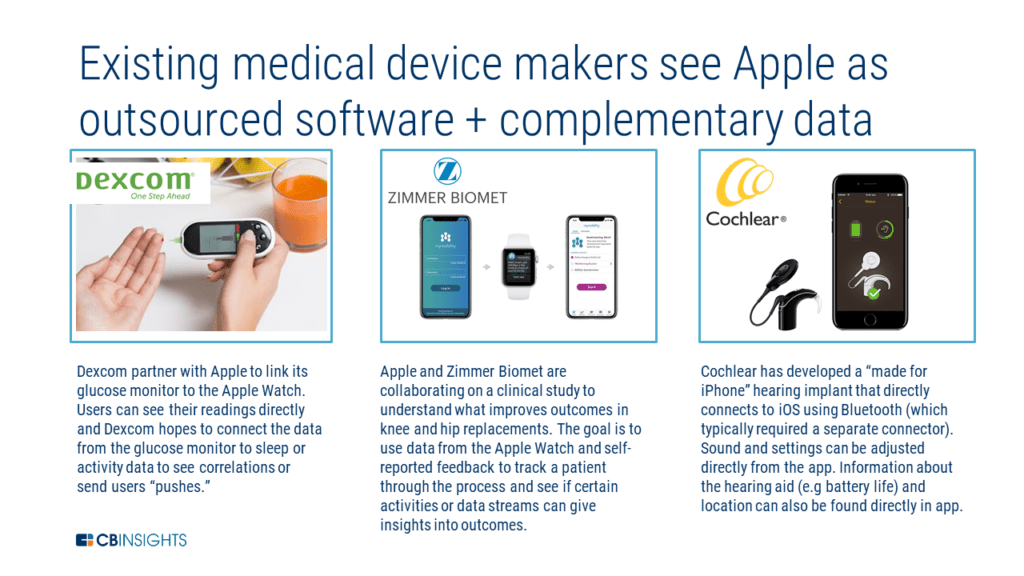 Apple's Medical Devices
In September 2018, Apple announced that the Apple Watch Series 4 had been cleared by the FDA to provide a single lead electrocardiogram (ECG) into the watch. The Apple Watch also has fall detection. This could help move the watch into an essential product, especially for the elderly. This also completes Apple's transition for the watch from a general purpose tool to a health and wellness product to a clinically usable device.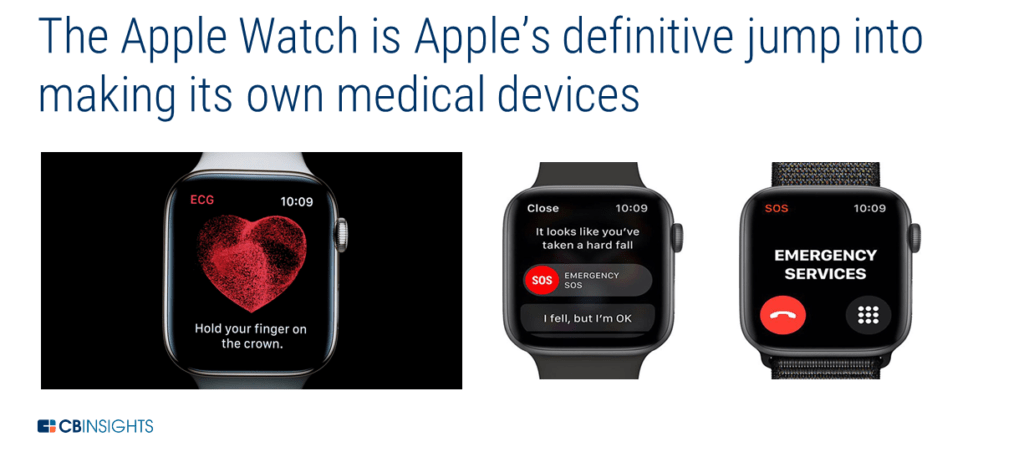 The idea of collecting clinical-grade cardiac data was hinted at in a patent Apple filed in 2016 with the goal of conducting ECGs via a wearable device.
Apple has struck several key partnerships to focus on other health capabilities with universities like Stanford's Center for Digital Health and UNC. Apple is providing researchers at these universities thousands of Apple Watches for studies related to:
Mindfulness & physical activity
Virtual therapy for arm recovery in stroke patients
AI support for adherence in psychiatric care
Reducing hyperactivity in ADHD cases
Migraine prevention and data collection
Binge eating
These projects could potentially help Apple find future use cases for the Apple Watch.
Apple is also examining detection of other biomarkers. The company reportedly initially struggled with accuracy in heart monitoring, according to the Wall Street Journal. But if the company succeeds in ECGs, it could expand monitoring to other areas including blood oxygenation, skin conductivity, and more:
"Development languished because much of the health-sensor technology failed to meet Apple's standards… Apple tinkered with sensors that measured the conductivity of skin, a concept used in polygraphs to gauge stress. The technology also showed promise for heart-rate monitoring such as an electrocardiogram, or EKG… Apple also experimented with ways to detect blood pressure or the amount of oxygen in the blood, but the results were inconsistent." — Wall Street Journal
Glucose monitoring and blood pressure monitoring are two areas the company seems to be focusing on. One patent filed by Apple shows a wrist-based blood pressure cuff.
Another patent talks about the use of absorption spectroscopy to measure the concentration of a substance in a sample with possible applications in glucose monitoring. There is also reportedly a team at Apple focused on non-invasive glucose monitoring. This functionality could be brought into the Apple Watch or as standalone devices.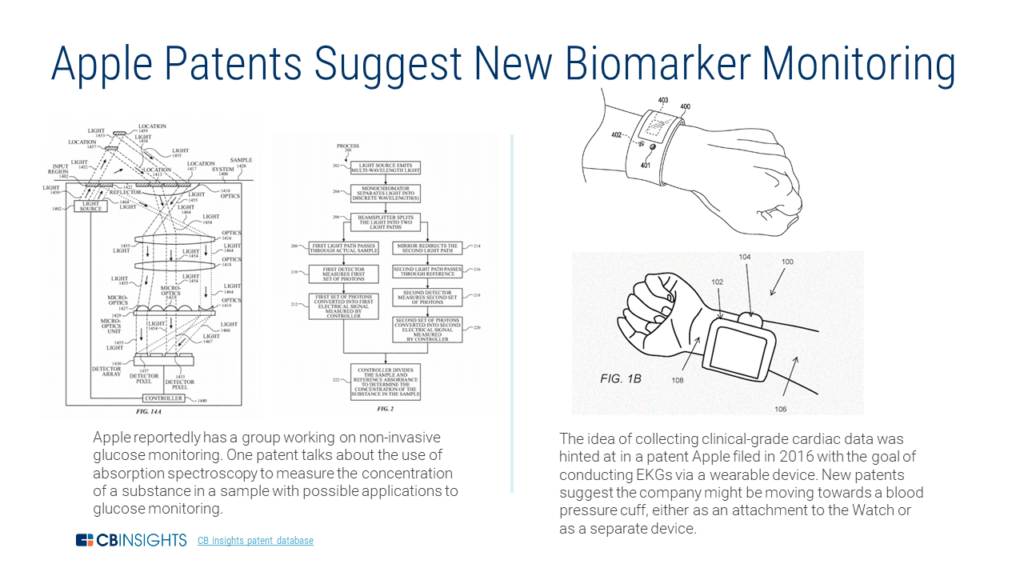 In true ecosystem fashion, Apple could be looking to develop a suite of monitoring devices designed to work together and give contextual data (e.g. heart rate, physical activity, etc.) to find possible correlations.
Apple has explored whether its Airpods are able to capture biometric data. By pressing the Airpod against the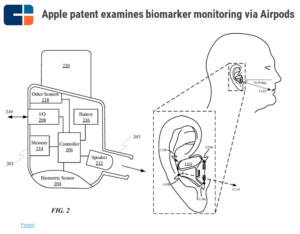 inner ear, a patent suggests that the device could possibly capture internal temperature, heart rate, and VO2 (oxygen consumption).
The Over-The Counter Hearing Aid Act allows manufacturers to sell medical-grade hearing aids directly to consumers without a physician in the process. With its passage, the timing would be right for Apple to create its own FDA-cleared hearing aid in a device with strong branding and user experience.
In the home health monitoring area, Apple acquired sleep tracking startup beddit in 2017.
The company uses hardware to monitor sleep time & efficiency, heart rate, respiration, temperature, movement, snoring, room temperature, and room humidity. Sleep tracking could bridge the gap for consumers between wellness tracking and medical disorders (sleep apnea, Restless Legs Syndrome, etc.)
Apple recently stopped cloud support for the company, suggesting it's either being folded into the Apple ecosystem or hinting at its discontinuation.
As the company pushes further into the smart home space with its HomePod smart speaker, it could increase the value of the ecosystem by adding health/wellness monitoring smart hardware.
Other monitoring hardware and contextual health data that would make sense for the company to pursue includes air quality, food data, a smart scale, and a smart mirror. These pieces of hardware could help complete Apple's home health monitoring suite.
The Medical Device Trend and Distribution Strategy
The regulatory environment is ripe for companies to develop more direct-to-consumer medical devices as Apple continues to move in this direction.
The Over-The Counter Hearing Aid Act, mentioned earlier, could be a leading indicator for other low-risk devices to see direct-to-consumer channels which would require the branding and user experience expertise that Apple has in spades.
Scott Gottlieb has reinforced the belief that medical devices in consumer hands would help them make better choices, and continues to pass more direct-to-consumer healthcare legislation.
"Looking ahead, we sit at a time of great promise. Among some of the reasons I'm so optimistic about our shared future are new scientific opportunities, like gene therapy and regenerative medicine that give us plausible hope that we might be able to actually cure many more diseases. And new medical devices that are empowering consumers, enabling them to be better informed about their health, and better stewards of their own medical care." -Scott Gottlieb, FDA Commissioner
One method of distribution for medical devices for Apple would be to go directly to consumers. However this would only put the devices in the hands of those that could afford them.
As the medical use cases for these devices are proven out, we'll likely see Apple use a similar subsidy strategy to increase distribution that it used with the iPhone. Instead of partnering with telecom carriers, Apple could use life insurance carriers and payers to subsidize the cost of their medical devices. This is especially critical to get these devices into the hands of lower-income patients who might have increased risk for adverse health events.
We're already seeing this with UnitedHealthcare, Aetna, John Hancock, and more, each of which are giving their members subsidized Apple Watches or including them in rewards programs.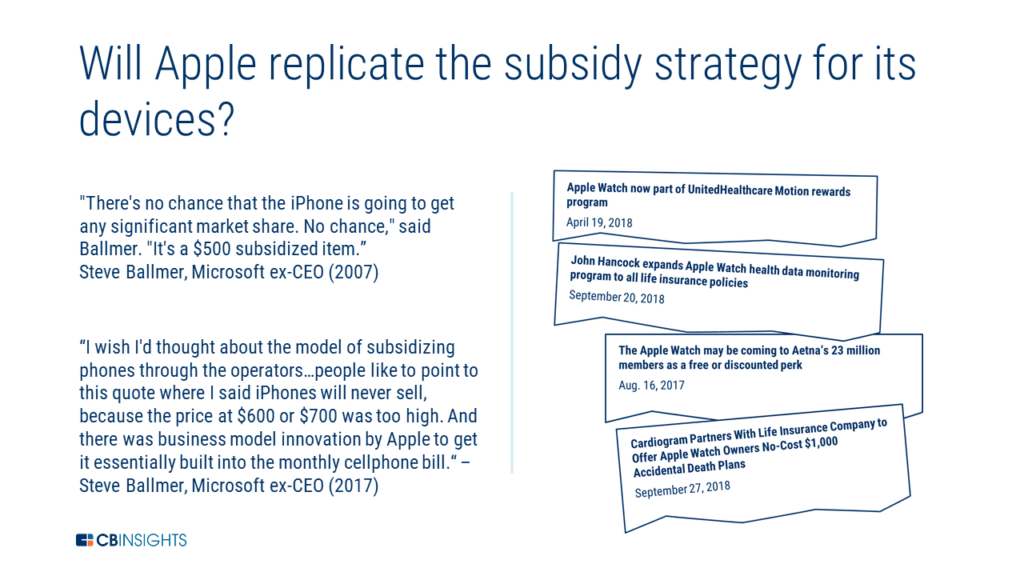 Looking ahead — Apple health services
Apple appears to be looking to move into primary care services as well.
By doing this, Apple will own many of the parts of the value chain for a patient before they enter a large hospital system. Apple could become the entire suite to manage a patient journey outside of the hospital.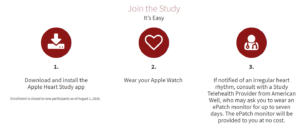 The first indication of this was in the Apple Heart Study, where a part of the study was having a provider reach out via telemedicine company American Well if it detected an anomaly.
This would lead to an escalation from the Apple Watch to a gold standard or generally higher specificity test. This telehealth outreach could help steer a patient to the relevant options before determining the need for a hospital visit.
This demonstrates how healthcare is moving from a reactive to a proactive model, which Apple is preparing for.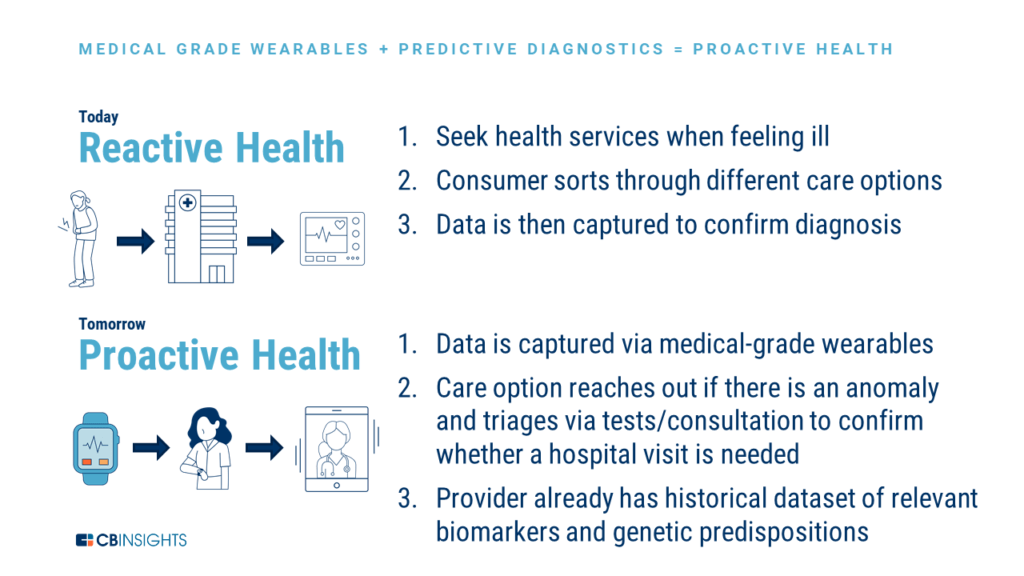 Apple's patent to connect patients to doctors via telemedicine reinforces this strategy. The patent allows users of a device to initiate a telemedicine session and authorize the use of certain data to the physician. This includes proactive outreach from the physician for follow-ups.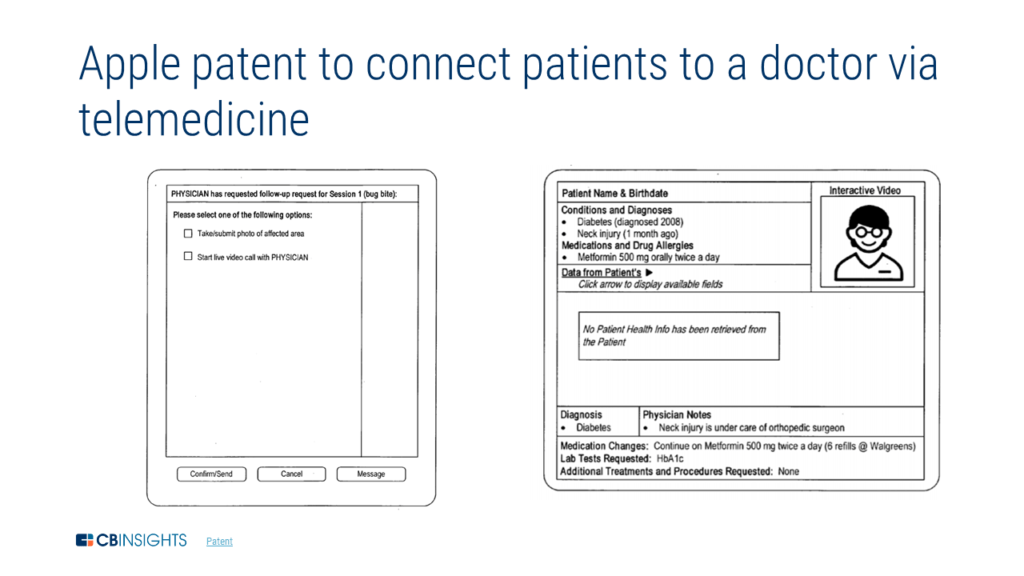 Apple seems to be exploring more traditional brick-and-mortar clinics as well.
The company launched "AC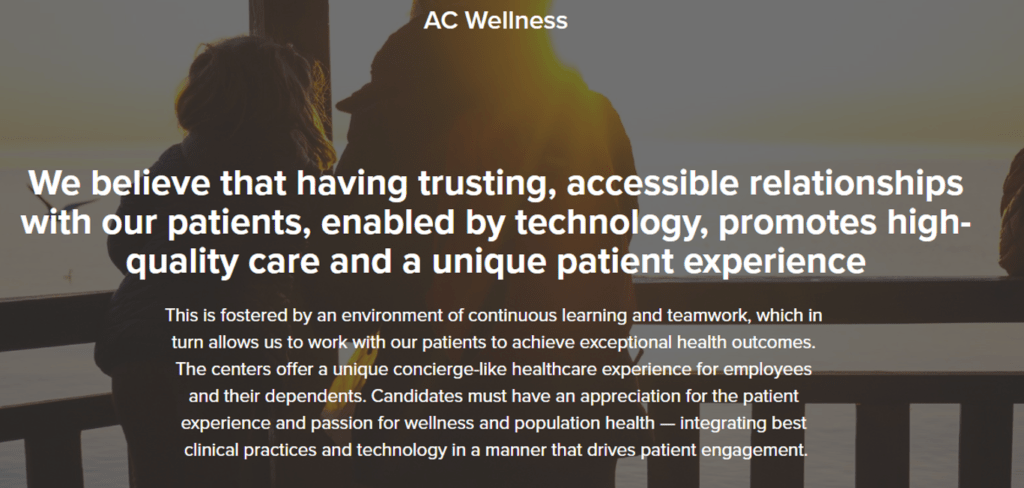 Wellness" clinics for its employees to better manage their primary care. The team involved nutritionists, care navigators, sleep & exercise specialists, nurse practitioners, and more through a LinkedIn search.
This project is potentially being tested internally before being rolled out as its own product for the public to provide a more holistic primary care experience.
While Apple seems to be working on all of the pieces to be a care navigator for patients outside of the hospital, one area its missing is the ability to use chat.
Asynchronous chat can provide another layer of triaging for patients and also proactively ping them without being intrusive. Several companies do this, either fully automated or with physicians in the loop, including Babylon Health, K Health, Buoy, Your.MD, and more (CB Insights clients can see healthcare chatbots with this search).
Apple can use these services for customers it detects that might have an anomaly, or patients that need to adhere to some regimen after seeing a doctor.
Conclusion
Apple is blurring the line between wellness and healthcare, using its position in your pocket to connect the two. If it can crack the personal health record and patient data platform, it would empower patients to make decisions and give data access to whoever they choose. This is a very different paradigm for healthcare, where patients have increasingly more leverage, information, and agency in their decision making.
Apple is also approaching healthcare slowly. The company has achieved success by vertically integrating its experience and product, and seems to be approaching healthcare from a similar angle by connecting different parts of a user experience together (device, health record, platform, and potentially services like telemedicine).
The incumbents directly in the line of fire would include health IT and electronic medical record companies, as well as medical device makers building commodity consumer-facing devices. These are incumbent types that have historically not prioritized user experience, and would potentially lose to Apple if people begin to expect better user experience in their medical care. Clinical Research Organizations (CROs) are also potentially at risk as Apple continues to further reshape the medical research industry.
Apple has the device ecosystem, built-in user base, brand, and incentive structure to make healthcare truly patient-centric. As the pieces start coming together and Apple starts entering the healthcare market, existing industry giants will have to figure out how to adapt.
If you aren't already a client, sign up for a free trial to learn more about our platform.