Using CB Insights' patents search engine, we surfaced a newly granted patent that suggests the iPhone cameras of the future may help users detect health data and measure physiological conditions.
Earlier this week, Apple won approval for its patent application for a new "Electronic Device That Computes Health Data." But the technology depicted in the patent renderings isn't a new wearable health tracker or medical device – it's an iPhone.
The filing, which describes how Apple devices may be utilized as health sensors, lists applications such as tracking blood hydration, body fat content, oxygen saturation, and many others.
Coming on the heels of the Apple's Q3'16 acquisition of personal health data platform Gliiimpse, the newly-granted patent is yet another sign of Apple's ambitions to turn the iPhone – or any of its consumer devices – into a health device.
The patent says the new health-computing technology could be equipped to "a smart phone, tablet computer, mobile computer, digital media player, wearable device, or other electronic device" to detect health data "without making the user obtain access to a dedicated fitness and/or wellness device."
The filing describes how a camera, an ambient light sensor, and a proximity sensor can work together in Apple's technology to glean information on changes in blood from the user's touch. (A finger is illustrated throughout the renderings, but the filing notes that an ear, palm, or other body part could be used as well).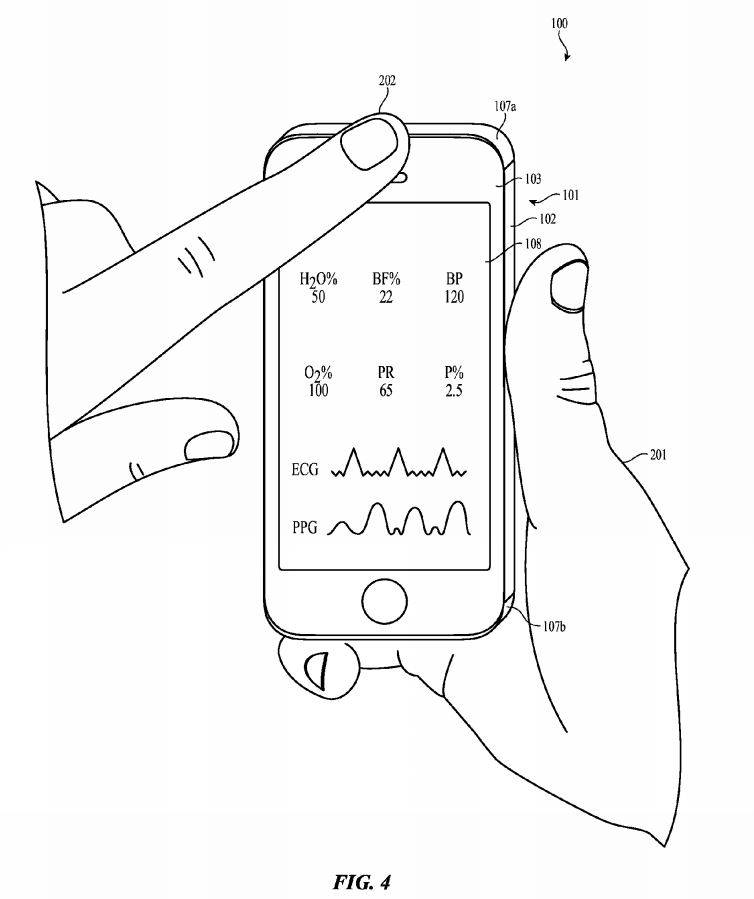 The blood data, specifically blood-volume, can then be used to compute health data on the user's pulse rate, "perfusion index," and more – enabling users to track information on areas such as heart function, body fat, and blood pressure. Noting that some of technological implementations may use "electrical contacts" for more advanced electrical measurements, the filing mentions health-detection capabilities ranging from electrocardiogram (ECG) readings to measuring a user's "emotional state."
Apple's interest in medical devices and health-data management aren't new: The company recently partnered hearing assistance company Cochlear to launch the first iPhone-compatible cochlear implant sound processor (hearing aid), and the HealthKit app, which comes pre-loaded on iOS, includes tools to help users log body measurements, health records, sleep patterns, and health records.
The newly granted patent suggests that the HealthKit could be integrated with more verifiable, trackable personal data to make iOS into a personal health record – especially now that the Apple Watch is running Core Bluetooth, enabling it to seamlessly communicate with bluetooth-powered glucose monitors and other specialized medical tools. Taken together, these initiatives fuel Apple's potential to capture more new opportunities in the clinical healthcare and insurance markets.
If you aren't already a client, sign up for a free trial to learn more about our platform.