Apple has leveraged acquisitions to make recent moves in weather, virtual reality, artificial intelligence, and more. We visualize the tech giant's biggest bets.
Historically, Apple has used M&A as a tool to enrich its dominant product of the day, with its focus over time shifting from its computer to its smartphone.
For example, FaceID, the technology that allows users to unlock their iPhone X just by looking at it, stems from Apple's M&A moves in chips and computer vision, including acquisitions of companies like PrimeSense, RealFace, and Faceshift.
The cash-rich tech giant has continued writing checks amid 2020's volatile market, snapping up edge-based AI startup Xnor.ai (in a deal valued at $200M), weather app Dark Sky, speech recognition startup Voysis, and VR event streaming company NextVR ($100M valuation) in the first few months of the year. 
Using CB Insights M&A data, we made a visual timeline of the largest acquisitions in the company's history. 
Please click to enlarge.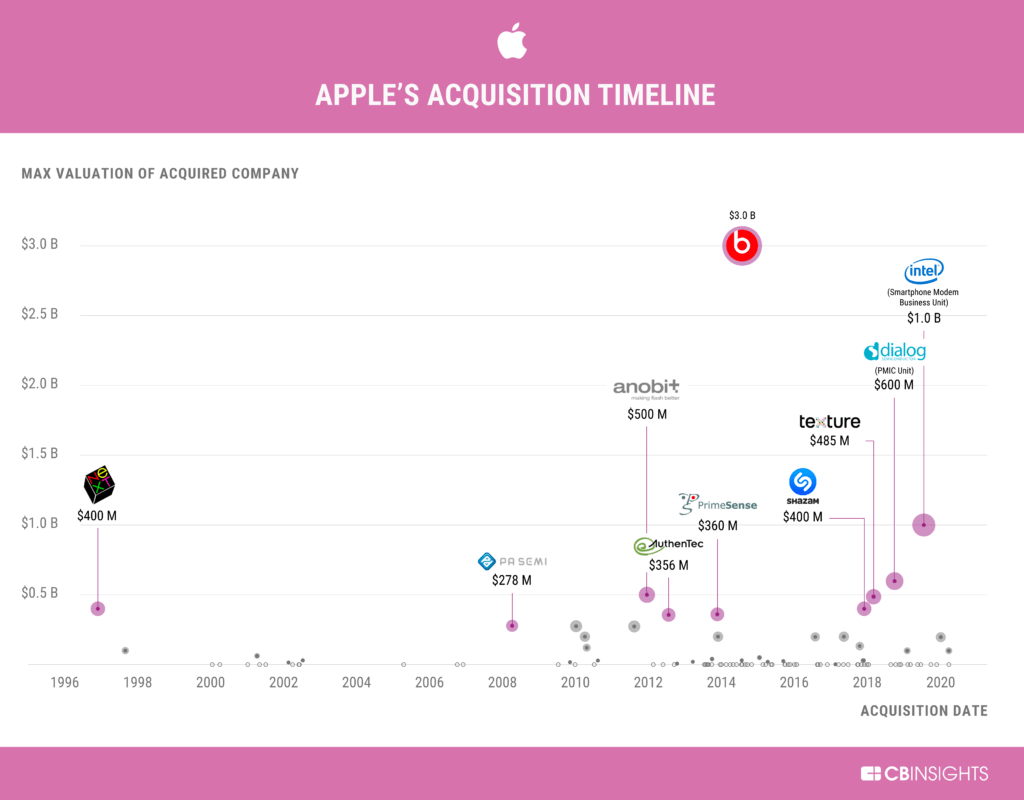 APPLE'S TOP ACQUISITIONS
1. Beats Electronics ($3B, 2014) is Apple's largest acquisition to date. This transaction saw Apple acquire both Beats Music, the subscription streaming music service, and Beats Electronics, which makes headphones, speakers, and audio software. This acquisition reportedly aimed to boost Apple's music services by bringing in Beats Electronics executives.
2. Intel's smartphone modem business ($1B, 2019) is Apple's most recent acquisition to make the top 10 list. The deal brought in critical engineering talent and patents, ramping up Apple's push to develop modem chips for its 5G phones. 
3. Dialog Semiconductor ($600M, 2018) is a UK-based semiconductor business. Apple expanded its chip operations in Europe by acquiring the chip supplier's battery management business, taking on an engineering team that already had many years of experience working on chips for Apple devices.
4. Anobit Technologies ($500M, 2011), an Israel-based semiconductor startup, was acquired by Apple for its flash memory components, a key part of many of Apple's products, as well as for its large team of chip engineers.
5. Texture ($485M, 2018), a digital newsstand app, was acquired by Apple to bolster its publishing and news services. The service was shut down a few months following the launch of Apple News+ in March 2019.
6. Shazam ($400M, 2017), the popular song identification app, was reportedly seen by Apple as a "natural fit" with its Apple Music streaming service.
6. NeXT Computer ($400M, 1996), a software development company, is the earliest of Apple's top 10 acquisitions and was used to bring Steve Jobs back into the company he co-founded.
8. PrimeSense ($360M, 2013) is an Israeli 3D sensing company that was used to power Microsoft's Kinect. It is now also behind Apple's facial recognition technology included in the iPhone X.
9. AuthenTec ($356M, 2012), a Florida-based listed fingerprint sensors company, was used by Apple to develop its payment solution Apple Pay.
10. PA Semi ($278M, 2008) was Apple's first acquisition of a semiconductor company. One of the reported reasons for acquiring the California-based chip designer was Apple's interest in low-power processors for mobile devices.
KEY TAKEAWAYS
Apple spent over $7.3B on its top 10 deals, over 40% of which went to its $3B acquisition of Beats Electronics.

Many of Apple's top acquisitions have been aimed at building and improving its largest success to date, the iPhone. Four of its largest acquisitions focus on chip performance, including Intel's smartphone modem business, Dialog Semiconductor, Anobit Technologies, and PA Semi.

Overall, these top deals reflect

Apple's strategy evolution

, from a focus on the Mac platform (NeXT Computer) in the late 1990s, to a focus on mobile (Intel, Dialog Semiconductor, Quattro Wireless), and most recently to a focus on services like Apple Music (Beats, Shazam).

Other well-known features of the iPhone that have been impacted by Apple's top acquisitions include fingerprint-enabled payment solution Apple Pay, with AuthenTec, and facial recognition tech, with PrimeSense.
If you aren't already a client, sign up for a free trial to learn more about our platform.