From launching products for rural consumers to making payment by virtual credit a part of everyday life, here's how Ant and Tencent are continuing to refine their fintech strategies.
There are just two China-based fintech businesses valued at over $100B in the world.
The first is the financial affiliate of Chinese e-commerce giant Alibaba Group, Ant Financial, valued at $150B.
The second, conceivably, is Tencent's fintech business. In May 2019, Barclays released a note estimating the value of Tencent's fintech business at $123B, or close to a third of the company's total market cap.
While Tencent groups the results of the division with business services (cloud and B2B services), fintech is now driving growth at the social media and gaming giant. In Q2'19, Tencent's fintech and business services category grew 37% YoY in contrast to 16% growth in online advertising revenue, down from 25% in Q1'19.
Both Ant and Tencent have converged on a growth playbook that focuses on converting their massive audiences of digital payments users into consumers of financial services across lending, wealth management, insurance, and credit scoring.
In this analysis, we highlight 5 ways Ant Financial and Tencent are continuing to refine their fintech growth playbooks. As more platforms hope to move beyond payments into fintech super apps (think MercadoPago in Latin America or PhonePe in India), Ant and Tencent's moves provide hints as to what could come next around the world.
1. Building flywheel effects
The key to Ant and Tencent's fintech playbooks is to build a powerful flywheel effect by using payments as a customer acquisition engine into higher-margin financial services for its 800M-900M users in China.
Ant and Tencent continue to dominate third-party mobile payments in China, which saw $7.8T in transaction value in Q2'19. Ant's Alipay and Tencent's WeChat Pay control 54.2% and 39.5% of the market, respectively.
As the payment market matures, Ant and Tencent are providing technology and user behavior analysis to help financial institutions provide more tailored product offerings.
This is already leading to substantial growth. At its Investor Day in September 2019, Ant disclosed that financial services has overtaken payments and now makes up over 50% of its overall revenue.
Notably, Ant Financial customers who have used 3+ financial services grew to 80% in June 2019, while customers who use 5 financial services grew to 40%. This is important because Ant's ability to earn more of its users' share of wallet increases with time and trust.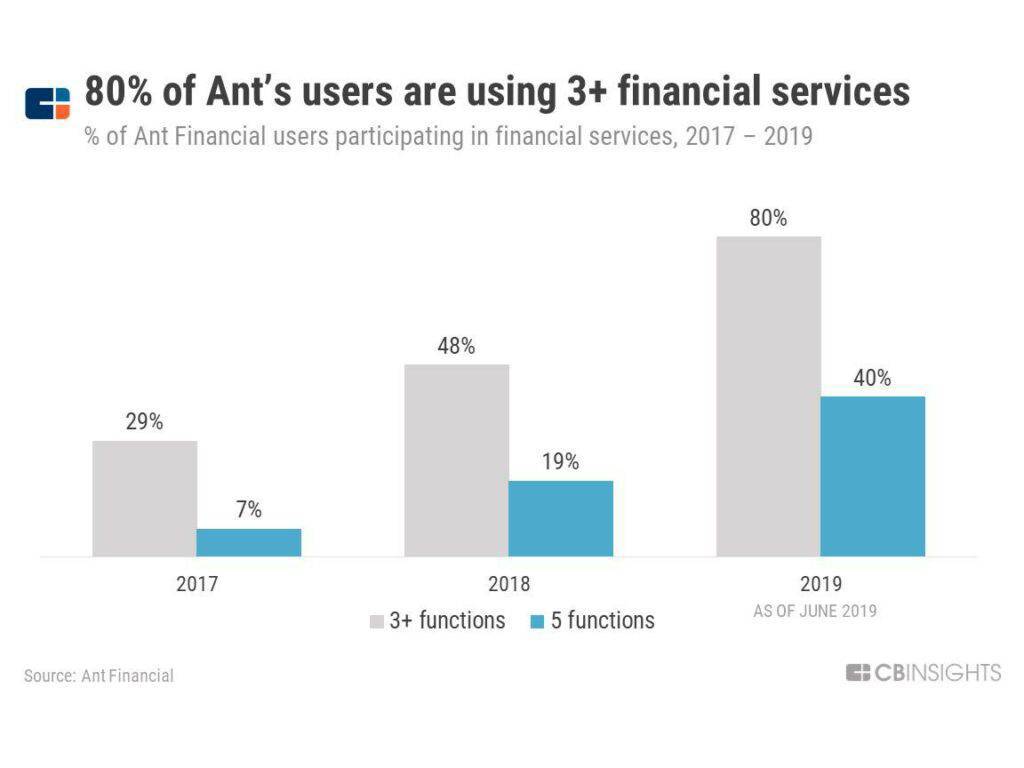 2. Making virtual credit a part of everyday life
One area where Ant has ingrained itself into the daily lives of its younger users is in short-term installment lending.
Millennial and Gen Z consumers in China are spending differently than previous generations by showing a willingness to take on debt for both everyday purchases (cosmetics, clothes, food) and bigger-ticket items (cameras, smartphones).
Ant Financial's Huabei, which allows users to pay for items on credit with an interest-free payment period, has grown significantly in 2019 and has reportedly extended loans in excess of more than 1 trillion yuan ($140B) since its launch in April 2015. That's 10X more than the outstanding loans on Huabei at the end of the first half of 2017 (99.2 billion yuan).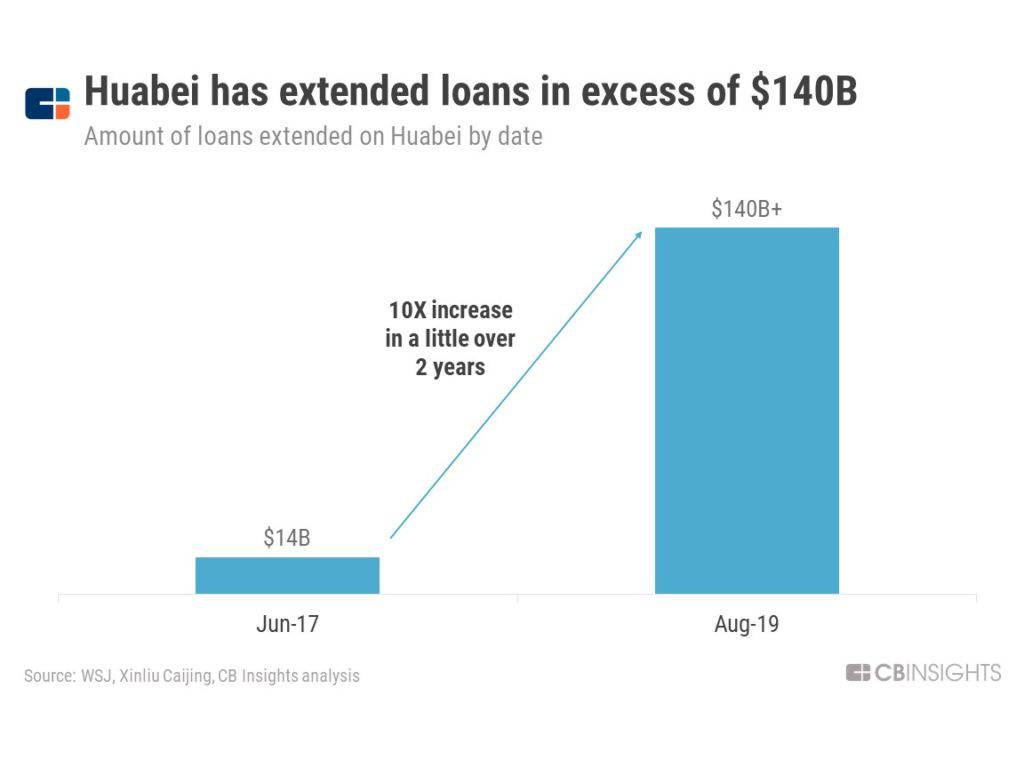 Now, Tencent is also developing its own virtual credit product called Fenfu, which is expected to go live within WeChat Pay in Q4'19. This would be Tencent's first move to provide a payment option beyond its users' debit and credit cards issued by regular banks. Tencent's expansion into virtual credit payments will likely play a big role in its own moves toward pushing its user base into additional financial products.
3. Prioritizing health insurance
One area of expanding importance for Ant and Tencent is health insurance.
With the Chinese government issuing multiple policies to boost the development of protection-based insurance products, health insurance in China is projected to grow at a 20% CAGR from 2018 to 2023, while long-term health insurance is expected to account for 65% market share of health insurance in terms of gross written premiums in 2023.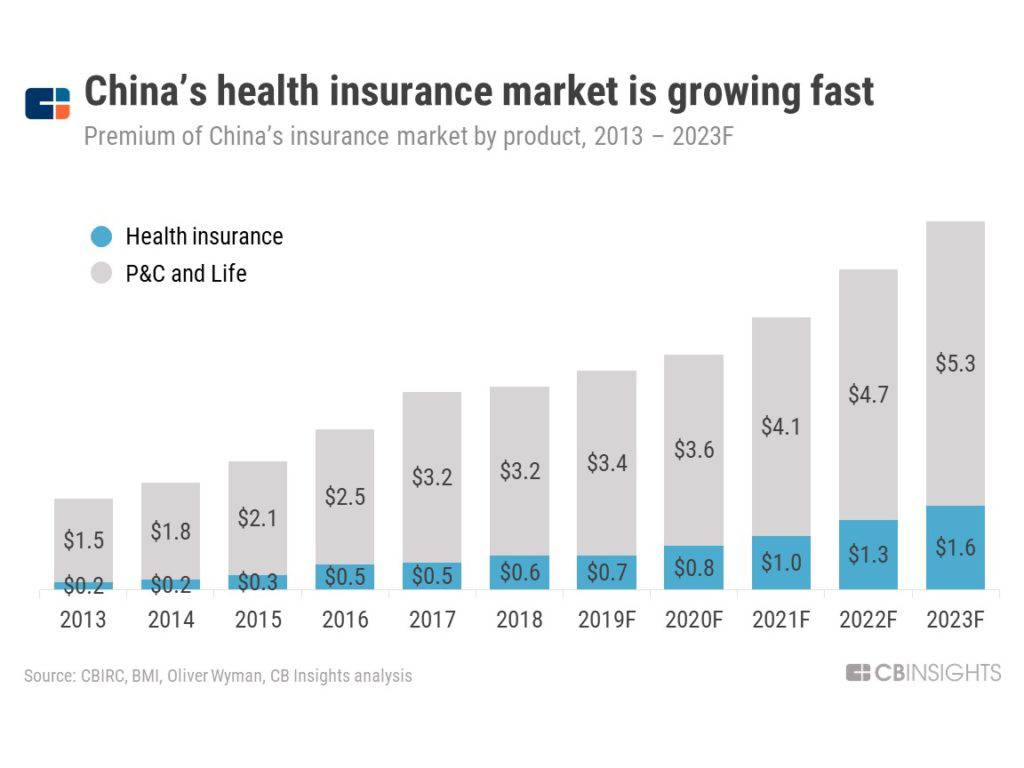 To boost health insurance penetration among China's lower-tier cities and rural areas, Tencent and Ant have both invested or built mutual aid platforms.
Tencent is an investor in Waterdrop, which has grown to 80M members who contribute 3-5 yuan per month and receive up to 300K yuan for major medical expenses. Waterdrop has provided assistance to over 4K individuals since its 2016 launch.
Waterdrop launched Waterdrop Insurance Mall in May 2017. As a national insurance brokerage selling more than 80 insurance products, Waterdrop Insurance Mall has grown to more than 12M users, 90% of which are completing their first-ever online insurance purchase, according to the company. In July 2019, premium sales exceeded $83M.
Meanwhile, Ant launched its own mutual aid platform aimed at rural cities, Xiang Hu Bao, in October 2018, which has grown to more than 80M members (the fastest growth across any of its product categories). Ant reported at its Investor Day that since the launch of Xiang Hu Bao, the sale of traditional health insurance products distributed by Ant has accelerated.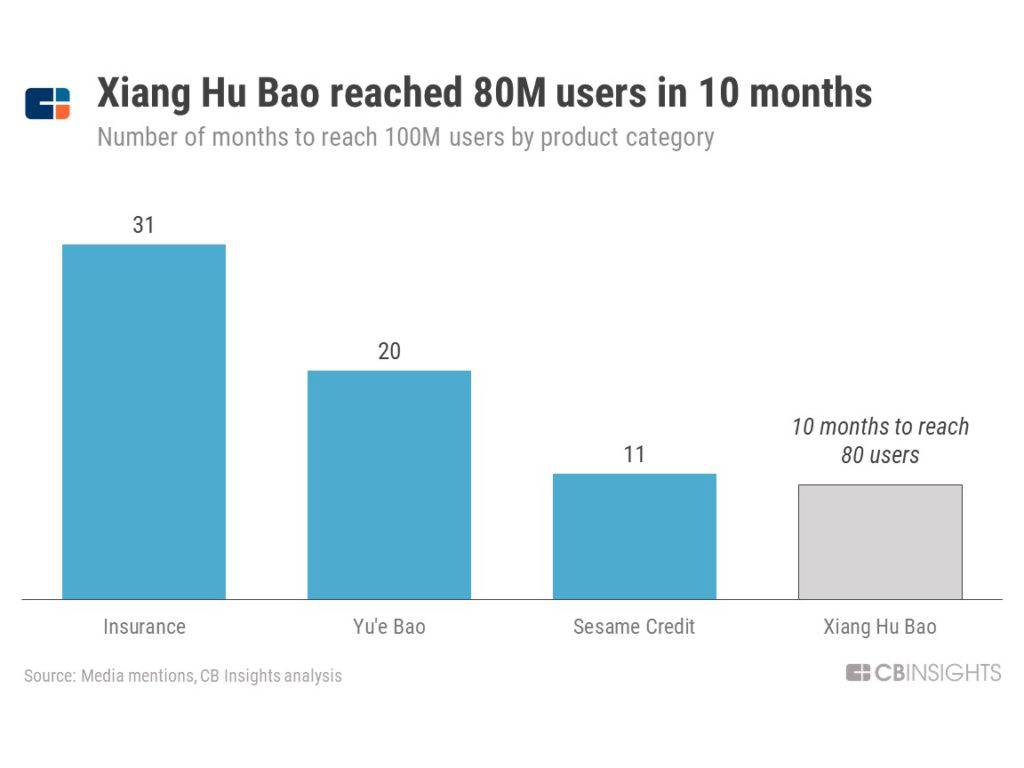 Tencent and Ant are also investing in expanding health insurance more broadly. Tencent is an investor in Xiaobang, which targets middle-income families with online courses on insurance planning and financial education. When users finish the courses, the startup targets high-intention users with one-on-one consultants who tailor insurance plans to their profiles.
Tencent has also been building out its own digital brokerage, WeSure, and launched a low-cost health insurance plan with Taikang Life in May 2019. The new offering extends coverage for six years without having to re-qualify for coverage after every year.
4. Diversifying options for savings and investing to expand the market
With over 600M users, Ant Financial's Yu'e Bao is frequently touted as the largest money market fund in the world. But in September 2019, Yu'e Bao lost the top money market fund spot as its assets shrunk 39% from its peak in March 2018.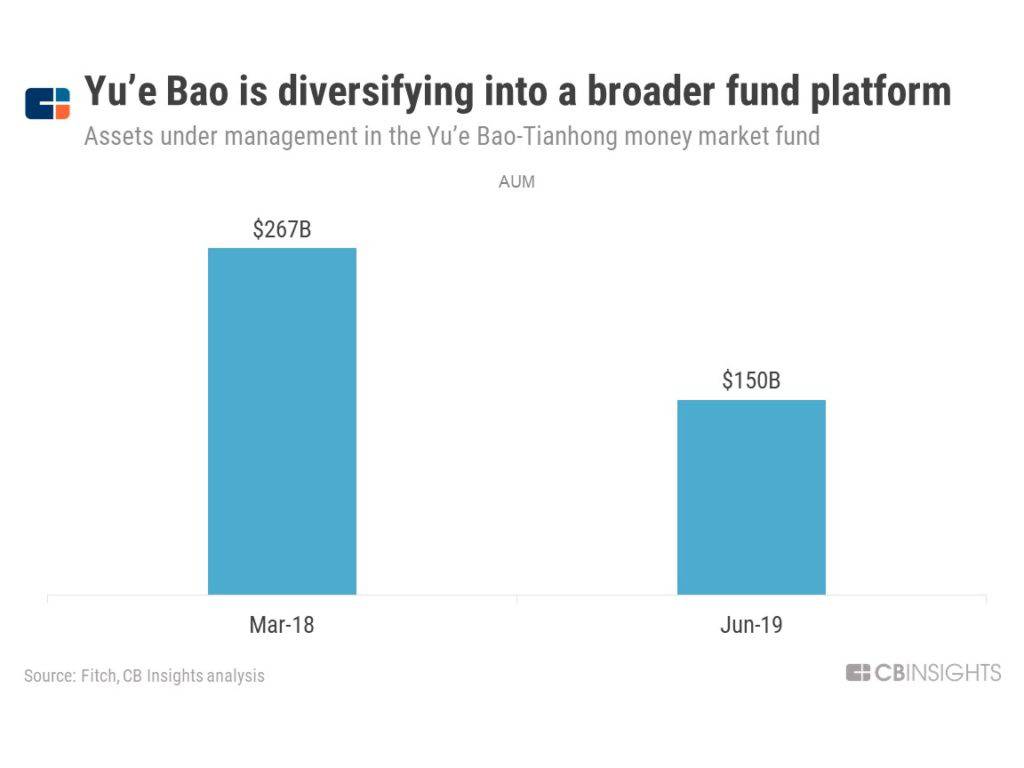 This isn't a bad thing for Ant. As Ant has moved toward an open platform model, it is moving toward diversifying away from just one fund into a platform business of dozens of funds.
In May, for example, Invesco announced that it had quadrupled the assets managed by its local joint venture, Invesco Great Wall, to $31.5B, since the fund was added to Yu'e Bao in June 2018.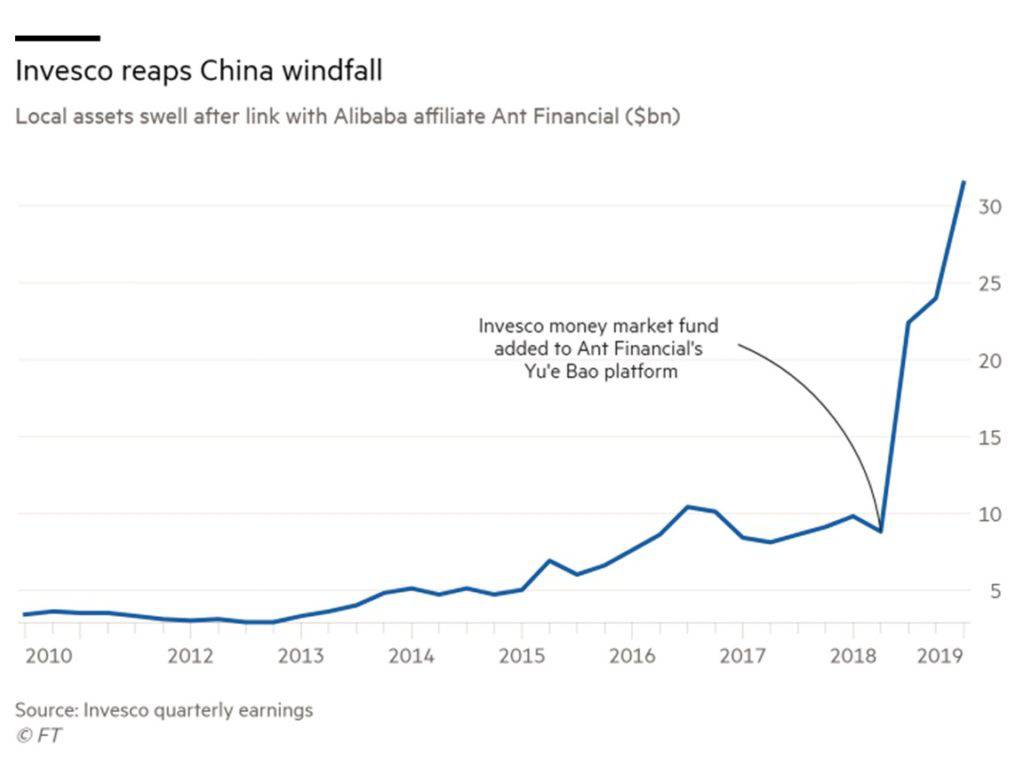 Tencent, too, is looking to work more closely with wealth management incumbents. While Tencent's Licaitong wealth management platform has grown to $112B, it is reportedly in talks with BlackRock for a potential tie-up to make its tools for investment portfolios available to the Chinese market.
5. Focusing on small businesses
According to China's central bank head Yi Gang, small businesses account for 90% of all companies in China and contribute more than 60% of economic output.
Now, China's fintech giants are getting deeper into financial products for small businesses. MYBank, an online lender backed by Ant Financial, is launching a new receipt financing service that will utilize QR codes to scan receipts and obtain tax information from suppliers.
With the availability of more information from receipts, the new service will reportedly make larger loans available to small businesses in as little as a few minutes.
According to its annual report, MYBank served 12.3M small businesses and private business owners through the end of 2018.
WeBank, a Tencent-backed digital bank that is reportedly valued at $21B, is also expanding credit to China's small businesses. According to the company, 66% of WeBank's small business customers (10 employees on average) are receiving a loan from a financial institution for the first time.
WeBank and MYBank are further examples of Ant and Tencent's fintech playbook of leveraging their massive user bases and technology capabilities to bring financial institutions on board. Of note, WeBank partners with more than 40 banks in China, with up to 80% of the capital coming from these partners reimbursed through a profit-sharing agreement.
If you aren't already a client, sign up for a free trial to learn more about our platform.