Equipping you with skills, knowledge and network to drive growth
Most companies believe innovation is important, but few are pursuing transformational change.

That's why we're launching TRANSFORM, a CB Insights Conference, December 4-5 in NYC.
Drawing on the experience of successful executives from today's top companies and the latest research on technology, growth and innovation, TRANSFORM will cut through the fog about the coming digital revolution with a focus on how to conceive, execute and scale growth strategies. We'll do this through real-world case studies presented by executives operating on the front lines at their companies during two full days on multi- stages.

We'll answer the most common questions we hear, such as:
How do I see emerging trends before they become problematic?

Should I start a corporate venture fund?

How do I implement change faster?

How do I sell ideas from the top of the organization all the way to the front lines?

How do I decide whether to build, buy or partner?
Get your ticket here and join 300 of your growth-focused peers from companies with $1B+ in revenue.
Seats are limited.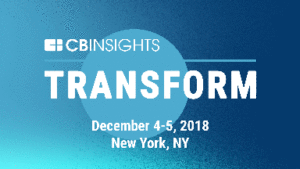 If you aren't already a client, sign up for a free trial to learn more about our platform.