Amazon now has patents for a flying drone warehouse, an underwater warehouse, a beehive-like warehouse, and mobile ground-based fulfillment centers.
Amazon was granted a patent on Tuesday for ground-based mobile drone fulfillment and maintenance carriers, which could travel along routes of high observed or predicted levels of demand to facilitate drone deliveries. The patent is the latest illustration of the company's focus on innovating heavily within fulfillment and logistics.
While Amazon's planned Whole Foods acquisition looks like the company's highest-profile move yet to expand its distribution footprint, Amazon's patents show that fulfillment center and logistics technologies have featured prominently in its research for years.
CB Insights' analysis shows that the retail giant has been focused on shortening the distance between warehouses and consumers for some time. They have considered various formats for expanded warehouse networks, including flying warehouses, mobile truck-based mini warehouses, underwater warehouses, local re-stocking stations for drones, and a multi-level drone-docking fulfillment center.
As the chart below highlights, Amazon has been ramping up its patent applications in supply chain and logistics. Amazon filed at least 78 logistics patents applications in 2016, an all-time high, and that number will likely rise. Note that the patent filing process involves a significant time lag between the filing and publication of applications. This delay can range from several months to over two years. (See our full analysis of Amazon's patent, M&A, and other activity in our Amazon Strategy Teardown.)
---
We highlight several notable warehousing and logistics patents below.
Patent: Ground-Based Mobile Maintenance Facilities for Unmanned Aerial Vehicles
Date granted: August 1, 2017
Date filed: March 17, 2017
This patent depicts a series of intermodal carriers that could be loaded with cargo and unmanned aerial drones, including locomotives, container ships, and tractor-trailers. These vehicles could serve as mobile warehouses to load items onto the drones being transported, and could then travel along routes to facilitate the drones' last-mile deliveries. As detailed in the patent, the carriers could also be stocked with replacement parts and inspection equipment, becoming service centers to maintain the drones themselves.

The patent also devotes considerable space to describing how these intermodal vehicles could be deployed along routes with high anticipated levels of demand for certain goods, "forward-deploying" inventory for ease of delivery.
---
Patent: Stabilized Airborne Drop Delivery
Date granted: June 26, 2017
Date filed: December 2, 2014
This patent depicts a winch mechanism secured to the underside of an unmanned aerial vehicle which allows the UAV to lower and deliver packages without landing. This mechanism would allow for drone delivery to constrained areas using a ballast system. The systems would leverage multiple winches, at differing orientations, and a number of thrust generators, to stabilize the platform and package at the base of the winch.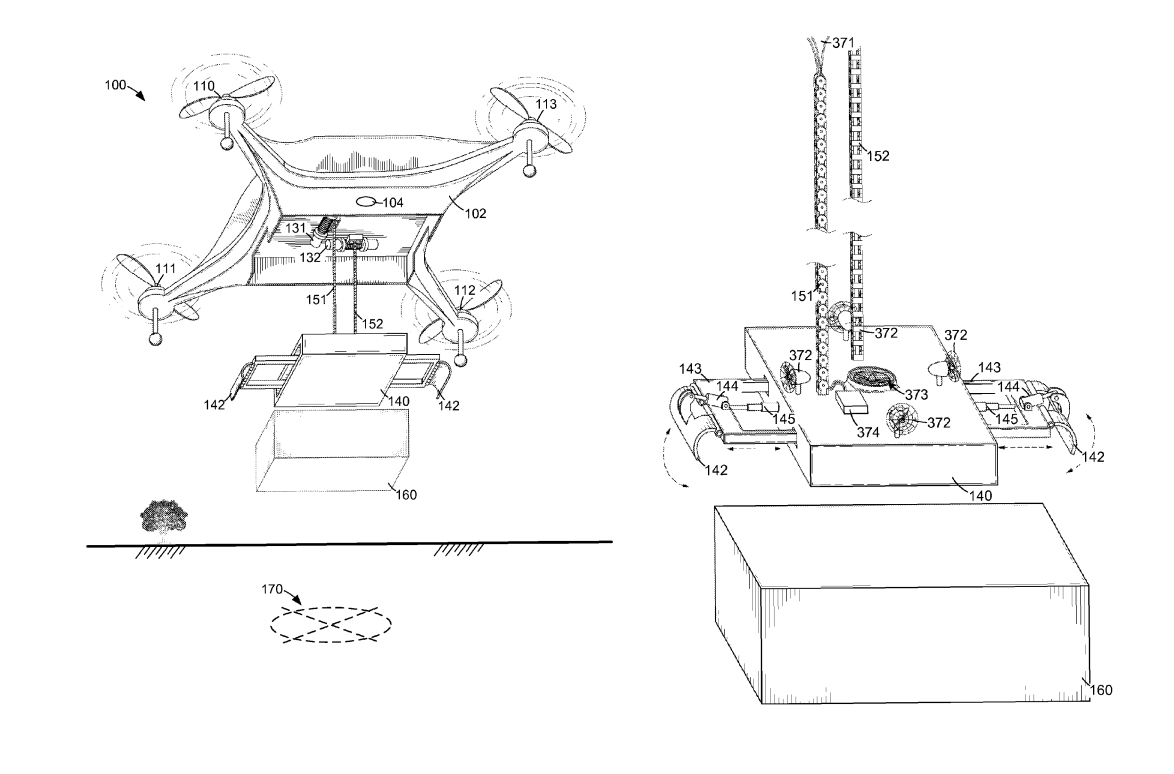 The patent also describes clamp hooks, and various mechanisms, used to secure packages of different sizes and weights. The clamp hooks would release from and retract into the platform at the base of the winch.
---
Patent: Multi-Level Fulfillment Center for Unmanned Aerial Vehicles
Date granted: June 22, 2017
Date filed: December 18, 2015
This patent illustrates a multi-level fulfillment center that could accommodate inbound and outbound delivery drones. The facility shows multiple levels with multiple landing and take-off locations, depending on local zoning regulations. The facility looks to primarily enhance last-mile delivery in densely populated urban areas. Outlined in the patent are apertures that open and close based on incoming drones and platforms that could move around the structure's exterior.
The patent describes "impact dampeners," such as nets, for receiving inbound drones and "launch assist mechanisms," such as fans, for launching outbound drones. In addition, the facility could include multi-faceted robots used to move goods and to service drones.
---
Patent: Airborne fulfillment center utilizing unmanned aerial vehicles for item delivery
Date granted: April 5, 2016
Date filed: December 22, 2014
Amazon proposes airborne warehouses, from which smaller drones would shuttle back and forth bringing items to consumers on the ground. The patent says the airship could remain at an altitude of 45,000 feet, and secondary airships could fly up to refill the airborne warehouse with inventory or even carry workers to and from the ship.
This system could speed the last-mile delivery process. The patent notes the airship could navigate to different areas based on demand – such as flying closer to a football stadium when Amazon anticipates a game will drive demand for snacks and jerseys – and could deliver items "within minutes" of users placing the orders. It also explains these airborne warehouses would make drone deliveries more feasible, since drones cannot carry too many items at once. Furthermore, the delivery drones could rely on gravity for their descent to the consumer — as shown in the picture, they look somewhat like gliders — and so significantly reduce power usage.
---
Patent: Establishment of a transient warehouse
Date granted: September 24, 2015
Date filed: March 21, 2014
This patent proposes a transient warehouse (e.g. a truck) which would travel and therefore be more convenient for delivery vehicles to meet for restocking. Instead of delivery vehicles needing to travel back to a traditional warehouse, a transient warehouse could be stationed closer to popular delivery areas, and could move depending on order density on a given day. Its route would be optimized to meet multiple delivery vehicles in convenient locations, such as parking lots or "under a streetlight on a sidewalk." The patent notes this process would also support more streamlined delivery for perishable items, possibly relevant for Amazon's expanding grocery business.
Interestingly, this patent, somewhat foreshadows Amazon's later airborne warehouse patent. Based on this trend of envisioning mobile warehouses, we can see that Amazon is considering a variety of ways to shorten the last-mile delivery process.
---
Patent: Multi-use unmanned aerial vehicle docking station
Date granted: December 27, 2016
Date filed: December 18, 2014
This patent describes "docking stations" for flying drones that could be attached to telephone poles, lampposts, or buildings, and provide localized hubs for delivery drones to pick up items and refuel. The patent notes that since drones can fly limited distances, these could serve as valuable waystations. The docks could also collect local weather data, and protect the drones from storms if necessary.
The patent also mentions that package storage lockers could be attached to the docking stations. Instead of bringing packages to people's homes, the drone could leave the package at the docking station, and a conveyor belt, tube, or other system would bring the package to the locker at ground level for later retrieval by the customer.
---
Patent: Aquatic storage facilities
Date granted: April 18, 2017
Date filed: September 28, 2016
This patent describes stocking products in giant pools of liquid submerged under the floor, or, as an alternative to the man-made pool idea, potentially dropping packages into lakes or rivers for later retrieval. This underwater warehouse would help the company improve the efficiency of its logistics operations and storage capacity according to the patent, saving space and manpower (or robot power).

Wrapped in waterproof packaging, each container would also be attached to a cartridge with a depth control device, such as an air bladder, that could raise and lower the package based on density.
These pools offer a way to make major improvements in space efficiency by eliminating the need for space for staff members or robots to navigate warehouses, according to Amazon. It could also potentially save space by allowing Amazon to expand its footprint by depth rather than just horizontally.
Beyond man-made pools, the patent describes using airplanes or drones to drop packages into natural bodies of water, such as rivers or lakes. The package would fall by parachute into the water and rest on the bottom, until it was called up by a sonar signal. GPS tags would track the package's location and notify the retriever. The patent notes that customers could potentially track and pick up the floating package themselves, if traveling in a boat.

As for potential obstacles, the patent suggests using beacons to notify unaware swimmers or boaters of the packages floating by. Amazon also proposes taking advantage of natural river currents, describing the possibility of storing packages in the Connecticut River where they would float from Hartford to Wethersfield.
---
Patent: Systems and methods to facilitate human/robot interaction
Date granted: May 16, 2017
Date filed: March 17, 2015
This patent describes a system to ensure that humans and robots can safely coexist in warehouses, using RFID tags that would alert robots when a human is near and automatically re-route the robot. For example, workers' garments could be outfitted with RFID tags – the patent specifically highlights vests and baseball hats – while robots would have RFID readers to sense the human's presence and avoid collision.
Since Amazon's fleet of warehouse robots has reportedly reached over 45,000, it's important to ensure safety and efficiency (for both robots and humans). While the patent describes warehouse floors run mainly by robots, it notes that human workers may still need to walk through warehouses to "leave for the day, go to the bathroom, perform maintenance operations," or pick up fallen items.
---
Patent: Modular, multi-function smart storage containers
Date granted: May 23, 2017
Date filed: February 13, 2015
This patent envisions a modular system to add on and take off enhancements to warehouse robots, rather than having to update robots permanently for specific tasks. A variety of tools could be attached to a standardized robot base. For example, the patent explains, a robot could use a connector tool to carry a shelving unit around the warehouse, then attach to a robotic arm to handle specific items on the shelving unit, then return the robotic arm to a work station for use by another robot. This system would reduce the need to build and stock warehouses with multiple types of robots, decreasing costs.
The image above shows a warehouse robot attaching to different modules, such as (from left to right) a shelf pusher, a robotic arm, cameras, and flashing lights for use during power outages or for help while making repairs.
---
Patent: Inventory facility
Date granted: January 31, 2017
Date filed: December 11, 2015
This patent describes fabric storage totes for transporting inventory throughout a warehouse. To move around the warehouse, the fabric totes could slide along rails or cables; be carried by drone; or fit into mobile robotic drive units (the drawing on the bottom right of the image below shows the Roomba-shaped robots used in Amazon's warehouses, carrying shelves stocked with multiple fabric totes).
The advantage of fabric, according to the patent, is that traditional hard plastic storage containers can take up more space than necessary, resulting in excess real estate costs.
Want more patent and innovation data? Log in to CB Insights or sign up for free below.
If you aren't already a client, sign up for a free trial to learn more about our platform.