Apple admits AV plans. 6 flying car startups. Daimler, JLR's latest ride-hailing investments.
Trolley problems
Hi there,
Uber's 2017 debacles seem neverending, as the company continues to stumble from crisis to crisis. After the departure of right-hand man Emil Michael, CEO Travis Kalanick also announced a leave of absence this week, following a series of internal scandals and Waymo's lawsuit (on top of his mother's recent passing).
Given that LiDAR is at the heart of Waymo's case against Uber, it's always interesting to dive into IP on either side. Today, the USPTO published several Uber patent applications pertaining to the sensor technology and its applications (see all of the relevant patents on our platform).
One application covered a LiDAR controller capable of working in tandem with an adjustable-beam sensor to adapt to changing road conditions. Carnegie Mellon alum Scott Boehmke is listed as the inventor; Uber has referred to Boehmke as the head of its LiDAR efforts, not the recently-fired Anthony Levandowski.
Incredibly, Uber also managed to add to its self-manufactured debacles this week, as board member David Bonderman resigned after making a sexist joke at the company's all-hands meeting on sexism. All the while, regional competitors continue adding to their war chests (much more below).
Flying high
In our auto tech report last July, noise surrounding flying cars was just one of many weak signals within the broader auto tech startup ecosystem. These days, flying car headlines are coming rapid-fire as more startups secure financing and begin test flights.
We looked at 6 investor-backed companies developing flying car concepts ranging from light flying frames to autonomous flying taxis and full-bodied aircraft.
Besides VCs, automakers are getting involved too, with the Toyota-backed project Cartivator hoping to make a splash by lighting the Olympic torch for the 2020 games hosted in Tokyo.
Worst case scenario
With the advances made in autonomous driving technology, much fuss has been made over the infamous trolley problem. Though the ethical and legal uncertainties AVs face are very real, some have criticized the outlandishness of certain fringe scenarios.
If a car (self-driven or otherwise) finds itself like a situation like this, there are bigger questions to answer.
Still, thought experiments aside, recent studies by JD Power and AAA have found undiminished or even rising anxiety over self-driven vehicles, even among younger demographics.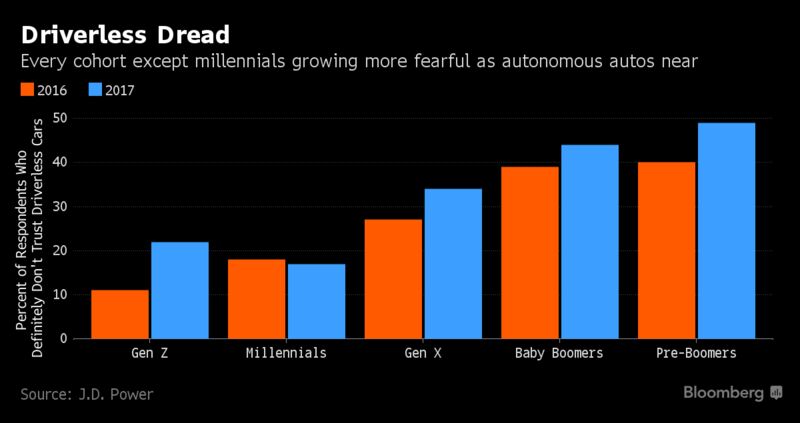 Have a great rest of the week.
Kerry
@kerrygwu
---
This report was created with data from CB Insights' emerging technology insights platform, which offers clarity into emerging tech and new business strategies through tools like:
If you aren't already a client, sign up for a free trial to learn more about our platform.