Recent patent applications show Amazon and Walmart looking into connected refrigerators and trash cans that can sense spoiled food or discarded products, which could help the retailers automatically ship new products to shoppers.
As competition in the grocery space heats up, Amazon's and Walmart's patents show the retail giants seeking out ways to infiltrate shoppers' homes and kitchens in order to gather data and, potentially, replenish products automatically.
Amazon has been vocal about its ambitions in the home, and has already built connected home products like the Echo, the Dash, and visual wardrobe consultant Echo Look, all of which allow shoppers to easily order new products by voice (Echo and Echo Look) or touch (Dash). Today, the company pushed its ambitions further, with a published patent application for a refrigerator with scent detectors, which can "smell" spoiling food and alert the shopper.
The STATE OF RETAIL q1 2022
Retail tech funding declined 11% QoQ to hit just under $24B in Q1'22. Download our free report to get all the trends.
Titled "Scent-Based Spoilage Sensing Refrigerator," the patent describes using chemical sensors to detect spoilage, mold, or other decay, then automatically pushes a notification to the owner's phone or computer. For those with crowded fridges, its notifications can even include images and descriptions of where in the refrigerator to find the culprit.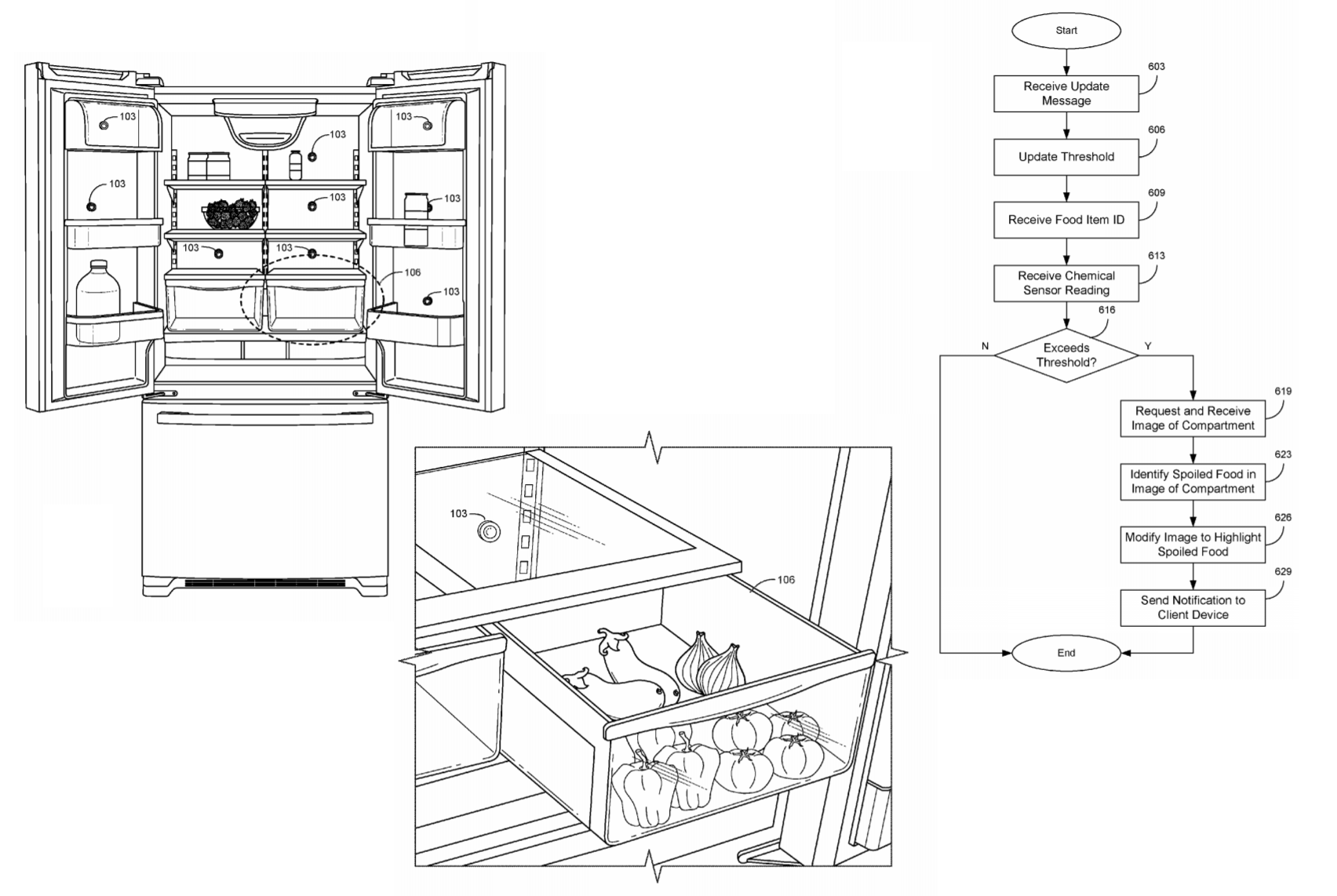 Amazon previously filed a patent to install cameras inside refrigerators to visually sense food spoilage; however, it notes that integrating multiple senses — including, for this application, scent — would be more effective. This system would use machine learning to better understand the spoilage process for different food items over time, and would combine visual, scent-based, and even infared signals to differentiate localized bruises from overall spoilage.
Today's patent application does not specifically mention the possibility that the smart fridge, upon sensing spoilage, could automatically order replacement food items through its owner's Amazon account. However, we can easily imagine it. The technology could also integrate with other Amazon devices, such as the Echo or Amazon Dash buttons, to either vocally suggest reordering products, or to let shoppers place orders with buttons on or near the fridge.
A recent patent application from Walmart was more explicit about using IoT appliances to automatically reorder products for consumers – not through a fridge, but through a connected trash can.
Titled "Systems and Methods for Reordering of Discarded Products," Walmart's patent application published August 24 proposes an IoT connected trash can that could sense when something gets thrown out, and automatically order a replacement. The trash can would use various means — including barcode/RFID scanners, cameras, spectrometers, and weight sensors — to identify the product. It would then connect to central servers to add the product to a digital shopping list, or to automatically reorder it.
Walmart's patent images explain the process in the flowchart below.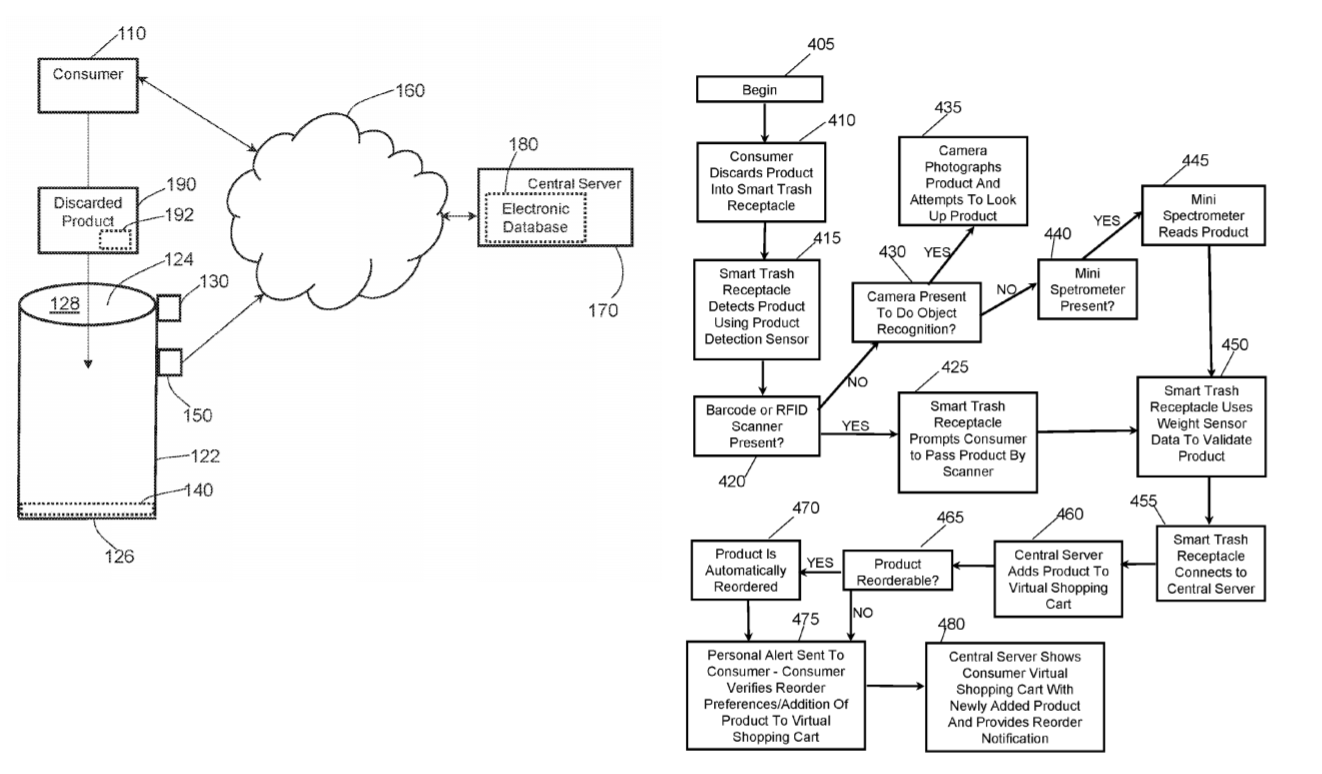 It boils down to a cycle of usage and delivery.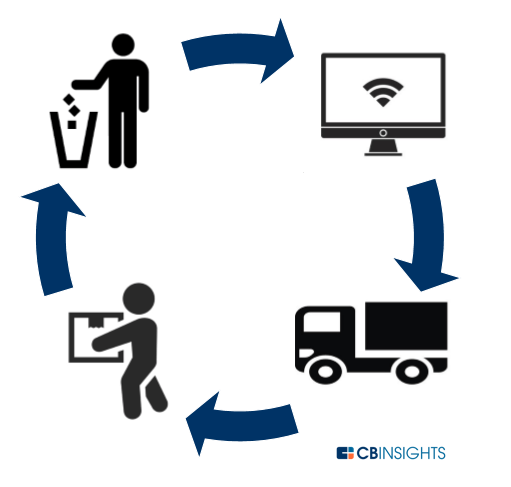 With this patent, as well as a previous patent that would use IoT technology to automatically re-order used-up products for shoppers, Walmart has shown its interest in tracking shoppers' in-home habits to automate the purchasing process. In August, Walmart also announced a partnership with Google Voice, which supports easy at-home ordering.
Interestingly, one of the major trends in retail over the past decade has been online shopping reducing store visits; IoT and automated ordering would eliminate not only the need to visit stores, but even the need to visit a website in order to purchase. As in-home tracking technology advances, retailers may need to spend more time integrating their supply chains with connected devices, rather than pushing shoppers to their stores or websites.
If you aren't already a client, sign up for a free trial to learn more about our platform.