We dig into how Amazon is using its extensive investments for its e-commerce business to reduce costs throughout the supply chain and find new revenue streams — including in often overlooked areas like the middle mile and intralogistics.
E-commerce is an expensive business with a host of challenges — many of which stem from the supply chain and logistics.
While lots of retailers are currently struggling to figure out last-mile logistics, players who have been investing in the space for a while are moving their focus to areas like the middle mile (the leg before goods reach fulfillment centers) and intralogistics (the movement of goods within fulfillment centers).

Seeing an opportunity, Amazon is pairing its AWS cloud computing capabilities with extensive e-commerce logistics to create a suite of supply chain offerings for small to midsize businesses. It has even been extending these services beyond its marketplace clients with solutions like "Buy with Prime" which allows brands to offer Prime's delivery speed, package tracking, and return logistics on their own e-commerce sites.
Doing so not only creates additional revenue for Amazon but also helps it optimize its own supply chains with fuller freight loads and more efficient operations.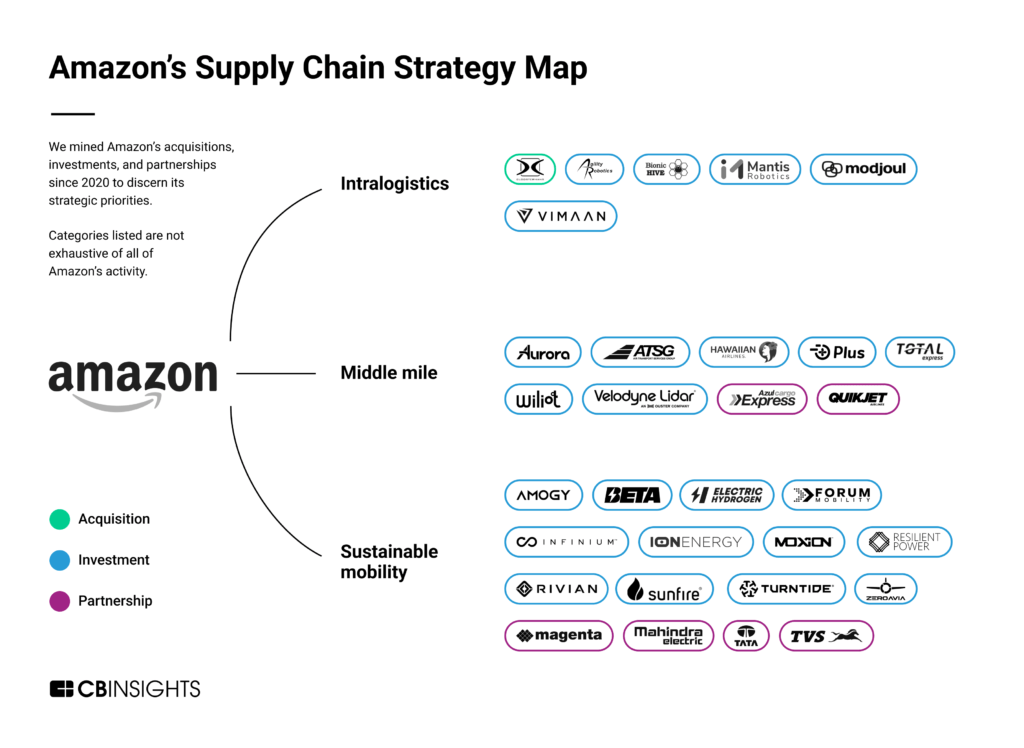 In this report, we break down Amazon's strategy in the supply chain across 3 key takeaways: 
Amazon is automating intralogistics.

With Amazon's enormous warehouse footprint, a dizzying number of offered products, and millions of packages shipped every week

, automating intralogistics is key to driving e-commerce profitability for the tech giant. 

Amazon wants to revitalize the middle mile.

Amazon has been ramping up its middle mile capabilities with new products and investments in freight management and air cargo. In doing so, the tech giant is looking to capitalize on an often overlooked leg of the supply chain. 

Amazon is betting on sustainable mobility.

Amazon has taken some big swings in the electric vehicle market, striking deals to purchase fleets of vehicles and investing billions of dollars. 
Amazon is automating intralogistics
Intralogistics involves the movement of information and goods within individual fulfillment or distribution centers. 
A key enabler of Amazon Prime's quick delivery speed is the company's extensive network of fulfillment centers. And with over 1,100 centers in the US alone and a reportedly extremely high employee turnover rate in warehouses, Amazon is keen to automate intralogistics as much as possible. 
Amazon is one of the top players for supply chain patents, with many of its filings related to automating intralogistics processes like mapping the footprints of fulfillment centers for efficiency or detecting inventory levels.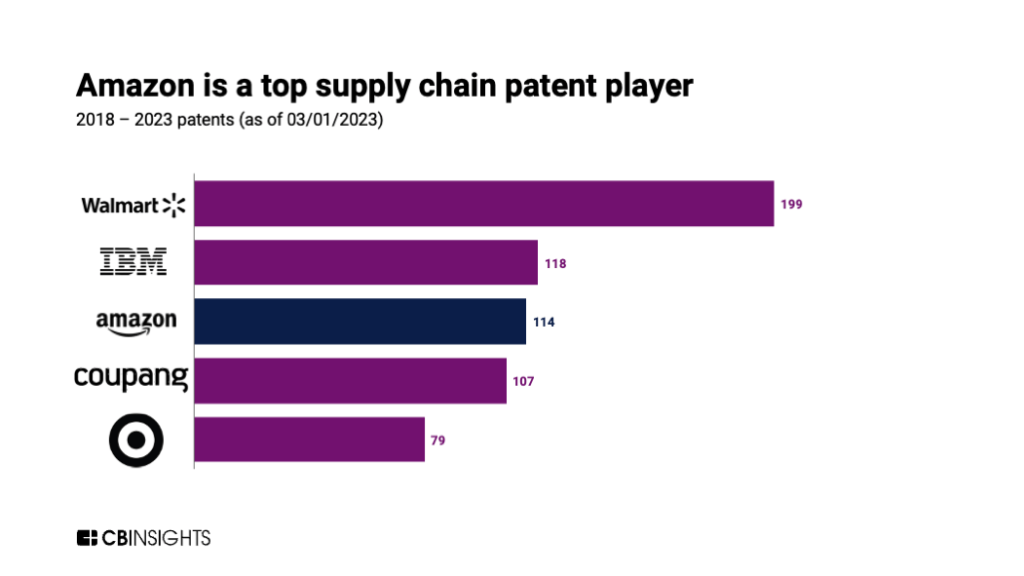 In 2022, the tech giant introduced new intralogistics robots named Sparrow and Cardinal. Currently, these robots are designed to sort packages, move goods throughout the fulfillment center, and pick goods of different shapes, sizes, and materials (an area existing picking robots have difficulty with). 
Amazon has also made moves outside of its internal robotics development, such as: 
Acquiring intralogistics robot maker

Cloostermans

in Q3'22 to boost its robot research and deployment. 

Announcing its

warehouse & distribution network

in Q3'22. This is a pay-as-you-go service offering inventory management within Amazon fulfillment centers and automated distribution for sellers.

Expanding its warehouse footprint by investing in

smaller fulfillment centers — situated near major population centers and stocked with in-demand items —

to enable same-day deliveries for some of its goods. 
While Amazon has been ramping up its offerings and investments in this space over the last few years, the tech giant has recently conducted the largest layoff in its history and has closed or abandoned plans for dozens of warehouses. Given the increased focus on cost control, the success of its automation bets could be more important than ever.

Amazon wants to revitalize the middle mile
The middle mile is the leg of the supply chain where goods are brought from distribution centers to fulfillment centers. This leg can include ocean, air, and ground freight. While the middle mile has traditionally been outsourced, it has recently received more attention as squeezed supply chains have made headlines for costing retailers millions of dollars in profit. 
A successful middle mile is also crucial to last-mile operations to ensure fulfillment centers have goods in time to meet the ever-shorter delivery timeframes promised to customers.

Amazon has a distinct advantage in providing middle-mile services to retailers as it has already invested heavily in its own freight technology to make Prime shipping possible. Also, with Amazon Web Services' cloud computing capabilities, the tech giant has high visibility into logistics — a key component of successful middle-mile operations. 
Building on this, Amazon offers Amazon Freight which allows retailers to book space on its freight trucks for thousands of routes across the US. Amazon uses algorithms to determine which vehicles are operating at LTL (less than load) to offer discounted shipping rates to retailers. 
Amazon has also made strategic moves with air cargo. Previously, the e-commerce retailer relied entirely on contracts with UPS and FedEx. But in the last few years, Amazon began to shift its strategy and in 2021 opened a $1.5B air hub in Kentucky to have more ownership over its middle mile. 
Additionally, Amazon has struck several deals for minority stake investments and strategic partnerships in this area, including: 
Amazon has been operating these planes under the brand Amazon Air which has expanded rapidly since its inception in 2015. With air cargo's high barrier to entry both from a regulatory and capital standpoint, expect Amazon to begin creating additional revenue streams from its investments similar to what it has done with Amazon Freight. 
Amazon is betting on sustainable mobility
Fuel costs account for around 15% of last-mile expenses and volatile fuel prices can sometimes push this proportion even higher. However, it's estimated that using electric last-mile vehicles can reduce fuel costs by more than half — attracting interest from big fleet operators. 
Amazon (which has a 2040 net-zero emissions goal) has already made significant moves to electrify its delivery fleet and has made some big bets on sustainable mobility, including: 
Backing California-based EV maker

Rivian

and pledging to order 100,000 delivery vehicles from the company. Amazon has reportedly delivered 10

M+

packages with Rivian EVs.


A commitment to deploy 10,000 electric delivery vehicles in India and entering into partnerships with India-based companies (

Tata Motors

,

Mahindra Electric

,

Magenta Mobility

, and

TVS Motor

) to produce those EVs. 

Amazon is also still wanting to deploy battery-powered delivery drones under its Prime Air program, which has already made some

test deliveries

in California and Texas. However, this division has been heavily affected by the Q1'23 layoffs. 
Source: Amazon
With Amazon shipping well over a million packages a day, meaningful progress toward sustainable mobility could have a big impact. However, even with its carbon reduction efforts, Amazon's total emissions grew by 18% in 2021 as demand for its services went up — signaling that the company will need to make additional investments in making its supply chain more sustainable to hit its net-zero goal by 2040.
If you aren't already a client, sign up for a free trial to learn more about our platform.