After launching in the UK in April 2016, Amazon's product protection brand has since expanded into four additional markets in Europe.
A Google search for the "Amazon of insurance" yields over 78 million results, topped by articles with grandiose titles like "Will Google or Amazon offer one-click life insurance?" or "What Amazon can teach auto insurance carriers."
At the bottom of the first page of these same search results is an article highlighting Amazon's first branded foray into insurance on its own platform: the launch of Amazon Protect in the UK. We take a look at the expansion of that effort here.
Launched in April 2016 in partnership with The Warranty Group's London General Insurance Company, Amazon Protect offers protection against accidental damage, breakdown, and theft for Amazon purchases ranging from washing machines and mobile phones to kitchen appliances and tablets. In the UK, Amazon Protect offers protection for two to five years from the delivery of the product. The insurance covers accident and theft, which is not typically covered by manufacturers, as well as insurance for damage above what may be provided by manufacturers.
In terms of UX, the purchase flow for Amazon Protect is integrated directly into the checkout process, as shown below in orange.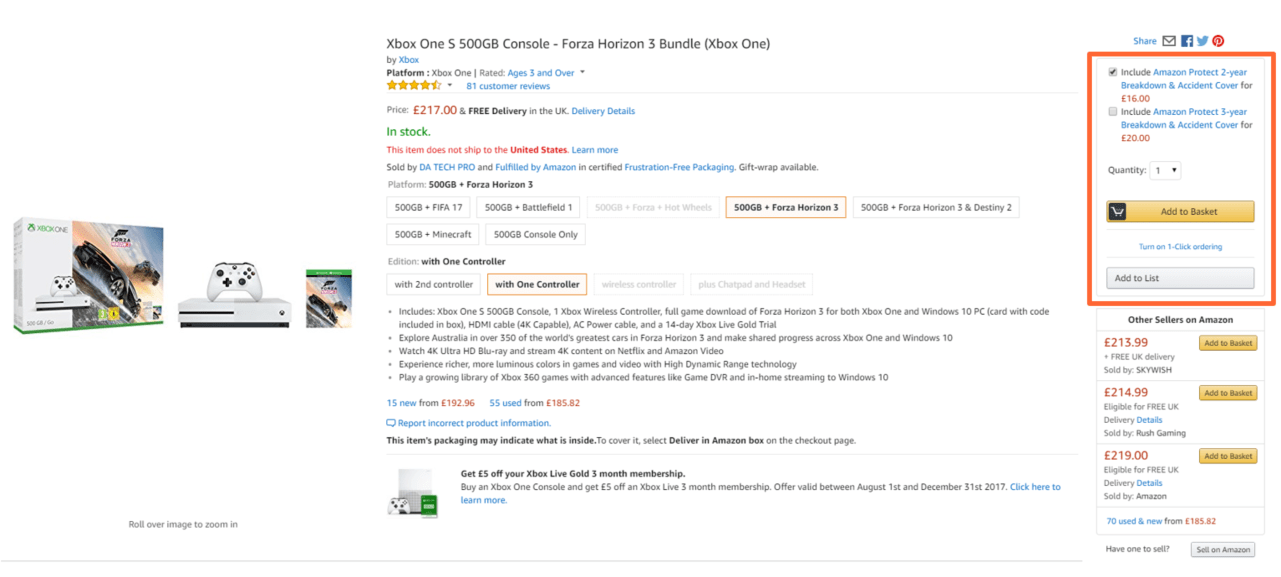 A look at the distribution of prices for various Amazon Protect damage cover in Amazon UK's Electronics & Photo department highlights that 43% are in the £50 – £100 price range. Of 438 customer reviews for Amazon Protect in the Electronics & Photo department, 22% are four stars & up, while 27% are in the one star & up category. A scan of low reviews frequently cite confusion over lack of theft coverage, not having used the coverage yet, or confusing two-year breakdown cover as two additional years of breakdown cover above what's provided by the manufacturer.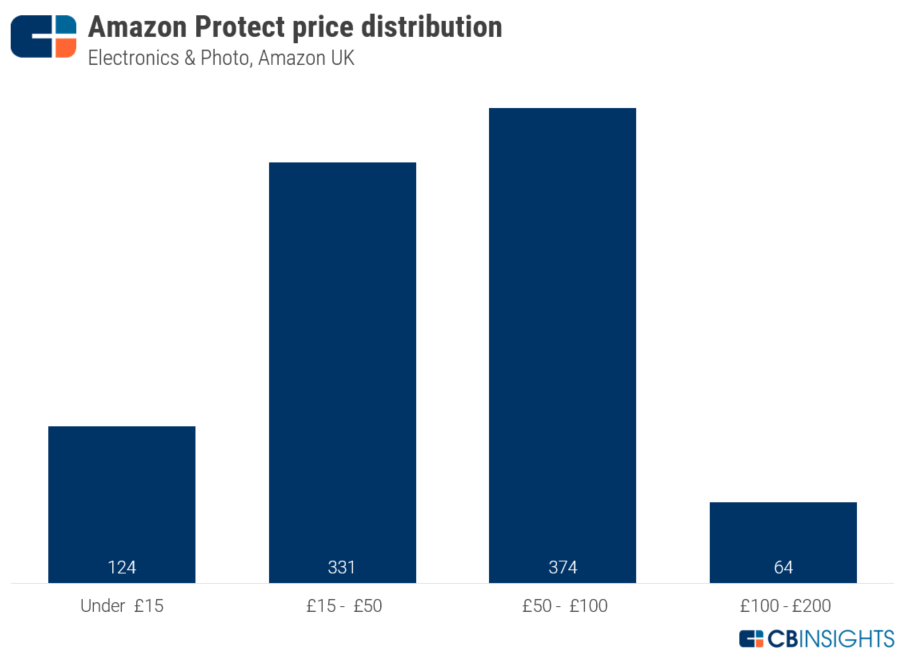 A year and a half after its UK launch, Amazon Protect is now offered in four additional markets. The branded service became available for Amazon electronic products in Spain and Italy in November 2016 and also now operates in Germany and France. Meanwhile, a job posting earlier this month for a product manager role in the EU Product Insurance group for Amazon hints at more to come:
"We have ambitious plans to significantly grow operations in our current markets and create new, innovative products that will provide excellent customer experience and satisfaction."
If you aren't already a client, sign up for a free trial to learn more about our platform.