In an effort to improve safety and security of delivery drones, Amazon patented a method to prevent hostile takeovers of UAVs.
Amazon is looking to beef up security for its delivery drones.
In its latest attempt to perfect delivery systems via UAVs, the e-commerce giant is thinking past soft landings and underwater warehouses, and is looking to protect drones against hostile takeovers and attacks.
Last week, it was granted a patent titled "Hostile Takeover Avoidance of Unmanned Vehicles," which looks to equip drones with "techniques relating to detecting and recovering from hostile takeovers," a growing concern as UAVs are increasingly used in the delivery process.
The patent aims to protect drones against communication hacks by "nefarious individuals," or those looking to use drones to steal payloads, crash systems, or cause other types of disruption.
It states that under normal operating conditions (dubbed "mission mode"), the control system sends the UAV a "heartbeat signal" over a fixed interval (say, every two or three seconds). The UAV has a timer that is reset each time the heartbeat signal is received.
Should the timer expire before the heartbeat signal is received, the UAV switches from mission mode to "safety mode."
Under this safety operating condition, the UAV will perform "one or more preprogrammed [action] designed to re-establish communication with the controller, regain control over the UAV in the event of a hostile takeover, and/or land the UAV at a safe location."
The communication pattern is fairly straightforward (as pictured below).
If the continuous pulse sent to the UAV is interrupted for any reason, the software will work to fix it, whether by regaining control from a hacker or landing the drone for maintenance.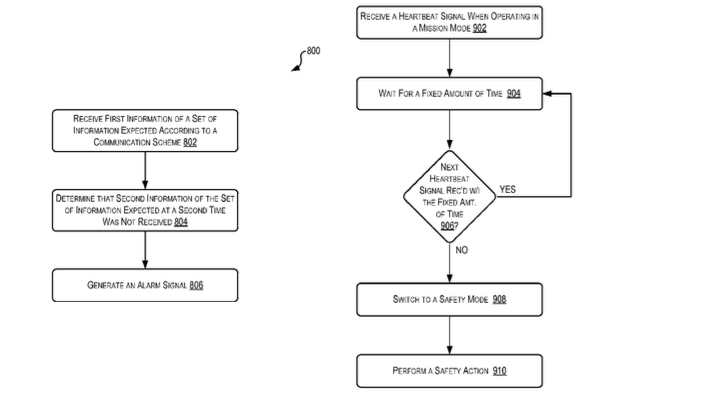 A crucial part of this system is for the UAV to be able to detect a safe landing spot in the occurrence of a hack. The figure below shows an example of an environment in which a UAV might operate during a predetermined flight pattern.
In the case of a hostile takeover, the UAV can analyze the surroundings (based upon previous flights in the environment) to establish a safe place to land, taking into account surface structure and likelihood of humans being present. This ensures both the UAV and payload remain safe from any interference.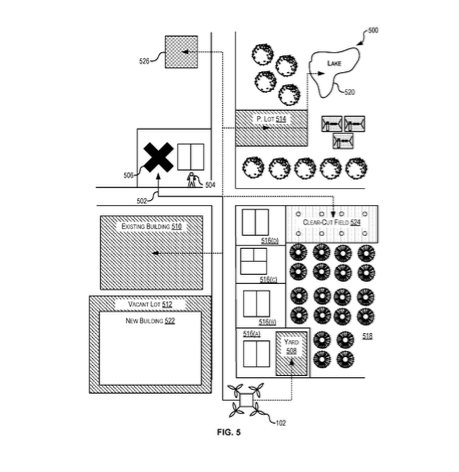 Combining this recognition with previously patented environmental awareness, Amazon continues to ensure its drone delivery system is prepared to deliver you what you want, when you want — without any interruptions.
This is just the latest in a long line of patents Amazon has procured relating to UAVs over the last few years.
Previous patents range from a way to charge electric vehicles with drones to various methods of housing UAVs for deliveries (think: storing them in trains, beehive-shaped warehouses, blimps, and underwater facilities).
Amazon also plans to make drones more perceptive to their surroundings. The company has filed two additional patents for drones that can speak to people while airborne and UAVs that understand voice and gesture commands.
If you aren't already a client, sign up for a free trial to learn more about our platform.