A newly granted patent would allow you to define "gift rules" (for things like product type or price range) for a more customized, personal gift card alternative.
If you don't know what a friend or loved one wants for the holidays, there's always the back-up plan: an Amazon gift card.
It's not thoughtful, but at least it's flexible. You never have to worry that mom tucked that statement necklace away in a drawer for re-gifting.
But now a patent granted to Amazon on November 7 imagines a new type of gift card alternative that's a bit more personal that just a debit card with a brand attached.
Amazon describes a system to allow gift-givers to define certain guidelines for an online gift (such as an acceptable price range or product type) that the recipient's eventual order needs to satisfy.
While attaching online gift "rules" to your present may make you sound like a grinch, it could make gift giving both personal and flexible.
Right now, even when you know what gift someone wants, you may opt for a gift card so she can choose her preferred make or model.
Jen said she needs a new food processor, but does she want an 4-cup, 8-cup, or 16-cup model? Would she keep a sleek silver model on her countertop, or prefer a less breakable black plastic one to pull out of the cupboard when needed? What brand are the rest of her appliances? 
Or if you're really unsure but don't want to seem lazy, you take your best guess and make sure to put the gift receipt in the box.
Amazon's new patent offers something in between a less-than-thoughtful gift card and a gift that says, "you'll probably want to take this back to the store and try again."
Amazon's patent allows you to define one or more criteria for an intended gift that can range from price to product type. You could set "gift rules" for a food processor between, say, $35 and $75 (or even from three or four quality brands you prefer) and let Jen select the right item for her own kitchen.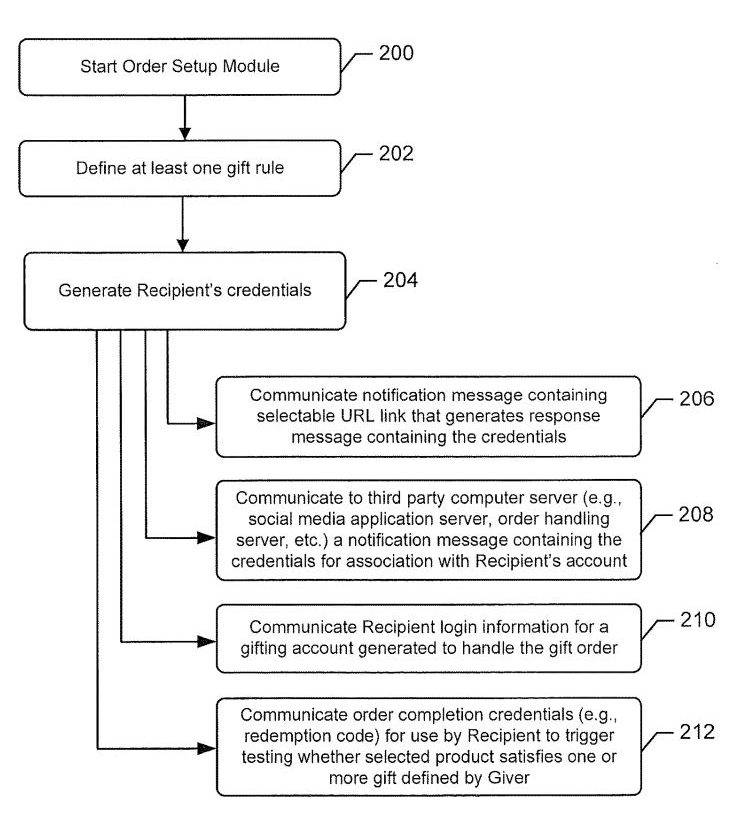 Per the image above,  US Patent 9,811,833's system is fairly straightforward: An "order setup module" receives a gift order – complete with one or more gift rules – from a "Giver."
That order will be associated with certain credentials for the Recipient to complete the gift order. Once a product is selected by the Recipient, the system makes a determination as to whether the product satisfies the rules.
The gift rules defined by the Giver can include details on price range and product characteristics, per the non-exhaustive list below. Givers can also implement other rules, including "brand restriction, product rating restriction, or product category restriction."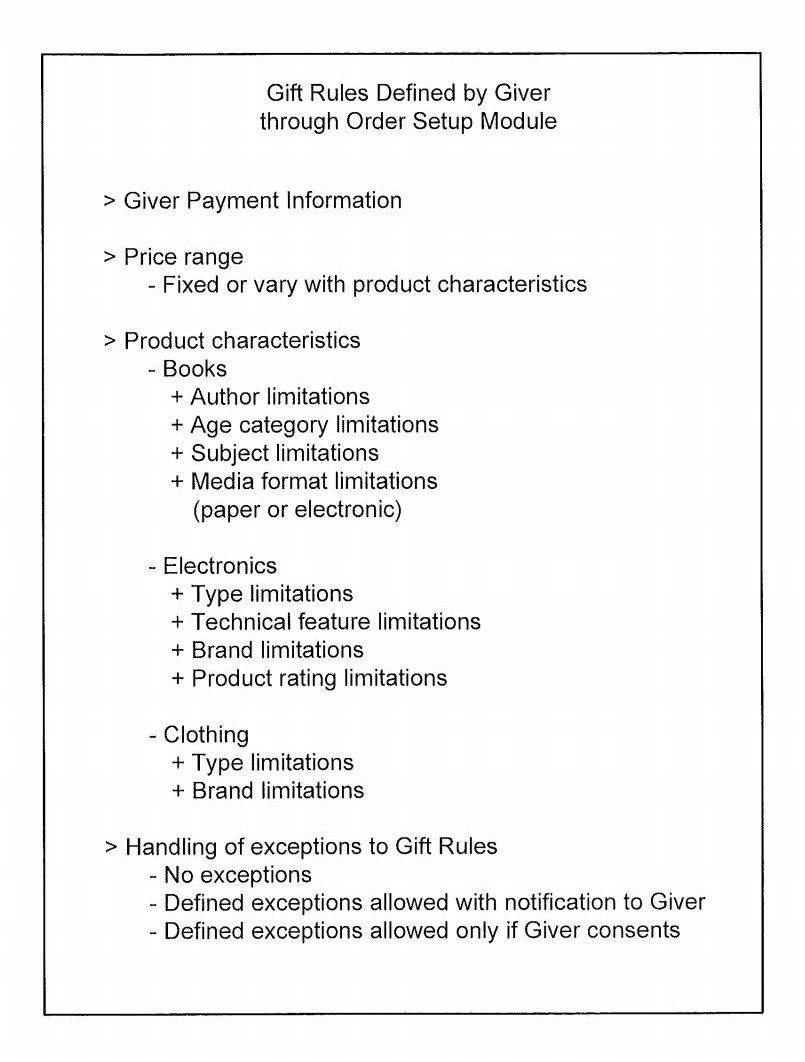 In an example from the patent, the gift recipient's search filters are restricted to one product category – books – with other options crossed/shaded out or not displayed. The gift-giver could even control the options all the way down to author and book type (electronic download, paperback, and so on).
Notably, the gift giver can choose to stipulate some exceptions to their own gift rules. The Giver could allow these exceptions to pass either with or without the giver's prior approval.
Other rules and exceptions can be far more varied or granular than price and product type. In some "embodiments" (or uses cases), the rules could be used to restrict the gift recipient's available options in their gift-related product search.
The specificity means that you could potentially restrict your nephew's gift to comic books, a new scooter, or any electronic under $100 but no video games.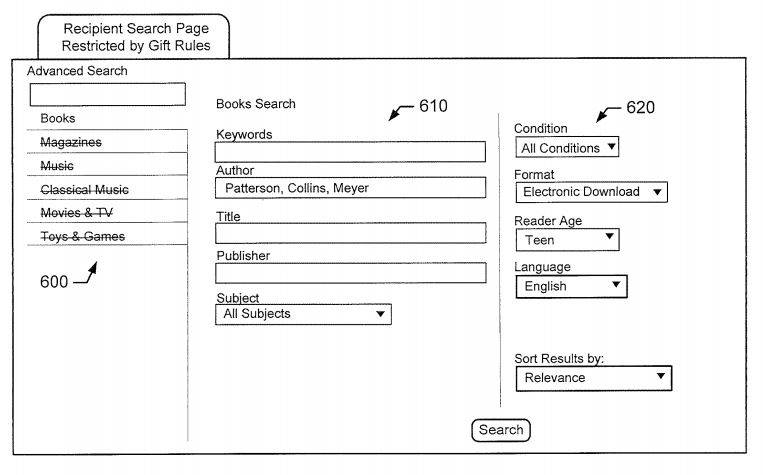 With the rules and (potential) exceptions stipulated, the system would use the below logic to validate and complete the order.
As the diagram shows, orders that do not satisfy the rules criteria would not be processed and the recipient would be prompted to select another item.

This process even leaves flexibility for the Recipient to select an item beyond the target price range – since the order can be set up to go through so long as "at least part" of the gift cost is charged to the giver, much like how a typical gift card works.
This could be news for Amazon, since it means that whatever gift the recipient ultimately chooses won't have to be limited by a gift-giver's pesky budget.
While we haven't yet seen Amazon debut this tech yet, a holiday season could be here soon when you can gift your sister a new hiking pack but leave selecting the color and size to her. Gift receipt not required.
If you aren't already a client, sign up for a free trial to learn more about our platform.