We analyzed 10 years of earnings call transcripts from Facebook, Apple, Microsoft, Google, and Amazon (FAMGA). We found Apple and Google are very concerned about what each other is doing. Meanwhile, another tech giant doesn't seem to worry about the competition.
Google and Apple talk about each other more than any other FAMGA pairing, according to CB Insights analysis of earning transcripts from 2008-2017 for Facebook, Apple, Microsoft, Google, and Amazon (FAMGA).
On the other hand, Amazon remains manically focused on the customer and not on the competition.
Apple benchmarks against Google
Apple mentions FAMGA competitors the most of any other tech firm and specifically references Google way more than anyone else.
In 2017, Apple's discussions of Google hit a 5-year high. The recent uptick was notably driven by references to revenues tied to Apple's App store outpacing the revenue of competitors like the Google Play app store.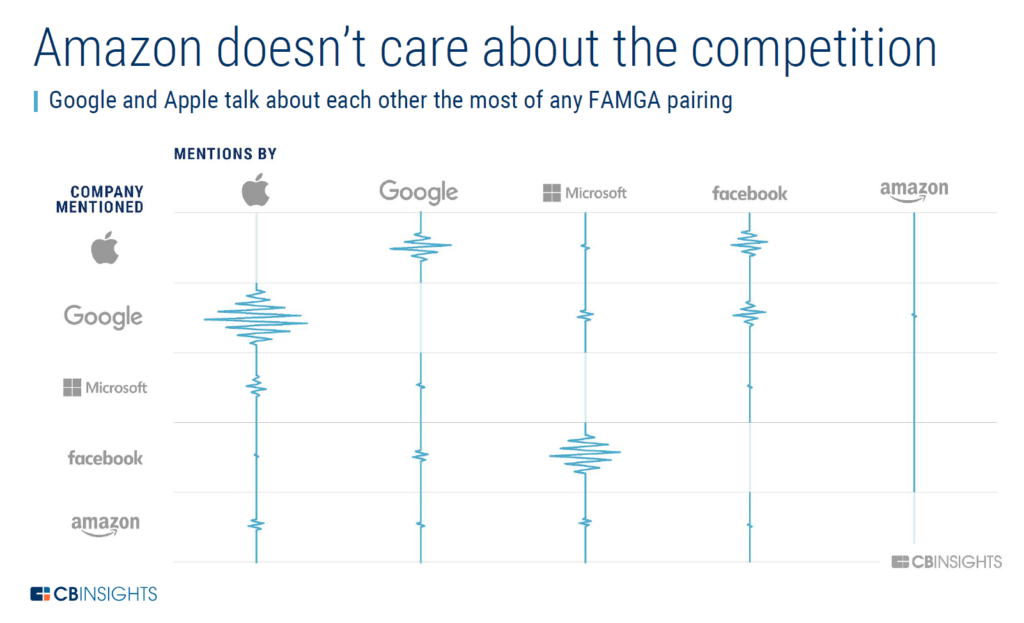 As Luca Maestri, Chief Financial Officer Apple, first noted in a January 31, 2017 earnings call, 2016 was a record year for the app store.
"The App Store continued its impressive run, breaking all previous revenue records. Year-over-year App Store revenue growth was 43% through the first 13 weeks of the quarter …. And according to App Annie's latest report, App Store revenue continues to outpace the industry overall, with more than double the revenue of Google Play in calendar 2016."
Again, in a November 02, 2017 earnings call, Maestri referenced competitor Google Play and suggested that the recent redesign of the App Store further boosted growth and could help Apple maintain the lead in 2018.
In addition to breaking industry records, Apple's App store accounted for approximately $11.5B, or 5% of Apple's revenue in 2017.
Amazon focuses on customers and Prime
In contrast to the other FAMGA companies, Amazon doesn't talk much about the competition on earnings calls.
The famously customer-obsessed Amazon certainly focuses on customers, with significantly more mentions of customers than any other company over the 10-year period.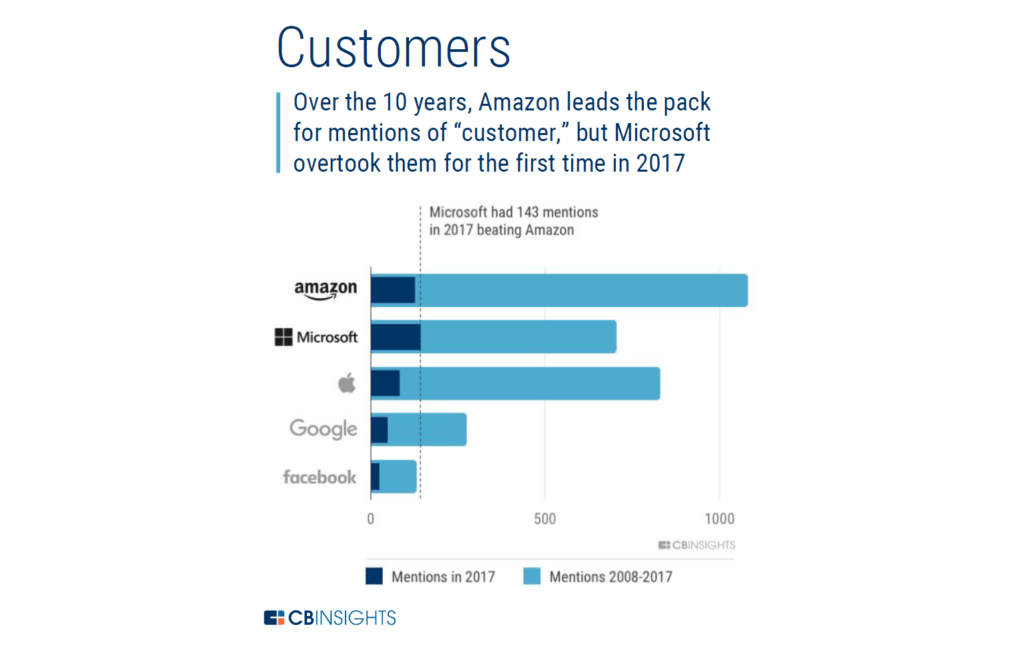 We anticipate Amazon's focus on the customer will continue in 2018.
In a Feb. 8 earnings call, Amazon's CFO Brian Olsavsky noted the company's focus on the following key areas to drive its customer strategy: "Prime Video, Prime Now, AmazonFresh, all of our major Prime benefits, we continue to expand globally …"
This year the company has already added 5% cash back at Whole Foods for Amazon Prime Rewards Visa Card holders and is testing out free 2-hour Whole Foods deliveries for Prime customers.
For more on Amazon's customer-centric strategy, read our latest Amazon Strategy Teardown.
If you aren't already a client, sign up for a free trial to learn more about our platform.