New patent could enable Amazon to create tailored, efficiently manufactured garments on demand.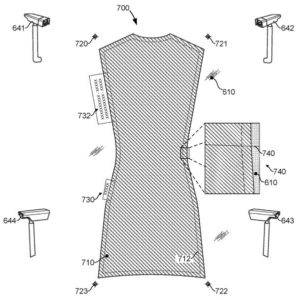 With 30+ private label brands and a newly launched Prime Wardrobe service, Amazon has made it clear that it's going after the apparel business.
But the clothes customers typically buy on Amazon don't command high margins: Much of the top selling apparel on the site are socks and underwear rather than more expensive items like dresses, shirts, and pants.
But a newly granted patent suggests Amazon might be stepping up its fashion game and making a more aggressive play for this market: A new patent for on-demand apparel panel cutting would enable Amazon to manufacture custom-measured clothing on-demand.
The innovation creates a system for robo-cutting fabrics into any shape, form, or pattern specified in customer orders – which could bolster consumers' interest in buying higher-margin items (like custom suits or dresses) from Amazon's private-label brands.
In addition, if Amazon puts its new invention to work in service to the thousands of apparel companies in its network, it could serve as an efficient, inexpensive on-demand manufacturing service for clothing suppliers of all sizes. This would effectively allow Amazon to offer apparel manufacturing-as-a-service in much the way it currently offers third-party sellers logistics services via Fullfillment By Amazon.
Better custom-clothes shopping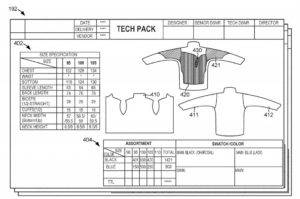 Amazon has already made significant moves in apparel, with ~2,400 individual apparel items under its various private label brands, according to Morgan Stanley. The company also just announced the Prime Wardrobe service in June 2017.
Prime Wardrobe –  still in beta – is Amazon's bet on a subscription clothing service. Like Stitch Fix (currently valued at $314M), Amazon Wardrobe allows Prime members to try on clothing at home, keep the ones they like, and return unwanted items free of charge.
Yet whereas Stitch Fix sends shoppers a selection of items "just for you," Prime Wardrobe requires customers to select three or more Prime-eligible items from Amazon's online stores in order to receive the box.
But plucking high-style items out of Amazon's massive inventory isn't easy, which is why clothing customers primarily use Amazon to buy low-cost, commodity-type apparel:
The brands most commonly found on Amazon's 'Best Seller' lists for both men's and women's apparel include labels like Fruit of the Loom, Champion, Playtex, and Hanes, research firm L2 found.
The undershirts and other basics those brands sell are a far cry from the more costly apparel sold to shoppers through a service like Stitch Fix.
In order to get higher-spending consumers shopping for higher-margin items on its site, Amazon will need to find innovative ways to improve and differentiate the shopping experience for higher-value items (not just the basics).
The on-demand apparel patent helps Amazon move in that direction: By owning end-to-end manufacturing for custom-measured garments, Amazon has a greater opportunity to become a shopping destination for higher-end shoppers (and to potentially own more of its suppliers' manufacturing processes, too).
Smarter apparel manufacturing
The patent envisions a system whereby a computer or "computing environment" manages an end-to-end, on-demand apparel manufacturing process. Per the image below, the computing environment would host apparel order and manufacturing data, as well as three "engines" of information management systems:
a Print Engine designed to communicate with a textile printer;
a Cut Engine designed to communicate with a textile cutter; and
an Assembly Engine designed to communicate with assembly or production lines
The computing system would communicate with Amazon's (geographically distributed) network of sellers and fulfillment centers.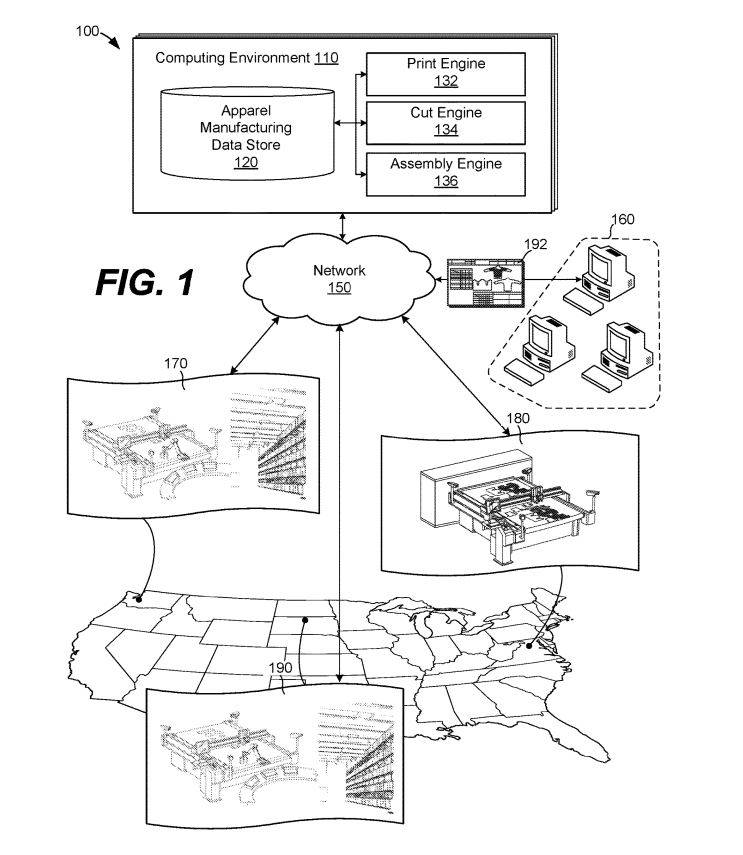 The patented system would:
Aggregate, store, and manage data on online apparel orders – including organizing and grouping orders based on factors such as "size, shape, fabric type, or delivery location"
Create "templates" for instructing the textile printer to print customer-ordered designs on cloth textiles
Instruct a textile cutter to slice the textile panels to customer specifications
Generate instructions for high-efficiency assembly of the garments in production
Move the cut panels through assembly-line production, directing them to sewing stations, sending them through a quality check, and passing them along to a handling facility for rapid order fulfillment in Amazon's logistics operation.
The patented technology could be used to support Amazon's own private-label brands, or could be used as a highly efficient manufacturing option for third-party apparel companies. As the patent notes:
By aggregating orders from various geographic locations and coordinating apparel assembly processes on a large scale, the embodiments provide new ways to increase efficiency in apparel manufacturing.
In looking to make apparel manufacturing more cost-effective and geographically targeted, Amazon is staying consistent with its customer-first focus and obsession with efficiency.
The patent also aligns with larger trends in industrial manufacturing, where startups like Xometry are decentralizing on-demand manufacturing to make it more accessible to consumers. Xometry, which has raised $30M from investors, allows consumers to compare products from multiple manufacturers and/or retailers for on-demand ordering, then have goods delivered within hours or days.
The innovation also fills a gap in Amazon's apparel strategy – creating a potential avenue for Amazon to sell a greater share of custom-measured garments (that can command high margins) from either Amazon, or from the vast network of partner brands on its site.
Even if it extends the on-demand manufacturing service to suppliers, Amazon still owns the entire process from the moment a customer makes an order, allowing Amazon to retain ownership of the customer relationship and benefit from all associated data.
For example, as you custom order (and keep) more products designed to your unique tastes and measurements, Amazon can use more and more of that data to offer you suggestions tailored to your style and sizes – as StichFix does, but with custom-measured garments.
And by integrating the on-demand manufacturing patent with Amazon's recently patented AR technology, the e-commerce giant could even someday provide "virtual try-on" (or virtual fittings) to customers through augmented reality – potentially taking an ax to one of in-store retailers' last remaining advantages.
If you aren't already a client, sign up for a free trial to learn more about our platform.