Facebook is partnering with companies to produce short-form video series like those from digital media startups including food-centric Tastemade and animal content-focused The Dodo.
The pivot to video is real.
As smaller digital media startups focus on short-form video, the big 4 subscription streaming services — Amazon, HBO, Hulu, and Netflix — are competing for market share by doubling down on long-form original content.
Apple has reportedly set a budget of roughly $1B for investment into original video programming over the next year.
While this is dwarfed by Netflix's $6B content budget, this new investment is adding to the already fierce competition for audiences' attention in the realm of information and entertainment.
On the other hand, Facebook is partnering with companies for its new Watch tab to produce short-form video series like those from startups including food-focused media startup Tastemade and animal content-focused The Dodo.
The latter is part of Group 9 Media, a private media holding company backed by Axel Springer, Discovery Communications, Lerer Hippeau Ventures, and Oak Investment Partners, among others.
Separately, Facebook also changed its news feed ranking algorithm to weigh videos more heavily than outside articles.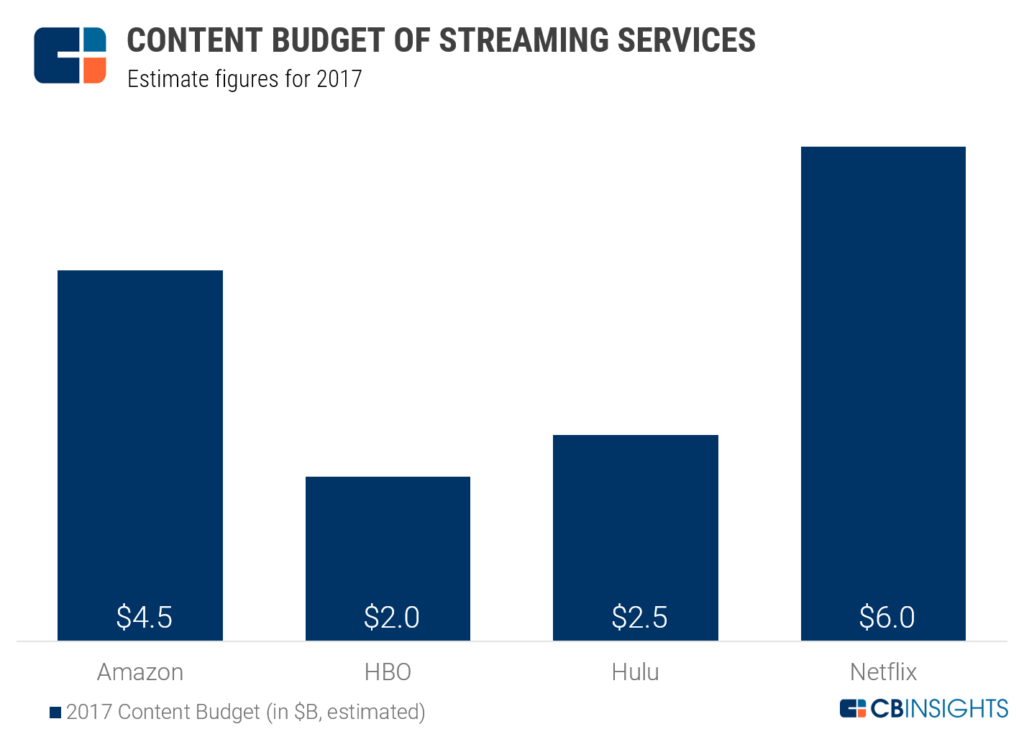 Fierce competition in digital media
Netflix CEO Reed Hastings has famously said that Netflix's main competitor is sleep in that streaming services must compete with all people's other activities for their attention.
This statement is just as true for all the other media companies trying to cut through the noise and find audiences for their content: audiences are splintered across social media, niche sites, and video services.
From The Skimm to NowThis to Gimlet Media, all are trying to vie for the small amount of free time or empty moments in people's daily lives when they consume entertainment or news.
As they do they inevitably run up against the giants that are already doing this very effectively: Facebook's addictive suite of products including Instagram and WhatsApp as well as Netflix and Amazon Prime Video.
While posting on Facebook sometimes brings media companies a lot of eyeballs, they struggle to turn this attention into dollars since it mostly happens in the social media services' news feeds.
Meanwhile they must cobble together enough revenue through subscriptions, ad revenue, licensing, and e-commerce to sustain and hopefully grow their audience and the depth of engagement with their stuff.
The drift away from risky early media startups
The race for attention and ad dollars has led to a perception among venture capitalists that new digital media ventures are risky.
The drift of deal share to later-stage companies can be explained by investors doubling down on established companies.
Early-stage deals accounted for less than 45% of overall deals in 2017 YTD compared to over 75% in 2012.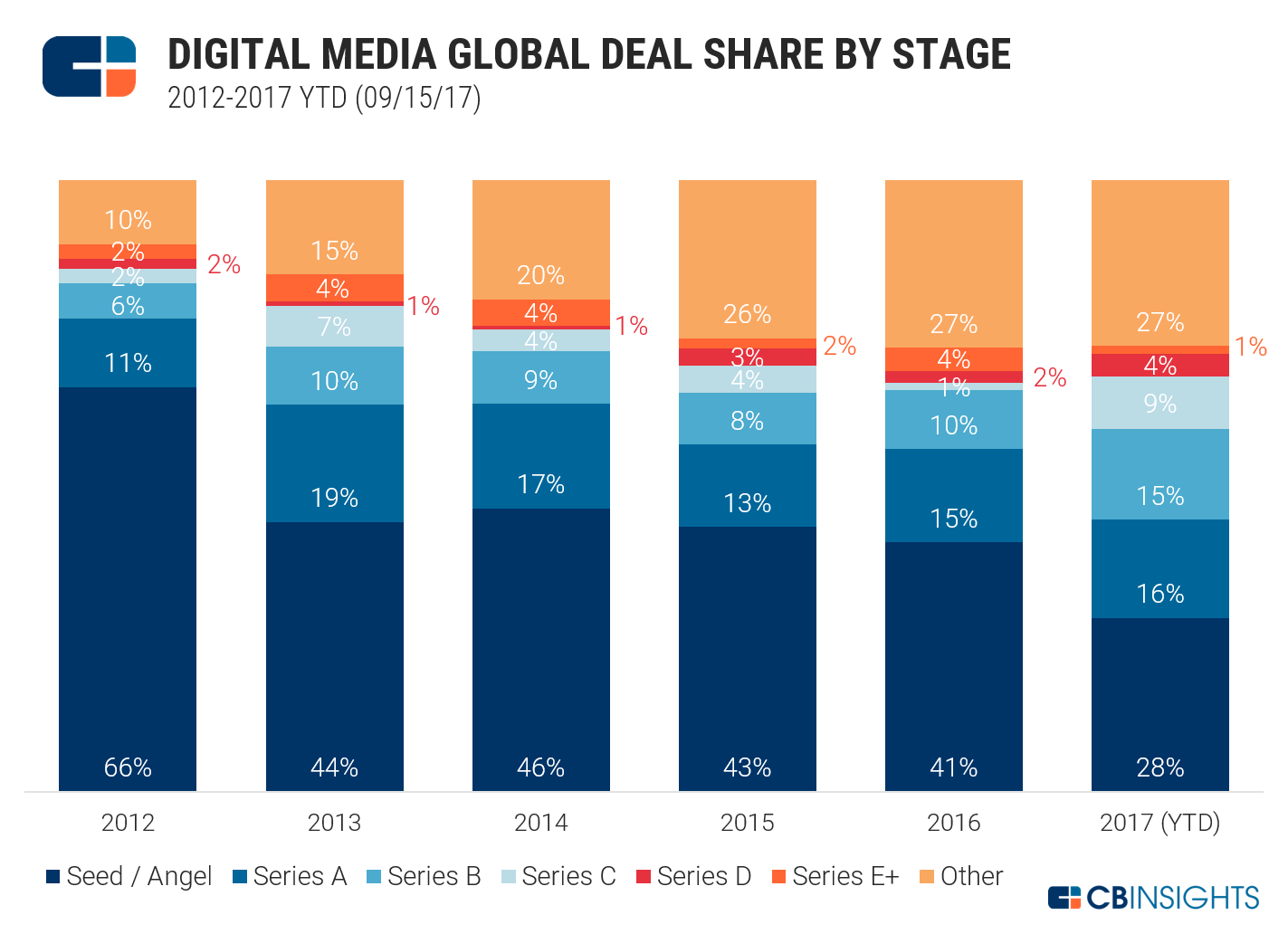 For the same reasons, total deal count in the space has decreased but overall equity funding has increased significantly with $2.3B in funding through 9/15/17 compared to the $1.65B total in 2016 (40% higher already this year).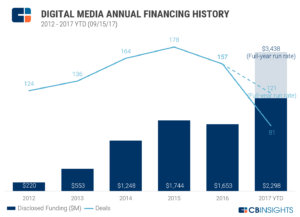 This is skewed by massive later-stage deals to China-based Toutiao ($1B), Group Nine Media ($485M), and Vice Media ($400M).
Despite some breakthroughs, young digital media startups are once again struggling to attract funding as they did prior to the flurry of digital media startup dealmaking in 2014 and 2015. Meanwhile, established companies continue to see big rounds.
"When we started, investors did not want to invest in anything that involved journalists or reporters or other professional people creating content … Everyone just said, 'You can't get venture capital if you're hiring people who make content.'" — Jonah Peretti, chief executive of BuzzFeed.
If you aren't already a client, sign up for a free trial to learn more about our platform.