A new patent envisions Amazon delivery drones that respond to human gestures and voice commands.
Amazon's latest drone patent turns UAVs from passive delivery vehicles into sophisticated robots that will respond to human gestures and voice commands. On March 20, 2018 the US Patent & Trademark Office approved Amazon's July 2016 filing for "Human Interaction with Unmanned Aerial Vehicles."
As Amazon pushes its logistics capabilities ever further, drones have become central to its long-term vision. Recent patents show how the company is thinking about charging electric vehicles with drones and housing UAVs for deliveries – storing them in trains, beehive-shaped warehouses, blimps, and underwater facilities.
Another patent, titled "Speech Interaction For Unmanned Aerial Vehicles," granted in August of 2017 reveals drones that can speak to people while airborne.
While the patent makes no mention of product recommendations or sales data, it describes how a drone could interact by speech with pedestrians and package recipients. It also describes how a drone "may have one or more wireless network interfaces" for "communicating with a control center and/or with other UAVs."
Together, these patents may allow drones to be fully aware and responsive to their environments. Amazon drones could record a package recipient's responses and relay them back to a customer service center. It could even connect them to a live representative (by audio or video) to reschedule deliveries or answer questions like "When is my next package coming?"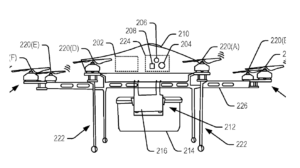 If Amazon's drones can support speech, communication, and gesture recognition over "cellular, radio frequency (RF), Wi-Fi, or other suitable long-range wireless connection technologies" (all mentioned in the patents), it's feasible that the same technological infrastructure could be linked to Alexa Voice Service – as well as to the drone-powered data collection and usage efforts Amazon patented in July 2015.
These patents even mention how a drone could be equipped with voice or facial recognition functions to determine or verify the identity of the individual prior to dropping the package.
In its primary use case, however, an aware, responsive drone isn't Alexa-enabled, or sales-oriented. Mainly, it's a warning call.
These patents, which focus entirely on package delivery, position these interactive drones inventions mainly as a means of ensuring customer safety. It specifies that the drones will be able to "detect nearby people, animals, or other interactive objects," "respond to human gestures," and produce speech "to warn or instruct" them.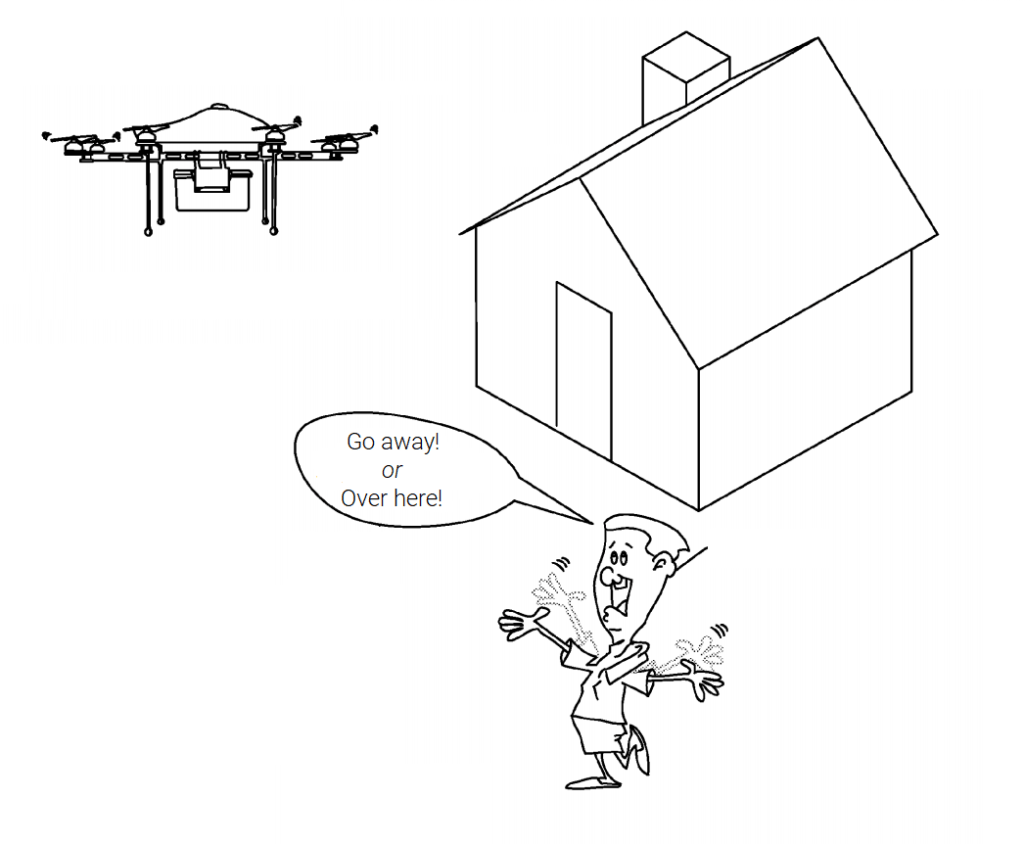 In addition to harsh directives like "please stay away!" (so rude) an Amazon drone could also converse in a friendly way with the person it detects: Speech input capabilities would allow the drone to "ask the object to move or to ask the object to specify an alternative landing area." Conversely, people could speak to the drone to alter its flight path as well as use physical gestures to welcome or shoo the drone away.
The logic behind a drone's interaction with an Amazon customer is fairly straightforward (per figure below). Essentially, it enables customers to communicate with a drone in a similar manner as they would with a human package carrier.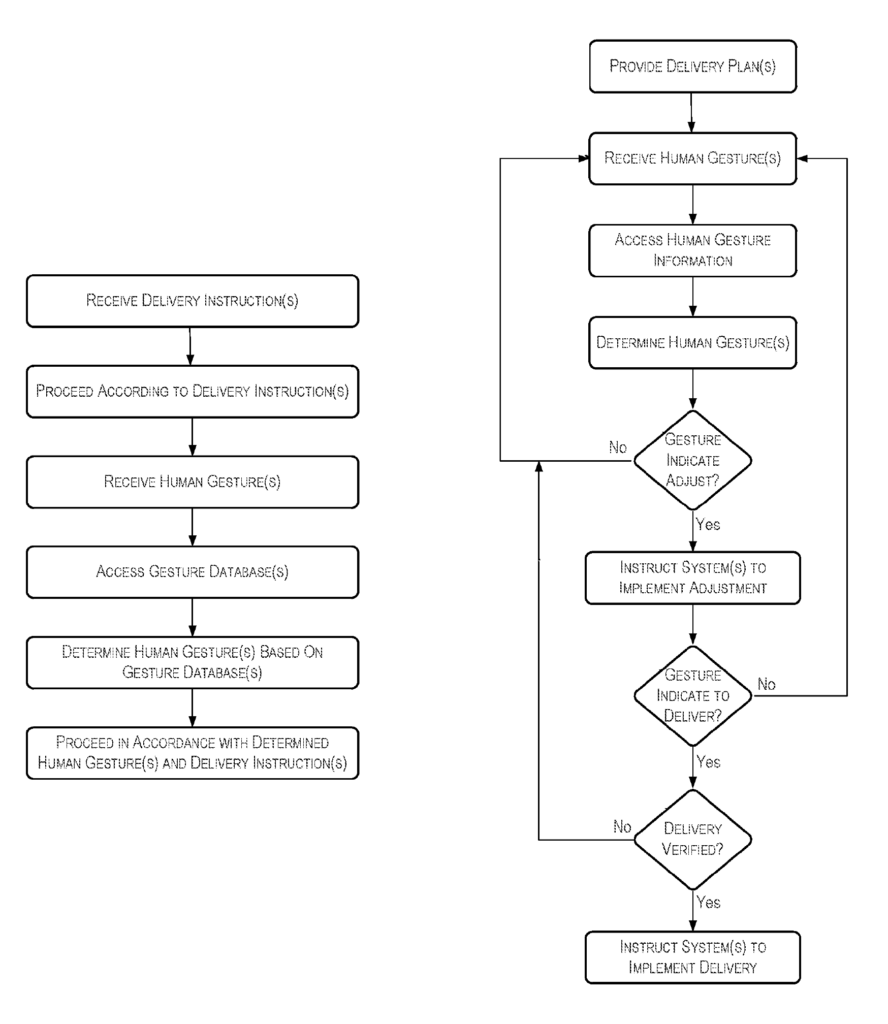 The drones carry microphones, loudspeakers, and displays. Natural language processing and speed recognition software allow the drones to understand customers, even relatively vague instructions like "Take the delivery to the back door," as outlined in the "Speech Interaction For Unmanned Aerial Vehicles" patent.

In addition, the "Human Interaction with Unmanned Aerial Vehicles" patent outlines an entire flight path with complex interactions and obstacles.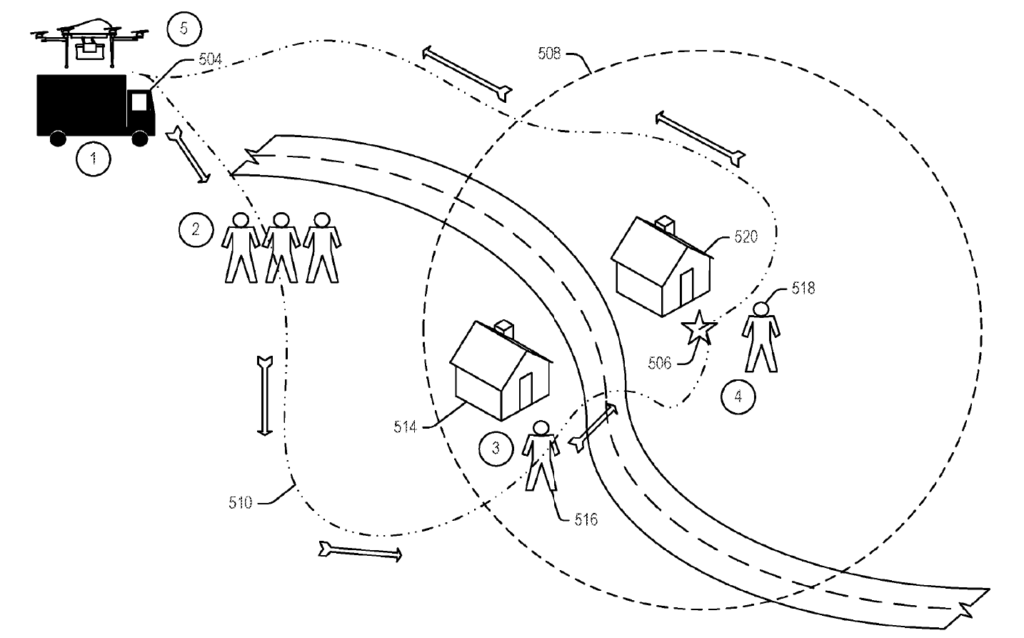 In area "2" of Figure 5 (above), the patent outlines a complex interaction with a number of people, each making their own gestures. Not only would the drone be able to "receive multiple gestures from one or more humans and take one or more actions in response," but the drone could also analyze the consensus of the group, responding to the most used gesture.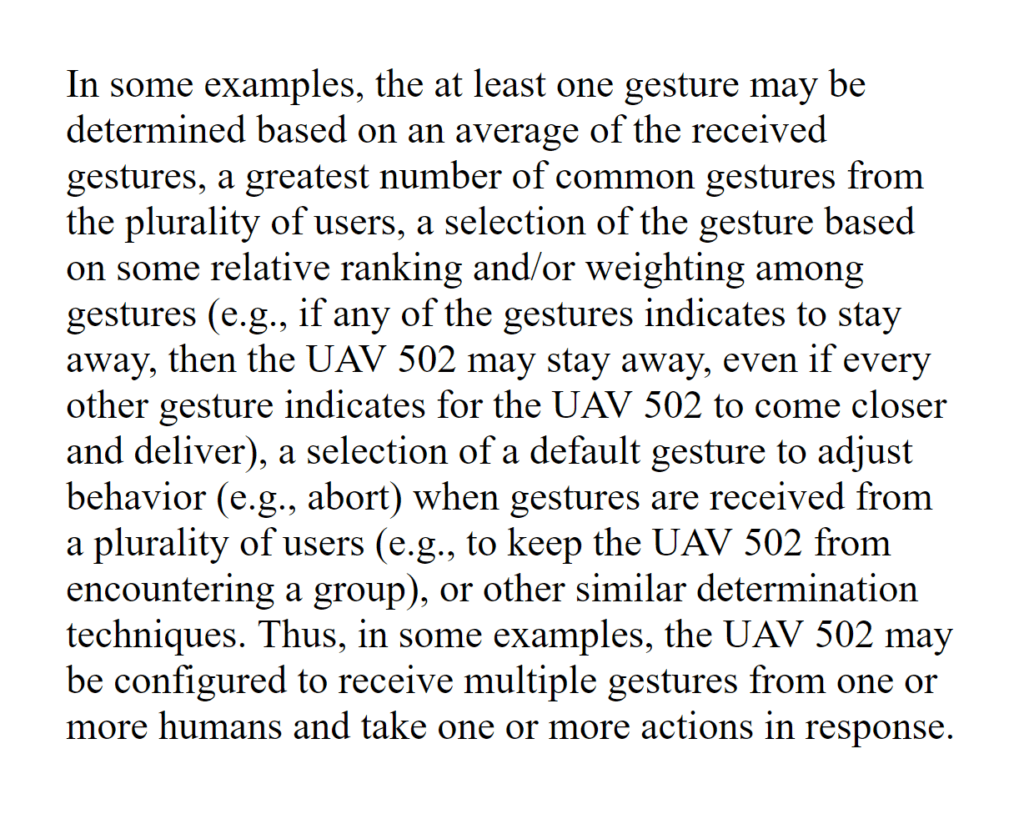 Ultimately, the addition of gesture recognition, voice command input, and audio feedback could spell a significant opportunity for Amazon – especially if it wants to entrench Alexa (or any product-recommendation efforts) further into our day-to-day lives.
By combining responsive drones with its existing data-collection initiatives, Amazon can bolster its true core strategy: Giving customers what they want, when they want it.
If you aren't already a client, sign up for a free trial to learn more about our platform.