Amazon patents a new drone delivery feature to drop packages safely at a location from above, without making too much noise.
Amazon is betting big on drone delivery.
Its recently granted patent titled "Aerial Vehicle Delivery Shroud" aims to add expandable features, called delivery shrouds, to UAVs to help facilitate deliveries.
These slinky-like shrouds would also help reduce the transmission of sound created by the drones.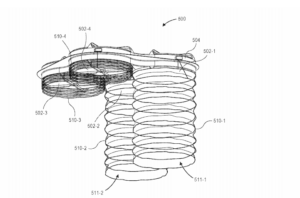 But this isn't the company's first attempt to develop advanced UAV features.
Amazon has been actively redefining last-mile delivery through drones with airborne fulfillment centers, maintenance facilities, docking centers, and more.
The delivery shroud joins the company's Stabilized Airborne Drop Delivery technology as a means to deliver packages to consumers without landing or requiring human interaction.
How it works
The patent illustrates a UAV with retracted material that expands when a drone approaches a delivery area around a home or business.
When the material drops down, it forms a type of delivery tube (think: fabric slide for a box) that cushions a package when it is released from the drone.
As a package travels through the shroud, the material tube would work to slow it down for a lighter landing, and hopefully avoid any damage.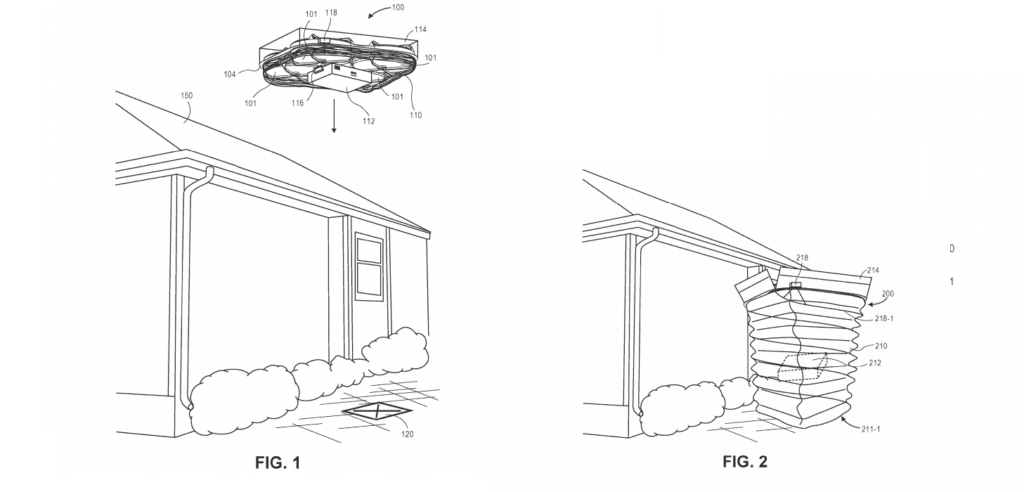 The size of the shroud would vary depending on the UAV and package size. Some would have sensors that could stop the UAV from releasing a box if an object is detected in its path.
Unlike the aforementioned drop delivery patent, which illustrates a more controlled package release using clamp hooks and other mechanisms, the delivery shroud releases packages from a higher height and depends on the fabric to help control the landing.
But the shroud technology also contributes to a dampened sound for people who may be nearby.
Because the UAV could be higher above the ground than it could for the drop delivery, it avoids ground effect interference, which disrupts the airflow around the propeller or wings.
At the higher height, there is lower induced drag, slower propeller rotations, and less sound is emitted.
Thinking of the number of deliveries Amazon does in a day, noise-dampening could be valuable in the long run. Imagine herds of drones, whizzing by loudly as they drop off packages on doorsteps, like large, robotic flies.
This newly patented technology could help Amazon expand its options for effective drone delivery, and could be especially useful as the company continues to develop its drone-based delivery system Prime Air.
If you aren't already a client, sign up for a free trial to learn more about our platform.