The Amazon drone technology would use sensors and wireless communication for collision avoidance with UAVs.
Amazon has already patented a way for unmanned aerial vehicles to talk to you. Now, the company is looking at tech to allow drones to talk to each other, too.
A newly granted patent creates a "universal identification system for UAVs" that would allow drones to transmit "identifying certificates" in flight and self-manage their flight paths to avoid in-air collisions.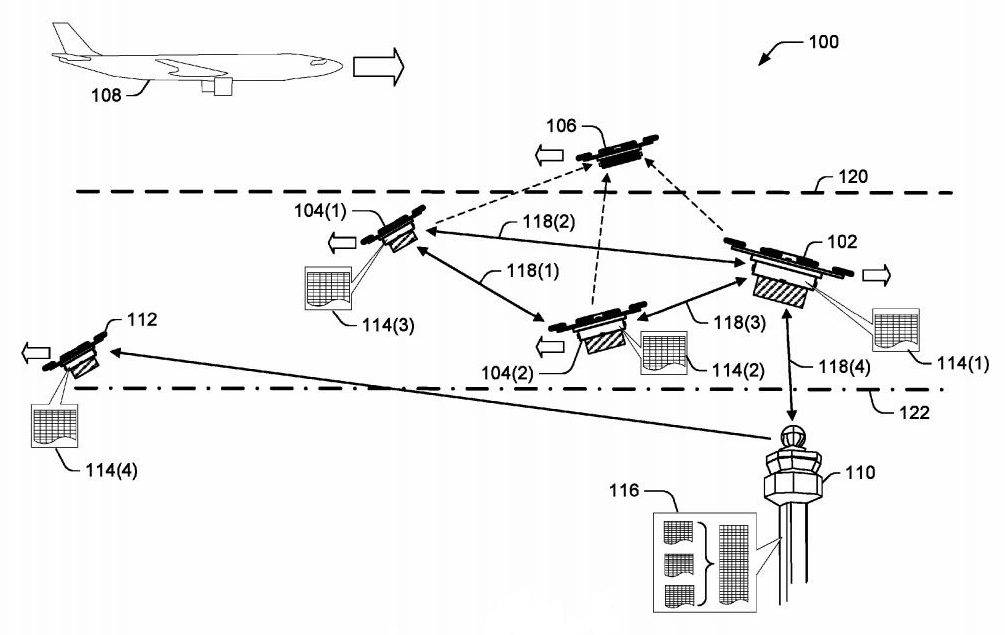 Avoiding drone collisions is important for delivering orders, maintaining inventory, and ensuring safety on the ground.
But as the patent details, drones are not held to the same standards as manned aircraft: A plane typically must be equipped with a Traffic Collision Avoidance System (TCAS) to operate legally in regulated airspace.
TCAS technologies are too heavy and expensive for drones. Lighter, cheaper avoidance systems also pose drawbacks with drones because they rely on passive, periodic transmission of transponder data. As a result, they can only passively prevent in-air collisions.
Airspace activity tracking for UAVs
Amazon's new "flight management system" would use sensors, processors, and wireless communication to enable the automated, always-on detection of UAVs operating within other UAVs' airspace.
A system of digital certificates (more on that below) would be used to validate any encountered drone's identity through the flight management system.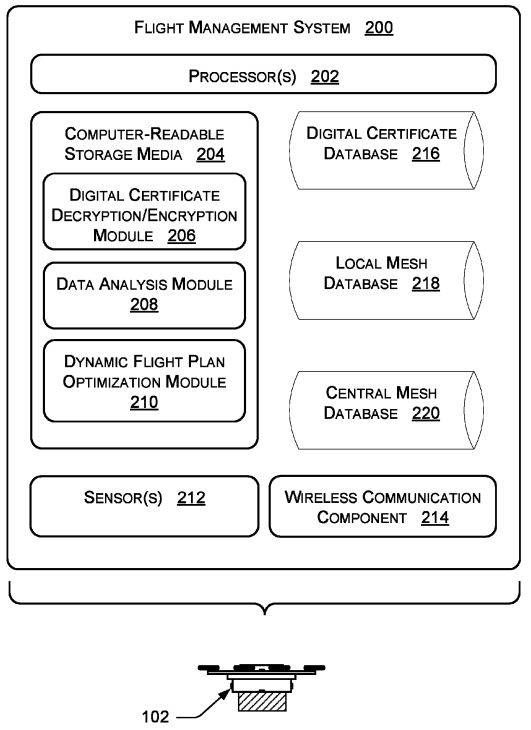 The flight management system would communicate with a mesh communication network. The mesh network would be managed by a "central authority" – aka Amazon – and would treat individual UAVs as "nodes" on the network.
Information on the "node" UAVs would be continually captured by sensors, communicated to the network, and distributed throughout the network.
In addition, UAVs would be able to self-identify to the network: When "operating within wireless communication range of at least one other UAV," they could transmit their flight path details or encrypted "identifying certificates."
When UAVs don't self-identify, the network would be capable of requesting and validating the digital certificates or flight-path information.
Once validated, that information could be communicated to other UAVs on the network and be used to update their flight paths.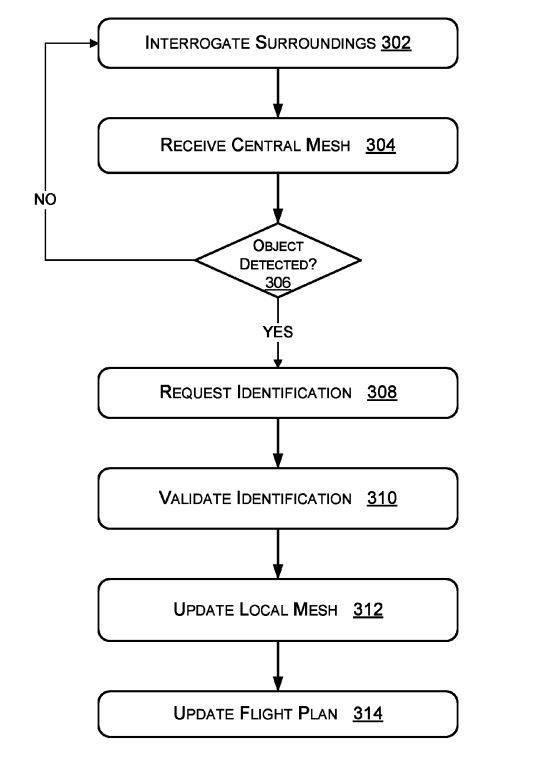 The process could also be automated, enabling drones to self-manage routes in the air:
If UAVs were "required to participate in automated flight plan management" in a given airspace, the network and management system could work together to "iteratively negotiate updated flight plans for the individual UAVs."
The patent also includes a framework for the "automated self-policing" of drones in the "automated flight plan management" scenario: Unverifiable UAVs could be tracked, reported, and disengaged by the network.
Logistics by sky
If Amazon implements the patented system, further opportunities exist for it to enhance public safety and integrate with other air traffic control systems.
For example, the patent notes that a "UAV may also communicate with a central mesh data source (e.g., a government authority) through an air traffic control tower, or similar long-range transmission source."
Communication with air-traffic control systems would allow the system to police unauthorized drone traffic: If a UAV's identifying information cannot be validated, for example, the "detected UAVs operating in non-compliance may be… reported to the central authority or agency."
As Amazon continues to eat up logistics infrastructure on land and in the sky, that kind of regulatory collaboration could ultimately help the company commercialize its UAV fleet.
The patent also fits in with Amazon's many other drone-related patents – which range from an airborne "death star" fulfillment center to a UAV-powered fueling system for electric vehicles.
If you aren't already a client, sign up for a free trial to learn more about our platform.