The e-commerce giant has had its sights set on drone delivery for years. Here's how Amazon's newest patent points to its drone future.
Amazon is betting big on drone delivery — again.
The company's recently granted patent, titled "Unmanned aerial vehicle with ports configured to receive swappable components," shows how Amazon will customize UAVs before they take off on their routes.
The patent highlights drones that can be outfitted with sensors, batteries, lights, speakers, and more, based on specific flight or delivery requirements. These items can be "swapped out" as needed for future missions.
This isn't Amazon's first attempt to develop advanced UAV features, and it's surely not it's last.
"These are effectively drones but there's no reason that they can't be used as delivery vehicles … I know this looks like science fiction. But could it be, you know, four, five years? I think so. It will work, and it will happen, and it's gonna be a lot of fun." — Jeff Bezos, 60 Minutes (2013)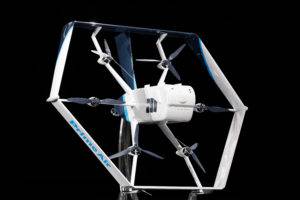 Amazon, which conducted its first Prime Air delivery in 2016, released its latest drone design this past June. 
The hybrid aircraft can do vertical takeoffs and landings, like a helicopter, while still being "efficient and aerodynamic — like an airplane," Amazon reports. 
The e-commerce giant has also been actively pursuing last-mile drone delivery with airborne fulfillment centers, maintenance facilities, docking centers, noise-muffling drone chutes, and more.
Below, we dive into how this latest patent works and what it could mean for Amazon's future.
---
Check out all of Amazon's patent activity on the CB Insights platform here.
---
How it works
The patent illustrates a UAV with various ports for "swappable components" to connect. For example, one port may host a power source, while another may host a camera, while a third could contain a robotic arm to grasp objects.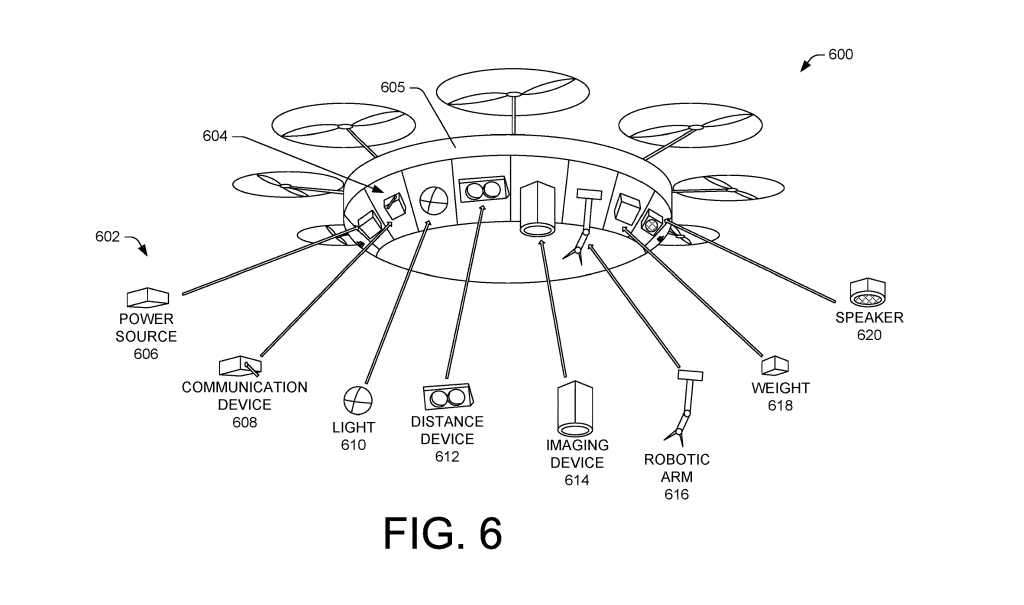 Drones would be configured depending on their flight plans and operations. Amazon would consider a number of different factors — including weather, route, distance, final destination, the item out for delivery, and more — to equip drones with the appropriate sensors and components needed to facilitate specific missions.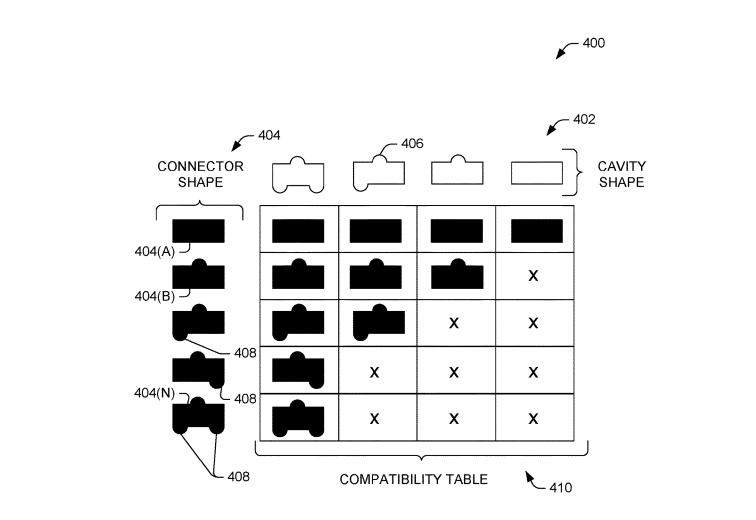 For example, Amazon might include a robotic arm to help grasp a package and release it upon delivery at a customer's home.
If for some reason a package cannot be grasped by a robotic arm (size, shape, material, etc.), the drone might use another engagement mechanism, such as attaching the package to a "connector" in a port (shown right) to enable the release of a package.
Another example is a port that would contain an additional battery, to help a UAV fly further distances. Depending on the drone's route, the extra power source — which could even be a solar panel — would be connected prior to departure.
Other examples shown include the use of speakers to communicate with bystanders, cameras for capturing images, and devices for measuring distances.
When a drone's flight does not require a certain component, that component could be swapped out, removed, or covered up by a hood indicating its non-use.
The patent also references the use of a "logic board," which operates like a central control unit to manipulate the swappable components, even pairing multiple sensors together as needed during an operation.
Why this matters
Amazon is preparing for a future full of 30-minute drone deliveries. To position itself as an early leader in the space, the company is looking to UAVs with swappable components to help it enter — and stand out in — the emerging drone delivery market.
Typically, drones are outfitted with sensors that are hardwired into the aircraft. When a single sensor malfunctions, the entire drone often needs to be decommissioned for however long is necessary to repair the part. This type of delay could be costly for suppliers as well as consumers, leading to an overall poor customer experience.
With swappable sensors, Amazon is looking to solve for this inefficiency. Instead of repairing the entire UAV, the malfunctioning sensor could simply be replaced with another one of its kind.
Customized drones allow for multiple use cases, from delivering packages to measuring distance to capturing image data. But regardless of the use case, Amazon is looking to get ahead with its multi-functional drones.
If you aren't already a client, sign up for a free trial to learn more about our platform.