The retail giant is considering ways to let shoppers try on jewelry and test out furniture at home with augmented reality before purchase.
Amazon – already one of the most disruptive companies in commerce – sent shockwaves throughout the retail world recently with its acquisition of Whole Foods, a move widely viewed as a way for Amazon to expand its brick-and-mortar retail presence, as well as increase its distribution footprint. At the same time, two patents granted today show Amazon looking to augmented reality as a way to bypass one of brick-and-mortar retail's few remaining advantages — the ability to let shoppers try on before buying.
The first patent, titled Augmented Reality Presentation, describes using product data from an e-commerce website to generate highly realistic augmented reality images of products, including jewelry, glasses, watches, and furniture. The shopper could "try on" the products before buying, which the patent argues could reduce returns (a major expense for many online retailers) and reduce the "logistical issues and corresponding costs" of "maintaining a storefront." Cameras and sensors would help track the shopper and the shopper's environment to move the object around and create the experience of "wearing" the object.
To enhance the images' realism, the patent even describes replicating reflective surfaces in augmented reality. For example, if the AR environment were to show a watch face or TV screen in augmented reality, it would use sensors to capture imagery from the rest of the room and then portray the glass or screen with a reflective surface. In other words, when looking at a TV in augmented reality, the TV screen would appear to be accurately reflecting the shopper and the rest of the room as shiny surfaces do in real life.
Track all the retail startups in this brief and many more on our platform
Startups working on direct-to-consumer distribution have the potential to upend the industry. Look for Direct to Consumer Brands in the Collections Tab.
Track Direct to Consumer Startups
The second patent, titled Forming a Representation of an Item With Light, describes a system to project images of products into a room, so shoppers could see how furniture or other items look before purchase. According to the patent, the system would a) reduce the need for shoppers to physically measure products and spaces, and b) reduce return rates.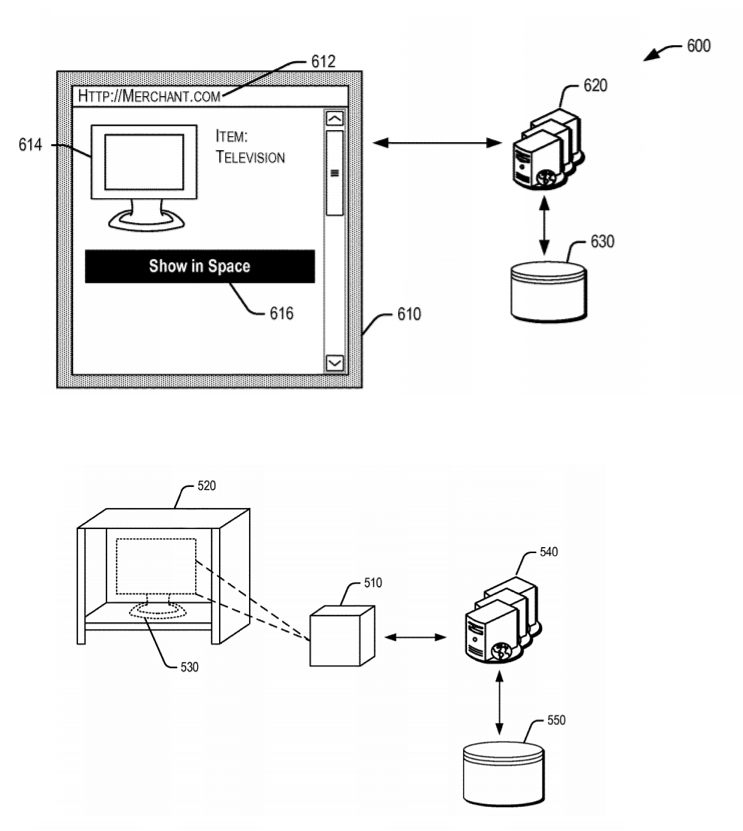 Amazon has previously filed patents related to projecting images of furniture, (CB Insights clients can search for Amazon's augmented reality patents here) but the focus on apparel and accessories in the first patent granted today is more unique. Amazon has rapidly expanded its fashion business, and it currently supports eight private label fashion brands. It also launched the Echo Look, a machine vision service that can observe users' outfits and make suggestions.
By letting users virtually try on items at home, Amazon could help shoppers feel comfortable buying unfamiliar brands – including Amazon brands – without first seeing them in stores. These patents show that while Amazon may be moving into brick-and-mortar storefronts in certain areas, it's also considering new technologies to further their e-commerce business by offering consumers the benefits of in-person shopping while at home.
If you aren't already a client, sign up for a free trial to learn more about our platform.