Newly published patent applications by the tech giants envision autonomous vehicles that identify passengers and adjust to their preferences. One of the systems even detects when a passenger is feeling stressed.
Autonomous vehicle technology could make a lot more people car passengers rather than drivers. And now Amazon and Apple look like they want those passengers to have an optimal ride.
On July 26, 2018, the US Patents & Trademarks Office published two patent applications which describe personalization features for autonomous vehicles (AVs) – one to Amazon and one to Apple.
Amazon's "Passenger Profiles for Autonomous Vehicles" and Apple's "Comfort Profiles for Vehicles" outline AV systems that would identify passengers and tailor a driving experience to their preferences.
Apple's system also monitors passenger satisfaction via body signals in real-time.
Amazon's passenger profiles
Amazon has been working on driverless technology for some time.
The company received a highway network patent for AVs in 2017 and has received a flurry of recent delivery drone patents. At the Consumer Electronics Show 2018, Amazon revealed its first AV delivery partnership.
But this patent suggests that Amazon is interested in developing AV software geared towards passengers.
Amazon's new patent, "Passenger Profiles for Autonomous Vehicles," was filed in March 2018 and argues that different passengers will have different preferences regarding how they want an AV to operate. Different passengers also are subject to different "laws, rules and regulations." To address this, Amazon proposes individualized "passenger profiles."
Amazon's system could detect a passenger's identity in several ways.
It might communicate with a person's smartphone, require an electronic key, or request a username and password. Where a camera and audio tech is present, the system could also rely on voice recognition, facial recognition, or biometric data (like a thumbprint or retinal scan).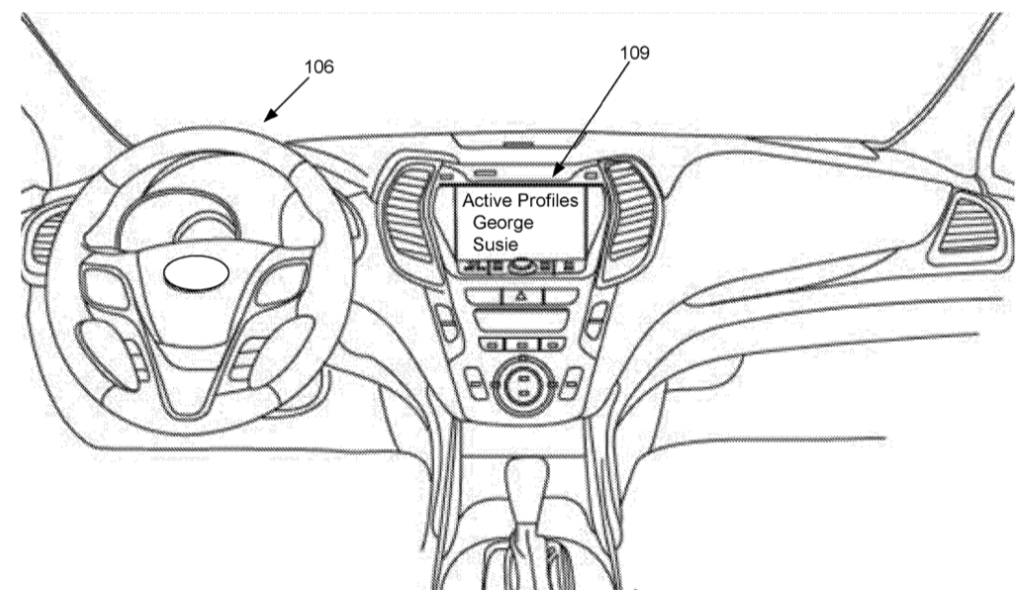 If the system successfully identifies a passenger, it activates a series of personalized settings related to safety.
For example, a car might detect a child passenger and activate child locks, or prohibit smoking. Parents could even implement a "geofence" to prevent a car from accessing certain locations during certain hours – or limit the ride for their kids to just school and back.
If the system cannot identify a passenger, it creates a new profile and starts storing her data.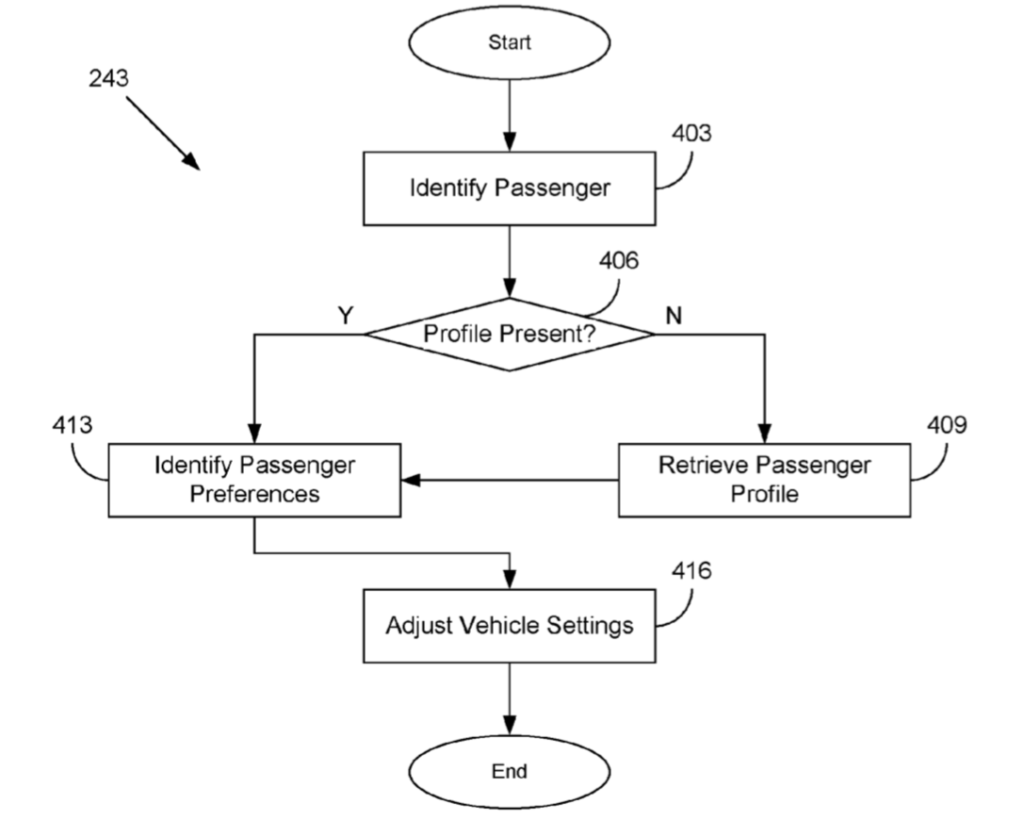 Amazon notes that this technology isn't just for self-driving cars. Passenger profiles could be used in aircraft, subways, trains, boats, and more.
Apple's comfort profiles
Compared to Amazon, Apple's AV patent application activity has been relatively limited.
At one point, the company was working on an Apple-branded AV, but has since shifted its focus to the underlying software. In May 2018, Apple announced a partnership with Volkswagen to develop self-driving shuttles at a lab in Italy.
Apple's patent, "Comfort Profiles," was filed in September 2016. It outlines a system that identifies a passenger via facial recognition and then tailors an AV's "driving style" to the passenger's preferences, all while monitoring her satisfaction in real-time.
The system aims to learn how a passenger wants her AV to move – remembering preferences around acceleration, braking, and turning (all subject to safe boundaries).
Equipped with the passenger's history, the system would be able to predict when she wants to switch lanes or avoid a particular route. This would allow passengers to enjoy a feeling of control without being in the driver's seat.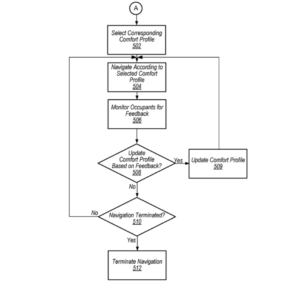 But Apple's system doesn't put the onus on passengers to speak up when they're unhappy with a ride.
It could detect "elevated stress" by monitoring things like a passenger's body posture, gestures, heartbeat, perspiration, or eye movement. An AV could note when a particular route or driving technique upsets a passenger. It would then store that information in her passenger profile for next time.
The Race To Market
While neither Amazon nor Apple seem to be interested in building consumer AVs at this point, both are working quickly to develop AV software. While Apple has partnered with Volkswagen, Amazon has been hard at work getting Alexa voice commands integrated with BMW and Ford cars.
Amazon and Apple are not alone. Alphabet, Uber, Tesla, and many others are investing heavily in bringing AVs to market.
These new patents suggest that regardless of an AV's manufacturer, a personalized, comfortable, and responsive driving experience for consumers will be part of an AV ride.
If you aren't already a client, sign up for a free trial to learn more about our platform.