Amazon and Alibaba are using technology to transform the in-store customer experience. Here's how these long-time e-commerce giants stack up offline.
Amazon and Alibaba are doing something few thought they ever would: betting big on brick-and-mortar.
Amid the bankruptcies of the "retail apocalypse" — including the collapse of Toys R' Us and Radio Shack — these two e-commerce giants are breathing new life into physical retail, each in its own way.
Amazon shelling out $13.7B to acquire upscale grocery chain Whole Foods last summer is only the beginning.
The Seattle-based company has also opened 13 bookstores across the US and opened its cashier-less Amazon Go store to the public in January 2018, after reported delays.
Alibaba meanwhile has publicly announced a strategy to combine online and offline commerce, dubbed "new retail."
So far this has meant opening dozens of grocery stores and pop-up shops and partnering with 600,000 mom-and-pop stores across China. Alibaba also has plans to open a 5-story mall, which is currently under construction.
"Physical stores serve an indispensable role during the consumer journey and should be enhanced through data-driven technology and personalized services in the digital economy." — Daniel Zhang, CEO, Alibaba Group
But why would these e-commerce giants be going after offline shopping? 
E-commerce only accounts for 17% of total retail consumption in China, according to PwC. In the US that figure is even smaller: only 9% in Q3'17, according to the US Department of Commerce.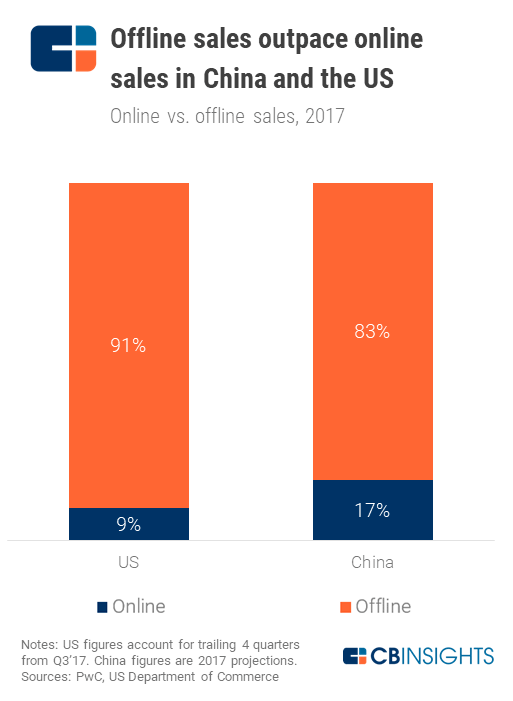 This means that to understand their customers' needs, and to find new channels for growth, Alibaba and Amazon have a massive opportunity offline.
That is, if they can crack the code to physical retail in the age of Amazon Prime and Alibaba's Tmall and Taobao services.
"[Physical stores represent] another way to reach the customer and test what resonates with them." – Brian T. Olsavsky, CFO, Amazon
Specifically, Amazon and Alibaba are:
building tech-enabled brick-and-mortar stores from the ground up

investing in and acquiring retailer chains

investing in and acquiring tech startups with applications in physical retail (machine vision, AR/VR, etc.) 

establishing partnerships with physical retailers — such as Alibaba's collaboration with Starbucks on a tech-enabled roastery, and Amazon's and Calvin Klein's jointly opened pop-up stores.
In this report, we compare Amazon's and Alibaba's physical retail initiatives to better understand how they're bringing technology into the in-store experience.
Table of Contents
Why e-commerce giants are pushing offline
Amazon (founded by Jeff Bezos in 1994) and Alibaba (founded by Jack Ma in 1998) can trace their roots back to the first internet boom. But now that these e-commerce giants dominate online sales, the physical retail space offers the next big growth opportunity.
After all, despite strong growth in e-commerce, traditional in-store retail accounts for more than 80% of commerce in China, and more than 90% of sales in the US.
Alibaba has already seen the benefits of merging offline and online retail. On Singles' Day in 2017, the largest retail promotional day in the world, Alibaba sales topped $25B, reaching 43% growth year-over-year (compared to 24% growth 2015 — 2016).
Alibaba President Mike Evans credited some of this success to "the work that's been done in the integration of offline and online."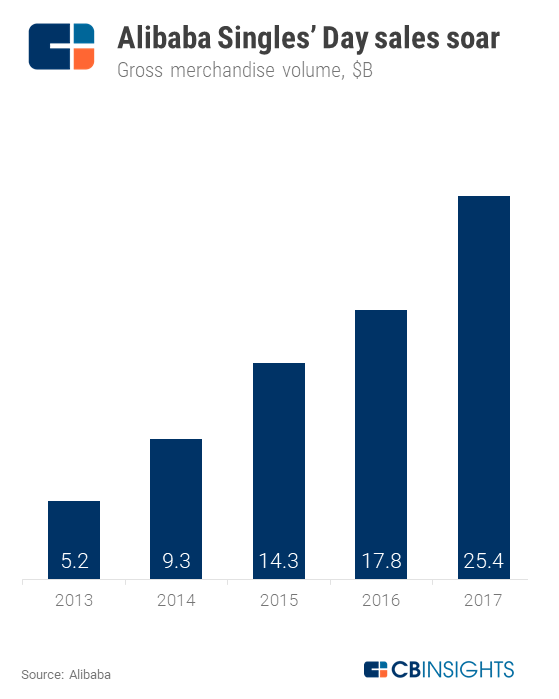 By capturing offline market share, Amazon and Alibaba can reach a huge portion of new consumers. In addition, physical retail can open the doors to begin selling a larger variety of items that are difficult to market online, including big-ticket items like furniture and even cars.
Perhaps most importantly, by capturing offline shopping activity, Alibaba and Amazon can enhance their already formidable customer datasets.
Track more in-store retail tech startups on our platform
Startups working on tech for brick-and-mortar retail have the potential to upend the industry. Look for In-Store Retail Tech in the Collections tab.
Track retail tech startups
Building stores from the ground up
cashier-less amazon Go opens after delays
Amazon Go, a cashier-free automated checkout store, opened to the public in Seattle in January 2018. The store incorporates machine vision, AI, and sensor technology to allow shoppers to pick their items and leave without checking out by using the Amazon Go app, which automatically charges customers' Amazon accounts for store items.

While the opening of Amazon Go marked a big milestone for the company, the project was first delayed many months due to kinks in its technology.
Technology challenges aren't the only potential obstacle for Amazon Go though. Cashier-less stores are relatively new in the US. Amazon could face criticism over its handling of consumer data, due to the vast number of cameras and sensors within the store. It may also face backlash from those trying to preserve the job market for cashiers, a position that employs over 3.5M people in the US.
In addition to Amazon Go, Amazon has opened more than a dozen bookstores around the US. These stores stock books based on Amazon.com reviews, ratings, and readership metrics, and also stock Amazon devices such as Echos and Kindles.
Alibaba takes on everything from grocers to cafes
Alibaba takes a wide lead over Amazon when it comes to physical store locations. The company's expansive offline initiatives range from tech-enabled grocery stores to cashier-less cafes, with more plans in the pipeline for the company to expand by building its own mall.
Hema grocery store: Alibaba's internally developed grocery store, Hema, currently operates more than two dozen locations across China.
The store uses a mobile app to streamline the customer experience: the app suggests groceries based on items customers scan with their phones, and users can make final purchases through Alipay, Alibaba's mobile payment system. Additionally, the stores mimic the atmosphere of a local market by allowing shoppers to select fresh seafood that can be cooked and eaten in-store.
Alibaba plans to expand Hema locations across China, including 30 new locations to be opened in Beijing by the end of 2018.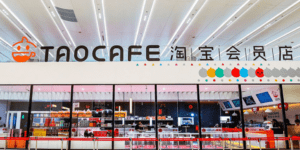 Tao Cafe: In mid-2017, Alibaba launched cashier-less store Tao Cafe, which uses artificial intelligence to allow customers to skip the checkout line.
Tmall Supermart: The company unveiled a prototype for a completely automated store, called the Tmall Supermart, in November 2017.
Pop-up stores: Also in November 2017, Alibaba experimented by opening up 60 Tmall pop-up stores across dozens of malls in China. The pop-up stores sold products from partner brands such as P&G, Estee Lauder, and Unilever, using tech such as augmented reality, QR codes, and mobile payments to customize and expedite the in-store purchasing experience.
More Mall: Alibaba is reportedly constructing an entire mall, dubbed "More Mall," which will allow customers to order groceries via cell phones and use the Alipay mobile payment app to make purchases.
competition is heating up
While Alibaba has clearly opened more home-grown physical stores than Amazon, it faces more imminent competition in a fast-changing Chinese retail landscape, which includes consumers that are generally more accustomed to mobile payments, and tech-enabled retail than the rest of the world.
Chinese e-commerce rival JD.com opened its first offline grocery store in January 2018, and is further planning to open hundreds of automated convenience stores. Chinese startups like Ubox, Xiaomai, and Bingobox are also pursuing unmanned convenience stores.
Although Amazon currently faces less aggressive competition in this space in the US, Walmart announced in December 2017 that it would begin testing automated convenience stores. While this might eventually threaten Amazon, the development is relatively early-stage compared to the competition faced by Alibaba in China.
Tech enabling the push offline
Alibaba leverages AI to let customers pay by smiling
Alibaba's FashionAI, an AI-enabled screen interface, creates a personalized experience for customers by suggesting items based on what a customer is already trying on, while Alibaba's Magic Mirror and virtual dressing rooms allow customers to try on clothing virtually.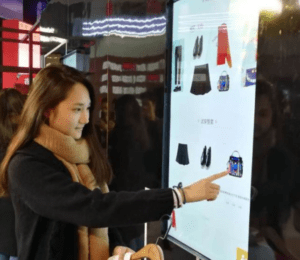 Vending machines let customers buy sample-size consumer products, while also helping Alibaba to collect data on consumer preferences and follow up with customers online.
In 2016, Alibaba released its augmented reality game "Catch the Cat," where customers use their smartphones to chase a virtual cat mascot around a physical store to win special promotions and discounts.
Alibaba also recently launched its "smile to pay" facial recognition technology at KFC. The service "allows customers to process their payment simply by smiling after placing their order at one of the fast food restaurant's self-serve screens," according to CNBC.
Amazon brings alexa, 'Blended reality' into dressing rooms
Amazon has also homed in on facial recognition tech, recently releasing advancements to its real-time facial recognition technology Amazon Rekognition, which enterprise customers using AWS can integrate into their own apps, with use cases in identity verification, among others.
This technology could have implications in physical retail, especially given the camera-vision technology already used in the Amazon Go store.
Additionally, Amazon is repurposing its existing hardware for retail purposes, installing Alexa and Echo products in fitting rooms at pop-up shops opened jointly with Calvin Klein. Customers can ask Alexa questions about items they are interested in buying, as well as control the lighting and music.
Amazon's patent titled "Blended reality systems and methods," granted in January 2018, gives a glimpse into the potential future of dressing rooms. The patent highlights a tech-enabled mirror that would project different images (using a screen set behind it) to give the illusion that customers are wearing different outfits.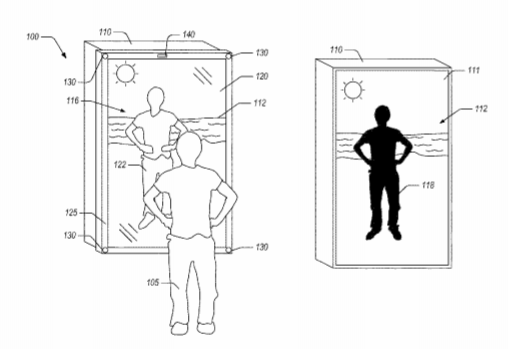 Another patent, "Physical store online shopping control," aims to prevent customers from comparison shopping on their mobile phone while shopping in a physical store.
The system would allow Amazon to detect whether customers logged onto in-store Wi-Fi are comparing prices on competitor sites, and respond by blocking access to the site, redirecting the shopper to an Amazon-approved site, or notifying a salesperson to approach the customer.
Investment and M&A strategies
Threatening established grocery retailers
In the hotly contested US grocery market, Amazon's $13.7B acquisition of grocery retail chain Whole Foods in June 2017 made headlines, with many industry players worrying that the e-commerce giant would offer low-cost grocery delivery given its large-scale logistical capabilities. The acquisition gives Amazon over 470 physical grocery stores throughout the US, Canada, and the UK. While these stores are well established, they have the potential to add to Amazon's data profile on consumers.
The response from the American grocery industry has been swift: grocery retailers such as Albertsons and Aldi have partnered with Instacart to deliver groceries to their customers, while Target recently acquired grocery delivery startup Shipt for $550M.
Recent reports have even speculated that Kroger will partner with Alibaba, a move which could rival Amazon's acquisition of Whole Foods given Kroger's thousands of stores and Alibaba's digital prowess. Specifically, such a partnership has the potential to arm Kroger with digital and logistical capabilities to fight back against any moves that Amazon makes in low-cost grocery delivery.
In addition to the Whole Foods deal, Amazon made a $28M corporate minority investment in India-based department store chain Shoppers Stop in September 2017. The deal allows Amazon to sell Shoppers Stop private label goods on its site. While this investment is comparatively small, it could signal Amazon's interest in gaining a foothold in developing economies.

Alibaba has also made several investments in grocery retailers, including a $300M investment in grocery retailer Sanjian Shopping Club Co, an 18% stake in Chinese grocery chain Lianhua Supermarket, and a $2.9B investment in hypermarket operator Sun Art Retail Group (just five months after Amazon's acquisition of Whole Foods).
Investing in physical retail startupS
In addition to looking to established retailers, Amazon and Alibaba are also investing in startups with applications in physical retail. Alibaba in particular has increased its pace of brick-and-mortar investments since the end of 2016.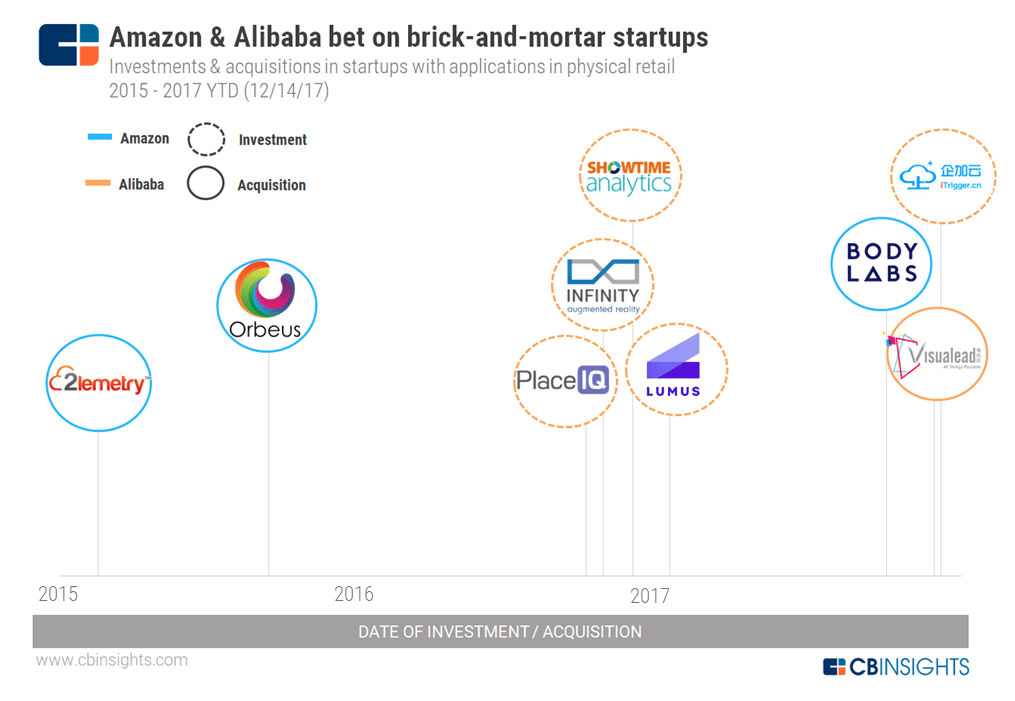 Amazon has made a number of acquisitions aimed at consumer-facing tech for the store spanning IoT, computer vision, and 3D body scanning. These include:
2lemetry (acquired March 2015): IoT tracking technology that employs sensors and facial recognition to track shoppers in stores.
Orbeus (acquired October 2015): Computer vision startup that can recognize products and faces.
BodyLabs (acquired October 2017): 3D body-scanning technology that helps customers to find better-fitted apparel.
Amazon's acquisition of computer vision startup Orbeus falls within the scope of its AI-focused strategy, and particularly aligns with its physical retail initiatives (e.g. the use of computer vision technology in the cashier-less Amazon Go store).
Alibaba has meanwhile focused heavily on augmented reality, through its investments in Infinity AR, an AR platform that imposes virtual images over physical objects, and Lumus, which makes AR glasses with applications in physical retail.
In November 2017, Alibaba also acquired Visualead, a personalized QR code startup that helps increase customer interaction online and offline. QR code technology has been an integral part of Alibaba's grocery chain Hema.
Other Alibaba investments into startups in the physical retail space include:
PlaceIQ (Series D // October 2016): Customer location-based in-store tracking analytics software.
iTrigger (Series A // December 2017): Data management software for the retail industry that focuses on online and offline operations.
As more physical retail startups gain momentum, Amazon and Alibaba may acquire or invest in additional startups in the space.
Partnerships with existing retailers, big and small
Amazon partners to experiment in-store, boost alexa
Kohls: Select Kohls stores have been setting aside 1,000 square feet of floor space for Amazon to independently sell its smart home products. Additionally, Amazon customers can return products purchased online in-person at Kohls locations.
While these two companies should ostensibly be competitors, the partnership, announced in October 2017, allows the struggling traditional retailer to gain more foot traffic as it tries to increase its sales, while also allowing Amazon to experiment with physical retail kiosks.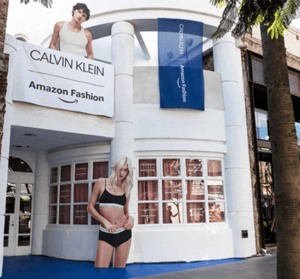 Calvin Klein: In late 2017, Amazon partnered with Calvin Klein to open select pop-up stores across New York City and Los Angeles.
The pop-up stores allow customers to customize clothing items with embroidery, purchase items in-store, or scan bar codes to the Amazon app for home delivery. Amazon Echos are installed in fitting rooms so that customers can ask Alexa questions about products.
The partnership allows the online giant to position itself as a physical distribution alternative to department stores for brands — and one that offers a personalized and exclusive experience for customers.
Tuft & Needle: Similarly, Amazon partnered with direct-to-consumer mattress startup Tuft & Needle to outfit the startup's new physical stores with Amazon technology, including Alexa-powered Echo devices that help answer customer questions.
These partnerships closely follow Amazon's other forays into experimental pop-up shops, which have appeared in various malls in the US, certain Whole Foods locations, and even in the UK.
Alibaba teams up with mom-and-pops, big brand names 
"Behind every digitalized Tmall shop, there is synergy to be achieved [via Alibaba's platform] on supply chain, branding, sales services, etc. [These stores] will not just be a retail end-point, rather a new starting point to observe user behavior." – Lin Xiaohai, VP, Alibaba
Mom-and-pop stores: While in the US, Amazon is often seen as the enemy of mom-and-pop stores, in China Alibaba has actually succeeded in partnering with the small locally-owned retailers. In one initiative, Alibaba has partnered with individual stores to turn them into tech-enabled storefronts for Tmall (Alibaba's e-commerce subsidiary).
Ahead of Singles' Day 2017, Alibaba recruited 600,000 Chinese mom-and-pop stores (10% of all such stores in China) to install its store management app, Ling Shou Tong, which helps store owners stock items that are popular online.
In return for providing Ling Shou Tong for free, Alibaba can track in-store consumer spending habits in the stores, as well as using stores as delivery and fulfillment centers for goods ordered online.
Smart stores: Alibaba is also partnering with brands to create 100,000 "smart stores" outfitted with facial recognition, mobile gaming, and mobile payment technology. The initiative has drawn 1,000 labels, including Gap and Bose, among others.
Bailian Group: In the corporate realm, Alibaba partnered with major retail conglomerate Bailian Group (owner of 4,700 stores across China) in February 2017 to work together to boost efficiency in logistics by integrating online and offline operations.
Ford: Alibaba's retail moves expand beyond groceries, fashion, and electronics: US car maker Ford has agreed to sell vehicles in China via Alibaba.
Alibaba plans to sell the cars through an enormous vending machine, which would dispense vehicles to customers after they have paid through an integrated mobile app. The vending machines are scheduled to open January 2018 in Shanghai and Nanjing.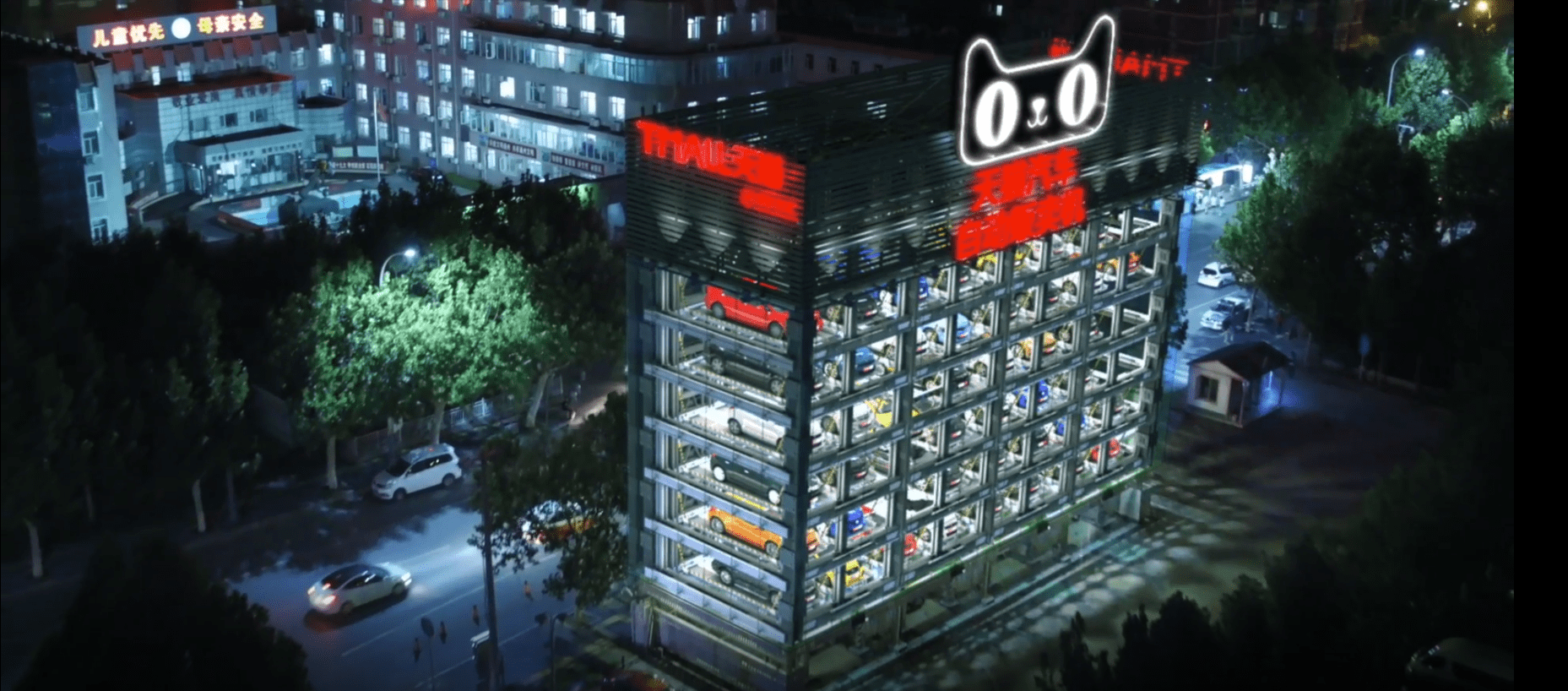 Starbucks: Another big-name partnership includes Alibaba's joint initiative with Starbucks to construct a 27,000 square foot mega-store. The store, located in Shanghai, is the largest Starbucks outlet in the world, employing over 400 people.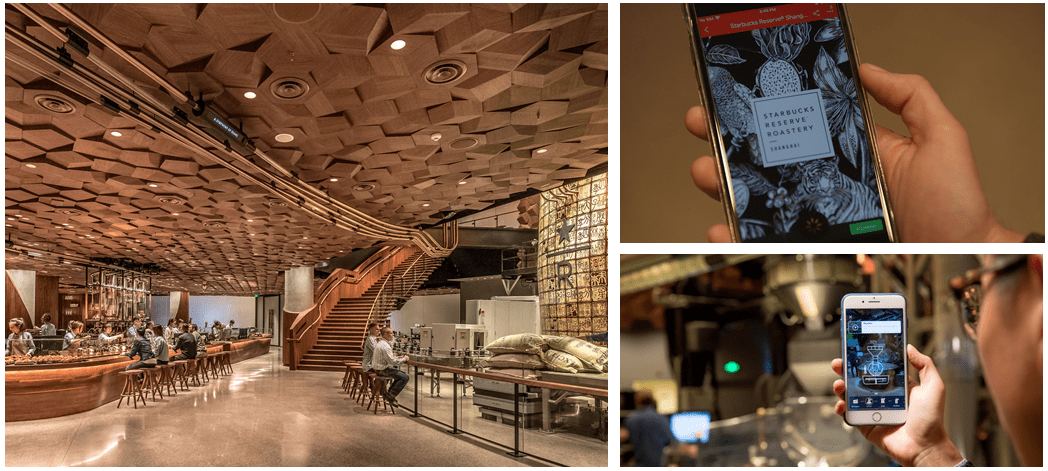 The store integrates technology into the coffee-buying process: customers can learn about the coffee-making process and available products through an Alibaba-powered augmented reality app, as well as use the app to purchase coffee tastings and tours.
Alibaba's initiatives with Ford and Starbucks demonstrate Alibaba's bigger and flashier leap into physical retail partnerships, compared to that of Amazon.
Risks of going physical
As predominantly digital players new to the brick-and-mortar retail scene, Amazon and Alibaba will be at risk of costly mistakes — both financial and reputational — as they test what attracts consumers in the physical world.
"Everybody needs to figure out what makes them special and use those weapons to compete [against Amazon]," – Brian Spaly, co-founder of Trunk Club and Bonobos
In the US, incumbent retailers may try to promote a backlash against Amazon's automation strategy, offering customer service with a focus on human interaction and expertise, or through the sale of specialty goods that can't be found through Amazon.
At the same time, Amazon could also face increasing regulatory scrutiny as it strengthens its offline retail presence. (The FTC investigated Amazon's Whole Foods purchase, though it allowed the acquisition to proceed.)
Amazon will also have to work to get US consumers to adopt new habits: unlike China, the US consumer market is not yet accustomed to automation in retail.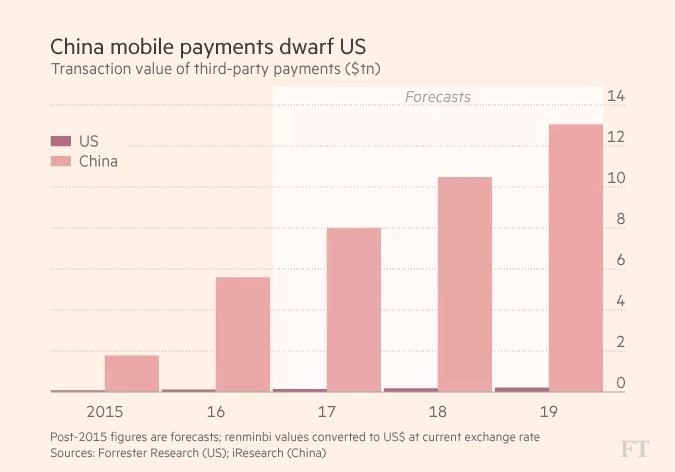 In China, Alibaba is entering a space where consumers are more accustomed to integrating technology such as mobile payments.
While this will likely make it easier to get consumers to adopt new technology, it also means that other businesses are competing, from giants like JD.com and Tencent entering the grocery and shopping mall space to a range of smaller startups using camera vision, data analytics, and mobile payments technology to develop their own automated stores.
Moreover, if Alibaba hopes to continue gathering data from over half a million mom-and-pop stores, it will also have to persuade local shop owners to continue to use its store management app, Ling Shou Tong, which has received mixed reviews. Such partnerships could require considerable labor and capital to maintain.
As Alibaba continues to partner with physical stores, it will also have to work to integrate a huge amount of data from a growing number of offline sales points into its operations. This could prove a difficult task, given Alibaba's lack of historical expertise in the area, as well as growing concerns about consumer data privacy.
Finally, given food safety incidents in China like the 2008 Chinese milk scandal around contaminated baby formula, Chinese consumers are notoriously skittish about food safety. Alibaba will subsequently have to be cautious about the safety of food sold through its stores. The company has launched an experimental program leveraging blockchain technology to manage the food supply chain safety of imported Australian beef.
The road ahead
As traditional retailers struggle financially, e-commerce companies like Amazon and Alibaba will pose an ever-increasing threat as they move offline. Armed with huge amounts of consumer data in their arsenals and advanced tech capabilities, these digital giants are in a position to experiment and adapt to the brick-and-mortar ecosystem.
Although Alibaba has made a more pronounced push offline than Amazon through its sheer number of investments, partnerships, and brick-and-mortar openings, it is clear that both online giants are seeking to capture a larger share of consumers by integrating online and offline services.
While these two players operate in very different domestic markets, we could eventually see a future in which both giants may face off in the physical world as they expand their brick-and-mortar presence beyond the borders of their home countries.
If you aren't already a client, sign up for a free trial to learn more about our platform.