India, Australia, and Singapore are becoming key battlegrounds for Amazon and Alibaba.
Amazon and Alibaba are the largest e-commerce giants in the world, together commanding over $1.1T in market cap.
They have largely avoided direct competition by dominating different parts of the world, but this could change as the two giants expand their international footprint.
"We believe that globalization is the future," said Jack Ma, co-founder and executive chairman of Alibaba Group.
Alibaba vs. Amazon: How Their Strategies Stack Up
Amazon currently dominates North America and Europe, while Alibaba controls China and has made a web of strategic partnerships and investments in Southeast Asia. Both companies are making large bets in India and moving into Australia as they capitalize on three trends: the digitization of global financial systems, growing wealth around the globe, and increased internet penetration.
Alibaba and Amazon have approached these new opportunities with different strategies — Amazon acquires while Alibaba invests. Outside the US and China, Alibaba has taken a minority stake in twice as many companies as Amazon, while Amazon has acquired 5X more companies than Alibaba.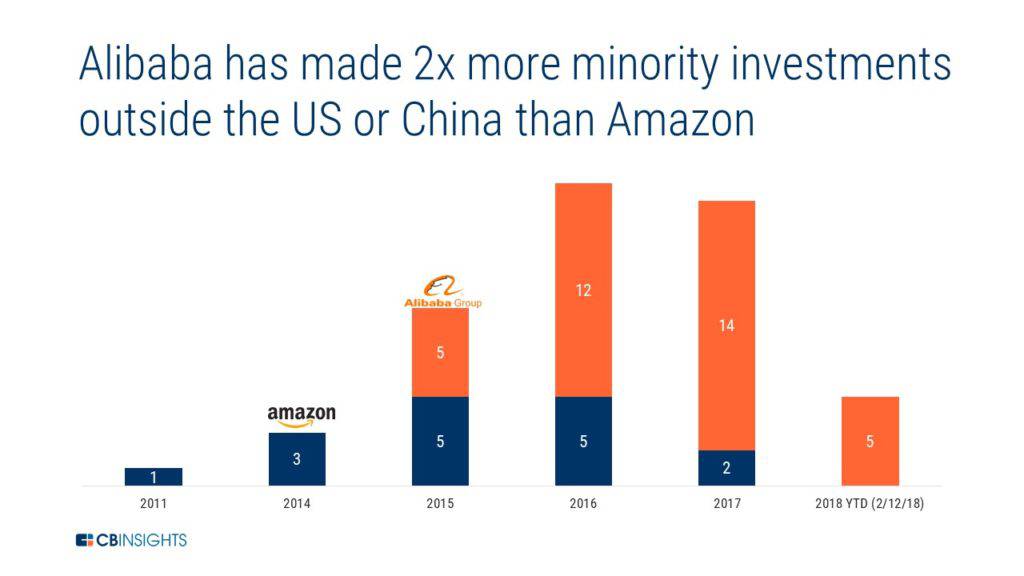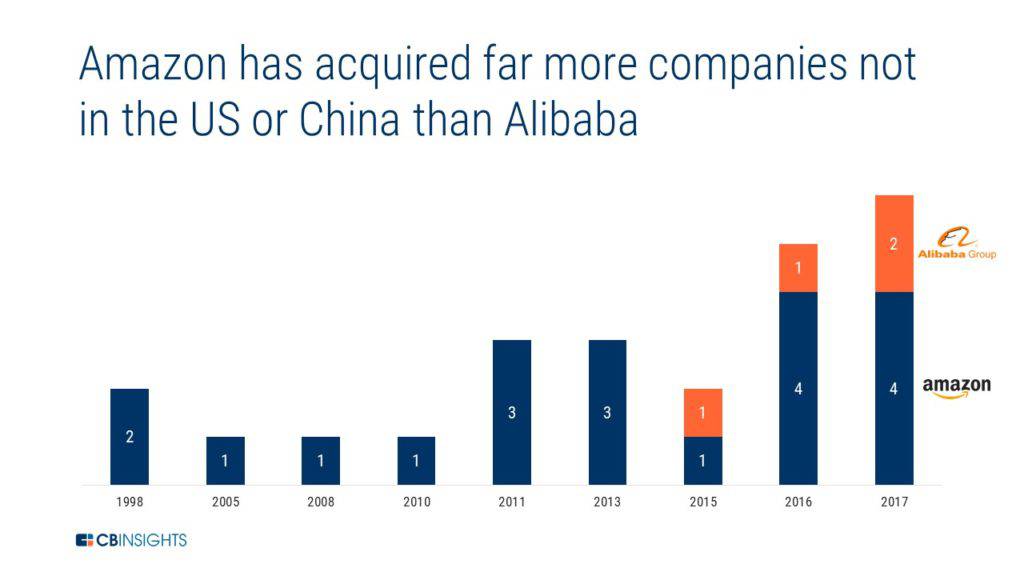 While the companies are pursuing different strategies for expansion, their goal is ultimately the same — take their e-commerce and logistical expertise global.
Amazon is focused on globilizing its branded Marketplace, and will spend billions of dollars over the next decade to bring its model of low prices, vast selection, and fast delivery to the world.
Alibaba is expanding its logistics network around the world and piecing together subsidiaries to connect the world's e-commerce markets.
Why now for international expansion?
The two companies, especially Alibaba, are looking for ways to diversify revenue across different geographies. They also know how successful a retailer can be if it builds a leading e-commerce presence and brings a country into online retail.
Both companies can afford to spend aggressively on expansion as their stocks have soared — market caps sit at $720B for Amazon and $483B for Alibaba.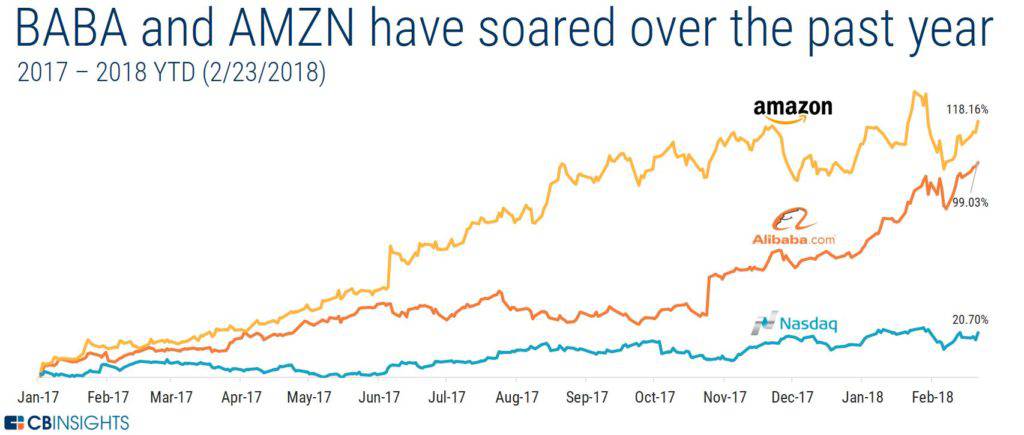 Usings CB Insights data, we map out Amazon and Alibaba's expanding grasp on the world, and dive into how each giant is using M&A, investment, partnerships, and R&D to aggressively expand beyond its home market.
table of contents
Alibaba and Amazon's top international targets
Competition between Amazon and Alibaba is heating up in untapped markets. Australia, Singapore, and India are primed to become the most explosive e-commerce markets in upcoming years.
India is the region with the highest growth potential, and this is why both Amazon and Alibaba see it as critical to their long-term strategy. Research from Morgan Stanley projects the online retail market will explode from $15B in 2016 to $200B in 2026. This is after an already exponential jump from $3.9B in 2009. Currently, Flipkart is the market leader, followed by Amazon and Snapdeals.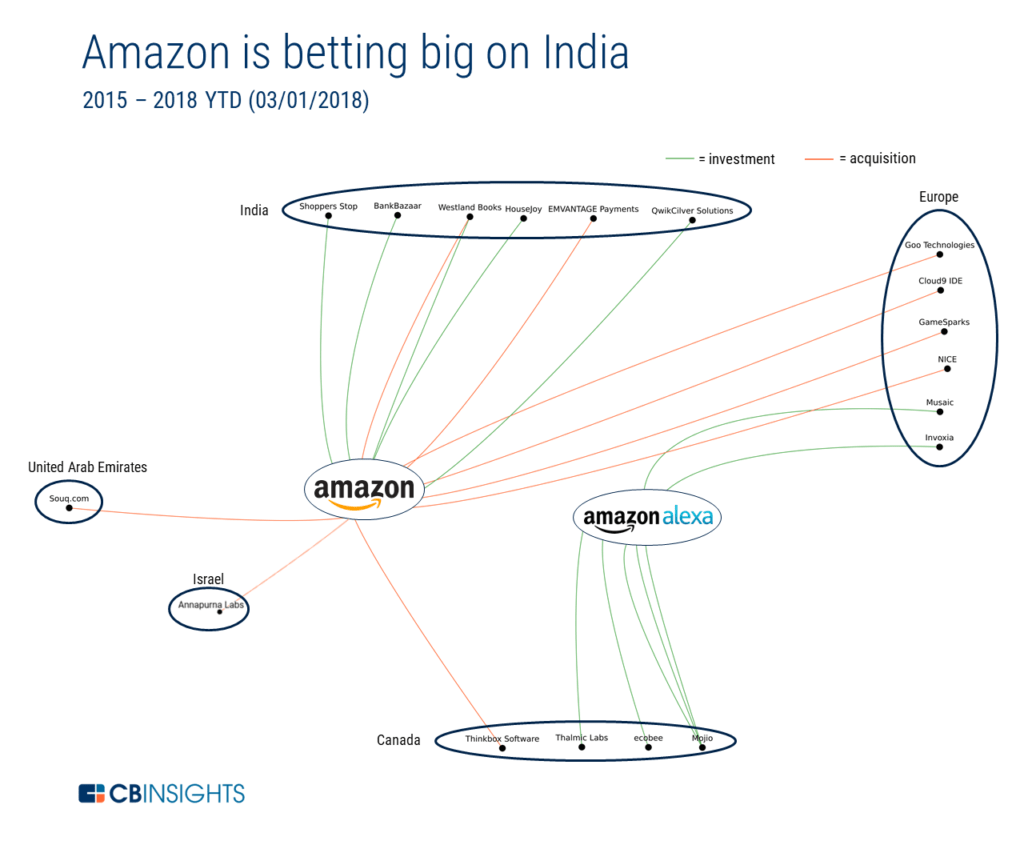 Australia is a mature financial economy where 88% of citizens are active internet users. Those users combined to spend $18.38B on online retail from Sept '16 – Sept '17. That's still only about 7% of the country's total retail sales, compared to 9.12% spent online in the US, and 19.6% in China. Even just a 50bps increase in Australia's ecomm market would equate to an increase of about $1.5B.
The current retail market in the country is also very segmented and no one retailer dominates, creating further opportunity for these giants to build a dominant presence.
Singapore is considerably more modernized than other Southeast Asian countries. It is a top financial hub in Asia, and 82% of its population actively uses the internet, making it a high priority for the two ecomm giants. Alibaba and Amazon are already the two main e-commerce players in the region, and are fiercely competing to keep that edge as more spending shifts online. Alibaba and subsidiary Lazada led internet page visits in August 2017 with 988K, followed by Amazon at 698K.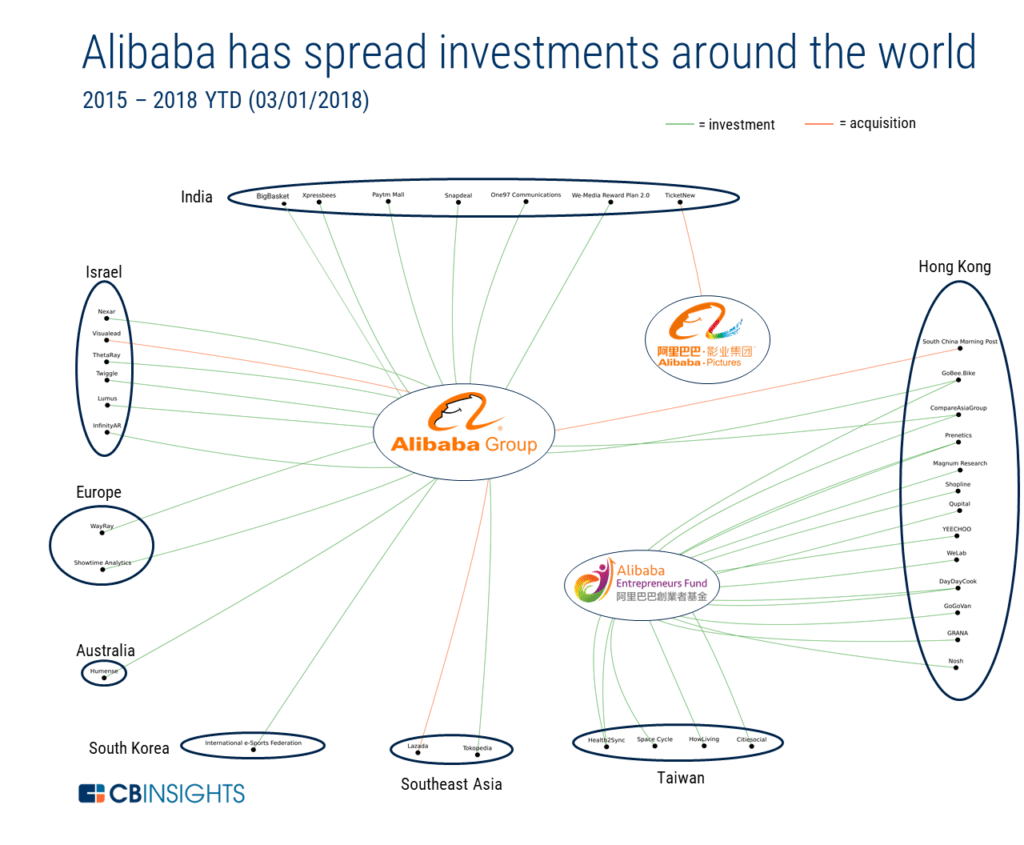 India
Millennials account for one-third of India's population. By all accounts, India's demographics and fast-rising internet penetration mean there's enormous potential for e-commerce in the country.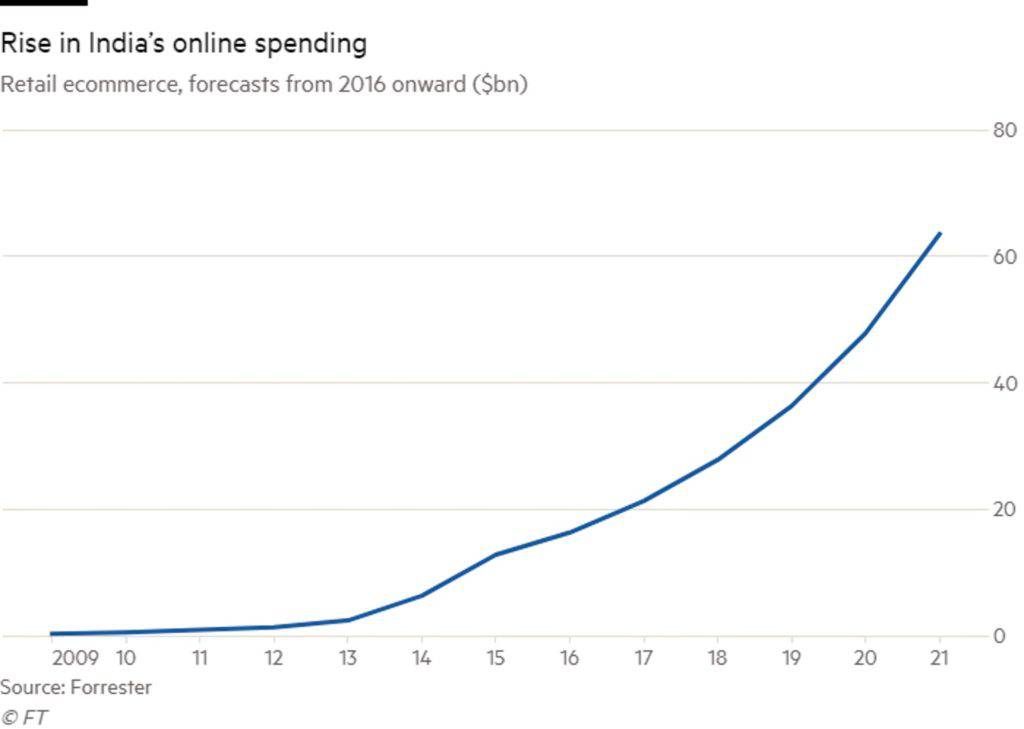 Amazon and Alibaba have taken different approaches to investing in India's growing economy.
While Amazon is pouring billions into its branded marketplace and investing in other supplementary businesses, Alibaba has made heavy strategic investments in payment solutions and existing ecomm businesses.
The real competition for marketplace dominance is currently between Flipkart and Amazon. To date, Flipkart has raised close to $7.5B of equity investments and has not backed down in the face of increased competition from Amazon.
Alibaba, on the other hand, is pursuing a strategy in India more akin to Tencent's WeChat "super app" strategy in China.
Amazon's Marketplace-first approach
Amazon launched amazon.in in 2013. Shortly after, Jeff Bezos announced Amazon's plan to spend $2B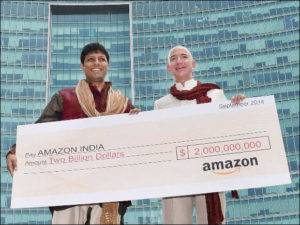 in India to develop its e-commerce network, and invest in the growing entrepreneurial hub. The number of equity deals in India has grown 270% over the past few years, from 543 in 2013 to 2,019 in 2017.
In the early stages of Amazon's marketplace, about half of Amazon's customers paid cash upon delivery, which created logistical challenges and limited Amazon's potential in the region. Other shoppers paid for purchases using online wallets that could be topped up at brick-and-mortar stores or pre-paid cards.
To help improve payment options and drive more marketplace sales, Amazon invested in gift card solutions company QwikCilver Solutions in Q4'14. Amazon made a follow-on investment in the company in 2016.
The gift card system has since been integrated into Amazon's marketplace, and can be sent via email.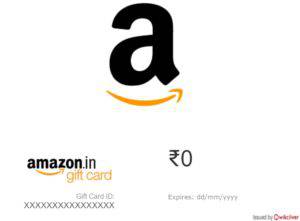 Amazon put more money to work in 2015, investing in two companies across different industries — BankBazaar, an online financial products search tool, and HouseJoy, an on-demand home services marketplace.
In early 2016, Amazon acquired India-based startup, EMVANTAGE Payments for an undisclosed amount. After the acquisition, Amazon announced the company's employees would join Amazon's payment team to develop its Indian e-commerce payment platform. Today, the marketplace accepts credit cards issued in India.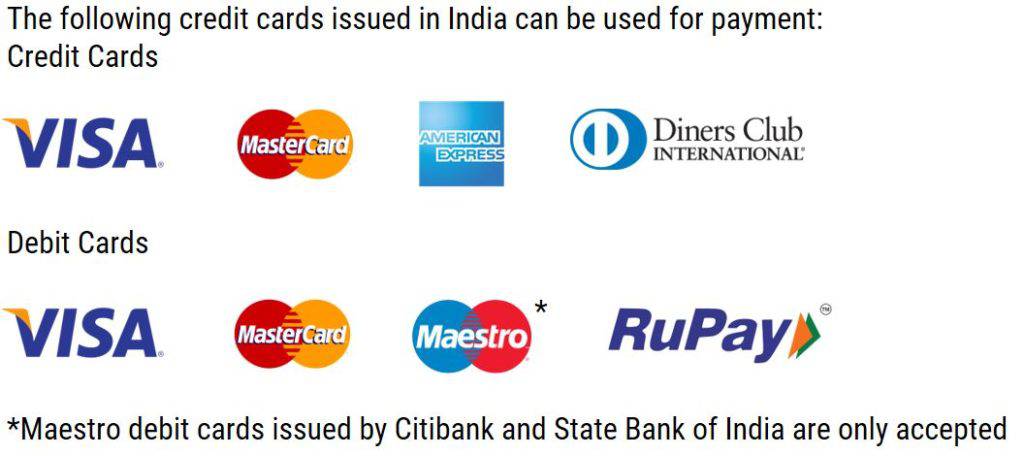 Later in 2016, Jeff Bezos doubled down on his investment in India and pledged another $3B to the growing market.
One year later, Amazon made its largest minority investment with $28M in Shoppers Stop. The e-commerce startup is one of the leading fashion retailers in India, connecting top brands with consumers. The app has between 1M and 5M downloads on the Google Play store.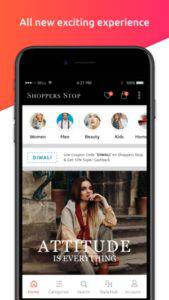 The Amazon ecosystem effect
Besides its core marketplace, Amazon offers Amazon Prime and Amazon Now services in India.
Indian customers get free fast delivery and Prime Video included with their ₹999 ($15.32) annual Prime membership. Amazon began offering Prime memberships at the beginning of 2017, and Prime saw more growth in members in India during its first year than in any other country.
Despite entering the market one year later than Netflix, Amazon Prime Video already has more subscribers than the streaming service.


Amazon Now is Amazon's grocery and produce business that operates in Bengaluru, Delhi, Mumbai, and Hyderabad. All Amazon Now orders are promised to be delivered in under two hours.


To date, Amazon has set up 56 fulfillment centers in India across 13 different states, occupying 13.5M cubic feet of warehouse space. Included in those figures are the recently announced openings of 15 warehouses for the growing Amazon Now service.
Amazon Marketplace revenue in India grew by 105% for the year ending March 31, 2017.
Analyzing Amazon's quarterly earnings, it is clear that India is a top priority, as the country was mentioned 59 times from 2015 – 2017.
Alibaba uses Paytm as a wedge in India
Two months after Amazon made its first external investment in India, Alibaba quickly followed. In January 2015, Alibaba and subsidiary Ant Financial invested $200M into One97- Patym.
Paytm is India's largest mobile payments company, and has amassed over 200 million users since its launch in 2010. Eight months after their original investment, Alibaba and Ant Financial invested another $680M into the quickly growing company. Together, Alibaba and Ant Financial own 40% of Paytm.
In between the two rounds, Alibaba invested in Snapdeal, which today is the 3rd most popular e-commerce retailer in India by app downloads.

After seeing early success with the Paytm, Alibaba invested in Paytm Mall's Series A. Paytm Mall is the online retail branch of the Paytm Group. Paytm Mall is projected to handle a gross merchandise volume of $3B in the financial year ending in March, and is targeting $10B by March of 2019.
Already in 2018, Alibaba and subsidiary Ant Financial have been active in India. Two days into the year, Alibaba invested $35M into Xpressbees, the e-commerce logistics firm. One month later, Alibaba invested in the online grocery store BigBasket's Series E. In February, Ant Financial acquired 18% of Zomato, an online food and lifestyle portal, for $200M.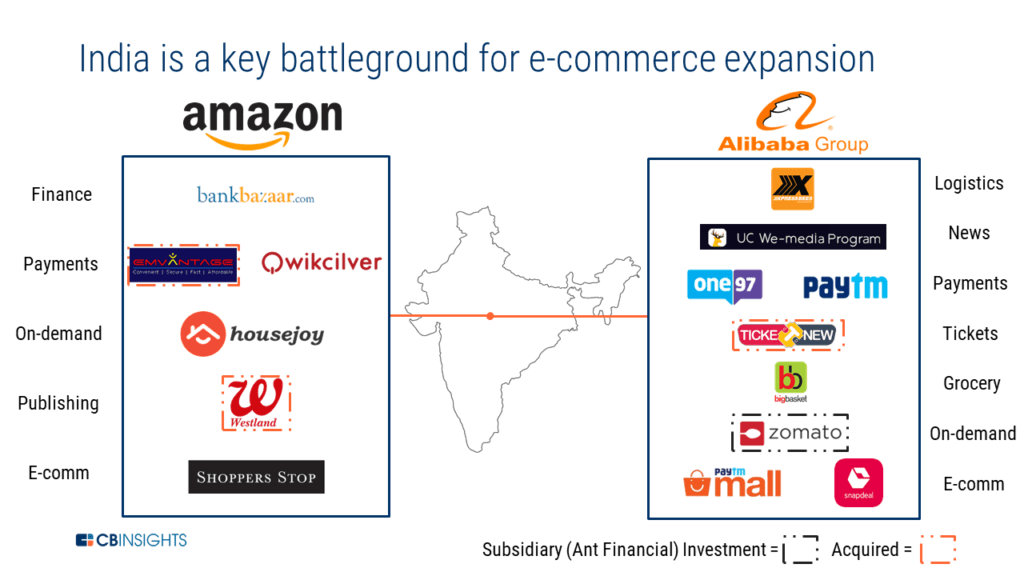 In addition to Alibaba's Indian investments, one Chinese acquisition is a potential game changer in the region. In 2014, Alibaba purchased UCWeb, a provider of mobile internet software technology and application services.
Today, UCWeb's web browser, UC Browser, is India's most popular, claiming over 40% of market share. In January 2018, the browser boasted 130M monthly active users, and became the sixth most downloaded app in India.
UC Browser has been able to distinguish itself from its peers — like Google — by emphasizing curated and personalized content for individual users. The platform allows Alibaba to collect mass amounts of data on India's population, and implemenet its findings into other business segments.
Alibaba has also branched into digital entertainment via a majority share of Hong Kong-based lottery company AGTech Holdings, purchased in 2016.
The acquisition has paved the way for AGTech and Paytm to create a joint venture called Gamepind. The company will be a mobile gaming and ecomm platform.
Gamepind will allow users to purchase products and services at a discounted price by engaging in various casual games and contests, according to AGTech and Paytm. The platform will be available both as an independent app and within Paytm's app, allowing Gamepind to tap into Paytm's 300 million users.
Alibaba has said Gamepind is the ideal marketing and promotional platform for merchants to engage with mobile shoppers and casual gamers in a truly innovative manner.
How the two strategies match up
While Amazon's plan in India is clear — grow Amazon Now and Amazon Prime as much as possible — Alibaba's pursuit of growth is more difficult to categorize.
It seems as though Alibaba may be in the very early stages of building a "super app" that will allow it to combine all of its various assets. This could resemble the design of Tencent's WeChat app.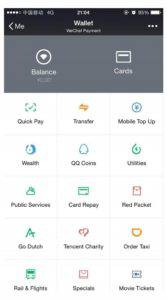 *WeChat's all-in-one design
With control of the mobile payment market through Paytm, Alibaba has been able to diversify other investments into entertainment, media, groceries, logistics, ecomm, gaming, web services, and on-demand delivery — all markets represented in Tencent's WeChat app.
Regardless of India's potential as an ecomm market, it will not be easy to expand or grow market share. Market leader Flipkart saw revenues grow 29% on a year-over-year basis for the financial year ending March 2017, but also saw losses swell 68% over the same time period.
Capturing market share and becoming profitable will take mass amounts of scale and capital in India. When the market does mature, however, the winner could be in line for billions in revenue.
Australia
Alibaba and Amazon are likely to have a disruptive effect on Australian retail. However, the two companies enter the market with very different business plans, and don't appear to be in direct competition — for now.
Amazon is expanding merchants' domestic reach, while Alibaba is primarily looking to bring Australia's companies global.
Amazon is creating a marketplace for domestic third-party merchants to sell goods in the Oceania region. It's implementing its patented Fulfillment By Amazon (FBA), which allows merchants to focus on their businesses while Amazon handles all B2C logistics, a particularly difficult challenge in the vast country.
Alibaba is implementing two expansion strategies, both focused on Chinese tourists' enthusiasm for Australia. Alibaba is currently building out cloud services for its payment app, Alipay, and partnering with local businesses to make the Chinese tourism experience in Australia seamless. Alibaba is also expanding its logistics network between Australia and China to better enable business-to-business trade.
Alibaba's goal in Australia as described by Alibaba Group's managing director Maggie Zhou is "to build the entire operating infrastructure needed to enable local businesses to expand globally," via cloud computing, online payments, and logistics.
Amazon, on the other hand, is focused on delivering its usual model of low prices, vast selection, and fast delivery to customers throughout Australia.  
Amazon aims to bridge the 'tyranny of distance'
Amazon first entered Australia with AWS in 2012, and then launched a Kindle store on amazon.com.au a year later.
In 2017, the American ecomm giant announced its plans to open an Australian marketplace featuring Amazon Prime and all of its perks. In December, the company began its Australian expansion by opening a 24,000 square meter fulfillment center in Melbourne's Dandenong South.
The Australian market has already been proven out by Amazon. In total, Amazon has accrued $1B in sales in Australia via international shipping from foreign merchants, according to Morgan Stanley. 
The Melbourne fulfillment center operates similarly to those in the US. As of February 26, Amazon will begin Fulfillment By Amazon (FBA) service for third-party vendors, and will potentially ship its private-label Amazon Essentials brand in the future.
Amazon has also partnered with Australia Post for last-mile shipping. The service said it had its busiest month ever in December, Amazon's first month of operation.
However, Amazon has not been immune to shipping challenges.
In the first month of FBA shipping, there were some reports that Amazon had not met the suggested delivery time for many orders. Although responsibility may lie in part with Australia Post, Amazon's reputation will be hurt if it overpromises fast delivery and underdelivers.
In a country that coined the term "tyranny of distance," people assume Amazon will open other fulfillment centers shortly in Sydney and Perth to help Amazon cover the vast region. To do so, Amazon may make logistics acquisitions in the area.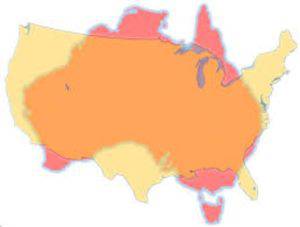 Amazon has already made Prime Video and Twitch Prime available to Australian consumers, as well as Alexa Products.
Amazon is expected to offer Prime Shipping at some point in 2018.
Alibaba targets the Chinese tourist boom in Australia
In partnership with the Australian government, Alibaba opened up its first headquarters in Australia in February 2017. Alibaba is looking to expand on China's already flourishing relationship with Australia. China is Australia's largest trade partner, importing more than $55B worth of Australian goods in 2016.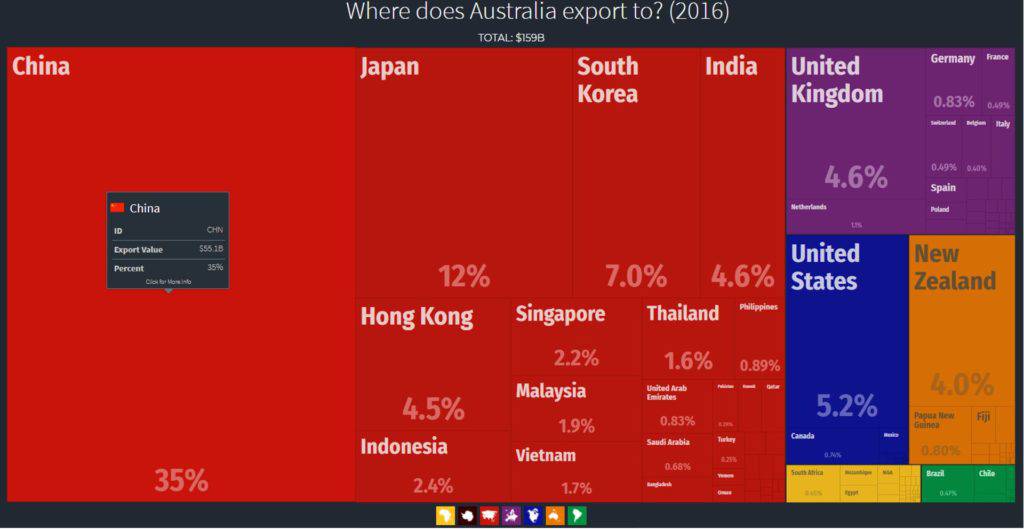 *Data from Standard International Trade Classification
There are two main business opportunities for Alibaba in Australia:
The Chinese tourist boom in Australia

Demand for Australian products in China
The main play for Alibaba within Australia is Alipay, an Ant Financial product.
In 2017, almost 1.4M visitors from mainland China traveled to Australia — a 13% increase from a year earlier — according to the Australian Bureau of Statistics. In 2020, Chinese visitors are projected to spend $13B in Australia, including education expenses.
Alipay formed a partnership with the Australian Tourism Export Council (ATEC) with the goal of expanding its mobile payments platform into the nation's tourism industry.
The partnership seeks to educate and prepare business owners and staff so they are able to capitalize on Alipay users visiting the region. Alipay has 520M active Chinese users.
In late 2016, Alibaba launched its cloud service and Alipay in Australia. Today, more than 8,000 merchants accept Alipay.
Alibaba Group has also partnered with the Australian cab company Cabcharge, which integrated Alipay into its 22,000 vehicles as of February 2018. The technology will help Chinese tourists navigate the language barrier and pay easily. 
Demand for Australian products in China
The market for Australian goods in China is vast. In Australia China Business Council's latest report, 86% of Chinese visitors said their purchase of Australian products increased after their visit, with nearly all survey respondents reporting buying Australian goods in China after their trip.
On last year's Singles' Day, Alibaba's 63 Australian merchants representing 252 brands sold the third-highest amount of products among any country (falling behind the US and Japan) during its 24-hour sale.
Australia has shown steady improvement over the last three Singles Days, from fifth-highest number of products sold in 2015, to fourth last year, and now third.
When the new HQ opened, Alibaba had 1,300 Australian and 400 New Zealand businesses selling on Tmall and Tmall Global, its online retail platforms. These numbers should grow significantly as Alibaba continues to bring Australian products onto the platform.
To foster and maintain strong business relationships, Alibaba will host an e-commerce expo in Australia, connecting brands and small businesses from Australia and New Zealand to the growing market in China.
The 2018 expo date is yet to be set, but looks to grow on last year's impressive turnout of more than 5,100 buyers and sellers.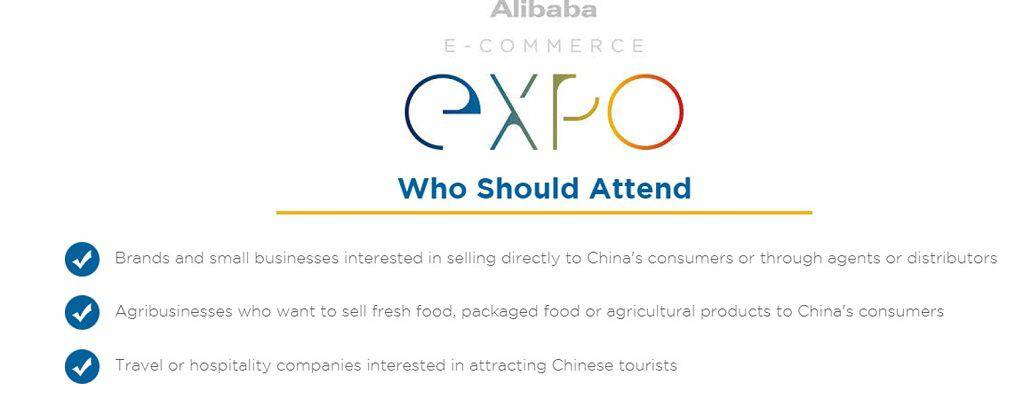 In order to expedite the trade market between Australia and China, Alibaba has formed various partnerships.
Australia Post: In 2017, Alibaba announced a partnership with Australia Post. The partnership aims to streamline logistics between Australia and Southeast Asia by developing the first Australian marketplace within Alibaba's Lazada e-commerce network. (Lazada's marketplace operates across six countries in Southeast Asia, which we dig into further below.) 
In addition, Alipay has been integrated into AlphaCommerceHub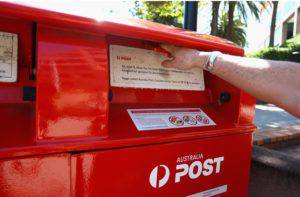 (ACH), a joint venture between Australia Post and fintech company Alpha Payments Cloud. The joint venture creates a commerce platform for Australian retailers by unifying all critical business services, including checkout via Alipay, on a single cloud platform.
Chemist Warehouse: The Australian pharmacy signed an exclusive partnership with Tmall Global, Alibaba's cross-border e-commerce site. In return for exclusivity, Alibaba will support the pharmacy during major marketing campaigns to better reach Chinese consumers.
Qantas: Alibaba also partnered with Australia's largest airline, Qantas. The agreement with allow Chinese travelers to purchase Qantas flights directly on Alibaba's site. Qantas will use this partnership to further scale its China-to-Australia operation, which already offers 130 flights between the two countries weekly.
Southeast Asia
Southeast Asia is Alibaba's most important non-Chinese market. Amazon, on the other hand, is focused exclusively on Singapore.
In Singapore, Alibaba and Amazon are in direct competition in e-commerce and the on-demand grocery business. This Southeast Asian country appears to be the only market where the two giants are battling so directly.
Southeast Asia is home to 620M people, and the e-commerce market is forecast to reach $88B by 2025, according to Google and Temasek.
Alibaba's Lazada drives revenue growth
In an effort to secure the Southeast Asian e-commerce market, Alibaba purchased a majority stake in the Singapore-based e-commerce platform Lazada in 2016 for $1B at a $1.5B valuation. A year later, Alibaba upped their stake to 83% of the company, contributing another $1B at a $3.15B valuation.
Lazada operates a marketplace in six Southeast Asian countries: Indonesia, Malaysia, Philippines, Singapore, Thailand, and Vietnam.
The region is growing explosively. In the time between Alibaba's two investments, Lazada's merchants grew to over 100,000 with more than 80M SKUs available to customers.
In November 2016, Lazada used between $30 – $40M of those funds to acquire Singapore-based e-groceries startup Redmart, which will rival Amazon Now.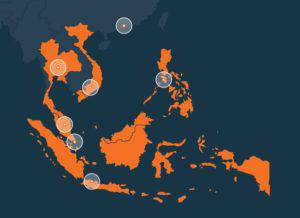 Alibaba hopes the acquisition of Lazada will be a key part of its plan to diversify 50% of its revenue away from China.
According to Alibaba's quarterly earnings from Dec 31, 2017, revenue from its international commerce retail business reached $727M, representing 93% year-over-year growth. Alibaba cited Lazada among the main reasons for this growth.
To continue its e-commerce expansion in Southeast Asia, Alibaba single-handedly funded Tokopedia's $1.1B Series F. Tokopedia is an online mall based in Indonesia, Southeast Asia's largest economy.
"We have always thought of Alibaba as our teacher and role model," Tokopedia CEO and co-founder William Tanuwijaya said in a statement. "Today, we are excited to welcome them as a shareholder, and we believe that our partnership will further accelerate Tokopedia's mission to democratize commerce through technology."
Amazon goes all in on Singapore
Amazon entered Singapore in July 2017, and immediately offered consumers Prime Now. The aggressive offering gives consumers two-hour delivery service on tens of thousands of items.
"This is the first time we're offering Prime Now to an entire country. Singapore allows us to launch to the whole country at the same time, but when you look … at Singapore — it being urban, a great metropolitan city, people are very tech-savvy, it makes a great match with the Prime Now value proposition," said Henry Low, Amazon's Director of Prime Now in Asia Pacific.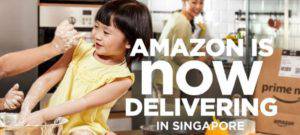 In December, Amazon launched its full Prime membership program in Singapore.
The full Prime offering includes free international shipping on orders over $30.20 and subscriptions to its Prime Video service and Prime Twitch.
The battle between Alibaba and Amazon is heating up in Singapore. Prior to Amazon's launch of its full Prime services, Lazada formed an alliance with Netflix and Uber on a membership program called LiveUp.
Europe
Amazon operates five different online retail marketplaces in Europe, and dominates the region's ecomm market.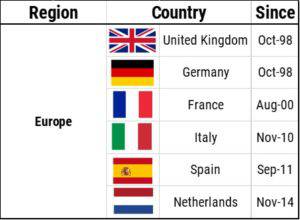 Behind the US, Amazon's second and third largest markets are Germany and the UK, respectively.
Since 2010, Amazon has made three investments to strengthen its European marketplaces and logistics.
In 2011, Amazon acquired a minority stake in CicekSepeti, which operates an online flower and gifts store in Turkey. Three years later, Amazon strengthened its logistics in Europe by investing in two parcel companies in the UK and France.
Since then, Amazon has formed various partnerships to continue to control the market.
In 2016, Goodman, a global leader in logistics real estate, expanded its long-term partnership with Amazon in Europe. Goodman has already provided Amazon with over 1M square meters of logistics space across Europe since 2006. As part of this new project, Goodman will develop a 107,000 square meters logistics centre in Amiens and lease a 30,000 square meters existing property in Lauwin-Planque.
Last March, Amazon formed a partnership with German-based DHL delivery service for its air transport operation for Amazon Fresh food deliveries in Germany.
To continue growing its internal offerings, Amazon recently launched Twitch and expended Prime Video in Europe.
Amazon expects Twitch to attract a large following in Europe, and bring in significant ad revenue in the near-future. In March, Amazon confirmed the purchase of Ireland-based gaming platform GameSparks. The company is a "backend-as-a-service" company, providing game developers with a cloud-based platform to build various features like leaderboards.
Amazon partnered with Discovery Communications in Germany to air content from sports network Eurosport. The agreement, which also covers Austria, will give Amazon Prime members access to Eurosports premium HD content.
Other bets
Middle East
Amazon acquired UAE-based Souq.com for $580M in 2017. The deal gives Amazon a firm hold in a growing and competitive e-commerce market: Saudi Arabia, UAE, and Egypt. At the time of acquisition, Souq.com claimed to have over 45 million visitors per month and a range of 8.4 million products across 31 categories.
According to Mckinsey, the Middle East contains 50 million consumers across several countries, and only about 2% of retail sales are currently done online.
Amazon and Souq plan to integrate products and services to increase scale and offerings to the region.
Six months later, Amazon and Souq acquired Wing.ae. The startup is looking to build out a logistics network for Prime-style same-day delivery for various e-commerce marketplaces, as well as offering other perks like music and video services.
Terms were undisclosed. Souq.com had been the only investor in the company prior to the acquisition.
Hong Kong
Alibaba has become a major player in Hong Kong due to proximity and the region's active startup scene. Alibaba has made 13 investments in Hong Kong since 2016 in the following industries:
Ecommerce: 8

Medical Facilities & Services: 1

Mobile Commerce: 2

Internet Software & Services: 2
Alibaba's largest bet in the region was on WeLab in late 2017. WeLab runs a mobile app that analyzes users' phone habits to assess creditworthiness. As Alibaba continues its move into underdeveloped markets around the world, this could be vital in providing credit to those without traditional credit scores.
Israel
Alibaba has made 6 total yearly investments in the Israeli tech scene since 2015. Most recently, Alibaba participated in a $30M Series B to Nexar. The startup uses smartphones to create an AI-backed vehicle-to-vehicle network designed to predict and prevent accidents.
International INCUBATION
The Alibaba Group announced at the end of 2017 the creation of a global leadership academy dedicated to innovation and technological collaboration. The Academy will be called DAMO, which stands for "Discovery, Adventure, Momentum, and Outlook." Over the next three years, Alibaba will pour $15B into the creation of seven research laboratories worldwide.
In Feburary, Alibaba opened the first one in Singapore, together with a local university. The research institute will focus on developing artificial intelligence applications acorss healthcare, smart homes, and urban transportation.
"The Alibaba DAMO Academy will be at the forefront of developing next-generation technology that will spur the growth of Alibaba and our partners," said Alibaba CTO Jeff Zhang in a press release.
Outside of the US and China, centers will be built in Moscow and Tel Aviv.
This falls in line with China's "one belt, one road" policy that is looking to increase connectivity between all of Eurasia. 
Closing thoughts
Both Alibaba and Amazon are global forces that are continuously expanding their reach around the world. With significant parts of the world's online retail untapped, Amazon and Alibaba have an enormous opportunity in the mid-to-short term — and much to lose out on if they make any major missteps.
Via M&A, investment, international expansion, and partnerships, Amazon and Alibaba will continue to expand in high growth markets like India, Australia, and Singapore, and continue shoring up their market leadership in other countries.
With billions in revenue still up for grabs, competition is sure to intensify. As internet penetration rises in other regions, Latin America and Africa could be the next battlegrounds where these dominant e-commerce players look to expand their footprint.
If you aren't already a client, sign up for a free trial to learn more about our platform.