Alibaba, Ant Financial, Tencent, Didi Chuxing, and JD.com are among the Chinese internet giants making notable investments, partnerships and M&A moves in the Southeast Asia region.
As of 2017, tech startups in Southeast Asia have pulled in $5B through July — the most funding that the country has pulled in since 2012. This total was pulled up by a few mega-funding rounds, including Singapore-based ride-hailing startup Grab's $2B Series G round closed in July. One of Grab's investors was Didi Chuxing, a Chinese ride-hailing company that has itself raised $14.1B in funding. Didi is among the growing crop of Chinese tech giants now descending on Southeast Asia.
We used CB Insights data to outline the activity of the four largest Chinese internet giants and most well-funded unicorns that have made investments in the region. These include Alibaba, Alibaba's financial affiliate and Alipay operator Ant Financial, Tencent, Didi Chuxing, and JD.com.
The countries listed in our classification of Southeast Asia are Brunei Darussalam, Cambodia, Christmas Island, East Timor, Indonesia, Lao People's Democratic Republic, Malaysia, Myanmar, Philippines, Singapore, Thailand, and Vietnam.
Chinese Internet Giants in Southeast Asia: Investment and M&A
Here's a summary of the investment and M&A moves of the five Chinese internet giants within Southeast Asia:
Didi Chuxing: Chinese ride-hailing startup Didi Chuxing was the first among the Chinese tech giants to enter Southeast Asia, when it invested in Singaporean ride-hailing startup Grab's $350M Series E round in 2015. It invested again in Grab in 2017, in its $2B Series B round.
JD.com: The Chinese e-commerce giant made an investment in leading Indonesian travel booking platform Traveloka this past year as part of its ongoing fund-raise, participating in $150M of its ongoing $500M round, along with Sequoia Capital, Hillhouse Capital Group, and East Ventures. Expedia contributed $350M.
Tencent: Tencent recently invested in Indonesia's Go-Jek, a company most widely known for its on-demand motorbike service. But Go-Jek is strategically similar to Tencent in a notable way: Like Tencent's WeChat, Go-Jek is also developing a "super app" of sorts, which includes the ability to order food, massages, and other services, in addition to the development of its own mobile payments product called Go-Pay. In 2013, Tencent launched MNC Tencent, a joint venture with Indonesia's MNC Media (not pictured in timeline). According to media reports, this venture was launched with the intention of pushing Tencent's WeChat in the country. More recent reports claim that this JV hasn't seen much traction.
Alibaba: Alibaba's most recent investment into Southeast Asia was a $1.1B investment into Indonesian consumer-to-consumer e-commerce site Tokopedia in August 2017. This investment comes after months of rumors that JD.com was planning an investment into the company. Alibaba has also invested twice into Tokopedia's competitor, Singapore-headquartered e-commerce site Lazada. First, in April 2016, it invested $1B in Lazada, valuing it at $1.5B. In June 2017, it upped its existing 51% stake to 83%, giving Lazada a valuation of $3.15B. It announced that this investment would leave its investments into the e-commerce site at a little over $2B.
Ant Financial: Ant Financial, Alibaba's financial investment arm, operates Alipay and has made its fair share of investments into the region, across different countries and on different terms. In 2015, it invested in Singaporean cross-border trading platform M-DAQ. In 2016, it put money into Thai fintech company Ascend Money to help grow its digital and offline payments and financial services business. 2017 brought an entrance into the Philippines, with an investment into Globe Telecom-owned fintech company Mynt, and into Malaysia, where Ant Financial set up a joint venture with CIMB Group-owned Touch 'n Go, which operates a smart card that works on transportation payments, like tolls and public transportation. According to reports, the joint venture would allow Ant Financial to build an e-wallet for Malaysia.
In April 2017, Ant Financial also acquired Lazada's payments arm, HelloPay, which it rebranded locally to Alipay Singapore, Alipay Malaysia, Alipay Indonesia and Alipay Philippines in these respective markets.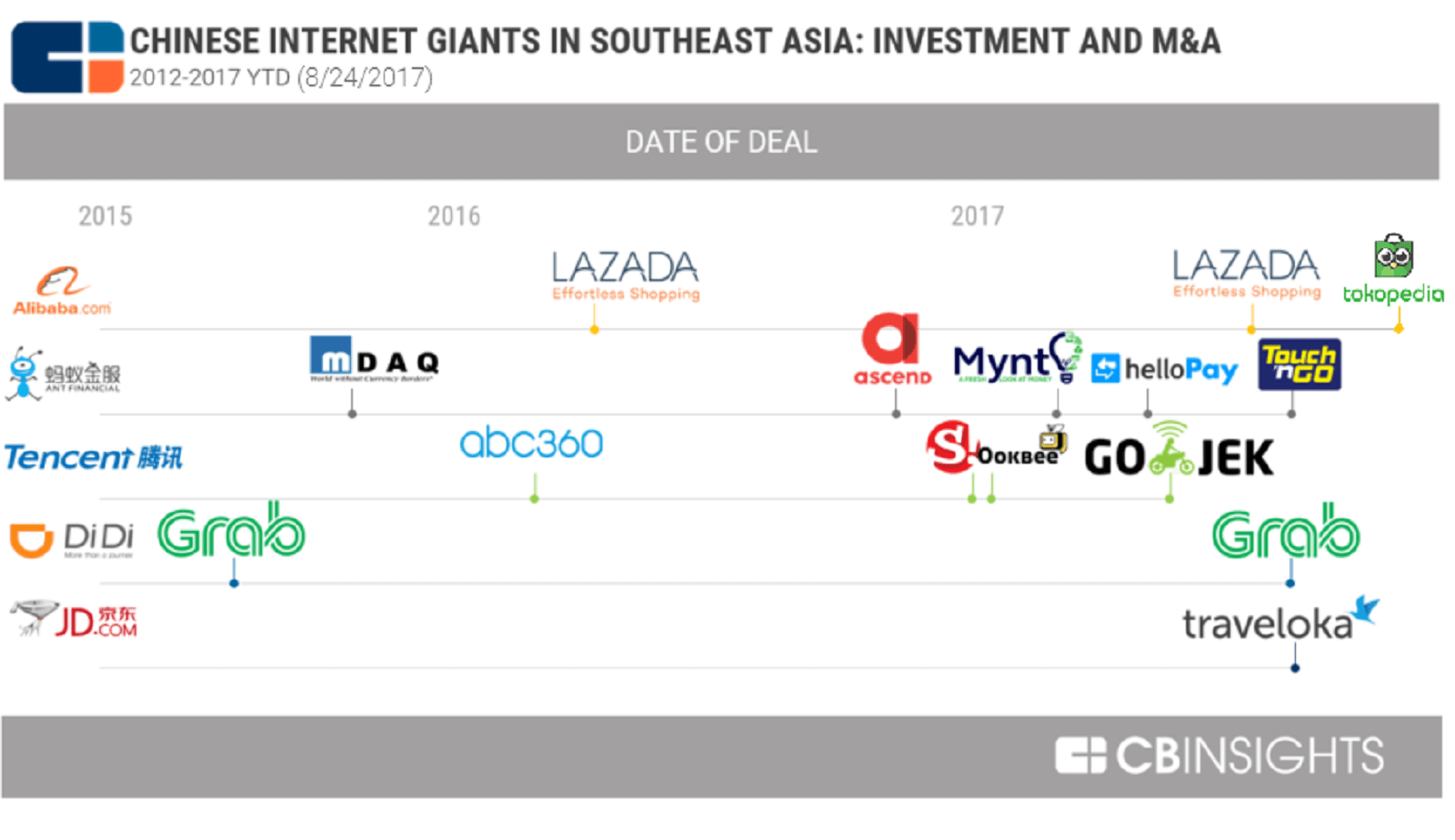 SPOTLIGHT: ANt Financial in Southeast Asia
Outside of investment, joint ventures, and M&A, Ant Financial has been actively forming strategic partnerships throughout Southeast Asia. These include:
Emtek: In Indonesia, Ant Financial has partnered with media firm Emtek, which operates BlackBerry Messenger in the country through one of its subsidiaries. The partnership rolled out in April 2017 and, at the time, allowed users of Blackberry Messenger to utilize Alipay. In May 2017, Emtek snapped up EDIK and Doku, both of which own coveted e-money and money transfer licenses from Indonesia's central bank.
Fave: Ant Financial recently partnered with K-Fit-operated Fave in Singapore, which offers discount deals on local restaurants and offline retailers. K-Fit also operates Groupon Indonesia. The partnership allows users to pay with Alipay at businesses listed on Fave without having to download the Fave app.
The table below lists out all of Ant's growing crop of partnerships, investments, and M&A over time:
ANT Financial's Partnerships, M&As, and Investments in Southeast Asia

| Company | Method | Country | Date |
| --- | --- | --- | --- |
| Ascend Money | Undisclosed investment | Thailand | 11/1/2016 |
| Emtek | Partnership | Indonesia | 4/12/2017 |
| Mynt | Undisclosed investment | Phillippines | 2/17/2017 |
| M-Daq | Series C | Singapore | 11/1/2015 |
| Touch 'n Go | Equity joint venture | Malaysia | 7/25/2017 |
| Fave | Partnership | Singapore | 7/31/2017 |
| HelloPay | Acquisition | Phillippines | 4/19/2017 |
If you aren't already a client, sign up for a free trial to learn more about our platform.