We mined Alibaba's acquisitions, investments, and partnerships to discern the company's strategic priorities in retail.
Alibaba is one of the world's biggest retailers, tallying up more than $1.2T in gross merchandise volume across its platforms in its 2022 fiscal year and claiming to serve more than 1B consumers annually.
Over its 20+ year history, the China-based company has ventured into more and more industries, including cloud computing, healthcare, travel, and entertainment, among others — growing influential enough to attract intense scrutiny from a tech-wary Chinese government in recent years. And in March 2023, Alibaba announced it would split its sprawling business empire into 6 separate units.
At least 3 of these new units will focus on Alibaba's core retail business. And they're likely to remain committed to the behemoth's vision for "New Retail" — a long-held aim to integrate Alibaba's advanced e-commerce data and analytics into offline commerce to create a seamless omnichannel experience.
Using CB Insights data, we uncovered 5 of Alibaba's most important strategic priorities in retail which will remain top-of-mind even as the company restructures. We then categorized companies by their business relationships with Alibaba across these priorities.
Cross-border commerce

E-commerce

Express logistics

Omnichannel retail

Online grocery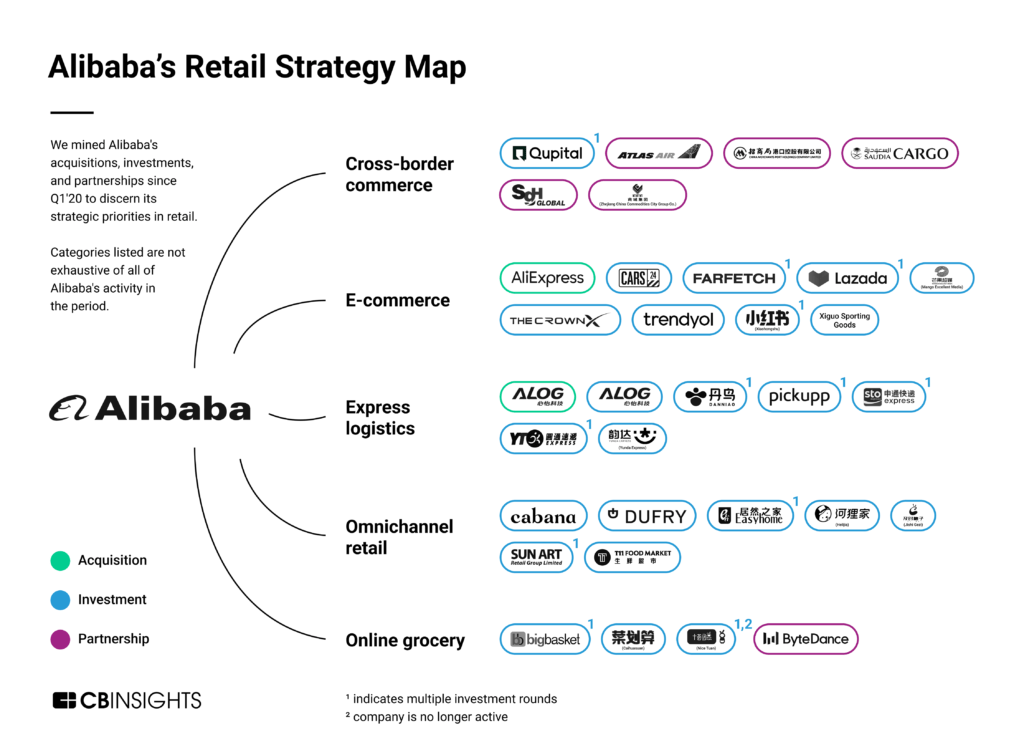 This graphic includes investments, acquisitions, and business relationships for Alibaba Group, Alibaba Entrepreneurs Fund, and Tmall. These designations are not exhaustive of Alibaba's investment and partnership activity in the analyzed period.
Cross-border commerce
Alibaba has formed several strategic partnerships via its logistics arm, Cainiao, to reach shoppers outside of China (as well as to connect foreign brands with Chinese customers). The company is particularly focused on less-mature markets where it can capture new growth.
It has partnered to enable cross-border logistics and shipping to South America (Atlas Air Worldwide Holdings), Japan (SGH Global Japan), Europe, the Middle East, and North Africa (Saudia Cargo). 
Alibaba has also formed smaller-scale partnerships with organizations like the Zhejiang China Commodities City Group Co. with the goal of helping small businesses extend their reach outside of China.
E-commerce
Alibaba's investments in e-commerce platforms have focused on growing its reach in high-growth markets and in key product categories.
For instance, over the last 2 years, the retailer increased its stakes in Turkey-based online fashion marketplace Trendyol as well as in Singapore-based mass online marketplace Lazada. In addition to the potential for growth in Singapore, Lazada reaches even further across the competitive Southeast Asian retail landscape. Alibaba wants to extend the marketplace's reach into Europe and other new markets as well. 
Alibaba's investments also signal that it's doubling down on growing categories. Its investment in online luxury marketplace Farfetch in November 2020 points to the importance of luxury shoppers and products in Asia. The deal included not only a $300M investment in Farfetch but also a $250M stake in a new joint venture called Farfetch China, both investments were in partnership with the Swiss luxury holding company Richemont. 
Express logistics
In recent years, Alibaba has increased its ownership stakes in the biggest express logistics companies in China. The companies offer fast logistics and delivery capabilities and have grown dramatically as a result of an increase in the use of e-commerce across China. 
Notably, the company fully acquired China-based logistics provider ALOG in August 2020. ALOG had been the main warehouse management provider for Tmall Mart, Alibaba's online supermarket. 
Omnichannel retail
Alibaba continues to focus on grocery as a key building block for its store footprint and New Retail online-to-offline strategy. 
Since 2016, Alibaba has run its high-tech supermarket Freshippo, which deploys tech like electronic shelf labels, facial recognition, and robotics to enable more efficient shopping in stores as well as faster delivery. The chain now has nearly 300 locations.
Alibaba's investments in recent years have added to its physical grocery footprint, with the aim to extend New Retail capabilities. The company's biggest move in the sector was a $3.6B investment in Sun Art, one of the largest mass merchandiser and supermarket chains in China, in October 2020. The deal added nearly 500 stores to Alibaba's brick-and-mortar network. Since then, Alibaba also led a $100M round for China-based T11 Food Market. 
Online grocery
Alibaba's online grocery initiatives offer the company more ways to make New Retail connections between stores and online. They also enable the company to take advantage of the growth in online grocery, which expanded in China during the pandemic.
Its investments have reached across the grocery value chain. For instance, in February 2021, Alibaba took a minority stake in Caihuasuan, which builds pieces of the fresh food supply chain. 
Alibaba also invested 4 times in the group grocery buying platform Nice Tuan, which has since dissolved. But Alibaba's attention to the company points to its interest in new online models like group buying, which has caught fire in the fast-growing lower-tier cities in China (as well as in India, South America, and elsewhere) where Alibaba is looking for growth.
A social commerce partnership may prove most fruitful for Alibaba's online grocery ambitions. In August 2022, Alibaba's online grocery platform Ele.me launched a presence on Douyin, the Chinese equivalent of TikTok (also owned by ByteDance). Douyin users can place grocery and restaurant orders directly via Ele.me on the video platform.
Other
Beyond these 5 strategic focus areas, Alibaba has made noteworthy investments, partnerships, and acquisitions across a range of other categories.
E-commerce enablement: In July 2020, Alibaba invested in the Australia-based cross-border payments processor Airwallex. Then in March 2021, the company invested $30M in China-based Leyan Tech, which makes AI-powered e-commerce customer service software. 
Media & content: Alibaba has made a few investments that indicate interest in advanced e-commerce content and the metaverse. In November 2021, the company backed a Series A round to China-based DGene, which makes mixed reality content for several industries, including AI-generated actors for film and TV, as well as digital influencers. Then in March 2022, Alibaba participated in a $60M Series C round for the mixed reality equipment and tech company Nreal, which is based in China. 
Sustainability: Sustainability has come into focus for Alibaba as it grows in importance for Chinese consumers as well as for the Chinese government. Along with a 2020 investment in Hong Kong-based green packaging developer Ecoinno, Alibaba also formed a "Waste Free World" partnership with Unilever in 2021. The companies designed machines that use AI to identify types of plastic and sort them to be recycled. Users get Unilever coupons and rewards on Alibaba's payments platform AliPay.
If you aren't already a client, sign up for a free trial to learn more about our platform.