A German discount grocer has its sights set on a $5B US expansion. If it fulfills those plans, Aldi will be the third-largest grocer in the US by store locations by 2022.
While established American grocery retailers like Kroger, Albertsons, and Walmart have faced fierce competition and in their battle to retain market share, Germany-based discount grocer Aldi is on the cusp of a massive US expansion.
Aldi is owned by the same family that owns Trader Joe's, a brand known for low prices and devoted customers. Now the German grocer is looking to go up against the biggest grocers in the US — competing on low overhead, in-store efficiencies, and private-label products — to keep prices low and customers loyal.
Earlier this year, Aldi announced that it would spend $5B on US expansion, adding over 900 new stores and renovating 1,300 existing stores.
Aldi is expanding in a market with thin profit margins exacerbated by food price deflation, pricing wars, and the looming threat of Amazon's acquisition of Whole Foods in June 2017.
"We're growing at a time when other retailers are struggling."

— Jason Hart, CEO, Aldi
While Aldi has operated in the US since 1976, its newly announced expansion is heating up its competition with established American grocery retailers.
Moreover, German grocery rival Lidl also plans to grow its US presence, piling more pricing pressure atop US grocers and new Aldi stores.
We analyzed Aldi's corporate history, operational strategy, and new business initiatives to get a better sense of the threat that it poses to the wider grocery space.
Key takeaways
Built-in efficiency: Aldi's brick-and-mortar stores are built to operate efficiently: they take up less physical space, have lower labor costs, and employ many small but important operational tactics to save money and lower prices for consumers. Large American grocery retailers are not designed to operate this way and cannot easily compete with Aldi on margins in the short term.
Private label expertise: 90% of Aldi's products come from its own private labels. Through greater control of its supply chain, Aldi pushes significant discounts down to consumers on these products. Aldi has taken steps to emphasize many of these products as healthy, organic, and gluten-free. While American grocery retailers are also putting out more private label products, Aldi has years of experience and mastery in this space.
Big bets on brick-and-mortar: The vast majority of Aldi's investment is in brick-and-mortar, and the company has not yet spent much on building out e-commerce or home delivery capabilities. Although grocery delivery has yet to become a mainstream phenomenon (largely due to prohibitive costs), Amazon, with its recent acquisition of Whole Foods, has the potential to make cheaper grocery delivery a reality — posing a threat to Aldi and other major grocers.
Table of Contents
Company history
While Aldi is now a globally-recognized chain with thousands of stores across several continents, the brand, which is comprised of two independently operating companies (Aldi Nord and Aldi Süd), comes from humble beginnings.
In 1945, brothers Theodor "Theo" and Karl Albrecht returned home to Essen, Germany after fighting in World War II and began to run a small grocery store that was started by their family in 1913.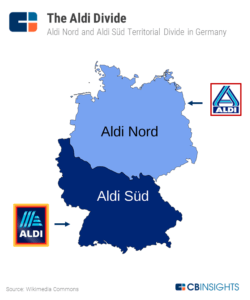 The family store, a precursor to today's Aldi, offered discounted prices, which appealed to many consumers across economically-destroyed post-war Germany.
While the economy in Germany eventually improved, the Albrecht brothers still saw value in keeping prices low as a way to appeal to lower-middle income consumers, as well as other consumers looking to save. The family store was given the name Albrecht Diskont, which was eventually shortened to "Aldi."
In the early 1960s, the company was split into two independent entities, Aldi Nord and Aldi Süd, following a dispute between the two brothers over whether to sell cigarettes. The split organized each new entity as a "Gleichordnungskonzern," a German legal structure in which independent companies remain loyal to each other and report to a central board.
The two companies divided Germany into two operational territories, with Aldi Nord headquartered in Essen, and Aldi Süd in Mülheim.
As a newly divided organization, Aldi Nord and Aldi Süd were each able to slide beneath the size threshold requiring them to publicly report their financials under German law. This allowed the Albrecht brothers to continue growing their dual businesses unnoticed, hiding their growth from competitors.
Expansion across Europe, Asia, & Australia
In the decades since the company's division, both Aldi Nord and Aldi Süd have expanded across several continents.
Aldi Nord operates in Belgium, France, Denmark, Luxembourg, the Netherlands, Poland, Portugal, and Spain. Aldi Süd has a presence in Australia, Austria, China, the UK, Hungary, Ireland, Italy, Slovenia, Switzerland, and the US.
Internationally, Aldi Süd has had success in a number of markets. The company's share of Australia's $100B grocery space increased from 7.9% in 2016 to 8.6% in 2017, following the chain's continued expansion in Western and South Australia. This has put pressure on domestic grocery retailers, such as Coles and Woolworths, to slash prices.
Aldi Süd's expansion into the British market has been a similar story, as the company's presence in Britain has put pressure on chains such as Tesco and Sainsbury's to also lower their prices in a bid to retain their market share.
Additionally, in October 2017, Aldi announced plans to build a new £75M (~$98M) distribution center and increase the number of stores in the UK from 726 today to 1,000 by 2022.
Aldi Süd, along with its international rival Lidl, ranked as the UK grocers with the fastest-growing sales in the 12 weeks ending 10/8/17, placing far ahead of the UK's "big four" grocery chains — Morrisons, Tesco, Sainsbury's, and Walmart-owned Asda.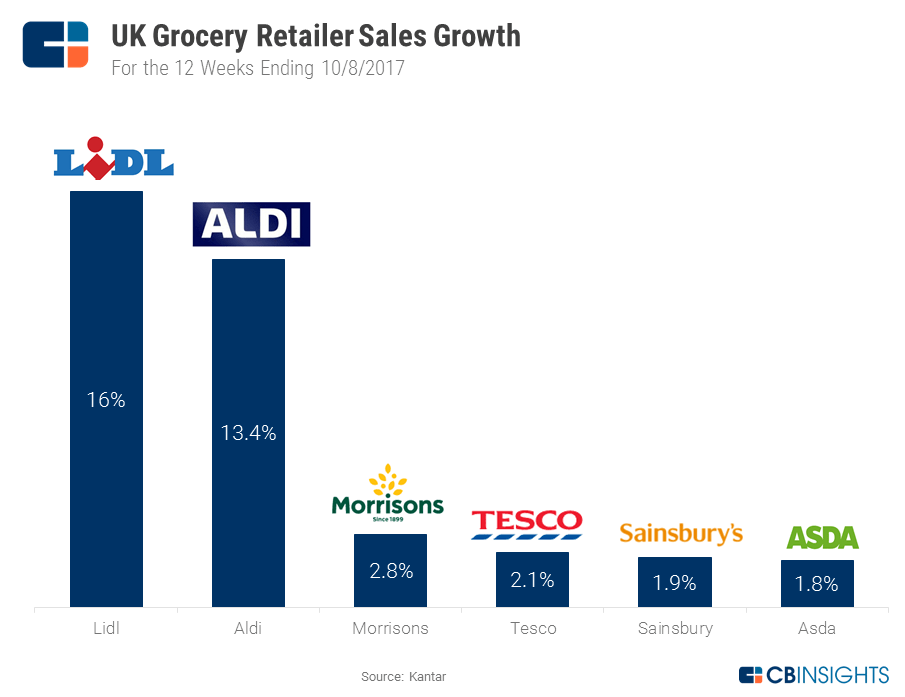 While Aldi's expansion abroad has leaned heavily on a brick-and-mortar approach, in China the company is employing an online partnership strategy, alongside other targeted marketing tactics.
While Aldi initially considered opening physical stores in China, the venture was reportedly paused due to high investment costs and uncertainty around prospects for success.
Instead, Aldi Süd began selling products through Alibaba-owned e-commerce retailer Tmall Global in mid-2017.
In pursuing the Chinese market, Aldi has focused on emphasizing its brands' high-quality. Given food safety incidents in China, such as the baby formula scandal in 2008, Chinese consumers notoriously distrust Chinese brands, often preferring products produced abroad due to safety and nutrition concerns.
According to Aldi Sud's managing director for China, Christoph Schwaiger, Aldi is "convinced that Chinese customers are also very interested in the quality and the reasonable prices [Aldi] can offer them."
In order to introduce its brand into China, Aldi partnered with brand agency Ogilvy Shanghai in order to host a live-streamed runway fashion show in which models were dressed in clothing that was made from or adorned with Aldi food products.
US Expansion
Aldi's structure in the US is a bit more extensive than elsewhere, as both Aldi Nord and Aldi Süd have a presence in the country.
Aldi Nord, whose owner Theo Albrecht acquired Trader Joe's in 1979, has maintained its foothold in the US through the low-cost grocery chain ever since. Aldi Süd, on the other hand, has operated stateside since 1976, when it opened its first store in Iowa.
Aldi Süd is branded simply as "Aldi" in US, and it is this company that has recently embarked on an aggressive American expansion. In June 2017, Aldi Süd announced that it would invest $3.4B to expand its US stores to 2,500 by 2022.
This comes after the company already announced in February 2017 that it would commit $1.6B to renovating 1,300 existing stores and creating an additional 400 stores by the end of 2018, bringing Aldi's US expansion investment total to $5B. Aldi Süd's US expansion is expected to create 25,000 new jobs.
Since 2017, media and news mentions about Aldi's presence in the US have skyrocketed.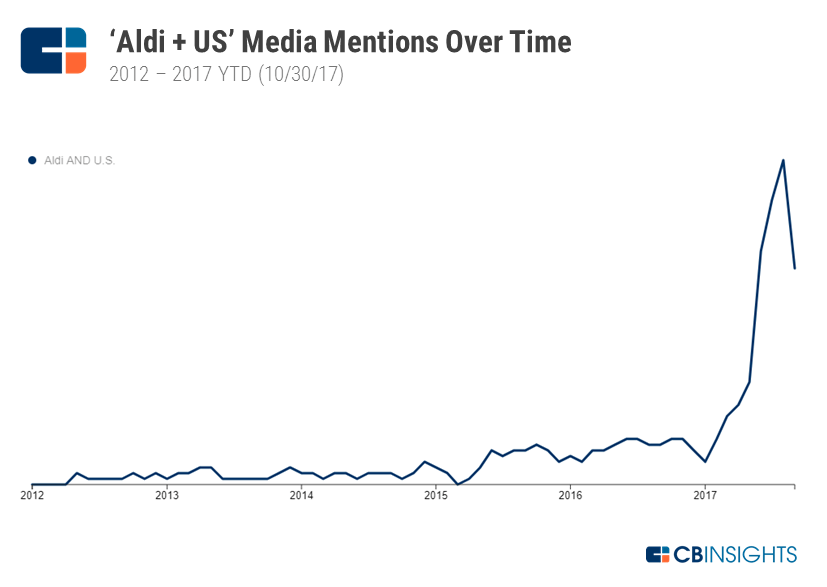 If Aldi fulfills its aggressive brick-and-mortar expansion plans, it would become the United States' third-largest grocery chain, following Walmart and Kroger. Further, Kroger may be shrinking as Aldi expands: Kroger announced in October that it is weighing the potential sale of its 780 convenience stores as part of a $9B, three-year strategic initiative to improve its store experience and digital capabilities.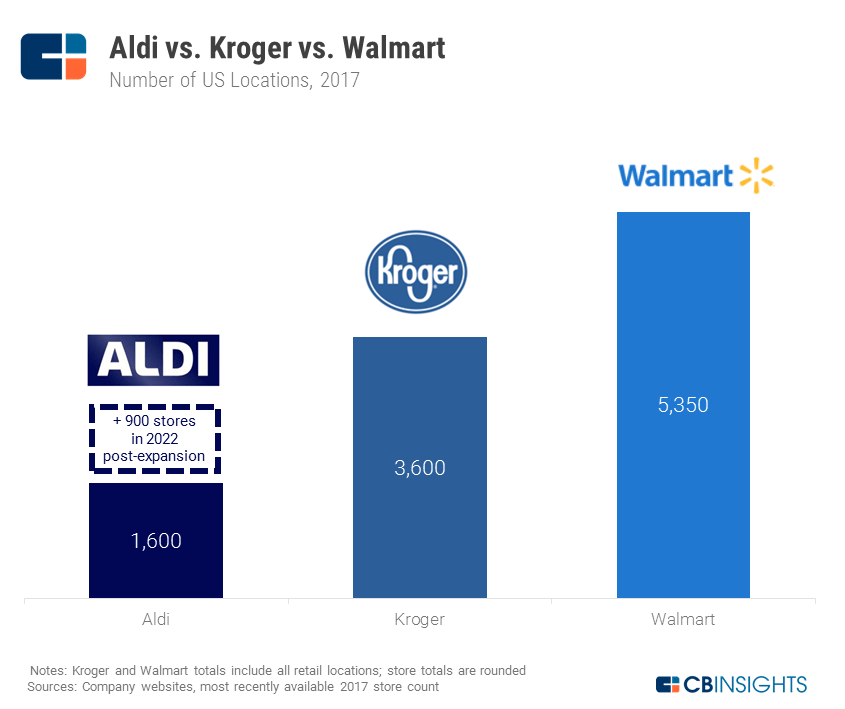 Beyond Aldi's growing number of stores, its highly discounted prices add fuel to an extraordinarily competitive grocery retail landscape.
Price wars are already being waged by American grocery retail giants, as supermarkets aim to attract customers with increasingly lower prices while still maintaining market share.
Earlier in 2017, Walmart ran a price-comparison test in at least 1,200 stores in an effort to close any pricing gap with Aldi and other rivals. Additionally, Amazon's acquisition of Whole Foods has many industry players worried that the giant may now be able to offer low-cost grocery delivery given its large-scale logistical capabilities.
Aldi's entrance into the US only puts increased pressure on traditional grocery chains to lower prices.
Track all the grocery delivery startups in this brief and many more on our platform
Startups are facilitating the delivery of groceries to users' doors. Look for Grocery Delivery Startups in the Collections tab.
Track Grocery Delivery Startups
Competition with Lidl