From craft mezcal to cannabis-infused tonic to canned wine, expect these new beverages to pop up on the drinks menu during the holidays and beyond.
This year's holiday drinking menu will be crafty and healthy, we predict. Consumers in the US have been drinking less alcohol — specifically, traditional beer, according to IWSR Drinks Market Analysis research.
Mainstream beer brands have been hit particularly hard by the rise of craft beer over the past decade, while big liquor brands are starting to feel the heat from craft distilleries.
At the same time, consumers' increasing focus on health is creating space for new beverage categories to emerge, including cannabis-infused drinks, alcohol-free alternatives, and hard seltzer, among others. The latter was almost unheard of a couple of years ago, but is expected to generate $2.5B in sales by 2021, according to CB Insights' Industry Analyst Consensus.
So what should you be drinking — or serving — during the holidays? 
We used the CB Insights database to identify 95+ brands disrupting the holiday drinks menu across 3 main categories, from traditional options taking the craft route to low- and non-alcoholic options.
This market map includes private companies that have received funding in 2019 YTD (as of 12/17/2019) and is not meant to be exhaustive of companies in the space. Categories are not mutually exclusive. Please click to enlarge.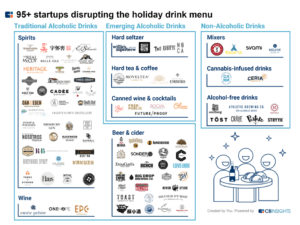 Category breakdown
TRADITIONAL ALCOHOLIC DRINKS
Spirits: These startups produce spirits, ranging from mezcal with El Silencio, to a Greek liqueur called mastiha with Kleos Spirits, to direct-to-consumer aperitif brand Haus. The vast majority of companies here are craft brands, meaning they are independently owned and produce lower volumes of spirits than the brands owned by large spirits companies, such as Diageo or Pernod Ricard.
Wine: Companies in this category are making it possible to "adopt" some vines to produce your own wine (Cuvée Privée), order champagne directly from producers (EPC), and support charitable causes by buying wine (ONEHOPE).
Beer & cider: This category includes smaller beer and cider brands, with most of them being independently owned and producing lower volumes, thus qualifying as craft. Among them, India-based Bira91 is the most well-funded, with $83M in total funding. With the increasingly crowded craft beer space, some brands are betting on sustainability to differentiate themselves. This includes Toast Ale, which brews beer with bread that would otherwise go to waste.
Alcohol Tech startups
Startups are disrupting what and how we drink, with products ranging from cannabis-infused beverages, to hangover cures, to wine subscription services. Look for Alcohol Tech in the Collections tab.
Track alcohol tech startups
EMERGING ALCOHOLIC DRINKS
Hard seltzer: Startups like Willie's Superbrew and NOCA Beverages have recently raised funding to tap into the fast-growing hard seltzer market. Hard seltzer is a low-alcohol, low-calorie water-based drink that has been popularized by the White Claw brand in the US.
Hard tea & coffee: These companies offer alcoholic tea and alcoholic coffee drinks. This also includes hard kombucha brands such as Flying Embers, which has raised $25M to date. 
Canned wine & cocktails: This category is centered around convenience by offering canned alcoholic beverages such as wine and cocktails that are easy to carry around. Social, for instance, offers canned sparkling wine blended with super-food extracts and flower essences, while Ohza produces ready-to-drink mimosas.
NON-ALCOHOLIC DRINKS
Mixers: This category includes non-alcoholic beverages that are meant to be mixed with alcohol. Startups like US-based Owen's Craft Mixers and India-based Svami offer premium mixers such as tonic water, while Kelvin Slush creates mixers specifically for frozen cocktails.
Cannabis-infused drinks: With more states legalizing cannabis, the cannabis-infused beverages category is emerging to compete with alcoholic drinks. This category focuses on cannabis-infused beverage brands, such as Cann, that specifically target social drinking occasions. 
Alcohol-free drinks: Riding the low- or no-alcohol trend, these startups offer alcohol-free alternatives to replace beer (Athletic Brewing Co), wine (Tost), cocktails (Mocktail Beverages), and spirits (Stryyk). Among them, UK-based Crave targets party-goers with a canned caffeinated virgin mojito.  
If you aren't already a client, sign up for a free trial to learn more about our platform.