Airbnb reimagined travel accommodation, creating a niche in the industry. Now it's expanding its inventory, targeting luxury and business travelers, and going up against Priceline, Expedia, and others. Its success will hinge on competing with these giants while retaining the identity that set it apart.
Since its founding in 2008, Airbnb has grown from a small startup that let users rent out their air mattresses, to a global player in international travel and hospitality.
Now, as it sets its sights on an IPO, it is evolving from a home-sharing platform to an expanded travel services company, challenging incumbents like Expedia and Priceline.
It's getting into real estate, targeting larger property managers, and building an Airbnb-branded property in Orlando.
And it is expanding internationally, with certain markets in Asia emerging as a key area of growth and hiring, as we'll show.
As it looks to become a full-service travel platform, it faces a new host of competitors.
Online travel agencies like Priceline and Expedia, which own a slew of online travel booking platforms, have already added features that make them more competitive with Airbnb. They have tremendous online marketing resources for capturing comparison-shopping travelers.
Just as Airbnb distinguished itself as an alternative to the hotel experience, it will need to do the same against the major online travel players.
In addition, the company faces regulatory challenges fanned by the hotel industry. The hotel lobby in some cases has successfully pressed local governments to regulate short-term subletting. It has also had to improve the trust and safety associated with its home-shares, as it seeks to make home-sharing more mainstream.
Thus far, Airbnb has successfully navigated many of the hurdles it's encountered. Unlike Uber, the only private company in the US valued higher than Airbnb, the company has had relatively stable leadership, with most of its senior executives in their positions for at least 2 years. It has made effective legal hires that have helped it navigate the regulatory challenges it's faced.
In this analysis, we examine Airbnb's strategy and future prospects using CB Insights data on funding, investments, acquisitions, partnerships, and patents.
Table of Contents
Background & leadership
"Subject: subletter
Brian,

I thought of a way to make a few bucks—turning our place into a designer's bed and breakfast—offering young designers who come into town a place to crash during the 4 day event, complete with wireless internet, a small desk space, sleeping mat, and breakfast each morning. Ha! — Joe Gebbia"
Airbnb's present-day business is a far cry from its early inspiration.
As of August 2017, Airbnb has:
4 million listings in 190+ countries (up from 2.3M in 2016)
Over 200 million customers that have used the platform to book accommodations (up from 140M in 2016)

Total listings that exceed those of the top 5 hotel chains combined (the company did not specify how it compared listings)
CEO Brian Chesky has said that the company is still a year or so away from a public offering, insisting the company intends to be "ready" to IPO but will take its time and be "methodical and thoughtful" about the process.
As Airbnb readies itself for corporate adulthood, it has put in place a seasoned leadership team with significant tenure at the company, adding structure to a sprawling home-sharing marketplace.
Employee Organizational chart
Nearly all of Airbnb's senior leadership has been with the company for more than two years, but some notable gaps remain.
The departures of Chip Conley, who left his position as Head of Global Hospitality & Strategy to take on a part-time advisory role, and of Varsha Rao, former Head of Global Operations, is straining the company's leadership as Airbnb seeks to grow internationally.
The org chart below shows Airbnb's current senior leadership and is color-coded based on employees' tenure at the company. As evidenced by the abundance of blue, nearly all senior staff have been with the company for more than 24 months, a positive sign for the company's stability and its ability to execute in the ramp up to a public offering.
As reflected in our chart, nearly all of the newest employees in leadership positions have been added by way of Airbnb's acquisition of Luxury Retreats. Joe Paulin, President and CEO of Luxury Retreats, will likely spearhead the company's luxury efforts.
Please click to enlarge.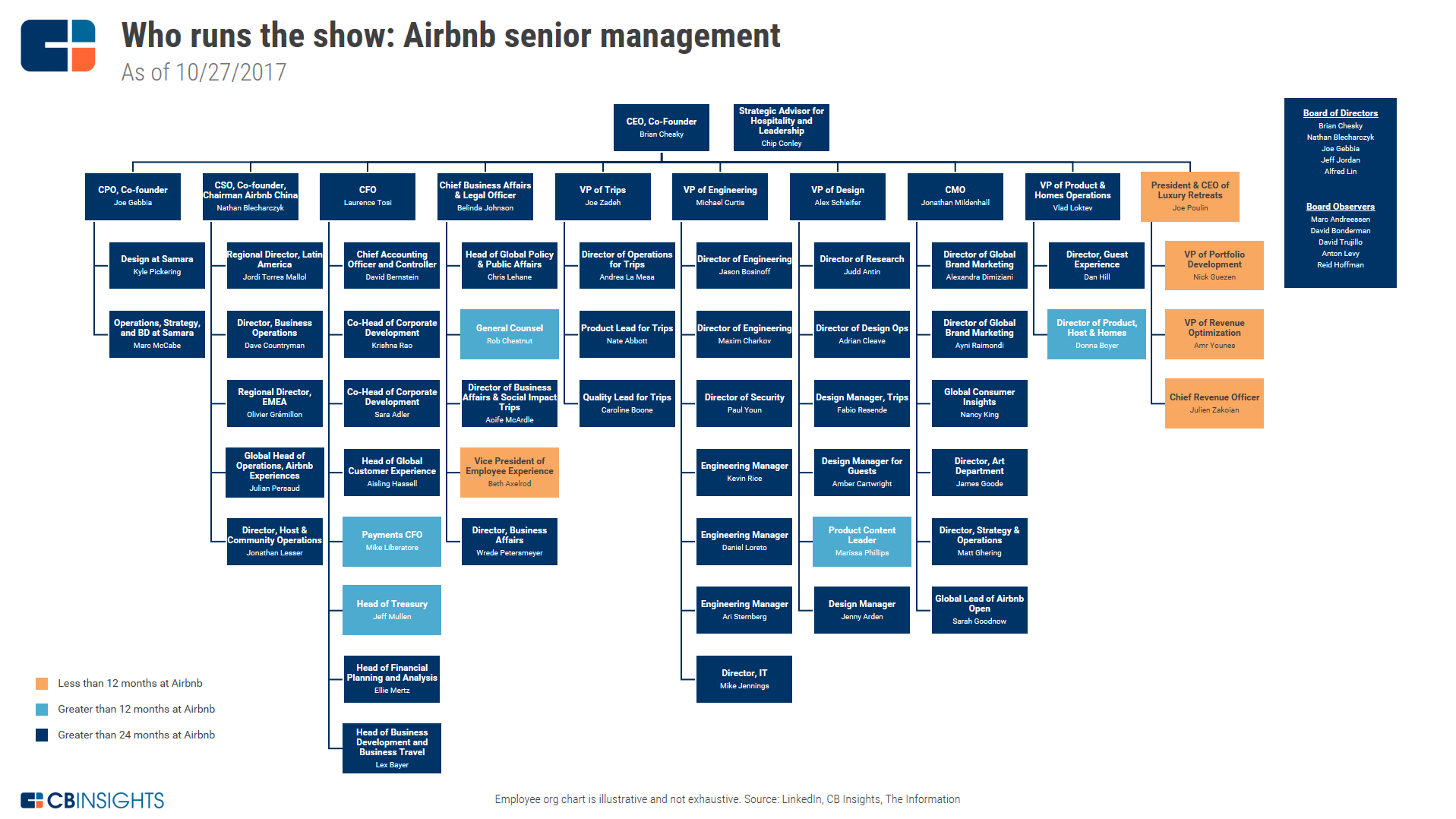 Digging into the chart, it's worth highlighting how key hires have helped the company navigate regulations and tighten up Airbnb's finances. The org chart also provides a window into challenges in China, an important market for growth.
Regulatory risk
Chesky's first senior executive hire was Belinda Johnson in 2011. A lawyer who positioned Airbnb to navigate its regulatory risk, Johnson has more than 20 years of experience representing technology companies, and from the outset expertly guided Chesky to open lines of communication with regulators and government officials. Today she is the Chief Business Affairs & Legal Officer.
Johnson's hiring of Chris Lehane (Head of Global Policy & Public Affairs) has also added to Airbnb's public affairs chops. Lehane, a lawyer and political strategist, is an alumnus of the Clinton White House. He brings to Airbnb a cutthroat and formidable resume in opposition research and crisis management.
Together, Lehane and Johnson will continue to play a crucial role in pushing for friendly regulation in key cities like San Francisco, New York, Barcelona, and Paris, among others.
Path to IPO
The company's most significant hiring move in preparation for an IPO was its decision to bring aboard Laurence Tosi as Chief Financial Officer. Tosi previously worked as Chief Financial Officer of The Blackstone Group.
Besides tightening up Airbnb's finances, Tosi has also reportedly taken an outsized role in its operations and corporate development, demonstrating his value as the most experienced executive at the company.
Notable departures
Notably absent from Airbnb's executive structure (and seen floating awkwardly near Brian Chesky in our graphic) is Chip Conley, formerly Head of Global Hospitality & Strategy. Conley is no longer with the company officially, and is instead now serving in an advisory role as Strategic Advisor for Hospitality & Leadership.
Conley brought deep hospitality experience to the company and is credited with defining the company's priorities and setting standards for hosts.
Changes in China
The departure of Hong Ge, vice president of Airbnb's China entity, has raised questions about the health of Airbnb's China business. Reports indicated that Airbnb hired Ge from Facebook after Airbnb was unable to successfully hire from Chinese companies. Ge departed only four months after assuming the role.
Recent reports suggest that Ge might have violated the company's code of ethics, but Airbnb's official stance has been that he left to pursue other opportunities. With Ge's exit, Nathan Blecharczyk, co-founder and Chief Strategy Officer, will take over as head of Airbnb's China operation.
Faced with growing pressure to expand globally, and with Blecharczyk taking on more responsibility for the China operation, it will be interesting to see if the company tries to hire another seasoned executive as chief operating officer to manage international growth. 
In March of this year, Airbnb renamed its Chinese entity "Aibiying" (translated as "welcome each other with love") to better position itself within the Chinese market. Whether the company can succeed in finding an executive to lead its efforts there full-time is an outstanding question.
Hiring & geographic analysis
Looking into Airbnb's jobs listings further shows the importance of China to the company's strategy. It also highlights the emphasis the company is placing on its nascent luxury business.
We analyzed Airbnb's open job listings (as of 10/16/17). We also cut the data around how open listings were distributed across Airbnb's offices internationally.
After San Francisco, Beijing, China had the second highest number of open listings, with 17% of the available openings. Close behind in third was Montreal, Canada — the home of Airbnb's latest acquisition, Luxury Retreats.
Please click to enlarge.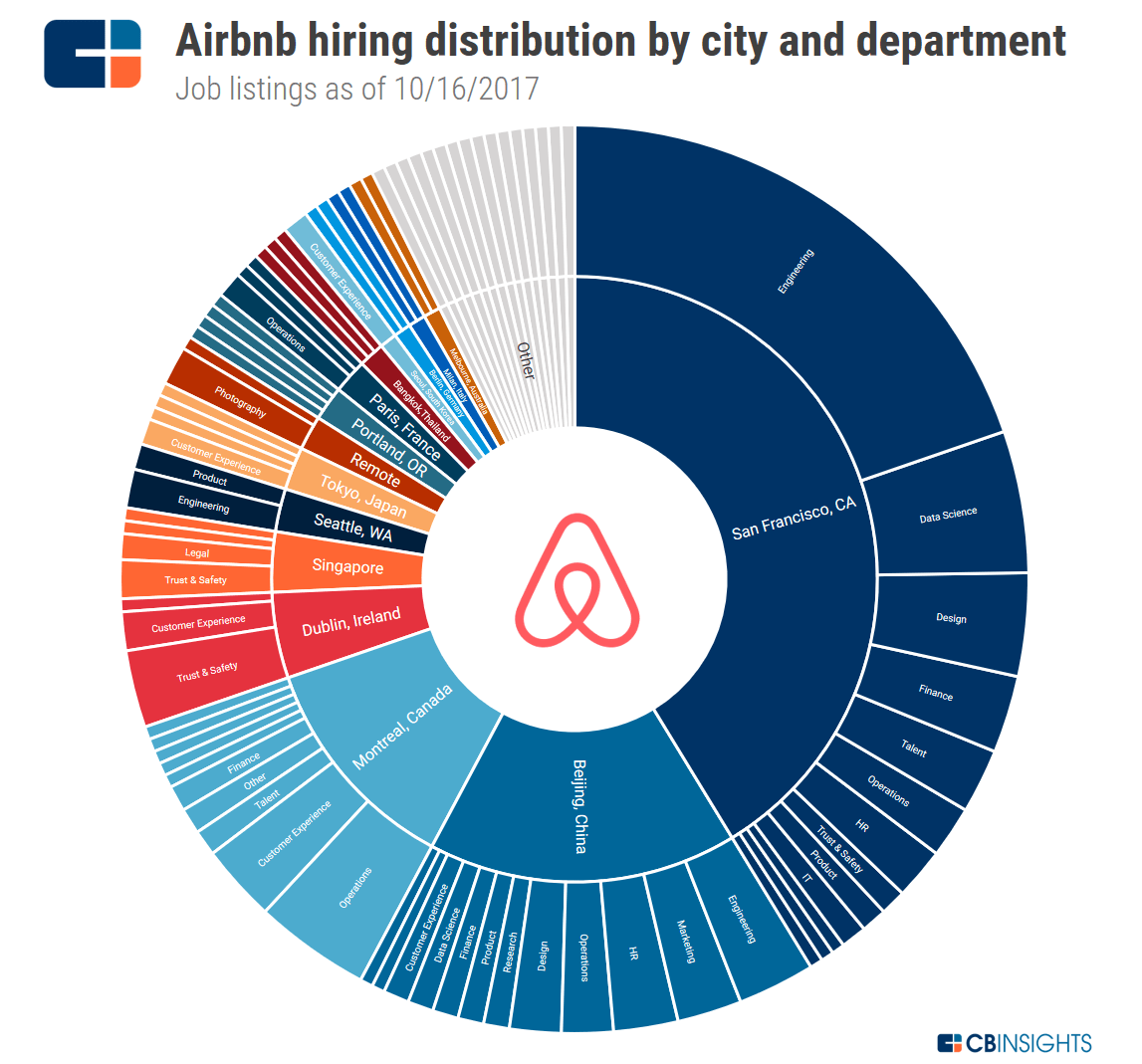 The below graphic shows the distribution of Airbnb's 200+ open jobs by department. Engineering and operations roles take the lion's share of open listings.
Please click to enlarge.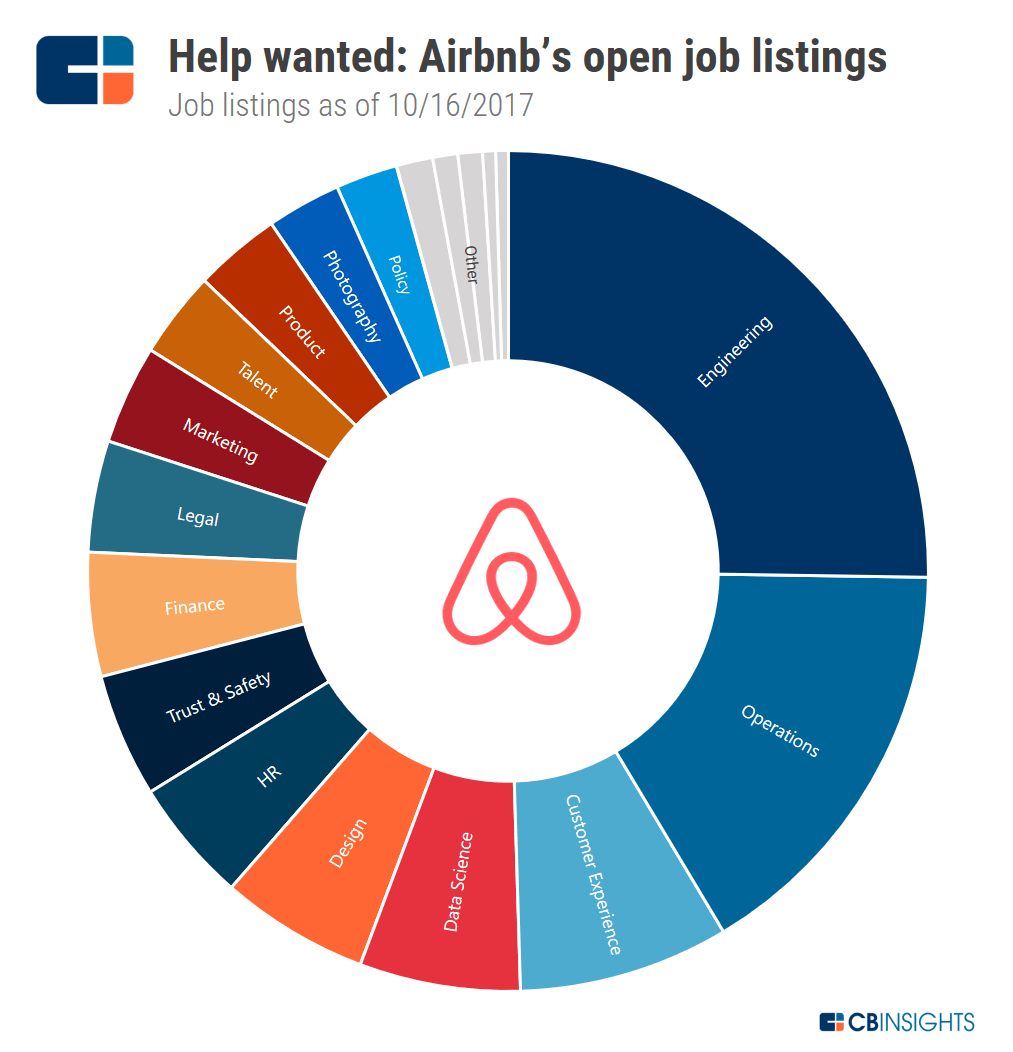 focus on Engineering, Operations and Luxury Retreats 
Engineering and operations roles accounted for the bulk of the company's available positions, at 25% and 16%, respectively.
Analyzing job listings by focus area (not shown in graphic), we also found that jobs for Airbnb's Luxury Retreats business accounted for 18% of total listings, with a heavy concentration in operations. Luxury Retreats operations roles accounted for 62% of the total operations listings.
Financials & valuation history
Airbnb has become a household tech company name. Within the global unicorn club (private companies valued at $1B or more), only a handful of private companies are valued in the tens of billions. Airbnb has a "double deca-corn" valuation of $29.3B.
As a major travel company, Airbnb sits in 5th place on our unicorn tracker, behind ride-sharing behemoths and Chinese hardware and e-commerce companies. It is the second most valuable private company in the US, after Uber.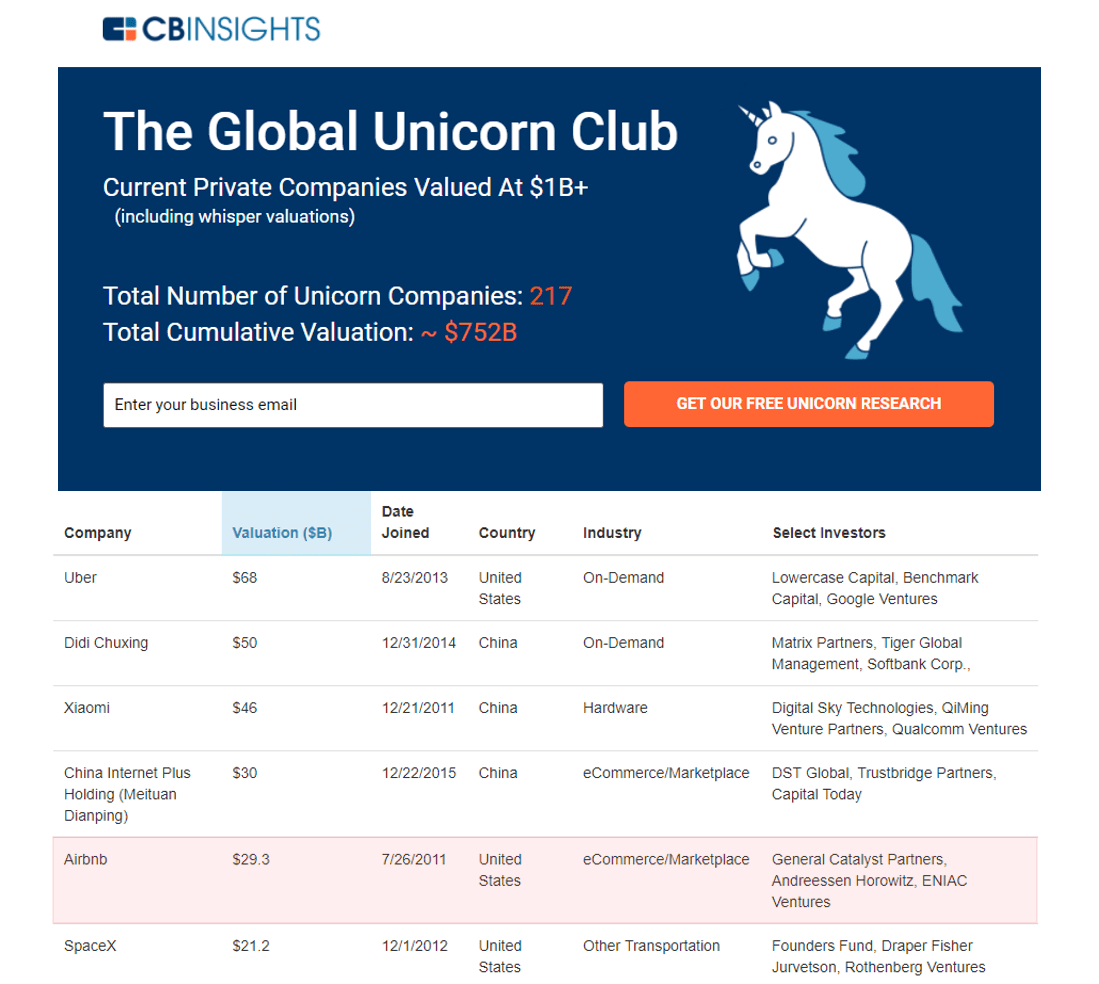 Our funding and valuation data highlights how quickly the company has raised funding and increased its valuation.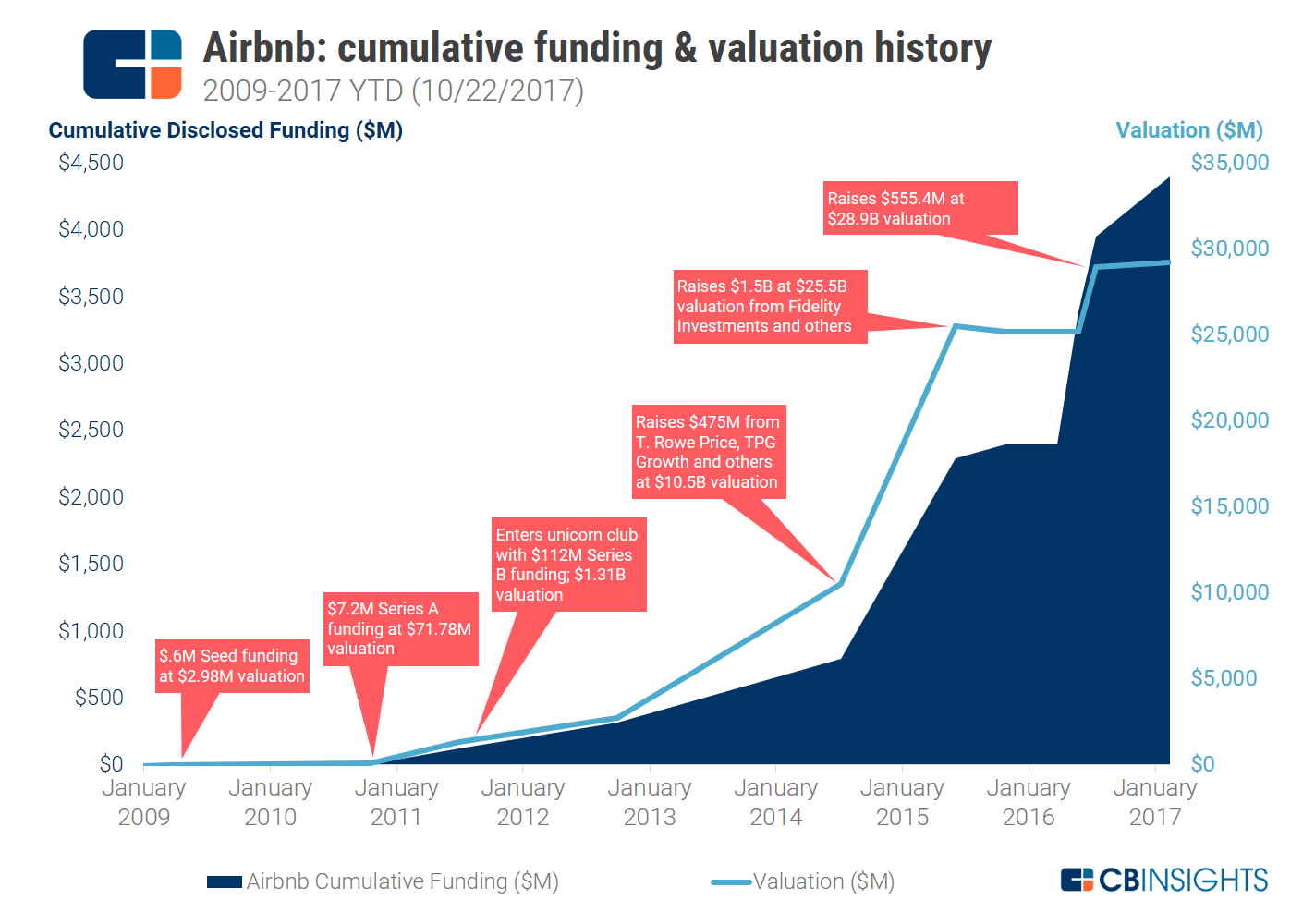 (CB Insights clients can click here to access Airbnb's profile and directly view all of its financing, investor, and valuation data.)
Airbnb has raised money from a variety of investors, including both traditional sources of venture capital as well as larger financial institutions and crossover investors.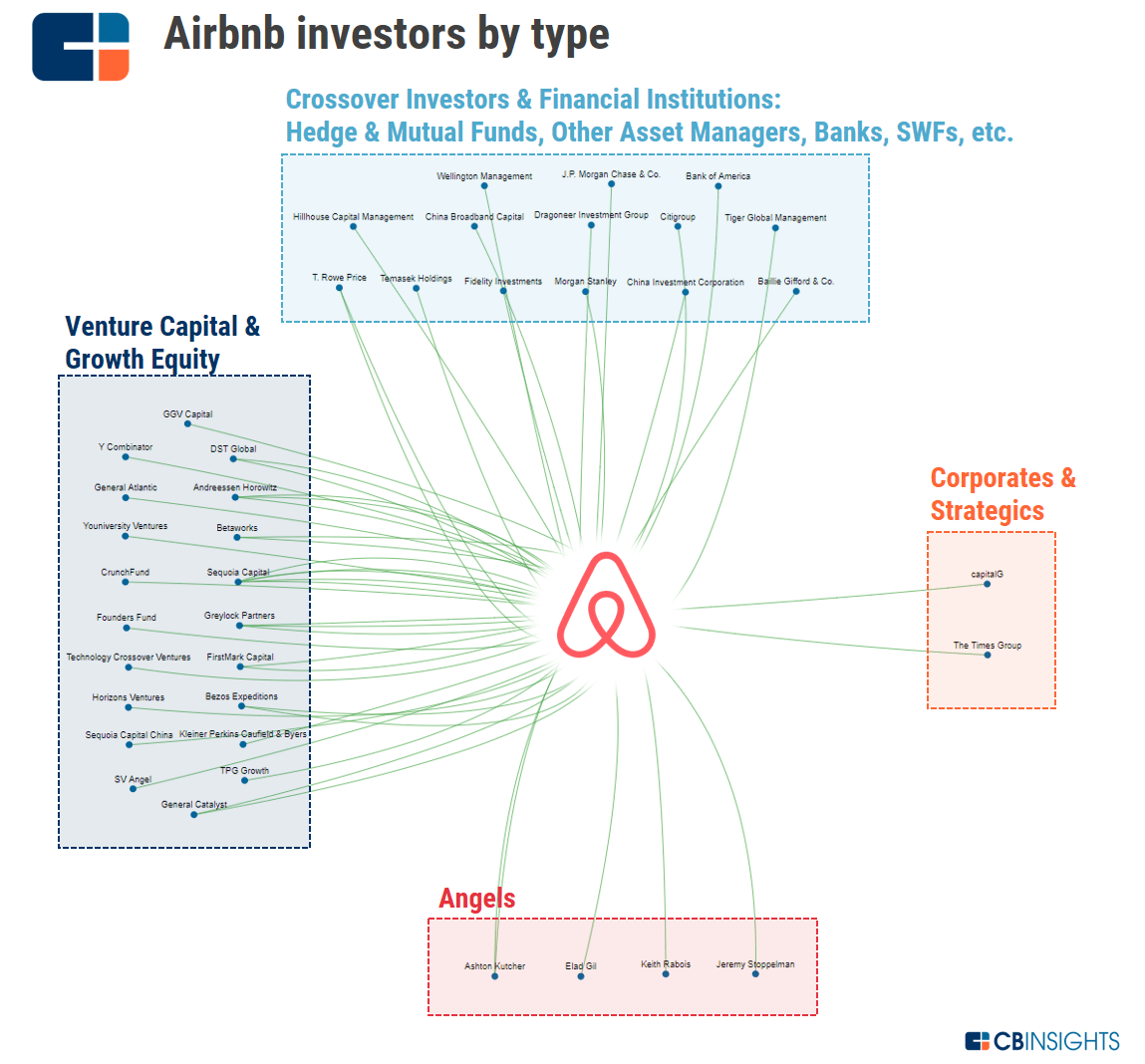 Since it originally received seed funding as a Y Combinator alum in January 2009, Airbnb has raised from a cohort of traditional venture firms, including Sequoia Capital, FirstMark Capital, Kleiner Perkins Caufield & Byers, Andreessen Horowitz, and others.
The firm also saw early angel investment in its Q4'10 Series A round, which included Elad Gil, Jeremy Stoppelman, and Keith Rabois, while Ashton Kutcher joined the Series B round in Q3'11.
Later in its investment cycle, the company raised money from growth equity firms and larger institutional and crossover investors. Airbnb's $1.5B Series E round in Q2'15 included General Atlantic, T. Rowe Price, and Tiger Global Management, among other investors.
Corporate and strategic investors are largely absent from Airbnb's investor cohort, though capitalG, Alphabet's growth venture capital investment vehicle participated in Airbnb's $556M Series F in Q3'16.
Acquisitions & investments
To date, Airbnb has made 16 acquisitions and one investment. The company has leveraged M&A deals to acquire market share, talent, technology, and strategic edge.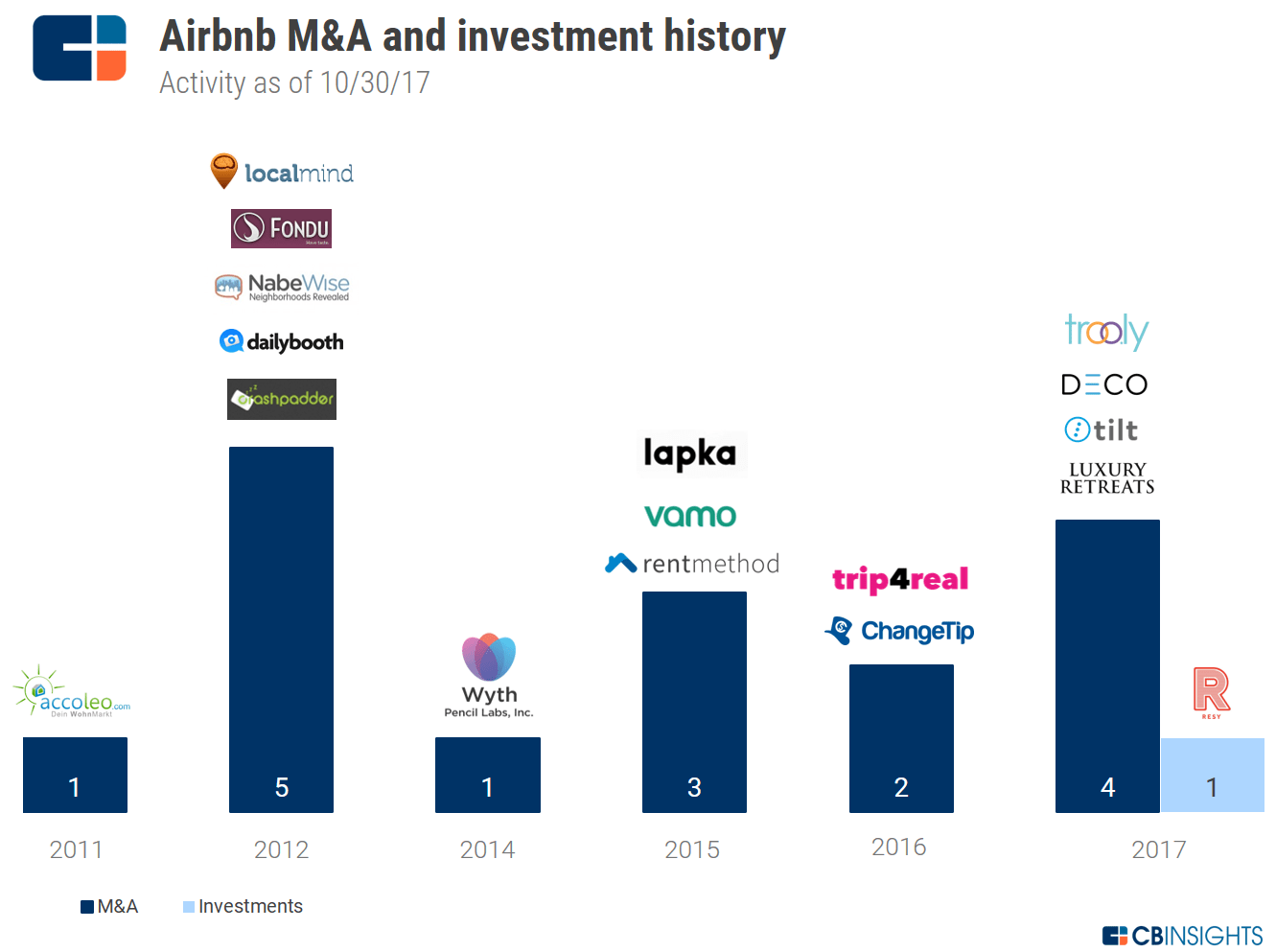 Core Business
While Airbnb famously rebuffed offers to partner with or acquire its early German home-sharing counterpart Wimdu, the company has not shied away from making acquisitions to improve and expand its core business.
In 2011 and 2012, the company bought home-share websites Accoleo and Crashpadder, both operating in Europe. And in 2015, the company acquired RentMethod, an apartment rental website, in an acqui-hire.
Recently, Bloomberg reported that Airbnb was a potential bidder for Wyndham Worldwide Corp.'s European vacation rental inventory at upwards of $1 billion. Wyndham's European inventory includes apartments and homes in Dalmatia, Croatia, and Santorini, Greece.
Experiences
Recent acquisitions tie directly to the company's strategic goal of building out its Trips and Experiences services: an integration of in-city tours, experiences, and guides discussed in further detail below.
In 2015 Airbnb purchased Vamo Labs, a Seattle-based multi-city itinerary and cost-planning travel site. The Vamo team joined Airbnb post-acquisition. In 2016, less than a month before announcing the rollout of its new Trips feature, Airbnb also purchased Trip4real, a Spanish startup that connects travelers with locals offering unique travel experiences in Spain.
2017 Investments
Airbnb's 2017 investments have been relevant to a few of the company's key strategies including: building trust in its homes investory, improving and expanding the Airbnb platform, and targeting luxury travelers.
Mobile
In May of this year, Airbnb acquired Deco Software for an undisclosed sum. Deco constructed an integrated development environment, or IDE, to allow developers and designers to collaborate on mobile apps. The acquisition underscores Airbnb's focus on improving the mobile experience and could help encourage developers to create new Airbnb tools for travelers.
Marketplace safety
In June, Airbnb acquired Trooly, bringing in the company's engineering team and intellectual property. Trooly uses public and private sources of data to construct "digital scorecards" on individuals.
The conventional use cases for Trooly's product include background checks and credit scoring. Airbnb will likely use the company's technology to protect its marketplace from fraud and bad actors.
According to Bloomberg reporting, Airbnb had been a Trooly customer since 2015. (We discuss Trooly in greater detail below in the patents analysis section.)
Luxury
Airbnb's February acquisition of Luxury Retreats for $200M marked an aggressive move into the luxury market. Luxury Retreats is a home-share company offering high-end villas that the company thoroughly vets and curates.
Luxury Retreats seems like a choice target for Airbnb. The company says it does $150M in annual bookings, with 40% of its clientele becoming repeat customers, in over 100 destinations. The company also says it accepts less than 5% of homes that apply to the platform.

Bloomberg reported in June that Airbnb was working on a luxury tier of accommodation called "Airbnb Lux," as well as a pilot program called "Airbnb Select."
Airbnb Select homes are inspected by the company and cosmetically improved. Both efforts come as part of a broader push to improve the company's accommodation inventory.
As of now, it is unclear whether Airbnb Lux will be integrated into the core Airbnb platform or continue to live in the Luxury Retreats property. Both options come with risks, and the former could possibly alienate Luxury Retreats' core user group, muddy its branding, and (if non-exclusive listings were included) forfeit the platform's exclusivity.
Restaurant reservations
In January, Airbnb participated in a $13M Series A investment to restaurant reservation app Resy. The investment solidifies the companies' partnership and Resy's integration as a feature in Airbnb's mobile app experience, allowing Airbnb users to discover restaurants and book reservations at their destination.
Airbnb's Resy partnership is a component of the development of its "Trips" service.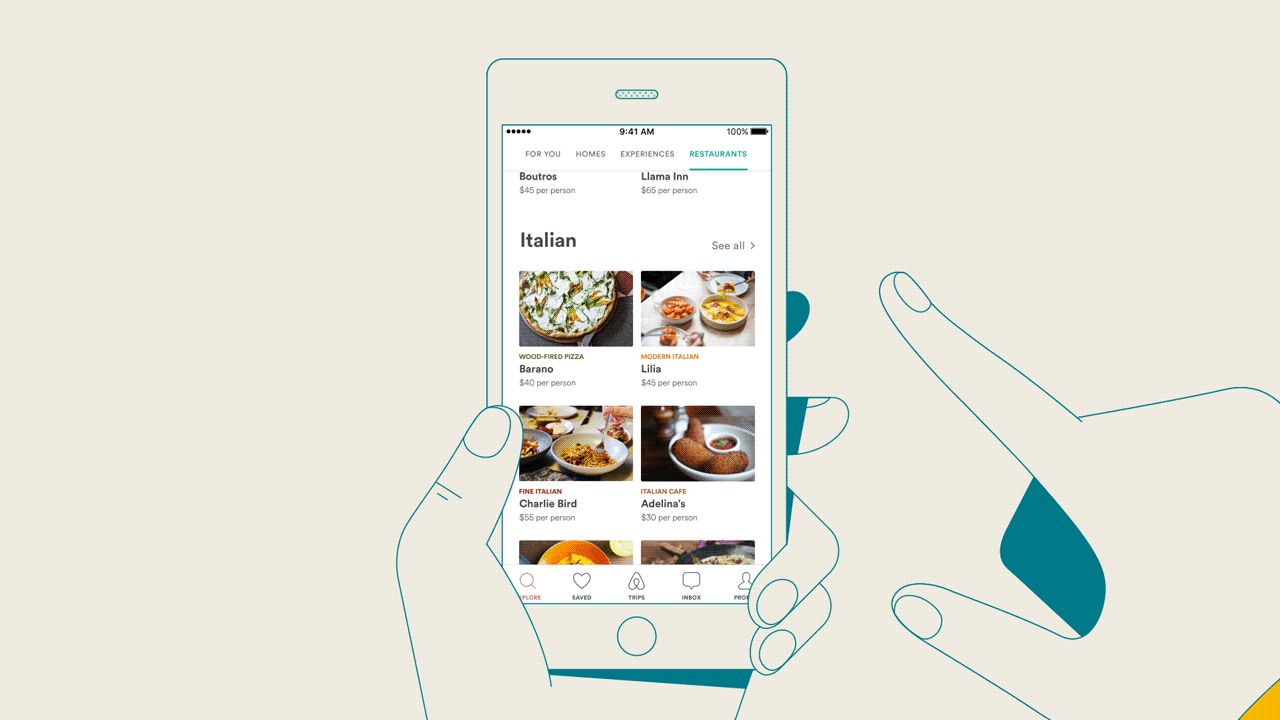 AI
Reports about Facebook's acquisition of Ozlo, an AI company that suggests restaurants based on chatbot conversations, noted that Facebook competed with Airbnb to acquire the company.
Mike Curtis, VP of engineering at Airbnb, says the company is focusing on AI talent, with the purpose of increasing personalization. "I will say we have a keen eye out for companies innovating in this space." said Mr. Curtis.
Patents
Airbnb's patent application volume is low. However, the patents the company has applied for in marketplace management show it is working to further improve the trustworthiness of its service. Its internet connectivity patent points to its efforts to make Airbnb a full-service travel resource available wherever its users go.
CB Insights customers can search through Airbnb's complete patent library here.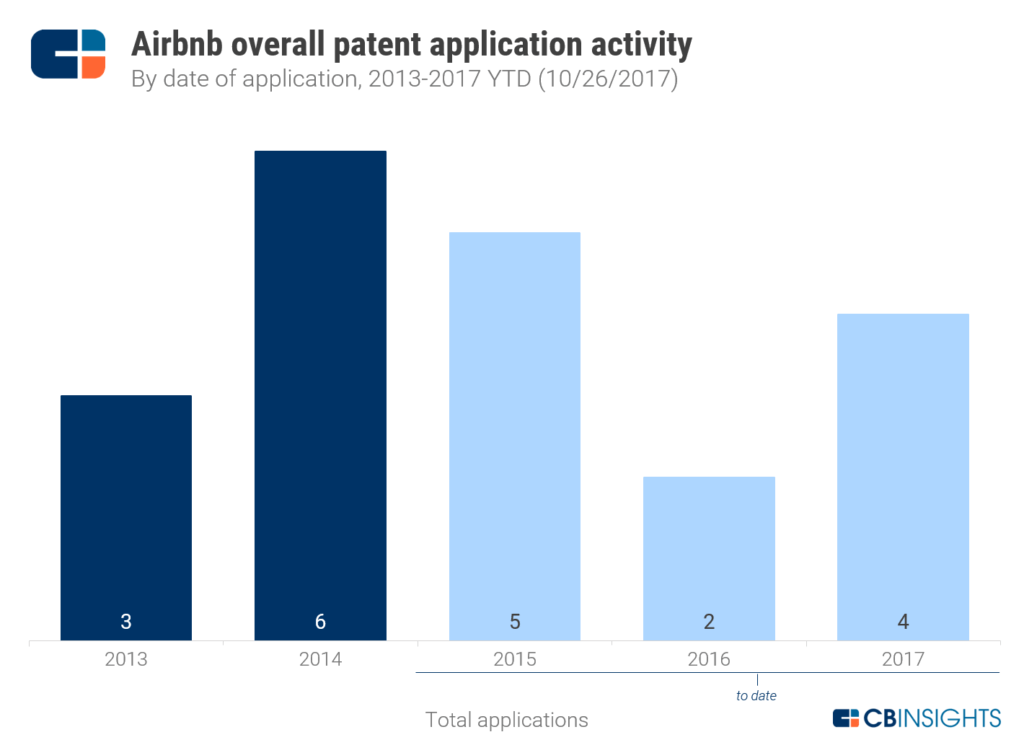 Note: This analysis comes with a few caveats, primarily that the patent filing process involves a significant time lag before the publishing of patent applications. This delay can range from several months to over two years.
Improved Services In Remote Locations
In April 2017, we uncovered a newly published patent application by Airbnb titled "Beam Device Architecture." The patent describes a data compression system that enhances internet services via cellular transmission in remote regions with poor connectivity. The patent explicitly references countries like China and Cuba.
Specifically, the application details an orb-shaped device called a "beam modem" and a "beam API server" that act as intermediaries between a user's device (e.g. smartphone) and an external web service, compressing the request from the user before sending it on, and then compressing the response before passing it back to the smartphone or other device.
While it is possible that the device would be used to provide improved internet services to users visiting remote locations, the device could also be used to further differentiate Airbnb's mobile efforts. By improving the connectivity of Airbnb's app in remote regions, users would be more likely to remain within the Airbnb ecosystem for the ancillary services the company is currently layering on (e.g. guest-host communications, destination guides, experiences, restaurant reservations, etc.).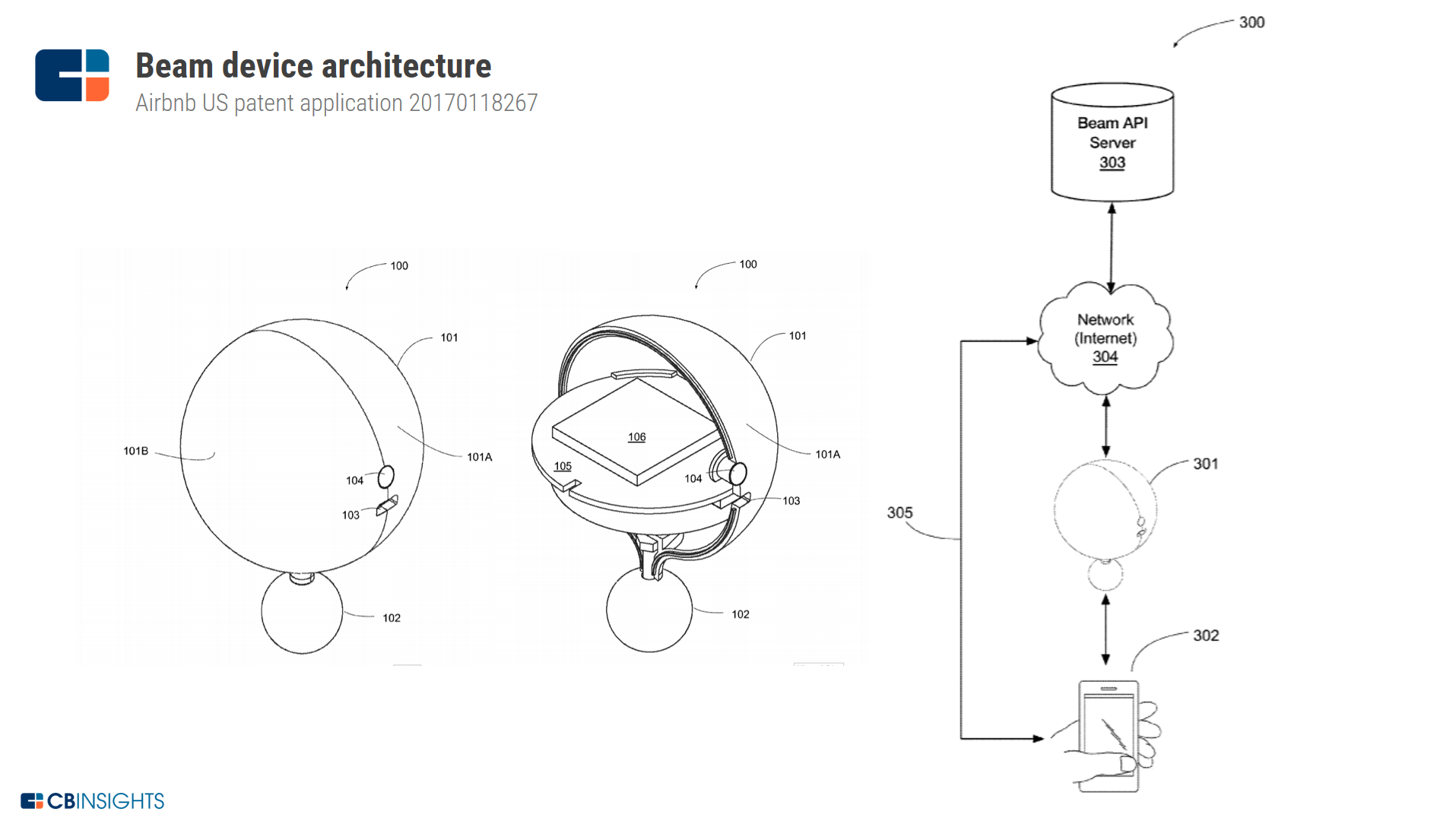 Prototypes of the device might already be testing in the field. The below photo was pulled from LinkedIn, where Alex Blackstock, an Airbnb employee whose name is on the patent application, posted it. There is a clear similarity between the photo to the right and the drawing in the patent (left).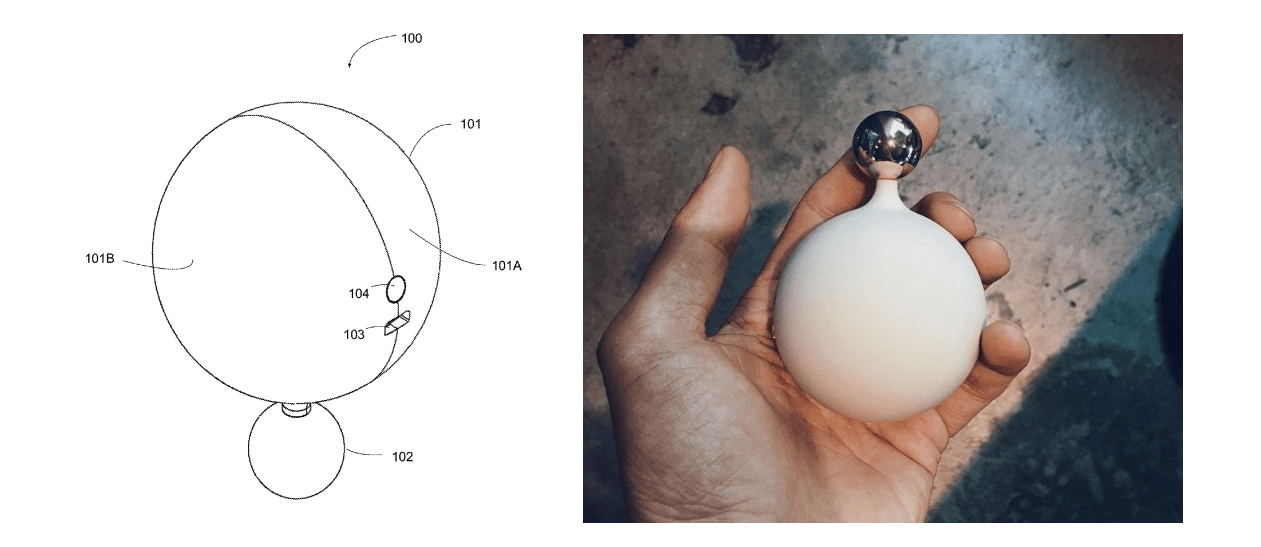 Trust and Standards
Each of the below patents relate directly to Airbnb's emphasis on maintaining a safe and high-quality marketplace, which is critical as the company looks to become a mainstream alternative to hotels.
In response to a handful of well-publicized home vandalism, robbery, and other criminal incidents that have occurred in Airbnb homes, Airbnb instituted the Host Guarantee, a $1,000,000 liability insurance protection against damages that affords hosts peace of mind.
What's more, with the rollout of its new program Trips, Airbnb now requires that all users (hosts and guests) scan a government ID into their platform. The company claims that "a more robust standard of authenticating identity will make the Airbnb community stronger and reaffirms Airbnb's ongoing commitment to authenticity, reliability, and security."
Verification using online and offline components
In June of this year, Airbnb was awarded a patent that describes "methods and systems for verifying identity and trustworthiness." The patent describes a two-layered process of verification that compares information received online and offline to information presented by the user at registration.
Additionally, the patent defines the inclusion of a "third party online system" that calculates a "confidence score" measured on the difference in identity representations.
The patented technology is intended to negate fraud within the Airbnb marketplace, by preventing hosts or guests from using fake identities. In addition to gathering offline information like a user's government ID, credit score, banking information, and criminal history, the system goes beyond simply verifying identity by introducing a metric of "trustworthiness" based on third-party information like social networks, email servers, blogs, etc.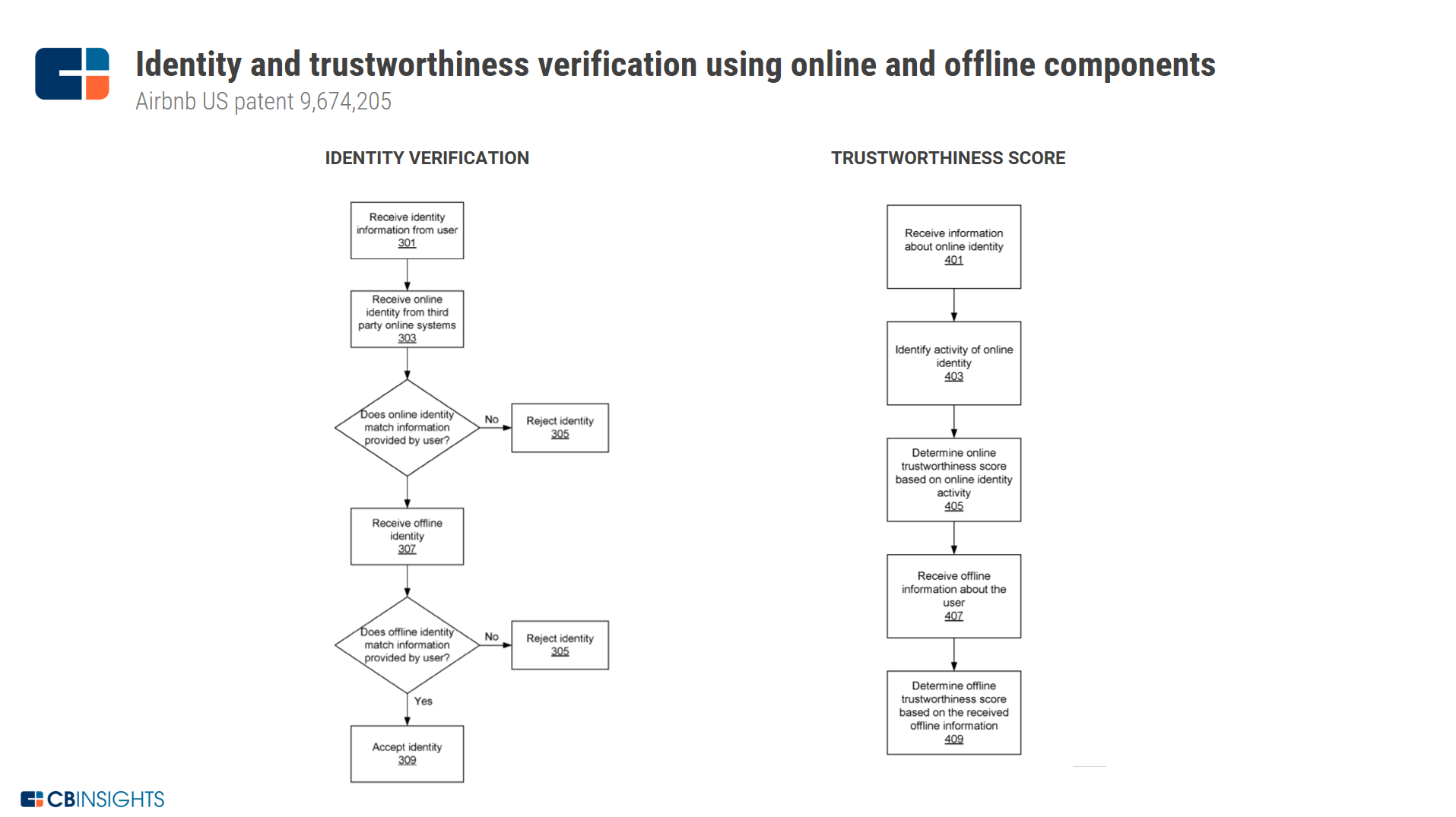 "For example, the browsing behavior of the user can be analyzed and a score may be given based on the browsing behavior of the user. If a male user only interacts with female users in a social networking system, or a male user only asks questions about accommodations offered by female hosts in an accommodation reservation system, it might result in a low trustworthiness score."
By accessing a third-party like Facebook, Gmail, LinkedIn, or Twitter, Airbnb queries these resources to determine when a user's account was created, when the account was last modified, how often the user signs in, the frequency of actions taken, the frequency of picture uploads onto social networks, etc.
This information gleaned from a user's third-party activity is used to calculate an "edit distance" from the information provided to Airbnb (e.g. name, DOB, address, telephone number, etc.).
Additionally, the nature of a user's activity, both on Airbnb and on external third-party sites, is used to produce a "trustworthiness" score, which is updated on an ongoing basis.
Determining trustworthiness and compatibility
Airbnb purchased Trooly (mentioned above), a sophisticated background check and identity verification company, in June. The company holds a patent similar to Airbnb's patent on identity verification.
Trooly's patent describes a process for determining a "trustworthiness score" based on "personality and behavior traits that predict the likelihood of the person being a positive actor in an online or offline person-to-person interaction."
The score is derived from data the company gathers on an individual's online presence. Should that activity show "the person created a false or misleading online profile, provided false or misleading information to the service provider, is involved with drugs or alcohol, is involved with hate websites or organizations, is involved in sex work, perpetrated a crime, is involved in civil litigation, is a known fraudster or scammer, is involved in pornography, has authored online content with negative language" such behavior would indicate "negative personality or behavior traits" and result in a lower score.