We take a look at Q1'20 funding trends, areas of focus, and valuation data for China-based AI startups.
China-based AI startups saw deals slide in Q1'20, as Covid-19 peaked and investors shifted their focus on later-stage bets. 
GET the enterprise AI TRENDS report
Download the free report to learn about the biggest emerging trends in AI and strategies to watch for 2021.
Despite the market volatility wrought by the virus, China invested heavily in AI infrastructure to combat Covid-19. Tech giants like Alibaba and Baidu stepped up to hone diagnostics tools and virus analysis algorithms; and AI heavyweight SenseTime deployed contactless temperature detection software as well as a biometric identification system for people wearing masks. 
Below, we spotlight funding trends in the China AI space, top areas of investor focus, and the most well-funded AI startups in the country. 
Funding trends
AI startups in China saw financing jump by 63% QoQ with $545M raised — nearly half of all AI financing in Asia in the first quarter of the year. This increase comes after an 81% rundown since Q3'17, but funding is still down 59% YoY. Deal count hit a 3 year low, with 52 deals. 
Seed-stage deal share plunged to an all-time low of 13% in Q1, underscoring the effort to double down on later-stage bets. Mid-stage deal share also surpassed early-stage in Q1'20 to reach 50% of all deals.  

Areas of focus
The areas that have garnered the most investor attention over the past 5 years are: speech/NLP(G)/computer vision, which has garnered $6.1B across 163 deals; finance and insurance, with $1.3B spanning 88 deals; and healthcare, which has raised $585M across 102 deals.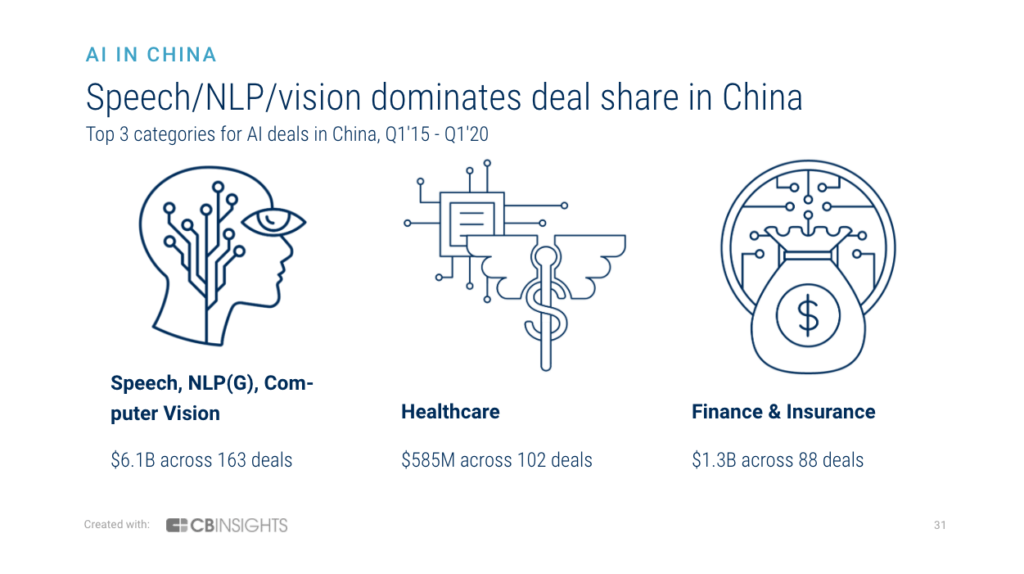 The US has recently placed China-based facial and voice recognition startups under greater scrutiny due to privacy concerns. In October 2019, the US government blacklisted top China-based AI startups from purchasing tech from US companies without approval. 
However, commercial opportunities for biometric AI startups have flourished in China. In addition to the biometric identification system, SenseTime also struck a partnership in Q2 with the People's Bank of China — which has announced plans for a national digital currency — to build out AI-focused fintech solutions. 
Most well-funded AI startups
TikTok parent Bytedance, valued at $140B, holds the title for the top-funded AI startup, with $3.1B in total funding. In second place is facial recognition firm SenseTime, with $2.6B under its belt. Electric vehicle maker NIO, which went public in September 2018, is third on the list, with $2.2B (including pre-IPO funding).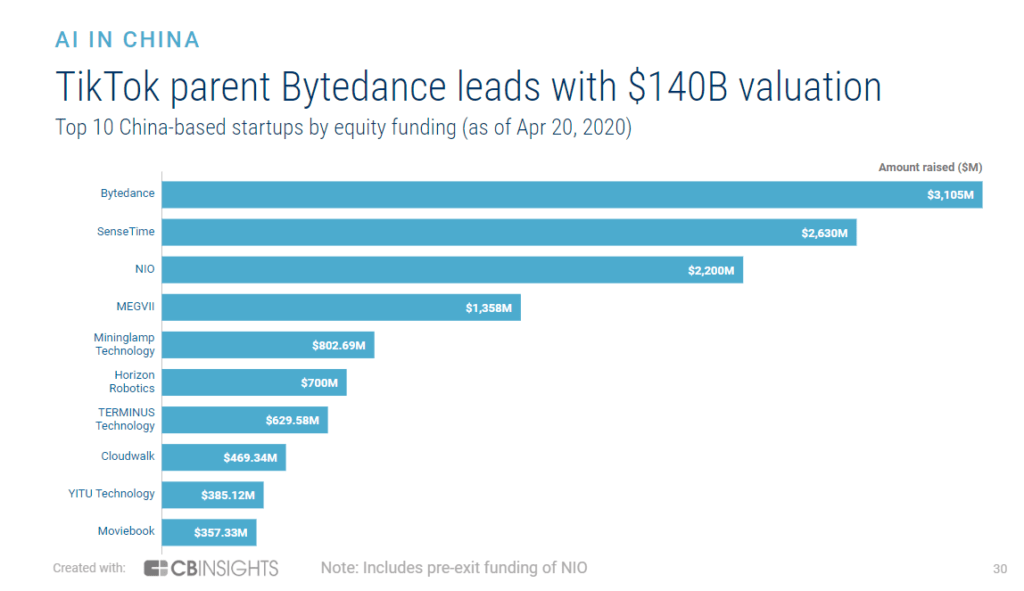 For more funding trends, valuation data, and geographic spotlights, clients can check out CB Insights' interactive Story on AI In Asia: The Impact Of Covid-19 On Funding, Exits, Valuations, And R&D.
If you aren't already a client, sign up for a free trial to learn more about our platform.